US President Donald Trump appears to have missed the tens of thousands of protesters who took to the streets of London in today's public demonstration against his presidency and visit to the UK.
Appearing alongside British prime minister Theresa May at a press conference, Trump told journalists: "I heard that there were protests, I said: 'Where are the protests? I don't see any protests.' I did see a small protest today when I came, very small. So a lot of it is fake news, I hate to say."
In fact, earlier in the day, anti-Trump activities commenced with the inflating of the now-infamous Trump "baby blimp" at Parliament Square at 9am. The mascot was revived with the support of a public crowd fundraiser which surpassed its target of £30,000, all of which will be donated to marginalised groups, according to organisers.
The demo, organised by a coalition of anti-Trump activists, gathered in Trafalgar Square for an 11am start and made its way down Whitehall for speeches from Labour leader Jeremy Corbyn and former Green party leader Caroline Lucas.
Zaremba Ab, from Basildon, told BuzzFeed News: "We think it's important to really show that people are interested in what's happening to the country, that people are interested in what ethics politicians have.
"Trump I think is just so far from what ethics politicians should have. We don't even have the words, we just have our toilet seat."
She added: "He shows racism, homophobia, Islamophobia, hate of immigrants, contempt for any type of morals. Maybe he doesn't even remember what truth is anymore."
The demonstration also delivered some extremely creative statements, including one contribution from Don Lessem, a 67-year-old from Philadelphia.
The dinosaur expert paid $25,000 dollars (£19,730) to create and ship a 16-foot mechanical Trump on a toilet, which was built in China.
"I want people here to know that people in America, we don't support Trump in the majority," he told BuzzFeed News. "And we realise what a threat he is to democracy."
He said he felt that the use of humour against Trump was "empowering."
"I think a lot of people here feel the same," he added. He has a crowdfunder to support his protest.
Lessem told BuzzFeed News that his mother is a 100-year-old Holocaust survivor, and that he feared Trump's America was becoming a dictatorship.
"She says this is how Hitler got started," he said, referencing Trump's attempts to curtail freedom of the press, and adding: "He doesn't obey the legislature or the courts."
Lessem was an adviser to the makers of Jurassic Park and said that "dinosaurs have a lot in common with him".
He added: "They're big, they're stupid and they should be extinct."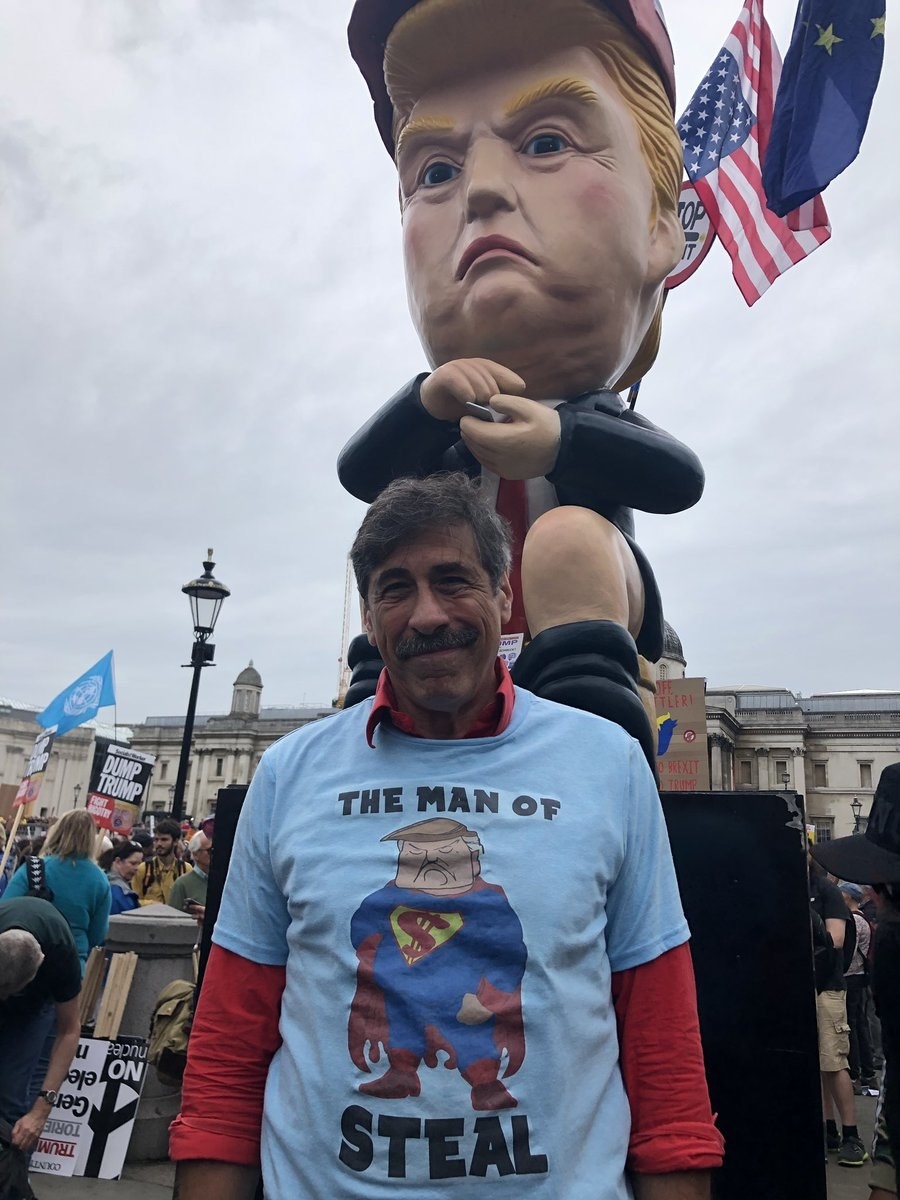 Elsewhere in the protest, British artist Alison Jackson was the centre of attention, when she arrived on the scene with a Trump impersonator.
"I make work about celebrities doing things, about the face behind their public face, so this Donald Trump is my public face of Donald Trump and then I make work about what he's really like behind the scenes. The juicy, juicy secrets, the secrets behind the fake news. We've been doing some great private videos and scenes and we're now out here today to find out what people really think about Donald Trump," said Jackson.
The impersonator, who only confirmed that he was an American man from Chicago, failed to disclose any further personal details because "it doesn't matter", said Jackson.
Doubling as one of the world's most polarising figures often had one of two reactions, the impersonator explained: "It has its challenges, its pluses and minuses. It's good to be around friends and it's frightening to be around people who aren't [friends]."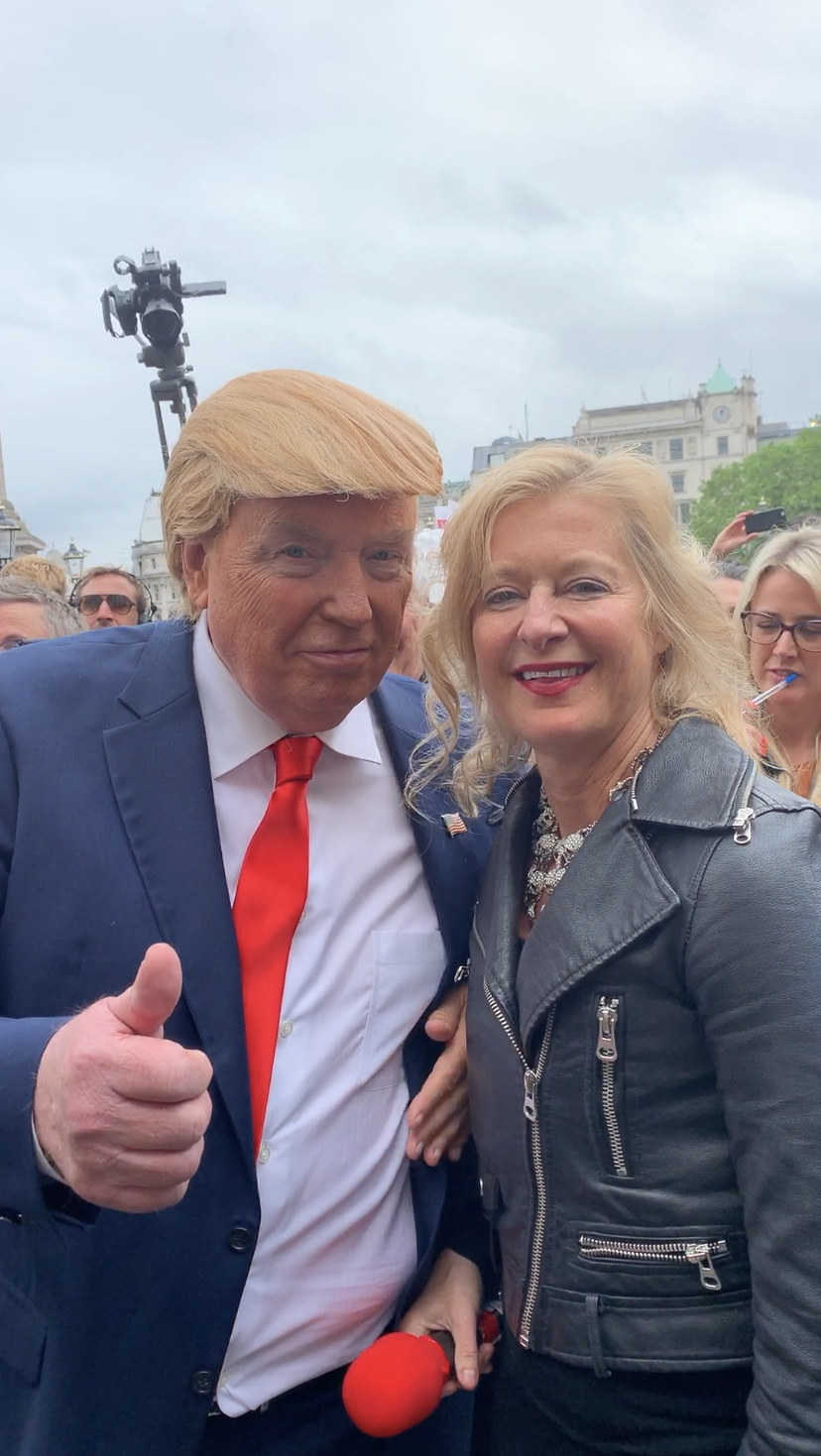 Jackson said that to create her Donald Trump impersonator, it took the labour of 15 people to create Trump's signature hairpiece, and it also came with a hefty price tag. She said: "It's taken 15 people to make this wig, about £20,000, someone took the wig out of the back of a taxi the other day; we still haven't found it. It's taken about six months to remake this one, it's his first outing with the new wig."
The provocative artist, who is known for her lookalike photographs of celebrities, went on to say that her display would be feeding into a documentary about the American head of state.
In a statement to BuzzFeed News, a Stop Trump Coalition spokesperson responded: "Trump doesn't want to acknowledge that he's made a trip to a country where he's hugely unwelcome. There were 75,000 people protesting outside Downing Street this afternoon — if there were 75,000 people protesting outside while I was having lunch I'd definitely notice."
"And that's despite the rain, despite it being a Tuesday afternoon — that's how strongly people feel about Trump and his divisive, discriminatory policies."