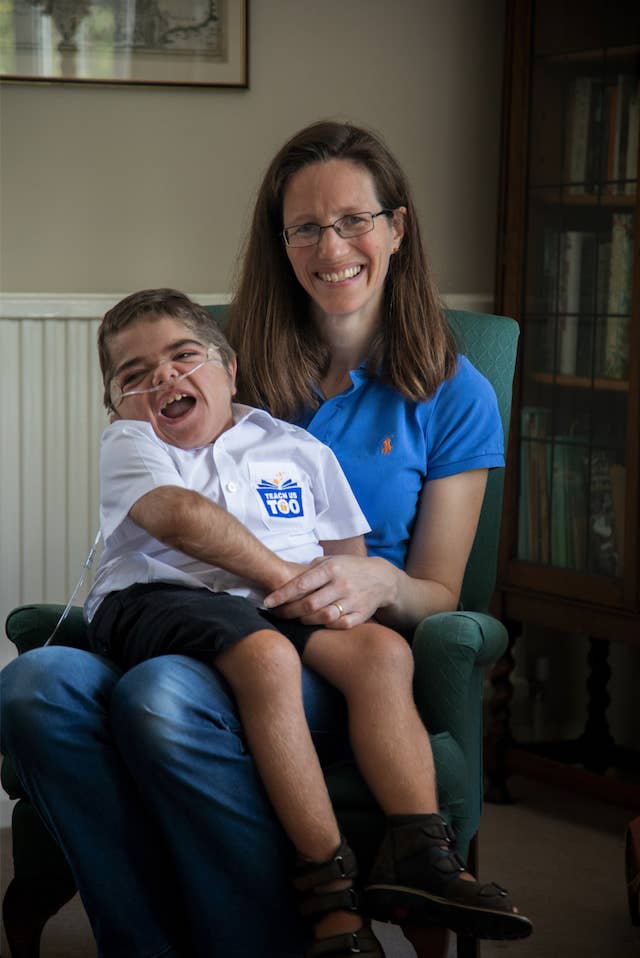 Jonathan Bryan can't physically write or communicate verbally.
Until the age of 9 he couldn't fully communicate at all, but this remarkable 12-year-old has been able to explore his love of language by learning to talk with his eyes.
Jonathan, who was born with cerebral palsy and spent much of his early life in and out of hospital, is now the proud author of Eye Can Write, the heartwarming memoir of "a child's silent soul emerging".
It describes Jonathan's inspirational journey from being aware of the world around him but locked inside his own mind and unable to participate. That changed when he learned to use augmentative and alternative communication (AAC), which involves a board with the letters of the alphabet displayed, known as an E-tran frame.
His book has been described as a "message of hope" and features a powerful foreword by Jonathan's literary hero, War Horse author Michael Morpurgo. It aims to challenge misconceptions about disabled people.
Jonathan's mother Chantal Bryan told BuzzFeed News that her son has always had a story inside him: "He loves writing, he loves words, he loves looking at the thesaurus and working out new words, and he's just unusual because it was all simultaneous — he learnt to speak and write at the same time. For most people it isn't the case."
Jonathan's achievements are a testament to both his resilient nature and the importance of the support network that has allowed his talent to thrive.

His mother said: "We've got people who help, which is great, and actually a lot of what Jonathan has been able to achieve wouldn't be possible without the help that we get — kind of behind-the-scenes help as well as holding Jonathan's spelling board, kind of the whole gamut really, so we are really grateful for that.
"He's got people who look after him every night, that stay awake all night because he is on a ventilator all night. I couldn't, I wouldn't be able to function without help and initially we didn't have it, so it was hard work."
"A lot of what Jonathan has been able to achieve wouldn't be possible without the help that we get."
While her son has limited energy, he is determined about where he chooses to channel his passions, and that is making a difference for other nonverbal children.
Alongside his flourishing literary career, Jonathan is at the forefront of a campaign to ensure disabled young people are given a sufficient education. "His proceeds of the book are going to his charity Teach Us Too, which is a campaign about envisioning a world where all children are taught to read and write regardless of their label," Chantal continued.
Jonathan is also working with the Department of International Development to spread that positive message. Today DFID held its inaugural Global Disability Summit to draw attention to a neglected area.
"The label Jonathan was given when he went in to special school was 'profound and multiple learning difficulties' (PMLD), which meant that he wasn't actually taught to read and write at school. Instead he was given a sensory curriculum.
"So we set up this charity so that all his proceeds of the book can go to the charity, and I think for him the book is about being a voice for people who haven't got one yet — 'being a voice for the voiceless' is what he says, because he feels really strongly that there are other children who are locked in bodies."
According to the Pace Centre charity, there are an estimated 30,000 children in the UK who have cerebral palsy, a group of lifelong conditions that affect movement and coordination.

Chantal said she felt there were limitations to what her son could learn at his special-needs school, which prompted her to take him out for an hour a day to be taught to read, write, and do basic maths.
This would provide the foundation for Jonathan to be able to write essays and poetry, as well as Eye Can Write.

"He's written this book to try and make a difference, to try and make people realise that actually what you see on the outside is not what is necessarily going on on the inside," Chantal added. "And I think that's quite a universal message."