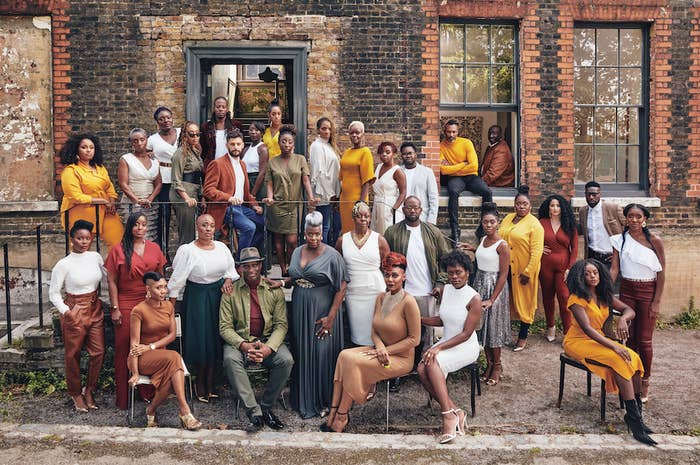 They were arguably the standout performers at the royal wedding of Prince Harry and Meghan Markle earlier this year (was that really only this year?) with their goosebump-inducing rendition of "Stand by Me".
The Kingdom Choir's performance was viewed by more than 2 billion people around the world who tuned in to watch the culmination of the love story of a British prince who fell in love with a glamorous TV star, and people just could not stop talking about them.
With the group dressed in their Sunday best and led by award-winning choir director Karen Gibson, the moment was a springboard into the mainstream that British gospel acts have rarely been afforded and landed them a record deal with Sony Music UK.
Speaking at the time, Nicola Tuer, chief operating officer of Sony Music UK, said: "Along with the rest of the world, we were stunned by their incredible performance at the royal wedding, so we jumped at the chance to sign them. The choir believe in love, music, and power and we are excited to capture this on record for their fans across the globe."
Their debut album, Stand by Me, has now been released and the choir will go on tour next May. More recently, the choir's royal affiliation presented them with the opportunity to perform at the closing ceremony of the Invictus Games Sydney just a day before the album came out. Founded by Prince Harry in 2014, the Invictus Games is an international sporting event for wounded, injured, and ill members of the armed service, whether they're veterans or still active.
Gibson, who formed the choir in 1994, told BuzzFeed News that their big moment came as a result of a past member who has a link to the royal family.
"There was a young lady that used to be in choir about 10 years ago, and she has a good relationship with somebody who works at Clarence House, and this lady was tasked with finding a gospel choir to sing at the royal wedding," Gibson said. "Apparently it was Prince Charles who wanted a choir because apparently he loves gospel choirs."
The overwhelming outpouring of support is something Gibson is still struggling to get her head around. "It's partly that people love that sound," she said. "And maybe it just felt unexpected to see a gospel choir at a royal wedding? Which is something that was new, maybe? Fresh? I really don't know."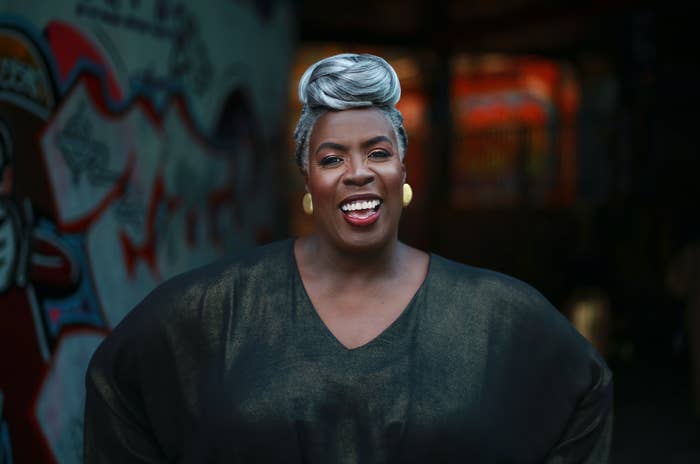 Gibson, from south London, told BuzzFeed News that the name for the group came to her, almost prophetically, in a dream. She said: "BBC Songs of Praise called me up and said, 'We've heard of your choir and we'd like them to come and sing at our 35th birthday. So what's the name of the choir?' But of course we had no name — we were the host choir. I went to sleep that night and dreamt of the name the Kingdom Choir."
More than two decades after it was first formed, Gibson noted that the choir has evolved significantly.
"It has changed quite a bit in terms of then and now. I was running the choir up until 2008 and then I went to live in America. After I came back, things kind of stopped for a while, and then I started it up again and most of the people were about half my age because that's who I was around at the time, and so the sound of the choir has changed."
For the royal wedding, the choir leader brought back past members to achieve a blend between those seasoned voices and the younger new members, to deliver the beautiful tones heard on the day and create the choir in its present form.
While the British gospel scene has not enjoyed as much success as its American counterpart, it has produced talent that has consistently chipped away at the fringes of the mainstream for decades, from acts such as Sinai, Rachel Kerr, and Guvna B, so there is no denying its influence.
Gibson explained what she believes are the subtle differences between the two countries' sounds: "I think that with British gospel, there is a nod to American gospel sounds but our voices are not as twangy, not as resonant as Americans, so I think that our sound is quite distinctive.
"It's got a more guttural, a more earthy sound, I would say. It could be because of our culture, the way we've been brought up, how we speak, our sound is quite different. Although having said that, lots of people thought that our choir was American, which surprised me."
Gibson acknowledges that the Kingdom Choir are not the first British gospel act to be signed to a major record label. In 2015, popular worship leader Noel Robinson signed a record deal with Integrity Europe. Regardless, she is optimistic that her choir's Sony deal is a sign of the genre's growth.
"I know that gospel music has been underground, very non-mainstream, but I also know that it is very, very popular and you can tell that because there are community gospel choirs all over the country. And not only that, you have a lot of school choirs popping up all over the place, so people love gospel music."
Assembling their debut project as a signed act has been a "pleasant experience", said Gibson, who credited the label for giving the group the creative freedom they needed needed to deliver the 15-track album.
She said: "We have been given a lot of leeway in terms of what to do — we're doing our own arrangements."
The project features covers of popular classics such as Beyoncé's "Halo" and British rapper Stormzy's "Blinded by Your Grace, Part 2", as well as a powerful original ballad written by members of the Kingdom Choir called "Chases".
The choir draw from various Christian traditions and are dedicated to creating a sound that demonstrates the sense of community they share, one that reaches audiences beyond the scope of religion.

She added: "We want the gospel audiences to love it, of course we do, but we're looking further than that.
"My life has been gospel all these years, but I think there are more people to be reached. People that don't know, we want people to be touched with the message of gospel, the positive things of love, joy, and hope, redemption, reconciliation, and forgiveness — all these things wrapped up in the music and in the sound itself, I believe. So, yeah, we want to get as many people as possible and we want the same response: the laughter, the tears, and the goosebumps that 'Stand by Me' got. That's what we're looking for — more of the same."
The Kingdom Choir's debut album Stand By Me is out now.