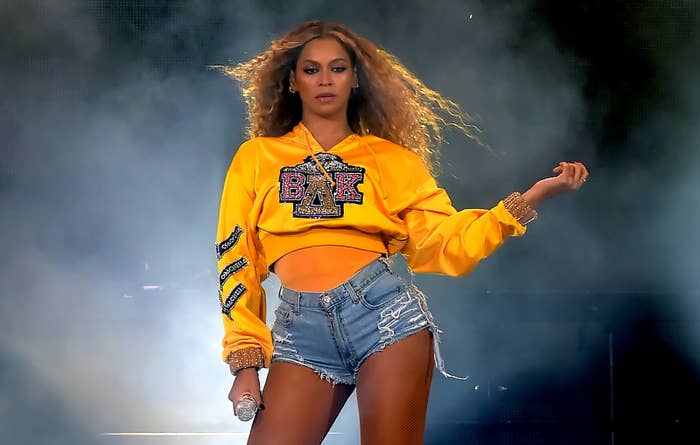 Sports brand Reebok has denied claims that Beyoncé decided against a collaboration with them because of concerns that the brand lacked diversity.
The claims emerged in a conversation on ESPN's The Jump where journalist Nick DePaula told fellow panellists that Beyoncé had been in talks with several brands after news broke of her athleisure brand Ivy Park signing a deal with Adidas.
In the clip shared by the show's host, Rachel Nichols, DePaula said he had been told that Beyoncé had taken "stepped back" from any potential partnership with Reebok because the team lacked diversity.

He said: "I heard a great story about how, you know, throughout this process, over the last year or two, she had discussions with Under Armour, and with Reebok as well, Jordan at one point was interested in maybe partnering with her.
"She had a meeting at Reebok and they had a whole presentation of everything –potential products and this could all look – and she kind of took a step back and said, 'Is this the team that would be working on my product?' And somebody said, 'Yes.'"
According to DePaula, the singer went on to tell Reebok: "Nobody in this room reflects my background, not my skin colour, and where I'm from and what I want to do. And so she kind of took a step back and left, and it did not come to terms."
A representative for Reebok told Metro.co.uk: "The report that Beyoncé walked out of a meeting with Reebok due to lack of diversity is categorically false.
"Our discussions with Beyoncé and her team continued for several months after our initial meeting. We are disappointed that false information is being reported as fact."
The news that Ivy Park would be relaunching in collaboration with Adidas has been described as a "natural" partnership. "This is the partnership of a lifetime for me," said Beyoncé in a statement on the website.
"Adidas has had tremendous success in pushing creative boundaries. We share a philosophy that puts creativity, growth and social responsibility at the forefront of business. I look forward to re-launching and expanding Ivy Park on a truly global scale with a proven, dynamic leader."
Ivy Park launched in 2016 was previously part-owned by British high street retailer Topshop but severed ties in 2018 when Beyoncé acquired full ownership.
The news came after a parliamentary committee named Topshop boss Sir Phillip Green as the billionaire businessman accused of sexual and racial abuse against his staff.

BuzzFeed News has reached out to representatives for Beyoncé and Nick DePaula for additional comment.