You all know Pharrell Williams. He's an award-winning producer and singer who, among many career highlights, had a monster hit with an unbelievably infectious song called "Happy".
I'm guessing you also know this guy: It's Donald Trump, the president of the United States.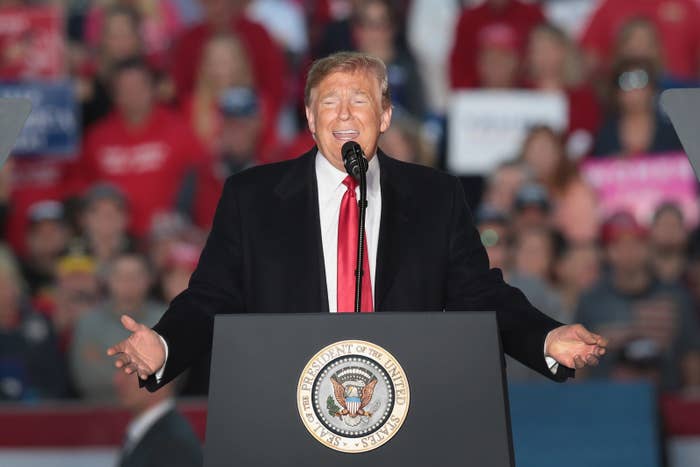 Trump made an appearance at the Future Farmers of America rally in Indiana just hours after the massacre of 11 people in a Pittsburgh synagogue on Saturday morning.

And, apparently, he played the Oscar-nominated track "Happy", which, according to the Hollywood Reporter, Williams was not impressed with at all.
Williams has now sent Trump a legal warning known as a cease and desist letter to prevent him from playing his music at his political rallies in the future.
In the letter, Williams' lawyer Howard King wrote: "On the day of the mass murder of 11 human beings at the hands of a deranged 'nationalist,' you played his song 'Happy' to a crowd at a political event in Indiana.

"There was nothing 'happy' about the tragedy inflicted upon our country on Saturday and no permission was granted for your use of this song for this purpose."

The cease and desist warns that the use of the song without Williams' permission is both copyright and trademark infringement.
"Pharrell has not, and will not, grant you permission to publicly perform or otherwise broadcast or disseminate any of his music," the letter adds.

Williams joins a growing list of artists who have publicly refused to have their music associated with the US president.
Earlier this month, the estate of Prince issued a statement calling for the president to refrain from using "Purple Rain" at political rallies.
Aerosmith singer Steven Tyler has also repeatedly issued cease and desist letters. However, he has said his objection is not about political allegiances.
Other artists include Adele, the Rolling Stones, Neil Young, Tom Petty, and Elton John.
BuzzFeed News has contacted representatives of Pharrell Williams for further comment.