This London Park Is Closing To Stop People Gathering During The Coronavirus Outbreak But People Are Worried It Might Do More Harm Than Good
The closure of Brockwell Park during the coronavirus outbreak has prompted a mixed response, with some members of the public and political figures calling it the wrong decision.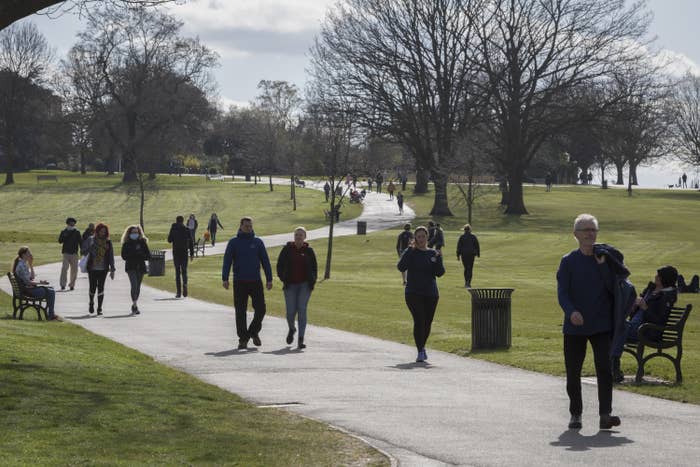 Lambeth council's decision to close Brockwell Park in response to the thousands of visitors it received on Saturday has prompted mixed responses, with some members of the public and political figures supporting it and others calling it the wrong decision.
A Lambeth Council spokesperson said: "Unfortunately Brockwell Park will be closed on Sunday. This is to ensure people observe the critically important social distancing measures needed right now to fight coronavirus.
"Despite clear advice, more than 3,000 people visited Brockwell Park on Saturday, with some visitors sunbathing and congregating in large groups. This is unacceptable at this time.
"We thank people for their understanding at this incredibly difficult time. The single most important action we can all take, in fighting coronavirus, is to stay at home in order to protect the NHS and save lives."
The 126-acre park located between Brixton, Herne Hill, and Tulse Hill hosts the borough's annual country show and welcomes almost 4 million annual visits.
Local MP Helen Hayes called for visitors to only use the park "for exercise staying 2m apart, not for sunbathing & BBQs" to ensure that the park could stay open in the future.
However, neighbouring MP Harriet Harman argued that closing the park was not the appropriate response and said it would negatively impact families living in flats. Harman suggested introducing a rota system and volunteer park wardens to support the council teams.
She tweeted: "The answer is rota for parks not closure. Families in flats with young children need our precious green spaces."

A debate played out on social media on Sunday morning, with some saying that collective punishment was not the best way to deal with the actions of a minority, and others blaming those who had failed to take heed of government advice.
Speaking on the Andrew Marr show, health secretary Matt Hancock said that further restrictions could be applied if members of the public failed to comply with the terms of the lockdown designed to reduce the spread of the coronavirus.
The few exceptions so far include shopping for "basic necessities" and a form of exercise but when asked, Hancock said the government was prepared to introduce a ban on outdoor exercise if necessary.
He told Marr: "I think this example of exercise is a really important one. Because we said because of the positive benefits to your physical and mental health that it's okay to exercise on your own or with members of your own household.
"But if the result of that is that too many people go out and flout other rules because they say, 'Well, if I can exercise, then it's fine for me to do other things,' then I'm afraid we will have to take action.
"I don't want to have to take that action — of course, I don't — but we have already demonstrated that we are prepared to take the action that's necessary to get this virus under control. So my message is really clear: If you don't want us to have to take the step to ban exercise of all forms outside of your own home, then you've got to follow the rules, and the vast majority are following the rules. Let's not have a minority spoiling it for everybody."
Newly elected Labour leader Keir Starmer has said the party would be prepared to support an extension of the ban.
A council spokesperson declined to clarify how long the closure would be expected to last or why individuals and groups were not dealt with in line with enhanced police powers.
Under schedule 21 of the Coronavirus Act, it is illegal to fail to comply with the instructions of police officers without reasonable excuse.
The maximum penalty is a fine of £1,000.