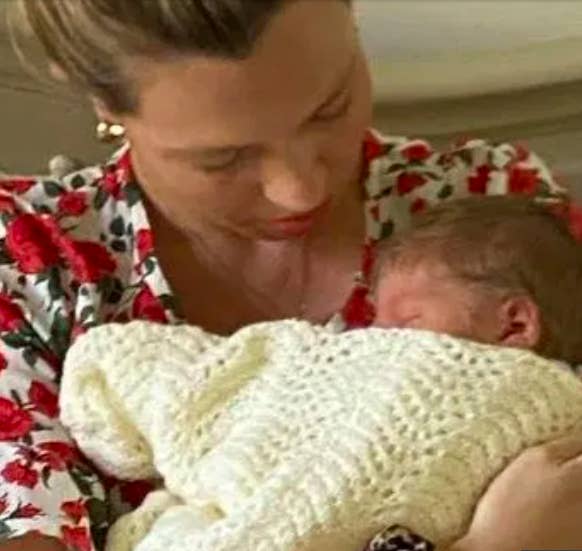 The two doctors who Boris Johnson and his fiancé, Carrie Symonds, have named their newborn son after shared their "warm congratulations" to the couple and expressed their gratitude for the honour.
In a statement, Dr Nicholas Price, a consultant in infectious diseases and general medicine, and professor Nicholas Hart, a professor of respiratory and critical care medicine at King's College London, said: "We are honoured and humbled to have been recognised in this way, and we give our thanks to the incredible team of professionals who we work with at Guy's and St Thomas' and who ensure every patient receives the best care.

"We wish the new family every health and happiness."
In an Instagram caption, Symonds, 32, wrote: "Introducing Wilfred Lawrie Nicholas Johnson born on 29.04.20 at 9am."
"Wilfred after Boris' grandfather, Lawrie after my grandfather, Nicholas after Dr Nick Price and Dr Nick Hart — the two doctors that saved Boris' life last month."
The couple welcomed their first child together on April 29, just 17 days after Johnson was discharged from hospital after having COVID-19.
The prime minister was admitted to hospital on April, 5 after testing positive for the coronavirus. He spent three nights in intensive care before his condition improved.
In an interview with the Sun on Sunday, Johnson shared his surprise at how quickly his health deteriorated and said that as his condition hit critical, doctors had devised a plan in the event of his death on how it would be announced.
He told the newspaper: "I was not in particularly brilliant shape and I was aware there were contingency plans in place. The doctors had all sorts of arrangements for what to do if things went badly wrong.
Despite receiving litres of oxygen, the 55-year-old that his health didn't seem to improve. He said the "indicators kept going in the wrong direction" and he kept asking himself: "How am I going to get out of this?"
"They had a strategy to deal with a 'death of Stalin'–type scenario," he said.
"The bad moment came when it was 50-50 whether they were going to have to put a tube down my windpipe.
"That was when it got a bit ... they were starting to think about how to handle it presentationally."
Johnson marked his return to work on April 27 with an address to the nation on the front steps of Downing Street where he recanted his experience with the virus, comparing it to a mugger.
Johnson said that while he was determined to get the British economy moving, he would not ease lockdown measures until it was safe to do so.

Wilfred Lawrie Nicholas Johnson is the first child for Symonds and Johnson, who announced in February 2020 that they were engaged to be married. He is the third child in modern history to be born to a sitting prime minister.