These British Pub Owners Say They Won't Survive The Lockdown If Landlords Continue To Demand Rent
"I love my pub. I can't wait to reopen, to get back to normal, and start paying the rent again — but they've got to be realistic about what I can afford whilst I'm closed."
by
,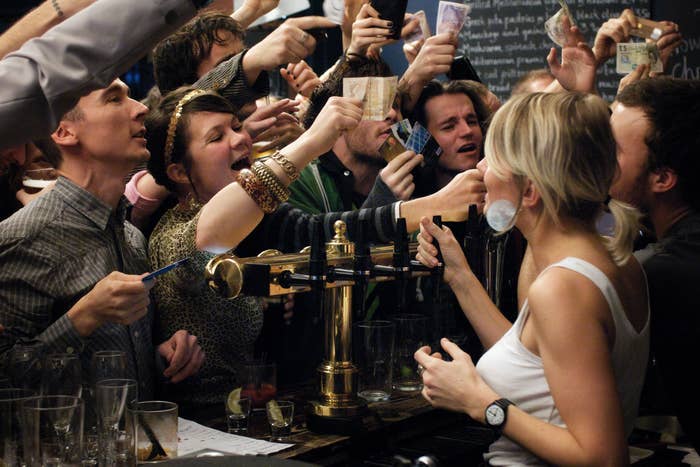 The journalists at BuzzFeed News are proud to bring you trustworthy and relevant reporting about the coronavirus. To help keep this news free, become a member and sign up for our newsletter, Outbreak Today.
British pub owners are calling out their landlords for continuing to demand rent despite their inability to trade during the coronavirus lockdown.
Amid concerns some pubs won't survive the pandemic's economic fallout, dozens of pub owners have shared the challenges they're facing as a direct result of landlords continuing to charge them, using the hashtag #NoPubNoRent.
Along with a now-viral clip posted on Twitter, Gary Murphy, owner of the Mitre in Barnet, wrote: "Four weeks with a closed pub and I now owe Greene King £8,000 in rent. Greene King made £246.9m last year and the taxpayer is currently paying for their furloughed staff."
In a statement to BuzzFeed News, Greene King, the UK's largest pub retailer and brewer, said it would be "deferring rent" for its tenants and leased partners while pubs remain closed, with the hopes of removing any immediate "cash flow concerns" — but pub owners say this isn't the right course of action.
The company said it was in the process of launching a Partner Support Fund, an initiative that it would make available to its 975 tied tenants that would allow them to access financial support on rent and further support when they are able to reopen "after they have utilised all relevant government schemes".

Murphy told BuzzFeed News: "Deferral is not a real solution, because if we're closed for three months, that means I for example will owe £24,000 to restart my business, which is a huge debt. If we're closed for six months, then of course I will owe £48,000.

"We are facing a huge downturn, with restrictions on movement and all the rest of it, so trade is going to be down. And we're going into this reopening with a huge debt, which will be very hard to pay. We're single businessmen and women, and we don't have the money to do it."
The former civil servant, who switched careers 12 years ago to run the north London pub, said that as a final resort he would be prepared to legally challenge the rental demands.
He said: "There is a strong legal argument to say that the rent isn't due because we're not allowed to trade and the tenancies that we have are completely based upon trading. Greene King will not engage in that debate in any way whatsoever.
"Legal action is very expensive and risky, [but] I am definitely considering it. I'm working with a group of tenants, pooling together and challenging it as a group, but my preference is to ... engage sensibly."
A Greene King spokesperson said: "We remain entirely compliant with all the legal requirements of a commercial landlord/tenant relationship and do not recognise Mr Murphy's assertions on this front."

As well as being his business, Murphy is proud to call the Mitre his home, which means he feels even more pressure to find a solution to the current financial demands.
"I live upstairs. I'm perfectly happy to pay the rent for the living accommodation, which is obviously the smaller amount, but I can't pay the rest, and I can't carry it as a debt either.
"I love my pub. I can't wait to reopen, to get back to normal, and start paying the rent again — but they've got to be realistic about what I can afford whilst I'm closed," said Murphy. The business owner anticipates losing between "25% and 50%" of his income this year, subject to when social distancing measures are eased.
He pushed back against a suggestion that the government's financial support grants could be diverted to cover rental demands. Murphy said: "Government has been reasonable, I think, overall. There's obviously winners and losers because they're dealing with so many people, but they have given us grants to try and get us through the closure months and into reopening. Those grants are not going to go far.
"The government has also allowed us to furlough our staff — but they've also allowed Greene King to furlough their staff, so they've got some help as well. ... We've got help, they've got help, but they're still claiming that full rent is due for a pub that we're unable to open."
The spokesperson for Greene King said: "As an employer of 38,000 people who rely on us for their livelihoods, we are taking financially responsible decisions. There isn't a one-size-fits-all solution, and the support plan we've communicated to our leased and tenanted partners is fair, bespoke, and aims to ensure that as many of our partners as possible are able to emerge from this crisis in a strong position as we all look to recover our businesses together."
While some pub companies have opted to cancel rents for the duration of the lockdown, several landlords BuzzFeed News reached out to claimed to be working with tenants on an individual basis, arguing that a one-size-fits-all approach wouldn't be practical and most would be deferring rents.

Presently, tenants have had rents deferred and a promise of free replacement beer for kegs and casks that are out of date when pubs are able to reopen.
One owner of a pub in Walton-on-Thames told BuzzFeed News that his rent had been paid quarterly to the Wellington Pub Company, the largest no-tie (meaning pub owners have control over the drinks and products they sell) pub estate in the UK, owned by one Britain's wealthiest families, the Reuben brothers.
The owner claimed he had never missed a payment since taking ownership in 2004, and after paying £25,000 at the start of March, his landlords would be expecting another £25,000 on June 1 despite the pub being closed since March 20.
Edward Anderson, one of the figures coordinating the online #NoPubsNoRent campaign, said: "It's quite a diverse picture, but some of the pub companies have said they are suspending rent and then going to charge us later. One of the big ones have said they'll charge 50% of the rent. Half of them have said they're going to cancel rents completely, and that's what we want from the other half."
Anderson, who owns three pubs in Cheltenham, has combined rental outgoings of £14,000 each month. He said that without flexibility, he could be forced to give up his businesses.
"The idea of waiting three months to have this amount of debt, it's just ludicrous. It's a stupid amount of money. I can't even conceive how much money it is in six months' time," he said.
"My pubs are really precious to me. I've put 15 years of love and hard work into them, so to walk away — it's not an easy decision, but I might be forced to do it."
Anderson is part of a community of more than 600 pub owners who are calling for rents to be scrapped entirely in order to have a fighting chance at survival when restrictions are lifted.
"We can't afford to pay the rent and pay old rent on top of that as well. It's never been set up to do that. All our rents are set on turnover, and now we have no turnover. So the fair and decent thing to do is just to stop rents. Give us a chance. Beyond that, we're going to need help getting going again.
"Some will survive, some won't. Every pub has slightly different economics, but there comes a point where it's not worth holding on. The majority of landlords in this country live hand to mouth, and they're just not going to be able to see their way through this."
Anderson added that if necessary, publicans would be prepared to strike. He said, "It gets to a point where you've got nothing to lose."
Jenny Baish has run the Barley Mow pub in Cox Green, Maidenhead, with her partner for 10 years.
She is in a no-tie agreement with the landlord, El Publican Partnership, and would be entitled to less managerial input than those with other arrangements — but says she hasn't received any support and that they continue to charge her rent for a now-empty pub.
"It's an awful situation," she told BuzzFeed News. "Our landlords haven't spoken to us at all or offered anything in the way of support. All we got was an email saying we still have to pay our rent, but that they were going to let us pay it in monthly arrears.
"Rent is based on turnover, so when the turnover is zero, the rent should be zero. We can't get hold of anybody to offer help, so we're not going to pay it because we can't pay it. We don't want to be in debt. No one wants to be saddled with massive debt when hundreds of pubs are closing every year — it's not a stable industry by any means.
"It's quite worrying because I don't know whether we'll receive some sort of court letter or demand. I just don't know, because nobody answers their phone, so you don't have anyone to speak to. There is no income. It's just not possible."
Baish is entitled to support from the government, including a grant, staff wages, and business interruption loans — but she says it won't be sufficient to cover the hole in her finances. She is calling on her landlords to come to an agreement on her rent while the lockdown continues.
"They've got to cancel the rents, possibly for nine months, and then add the nine months on to the end of your lease so you can pay it back."
"The government grant will be gone in two and a half months, and after that there is nothing. Our pub will fold.

"It's just heartbreaking because we've put a lot of effort into this pub. When we first took it over, we paid £1 for the lease. Hardly anybody came in. It was a dive. It was dirty, and we've spent such a lot of effort and money putting back into it to make [our landlord's] building nice, and this is how they repay us."
She added that she was worried about the impact an ongoing lockdown would have on her small community, who rely on the pub being their social hub.
"There's a couple of pubs in the area, but this is the busiest pub in the village," she said. "We have everyone from 18 to 94 come in. We do quiz nights, we have darts teams, we have group meetings.
"Both me and my partner have other jobs, so we've run this pub as being part of the community, having a place for everyone to go and having a nice, safe atmosphere for everyone. There's one man that comes in that I don't think speaks to another person apart from us. He comes in every day, we even go to get him a little cake each day just so we know he's eaten and it's those sort of people that we're here for, so where are they going to go if they shut?"
When asked for comment on their rental policy during the coronavirus outbreak, a spokesperson for EI Publican Partnerships told BuzzFeed News: "We continue to communicate directly with our publicans and have advised that rent and charges continue to be deferred for the foreseeable future.
"We will be working with each of our publicans on an individual basis in order to best provide the right level of support and assistance in each case when we are permitted to re-open for business."
Baish said she was "very disappointed" with EI Publican Partnerships' "uncaring response."
"Deferring rent will build up massive problems [...] as it will take a long time to build up trade. It won't be a quick fix for pubs to just open."
In line with the government's three-point exit strategy, the optimistic approach is that pubs and restaurants could see their doors reopen towards the end of summer. Pub owners, however, are sceptical about the impact ongoing social distancing measures will have on businesses.
Baish said: "I can't imagine how you would say to half the people that want to come in 'you can't come in here.' When this is over, our idea is having as many people in here drinking as possible so we can afford the bills and the rent. The rent has to be negotiated downwards even when we reopen because at a reduced level, it's going to be really hard to make money or even to survive."
Anderson agrees that reopening could be just as difficult as being completely nonoperational.
He said: "The problem isn't just opening; the problem is opening and being busy enough to not lose money — because if we open and it's social distancing, most pubs, if you're not 90% busy as you always are, you will be losing loads of money.
"Any sort of social distancing or reduced capacity, spacing of tables — that's it, there's no point in opening at all. So if that's going to go on for another year after we're open, then the whole industry is in trouble. Restaurants, pubs — all going to go out of business."
Patrick Clover, founder of hospitality industry software Stampede, told BuzzFeed News the worst could still be yet to come for pubs and other hospitality businesses.
"It wouldn't surprise me if all businesses are forced to reopen with maximum capacity requirements, but this would disproportionately hurt pubs.
"They don't have a steady stream of people every day. It's very seasonal. Nor will people queue outside. There will also be a divide between rural and urban areas. Pubs with the highest rents in city centres need to be at full capacity during peak hours to turn a profit. I don't know how they'll manage that and comply with social distancing."
Criterion Asset, which manages the Wellington Pub Company, didn't respond to BuzzFeed News' request for comment.