The hashtag #BlackWomenAtWork first appeared on Twitter last year in response to the treatment of Congresswoman Maxine Waters and journalist April Ryan, both of whom were on the receiving end of comments from high-profile white men whom many felt were disrespectful.
It led to an outpour of accounts from black women around the world sharing instances of when they had been targeted, knowingly underpaid, or institutionally sidelined.
Waters and Ryan had their British equivalents: It is well-documented that Diane Abbott, Britain's first black woman to be elected as a member of parliament, was on the receiving end of more abuse, much of it racial, than any other woman MP during the lead-up to last year's general election.
Similarly, Charlene White, a presenter on ITV News London, can be expected to receive race-specific insults on social media over her personal decision not to wear a poppy every November.
All of these anecdotes serve as evidence that for black British women, occupying a public space brings with it a raft of challenges that sometimes has little to do with your ability and aptitude and more to do with the combination of your race and gender.
And who would know more about this than the former first lady of the United States of America, Michelle Obama. Immortalised by her fandom as "Forever FLOTUS," a nod to her legacy as the first and only black woman to hold the title, the story of a girl from South Side, Chicago, who becomes the first lady and everything in between has delivered the best-selling hardcover of the year in the United States, surpassing Michael Wolff's Fire and Fury.
It was only natural that the energy would be matched when tickets for the UK leg of her 12-stop book tour were announced and that the following scramble would be reflective of her influence and pulling power as an individual.
Tickets were so in demand that hawkers were commanding up to £70,000 on resale sites, which subsequently had to be removed. The resounding disappointment of those who were unable to get a ticket sparked a petition and calls for additional dates or a bigger venue; the demand was clear — people wanted to hear America's 44th first lady tell her story, in her own words.
Labour MP Dawn Butler, who was in attendance at the high-profile talk, praised Obama for her transparency.
"I felt very validated in terms of where I am and what I am doing, and how almost uncanny but profoundly we all have the same story, but maybe to different degrees, in different ways as black women," Butler told BuzzFeed News.
The feeling of fatigue at the treatment she has received over the years described in Obama's book was something that resonated with the shadow minister for Women and Equalities, who has previously spoken about her experience with racism in parliament, including an incident where she was mistaken for a cleaner in the House of Commons by a fellow MP.
She told BuzzFeed News: "There's certain things around black women where we just have a tougher journey, and the feminist movement does not include black women a majority of the time. And so white feminists do not understand our struggle as black women, and it was tough to hear but I also think it was empowering. Because you do get tired, and I think maybe because it's the end of the year, I'm tired. As a black woman who is tired, and I've kind of been running almost on empty, Michelle has filled my cup today so the battle still goes on."
The battle that Butler speaks of is part of the Becoming process the Obama articulates in her writing and during the evening. The 54-year-old was candid about not always feeling "good enough", a feeling that she believed resonated particularly with women of colour.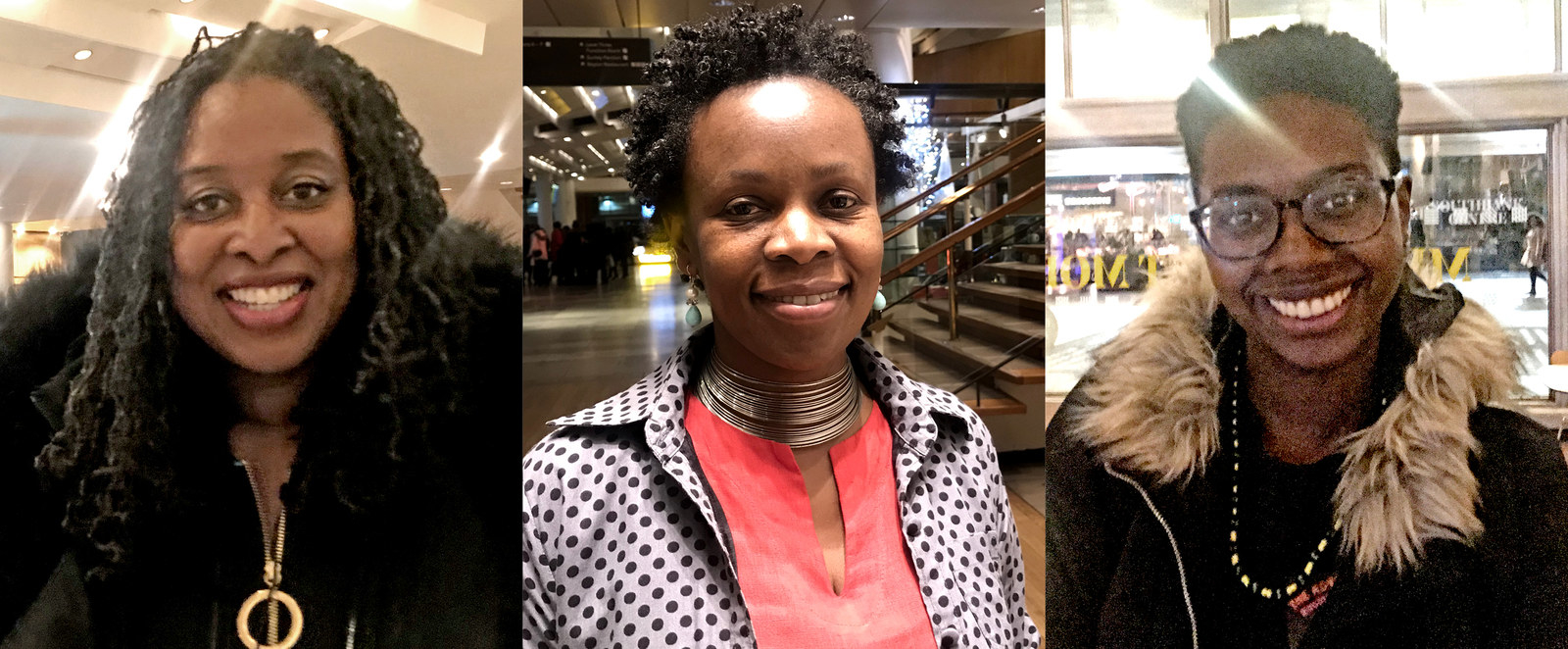 She told the audience: "The question that I would ask myself and still sometimes continue to ask myself is 'Am I good enough?' ... That haunts us, the messages that we're sent from the time that we're little is maybe you're not ... This is true for women, this is true for working-class people, but it is profound for women of colour in a way that I don't think most people understand. So when we're walking around with those demons and those doubts in your head, that's the first dragon that you have to slay. You have to slay the dragon in your own mind."
For women like Martha Cuffy, a leadership developer from London, securing her place in the audience was a challenge she was committed to handling in person.
The 49-year-old told BuzzFeed News, "I did some research about what was the best way and it was to turn up physically, at the box office. I did it over two days, because the first day I was coming as a member, and the second day — I actually wasn't allowed to get anything on the second day — but on both days it was freezing."
Waiting outside in the cold for hours proved lucrative for Cuffy, who managed to secure two of the highly coveted tickets and attended the evening with a friend.
"What has been fantastic this evening is the camaraderie," Cuffy said.
"It felt a bit surreal for me, being here with a relatively large audience listening to Michelle, but it's about the journey of getting here, the focus of 'I wanted to be here,' meeting all these different women, so I've made friends with women I've never known before, what we're having conversations about and what her [Michelle Obama's] journey has stirred," she added.
Appearing at the Southbank Centre in collaboration with Penguin Live, the evening brought together an audience of nearly 3,000 people, including 300 students and some of Britain's most influential black women, including model Adwoa Aboah, presenter Clara Amfo, Baroness Doreen Lawrence, and MOBO founder Kanya King.
Asking the questions was Chimamanda Ngozi Adichie, the famed Nigerian novelist whose TEDx talk "Why we should all be feminist" was featured on Beyoncé's 2013 single "Flawless". The hourlong conversation navigated the themes presented in the book, including parenting, marriage, and Obama's childhood love of peanut butter.
Looking into the sea of faces, the audience was more diverse than early critics — who complained about the pricing of the event — would have anticipated, but what was undeniable is the investment of black women in the idea of Michelle Obama and what it means to be visible.
Adichie was deliberate in probing this idea. "What is your message for young, actually young black women? Because you mean so much I think to women in general, all over the world, but in particular to black women for a number of reasons. If you had something to say about, just how to navigate being female, young, and black today."
The question was met with a brief pause before the mother of two told the room: "Oh, that's a long one."
"Well, it's still hard out there," continued Obama. "By 'hard,' you only need to look at the data around black women in the workplace. Think tank the Resolution Foundation's 'Opportunities Knocked?' report found black female graduates face a 'pay penalty' of 9% — estimated at £3,000 on a full-time basis — compared to their white peers.
"I tell my story in the way that I do because now, I'm Michelle Obama and the world knows Michelle Obama — 'Isn't she wonderful? She's so inspiring' — well, in that video, when I went through some of what I was called and how I was depicted, that is intentional. It's Chapter 17, and it was the hardest chapter for me to write and go over because what happens to black women is that we become a caricature — people will literally take our voices, they will take the things from us that they like, the size of our hips, all of a sudden.
"Our style, our swag, it becomes co-opted, but then we're demonised, we are angry, we are too loud, too everything — and I experienced that just out campaigning. Just speaking what we say, truth to power. Just having an opinion — how dare I have a voice?"
Chapter 17 deals with the emotional toll experienced during the presidential campaign trail, key moments including when her patriotism was questioned, and the use of phrases in the press like "terrorist fist bump" and "militant anger", and once being described as "Obama's baby mama."
These are moments that anybody familiar with the Obama journey to the White House can recall the headlines for, but through her writing, she likens the experience to being punched, and these "punches", she noted, came from both men and women all stemming from her visibility and being vocal.
"Some of my first criticisms came from women journalists who accused me of emasculating my husband," said Obama.
"It's like, are you kidding me? I've never met these people, they don't know me, they've never attended any of my events, but that characterisation happens to us so quickly, so swiftly, that people can literally take our words and co-opt them for their own."
This was a subtle swipe at current first lady Melania Trump, who is believed to have plagiarised parts of Obama's 2008 convention speech at the Republican National Convention in 2016.
Even with the White House in her rearview, the healthy living advocate is still subject to the scrutiny of the public eye, including criticisms of the monetary aspect of her memoir and the cost for an evening with the former first lady.
A graduate of both Princeton and Harvard universities, Obama's robust résumé prior to her life in the public eye included a career in law for the Chicago law firm Sidley Austin, where she met Barack Obama before conceding that she no longer felt fulfilled as a lawyer.
Obama would go on to serve as assistant commissioner of planning and development in Chicago's City Hall before becoming the founding executive director of the Chicago chapter of Public Allies, an AmeriCorps program that prepares young people for public service.
Obama also worked at the University of Chicago as the associate dean of Student Services, where she developed the university's first community service program, and under her leadership as vice president of Community and External Affairs for the University of Chicago Medical Center, volunteerism is said to have risen.

Today, her extraordinary achievements coupled with her visibility have made her a global role model for black women who relate to her story of ambition and adversity. For Obama, the impact of Becoming particularly on young readers is just as important as the story itself.
Speaking to that as a young attendee was Jemmar Samuels, a student, activist, and recently a BAFTA award winner for her documentary on colourism in the black community who described the night as a "top-up of black girl magic".
"It's like a top-up of black girl magic is the simplest way of putting it — she dropped so many gems," said Samuels.
"But I guess that two or three things that I am walking away from this with is, number one, don't date a guy that plays games," a nod to Obama's advice on dating.
"Two: the importance of 'becoming', as an activist. I do things and people are like, 'Oh my gosh, I can't wait to see what you do next.' I've always been worried about not having that endpoint, that final perfect career, but I realised that that's not how this thing called life works. It's the fact that I have the freedom to do something till I get bored, turn the page, and move on to the next thing, and hopefully I will be amazing at all those different things — and the last thing about being a black woman and taking up space, and the internal battle of how to deal with microaggressions and leaning to work on myself, and learning to like me so I can deal with it."