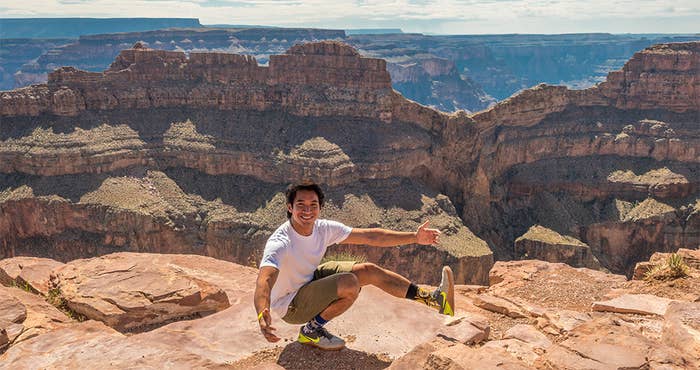 Watching the world's fittest athletes compete in the CrossFit Games can scare the booty shorts off of a lot of average gym-goers.
It's not everyday that you get to see a 5-foot-3 woman repeatedly sling 200 pounds over her head or watch a man walk 60-feet on his hands. To an outsider, CrossFit can seem intimidating, and at times, downright dangerous.
But New York City photographer and multimedia creative Martin Romero documents a very different story, one that many CrossFit fans rarely get to see in person—or even get a chance to see in themselves. The 28-year-old from the Philippines likes to show the playful, yet imperfect humanity in the god-like superstars we idolize on the grand stage. But he also makes stars out of the everyday athlete whose only goal might be to master the basic pull-up.
"I'm pretty shy, but I love telling people's stories that connect with others," said Romero. "That's why I like telling stories about overcoming. Everyone can relate."
Since moving to NYC to pursue his master's degree in telecommunications in 2014, Romero has shot nearly every angle of some of the most popular boxes in Manhattan from CrossFit Union Square, to Neo Fifth and ICE NYC. He's edited photo essays and highlight tapes on some of the sport's top athletes such as two-time Games champion Annie Thorisdottir, three-time Games qualifier Frederik Aegidius, and Regional qualifiers and brother/sister duo Jay and Liz Adams. Romero's work has even caught the eye of CrossFit's main Instagram account which has reposted his photos many times in the past year.
Perhaps his eye for compelling photography comes from his three years of working in advertising back home in the Philippines. Romero not only knows how to sell a story, he knows the importance of inviting the spectators to be a part of the narrative.
"I like video and other forms of storytelling, but I like photo essays the most because you have to figure out what is going on in the pictures," said Romero. "You get to use your own imagination."
Four years ago, the retired high school track star would never have imagined that he would be as obsessed with CrossFit as he is now. He was scrawny—self-described as "skinny-fat"—and had trouble filling out his extra-small shirts save the belly that was protruding from his waist. He started CrossFit in the Philippines because he was inspired by his friends' social media posts from their workouts and his dire need to be fit again.
What's more, he was drawn to the stories of pro athletes like Thorisdottir, who struggled to master standard movements at the beginning of their careers.
"I remember watching Annie Thorisdottir's videos in 2009 when she could hardly do muscle-ups during a workout," said Romero. "It's cool to see how these athletes began and witness their progression over time."
He often uses these stories to help motivate himself whenever he's working on his snatch or perfecting his muscle-ups at his new gym-home at CrossFit Union Square. Luckily for him, when Thorisdottir and Aegidius aren't training in their homebase in Iceland, they often drop by Union Square to get their workout in for the day. Thorisdottir and Aegidius and other visiting pro-athletes have graciously allowed Romero to document their training, including all of the painstaking moments, to the silly and the utmost mundane.
"I still can't believe it," Romero said. "Now I get to see them and cover them. I'm just so appreciative of the coaches in the gym. They've enabled me to cover these athletes."
Liz Adams, five-time Regionals athlete and a former coach at ICE NYC, thinks that Romero has really changed how the public sees CrossFit in mainstream media. The sport isn't as scary as some would like to think, she said.
"I feel like there are a lot of negative stigmas about CrossFit out there so the way that it is captured and the way people see it is really important," said Adams. "To me, [the sport] is strength and movement and beauty. In Martin's photos, you can see how well someone moves or how powerful someone looks. You can feel it in his pictures."
Beyond his work with pro athletes, Romero loves to photograph the everyday New Yorker who hits the box after her 9-5 job. Not everyone gets a chance to have a professional photographer take photos of their most triumphant moments at the gym. But chances are, if you go to Union Square, Romero would be willing to snap you in all of your WOD glory for your Instagram profile.
He said that he's shot some of his best film from watching his fellow box-mates workout.
"I remember one athlete who was crying mid-workout but she was so determined to finish. That was amazing," said Romero. "Another time, one athlete was just smiling throughout her workout and her energy was infectious."
In fact, many at his gym say that he started a trend in turning the Average Joe into an everyday hero. When Romero began shooting, his other gym buddies like Johnny Garcia re-ignited their passion for photography and started to bring their cameras to the gym too.
"Martin has influenced the way people see CrossFit by taking time to capture the bankers, lawyers, stay-at-home parents and students who also have a passion for the sport," said Garcia. "He perfectly captures the smiles, laughter, and feelings of accomplishment that the vast majority of non-star athletes enjoy with each visit to their box."
What started as a hobby has now become a source of pride for the NYC CrossFit community. Through sport and photography, Romero has found that he has made more friends than he could have ever imagined and wants to continue to capture the beauty (and the beast) in everyone.
"I never thought my photography would get this much attention," he laughed. "But I'm happy with it. It's made me come out of my box."