I have a really weird memory of my dad as an extra in the The Apprenticeship of Duddy Kravitz. As the opening credits roll on the 1974 Canadian classic, a group of cadets march through Montreal's Mile End neighbourhood. Today, Mile End is one of the planet's great hipster hubs, dotted with boutiques, bars and bistros. But in the film's 1950s setting, it was a working class neighbourhood, home to thousands of recent Eastern European Jewish immigrants. The troops head past young kids playing street hockey, a knife sharpener plying his trade in the street, a kosher fish market populated by old ladies in babushkes.
The camera then cuts to my dad, a young man in uniform, arms pinwheeling wildly as he dashes into Fairmount Bagel. Seconds later, he runs frantically back into formation. He hands a bagel to Richard Dreyfuss, grabs a bagel for himself, and chows down.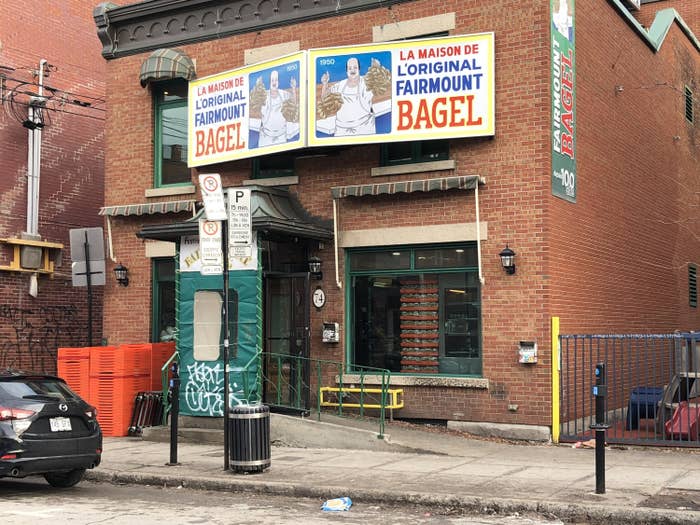 My dad spent a day working as an extra and ended up becoming a small part of a film that would come to define a particular era of Montreal Judaism. Truth be told, I don't know if I've ever seen the rest of the movie. The image of my father — the son of Holocaust survivors who immigrated to Montreal — rushing into Fairmount Bagel, one of Montreal's most iconic businesses, is etched permanently into my brain. Montreal is where I was born, but the city's Jewish food and its connections to history and family is what makes it feel like home.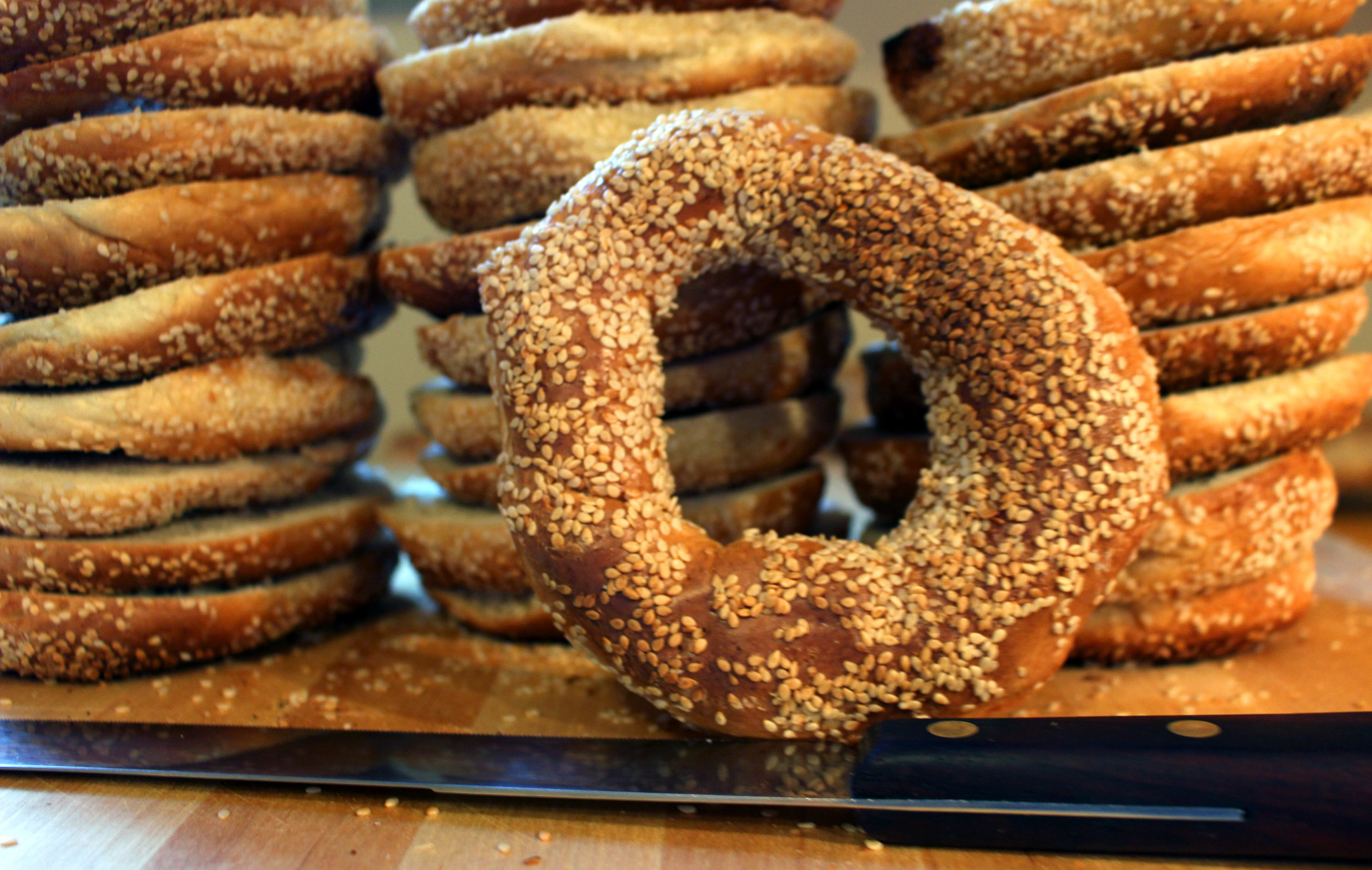 Since Jewish food played such a major role in our home, to a kid it seemed completely natural that everybody else loved it just as much.
Growing up in the predominantly Jewish neighbourhood of Hampstead, it seemed the most natural thing in the world to gather regularly with aunts, uncles, and cousins for large communal meals at my grandparents' house. My memories of my grandparents — eastern European Jews who immigrated to Canada after the Holocaust — are tied to servings of Jewish staples like matzo ball soup, kuegel and knishes. I couldn't have been older than 10 when my dad took me to the iconic Schwartz's deli and taught me the "proper" way to order a meal: smoked meat sandwich, medium lean, with fries and a black cherry soda.

Since Jewish food played such a major role in our home, to a kid it seemed completely natural that everybody else loved it just as much. It didn't hit me until years later that it's kind of weird that Schwartz's, a kosher-style eatery, is one of the most famous and beloved restaurants in a city where under three percent of the population is Jewish. What's even weirder is that while you can find Thai or Indian or Mexican or Ethiopian grub somewhere in the city, nothing has become as synonymous with Montreal as simple, traditional Jewish fare.
Anthony Bourdain may have hung out with the Joe Beef crew when he came to town for an episode of Parts Unknown, but he also made it a point to have a snack at Wilensky's Light Lunch, a tiny joint in the Mile End down the street from Fairmount Bagel. It may bear a passing semblance to any of Quebec's thousands of casse-croutes, but is undeniably semitic in origin.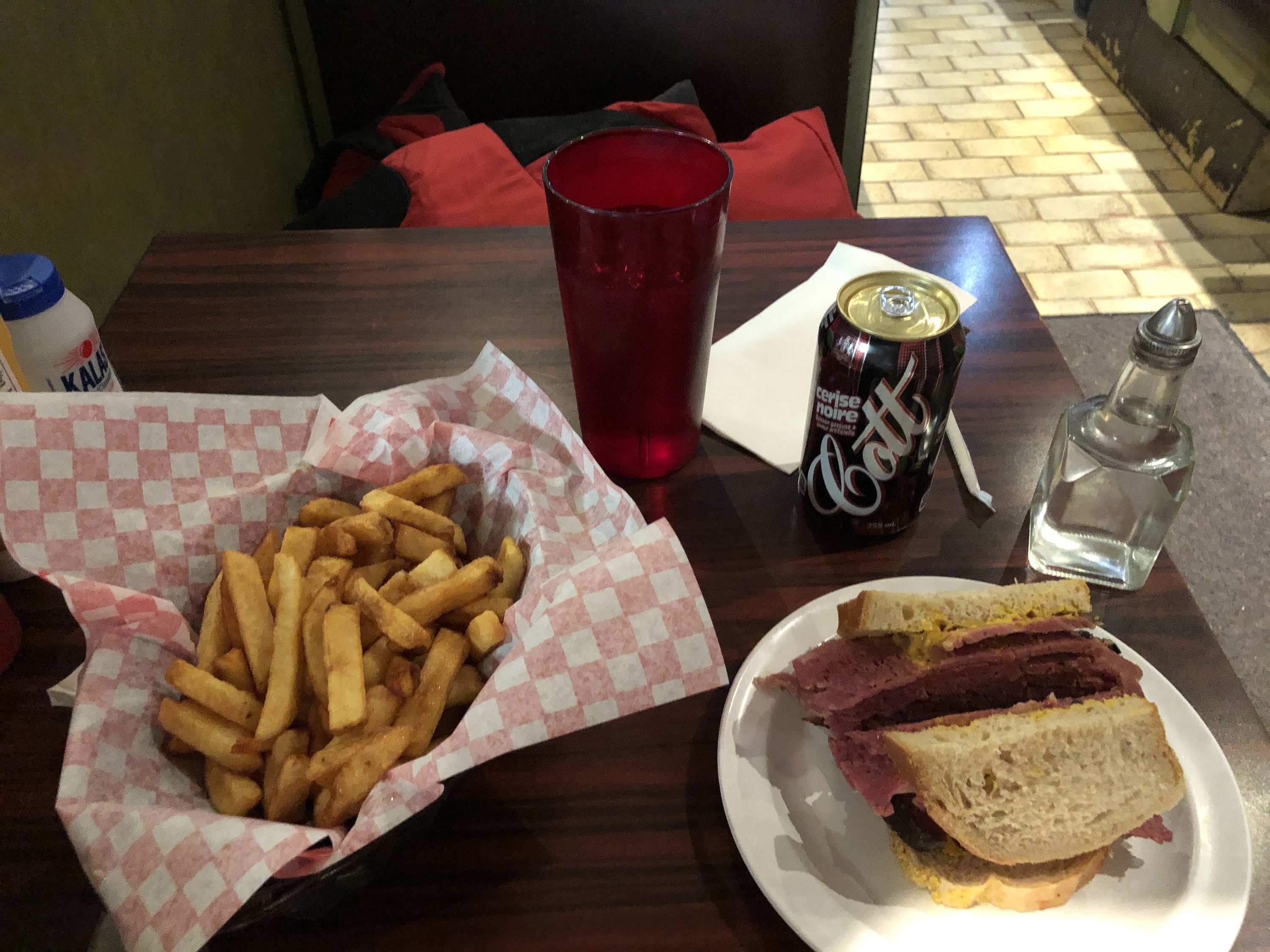 Like the dishes I used to eat in my grandma's house, there is no room for pretension here.
On a brisk fall day, I took a lunchtime trip to Wilensky's. Just before 4 p.m., as the restaurant prepared to close, two young men were enjoying the famed Wilensky Special: a bologna-and-salami sandwich served on a kaiser roll, with either cheddar or Swiss cheese. Mustard is encouraged as a condiment but no others are permitted, one of a series of rules that have been in place since the restaurant was founded in 1932. Half-sour pickles are offered as a side and the sodas are still made in-store. Like the dishes I used to eat in my grandma's house, there is no room for pretension here. The mentality of the eastern European Jewish shtetl lives on — an ostracized, oppressed people found joy where it could be had and that meant meals with a focus on flavour over frills. The Wilensky Special, a smoked meat sandwich, a bagel — Montreal's Jewish food staples are all eaten by hand, as if to say that even silverware is a gratuitous luxury.
---
It was inevitable that Montreal's Jewish food would eventually just become Montreal food. The Jewish community has deep roots, after over 300 years and wave upon wave of immigrants. According to the Montreal Holocaust Memorial Centre, no place in the world outside Israel and New York City is home to as many survivors. The influx of Eastern European Ashkenazi Jews that arrived before and after World War II congregated together mostly in Mile-End and neighbouring Plateau. My own grandfather, like many other survivors, came to Montreal and made a living in the textile business, setting up shop in the area.

But as the community settled in, the sons and daughters of butchers and deli-owners enjoyed upward social mobility and flocked to other, higher-paying and "respectable" professions. The community, which was comprised of largely of European émigrés, diversified as waves of Sephardic Jews came in from North Africa. Over time, many families moved out to the suburbs, leaving their eateries behind as monuments to the neighbourhood's past. They've become a part of Montreal's draw: Tourists in town for one of the city's plentiful festivals often line up to sample Schwartz's famous smoked meat. (Notwithstanding my early ordering lesson, it's become common knowledge that their smoked meat is overrated — skip the line and try the slightly superior sandwich across the street at The Main Deli).
But just because the food is beloved, doesn't mean co-existence is easy. Montreal Jews have faced their share of anti-semitism over the years. Just this year, community leaders have been outspoken against Bill 21, a provincial law that forbids some public servants from wearing religious symbols, like kippahs, while on the job. It's a reminder that even in this centre of multiculturalism, that sense of being other which has haunted Jewish history through pogroms and exiles is always around.

There's an old refrain passed around the table on Jewish holidays: They tried to kill us, we survived, let's eat.
On the other hand, the dissemination of Jewish food into the everyday diets of non-Jews has resulted in more visibility. Long-running institutions such as Wilensky's, breakfast spot Beauty's and Fairmount have stayed within their founding families, others have found themselves passed down into non-Jewish hands — Schwartz's is now partially owned by none other than Celine Dion. There's also the popularity of smoked meat poutine, a combination of French-Canadian and Montreal Jewish cuisine.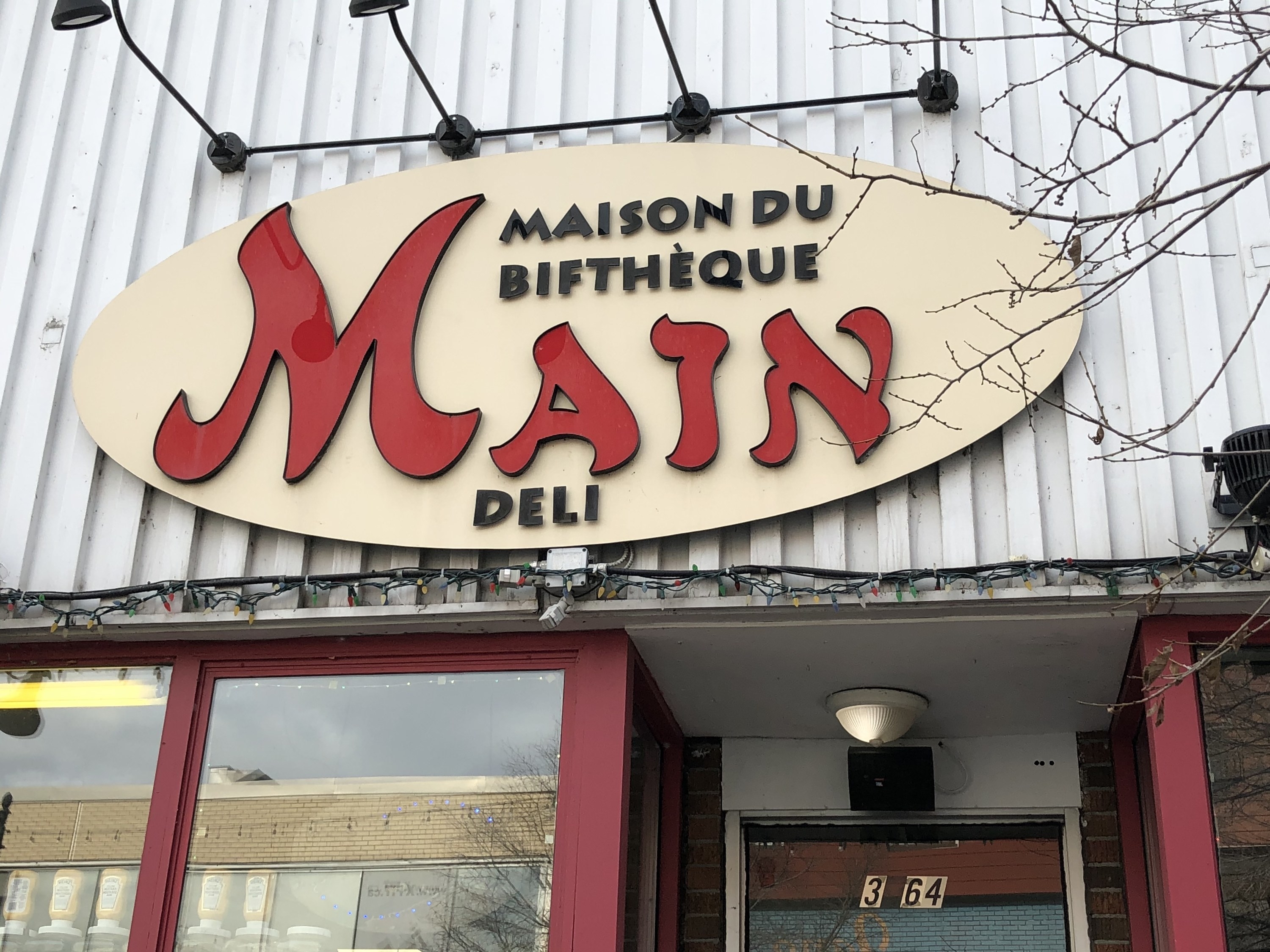 There's an old refrain passed around the table on Jewish holidays: They tried to kill us, we survived, let's eat. It's the kind of hacky gag that persists because of the truth at its core: North American Jewish culture revolves heavily around both food and community. Growing up means losing things. My grandparents have been gone for years; the house where all those meals were enjoyed is now occupied by total strangers. The connections to your past are where you choose to find them. For me, it's the doughy chewiness of a bonafide Montreal bagel. It's in a bite of karnutzel, the salty cured beef that my dad used to sneak into the house. It's in the trips down to the Plateau to enjoy a smoked meat sandwich, medium fat, served with fries and a black cherry soda.

The Plateau isn't the working class Jewish neighbourhood of Duddy Kravitz anymore. Parades of cadets have been replaced by bike-riding young professionals and the knife sharpeners have given way to yoga studios. But the ghosts of the Canadian newcomers who once lived and worked there (or just pretended in a movie) won't go away. They live on in each bite.