Hey, you're cute!

Thinkstock

Nice shirt!

Thinkstock

*keeps walking to avoid conversation*

Did you get a haircut? Looks good!

Thinkstock

Oh, umm, this old thing???

Mmm, this pie is delicious!

Thinkstock

Thanks, it's my grandmother's recipe.

*quickly shovels food into mouth to avoid talking*

Can I get your opinion on something? You're so good at this stuff!

Thinkstock

Oh, haha, am I though? Umm okay I guess so.

You always look so stylish!

Thinkstock

Umm hey I have to go to the bathroom.

Sorry if this is awkward, but what is that fragrance you're wearing? It's great!

Thinkstock

Oh! Thanks, I just got it recently. It's not too woodsy, is it?

I uh hehehehehe uhh hi sdsfiasdgfpasdgksfdg

Your vacation photos looked beautiful. I'm so jealous!

Thinkstock

It was hard to take a bad photo over there! We got a great deal, it was such a wonderful time.

Happy Birthday!

Thinkstock

Your eyes are very beautiful.

Thinkstock

What why are you looking at my eyes what's happening why would you sa

I loved your facebook status last week. Totally agree.

Thinkstock

Thanks, I just needed to get that into words, you know?

Oh um hahaha you didn't delete me LOL hahaha LOL

Can you recommend a restaurant? You've got great taste.

Thinkstock

Sure! How do you feel about tapas?

That Spotify playlist was awesome!

Thinkstock

Uasd asdf badfggadsgdsfg iasfdgwqofe3

Cool, thanks! Just some stuff I've been into lately.

That nail color looks so good on you!

Thinkstock

Thanks! I decided to splurge and the manicurist picked it out.

Your new profile picture is SO good!

Thinkstock
Can You Get Through This Post Without Getting All Weird About It?
I can't take a compliment without getting all weird about it
Compliments are hard! If you say something nice to me I'm probably gonna freak out internally and then mumble something incoherent. I might run away. But thank you for saying that, somewhere deep inside I am appreciative of your gesture even though it's totally not true and you're crazy. Who me?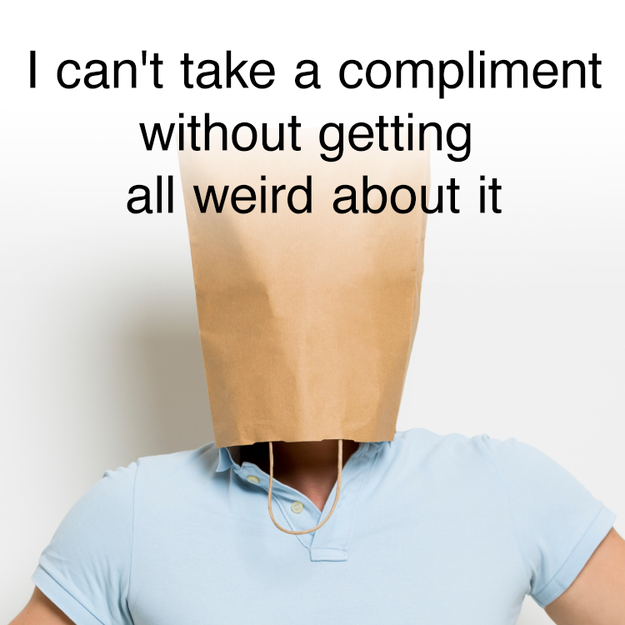 I can kind of take a compliment I guess?
I don't totally know how to take a compliment but I mean, I will try. I appreciate you saying that nice thing to me and I'm going to try to stay cool when you do. I don't think you're wrong, I'm just not always ready for praise.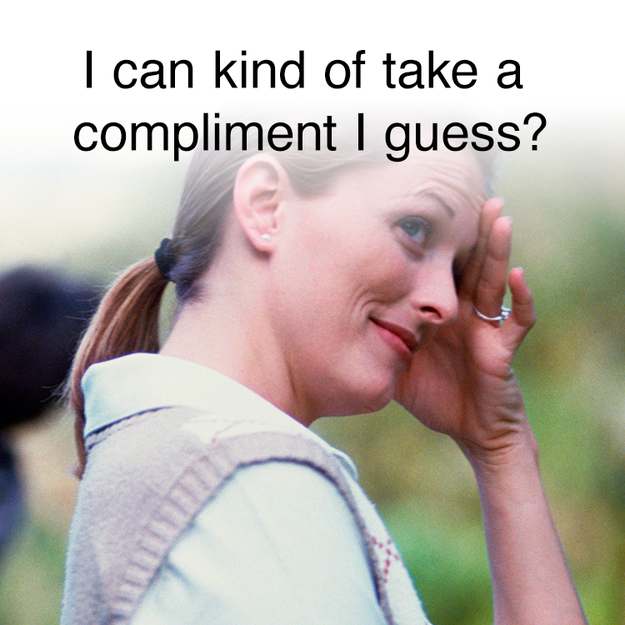 I can take a compliment. Thanks!
I can take a compliment, and appreciate the sentiment. I'm not going to lose my shit when you say something nice. I'm going to take it in stride, respond politely, and keep the conversation moving. Thanks for noticing a thing about me and pointing it out. You also have positive qualities that I notice and appreciate.