It can be easy to feel down, but not very easy to get back up again.
Sometimes you have a bad day, or a bad week, and it's hard to remember the little things that make life worth living. All the best things in life, from cat's paws to the places you can travel, can be completely overshadowed by that negative energy.
Below are eighteen random reasons to get back up again, from small stuff to the heavy shit. You might be pleasantly surprised with the reminder you get.
Press play, then pause quick, to get a random "REASON TO BE HAPPY."
So what reason did you get?

Select your result below to read more and share it with someone else who might need a pick me up. Plus, you can try again as often as you want to!
18 Reasons To Be Happy
You got:

SECOND IS STILL A PLACE TO BE
There's so much pressure to be first, but second place is still a place to be, right? It's better than floating around in limbo, wondering what might have been if only you tried. Even if you don't win an award, just trying at all will leave you so much better off than doing nothing at all.
There is someone who cares about you, whether it's a family member, a best friend, one of your online "mutuals" or a late night text buddy. There's always someone to talk to, and talking is good. Talking will help. Talk to someone. They care.
You got:

THIS FEELING WILL PASS
Sometimes you're just not yourself at all. You're going through something intense, you've had a bunch of surprises hit you at once, or maybe you just haven't eaten and your blood sugar is low. Any of this stuff could put you in a mindset that isn't you. Remember that this feeling will pass. You can get through this. This is not forever.
You got:

YOUR FRIENDS ARE NEVER TOO FAR AWAY
We live in an amazing time when even your most faraway friends are accessible and available. You can always stay connected to the people who matter to you, and so even if you're feeling homesick or lonely or that weird longing pit in your stomach, you can ease out of it by email, text, IM, tweet, post, or comment.
Say "aloha" to the relaxed vibe and warm beaches of Hawaii! Or say hello to any place you can get away and unwind. You can find your happy place anywhere, and once you find it, never let it go. Look forward to getting there, and feel calmed knowing you can get away.
Nothing in life is truly free, but refills are one magical exception to the rule. Go on, have a second cup of coffee or tea. You earned it. Have a third! Stay a while, read a couple chapters, maybe have a fourth? Your cup is your personal space. You deserve this.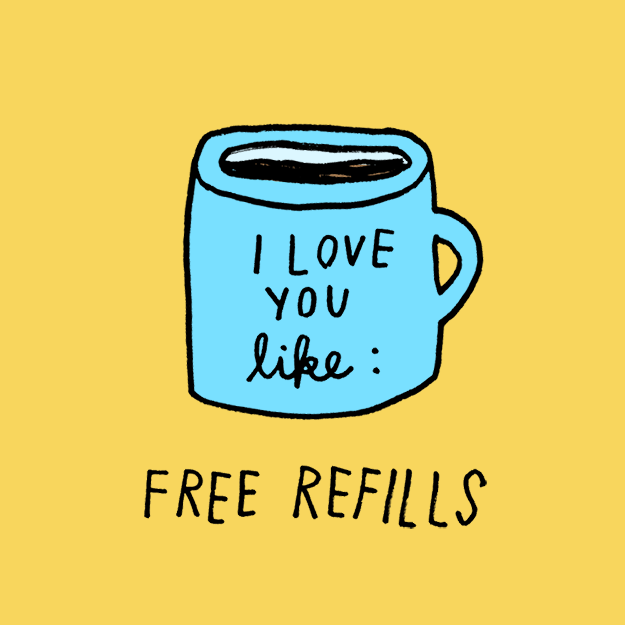 You got:

YOU CAN GET A LITTLE TREAT
You might not be able to have it all, but you know what you can have? A small treat. You deserve something special, whether it's a donut or a new keychain or a sticker sheet or a popsicle. You don't need to break the bank to feel special for a few precious moments. Give yourself a small reward for just existing. You deserve it.
Lil Bub is the adorable kitten that could. She was born with several defects and it was a struggle to find someone to adopt her. Eventually, as we all know, photos of her went wildly viral, and she became an internet star. Sales of Lil Bub merchandise have helped pay for her necessary medical treatments and aid animal rescue efforts. Lil Bub is the cutest most wonderful cat ever!
You got:

YOU CAN ALWAYS MAKE SOMETHING NEW
You might not have the power to do everything, but you can always make or write or do something new. You will never accomplish everything. There will always be new ways to challenge yourself and grow. It doesn't take much, just a pencil and paper, to create new worlds.
You got:

THERE IS A SONG THAT KNOWS HOW YOU FEEL
Music can be truly amazing. No matter what you're going through, another human being has felt it too. Music can be an incredible form of expression, and you can throw yourself into the words and tunes of someone else, channeling your emotions and finding a release. There is a song out there that just "gets" it. You'll find it.
You got:

EVEN STRANGERS LIKE YOU
We live in a crazy time when "likes" and "favorites" and "hearts" are thrown around freely. What a great time to be alive! People you don't even know like and fave you. What a rush! Enjoy that feeling, knowing that something you've shared is connecting with others. They get you.
You got:

YOU'RE STILL ALIVE
Hey, time to get real. You're still alive and that is amazing. Whatever is going on right now, it could always be worse. Being alive is an accomplishment. It might not always seem like it, but you're navigating the big scary world and are still here. That's amazing. Don't forget it.
You got:

A DOG IS WEARING A TINY SWEATER
Seriously, right now, somewhere in the world, there is a dog wearing a tiny sweater. Think about that. A dog. Wearing a little sweater. Like a tiny person! Ahhhhhh! This shit is seriously so cute, oh my fucking god.
You got:

THERE'S SO MUCH TO EXPLORE
Think you've seen it all? Think again. The world is a huge place and there will always be more to explore. No matter how much you've seen, how much you've travelled, this is a giant planet full of new things to discover. Next time you feel bored, like there's nothing left, remember that you can go to new places, start fresh, see more, learn more... the world is your oyster.
You got:

THERE ARE SO MANY BOOKS TO READ
Don't know what to do with yourself? Bored out of your mind? Good news! There are millions of books you've never read, and they're just out there waiting for you. Libraries exist! They are a place you can go to to disappear in the stacks and find new words to fill your brain with when you wanna push something else out. Best of all, libraries are free, and the battery won't ever run out on your book.
You got:

MARNIE THE DOG EXISTS
Who doesn't love Marnie the dog? Look at that crooked face and wagging tongue! She's the perfect example of silly features making her exactly who she is. She's not perfect, and that's what is most perfect about her.
You got:

YOU CAN ALWAYS MAKE GUACAMOLE
You, with your own hands, can turn separate ingredients into a new whole. It could be guacamole (the most perfect of all dips?) or something else completely. You can make a sandwich. You can roast a chicken. You can churn ice cream. You can bake a cake. You can take the separate bits of what you've got and make something new and special out of them. Hmm, this sure seems like a metaphor, doesn't it?
You got:

CAT PAWS HAVE CUTE LITTLE BEANS
Ahhhhh! Have you ever looked at a cat's paws? They have these tiny little "beans" on them. Paw beans! They are so cute and tiny and adorable I just wanna hug them and squeeze them and ahhhhhhh! SO CUTE! Smile because life is full of tiny and unexpected surprises and they can make you smile even when you don't want to.