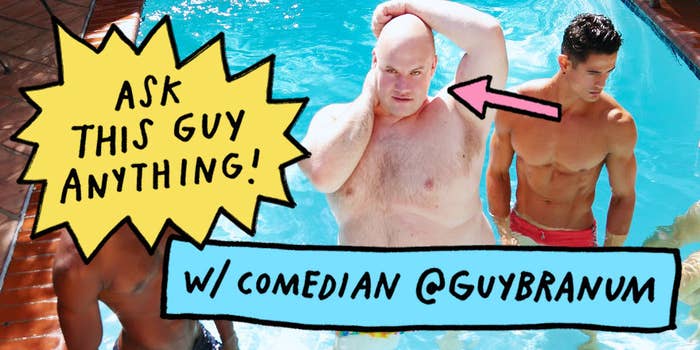 Comedian Guy Branum is a lot of things.
You've seen him on Chelsea Lately, his recurring "No More Mr. Nice Gay" segment on Totally Biased with W. Kamau Bell, and in No Strings Attached. He also appeared on Last Comic Standing, and performs around the country.
He's a hilarious, larger-than-life gay man who tweets passionately about pop culture, political issues and somewhat notably, #LookingHBO. He also went to law school, so he's smart and funny (the best combination).
Guy is both very open and very opinionated, so we thought it'd be a good idea to ask @yrBFF followers to tweet in their questions – any questions – and see what he had to say.
1.
We started off easy (jk). Did you know the meaning of life itself can be found in an online video?
2.
Zayn Malik left One Direction to do "Dancing With The Stars, or whatever they call it in England."
3.
Anti-LGBT politics in the State of Indiana... and what it means for spring fashion.
4.
This question about ice cream somehow became a (pretty solid) defense of Meghan Trainor.
5.
It's a tough fashion world out there for a plus-sized man... unless you actually are a high school football coach?
6.
Tips on how to get in contact with Keanu Reeves. Also the TV show Parenthood has given Guy zero boners, but he does love actress Monica Potter.
So, to review:
• It does get better
• Zayn just wants to dance
• Capris are in
• Meghan Trainor is a guilty pleasure you can't deny
• The "gigantic man" store needs better options
• "Think like a person who doesn't think"
Thanks for... everything, Guy!