Woody Harrelson Calls Out "True Detective" Plagiarism Accusations At Emmys
"Well, I'm grateful you had all the plagiarized parts," Harrelson told co-star Matthew McConaughey.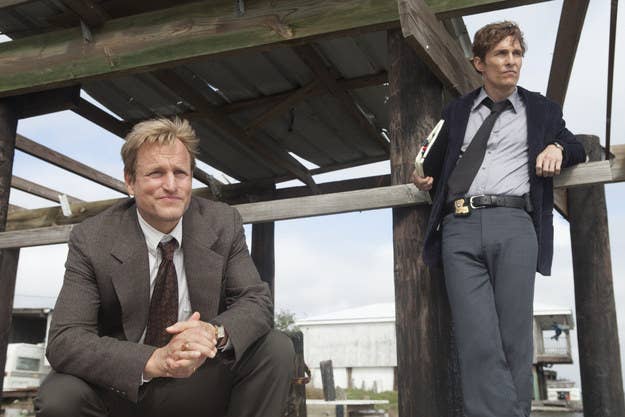 While presenting at the Primetime Emmy Awards on Monday night with his True Detective co-star Matthew McConaughey, Woody Harrelson made a pointed joke about the plagiarism accusations recently levied at the show's creator Nic Pizzolatto.
Joining the running joke during the show that McConaughey's recent Oscar win makes his Emmy nomination seem like a bit too much, Harrelson turned to McConaughey and asked him, "So you won an Oscar, Sexiest Man Alive, and now you want the Emmy too? I think that might be kinda a bit greedy."
After pausing for laughter, McConaughey replied, "You should have gratitude for what you have and not envy what I do."
"Well, I'm grateful you had all the plagiarized parts," said Harrelson.
Harrelson was referring to accusations that McConaughey's famous philosophical speeches on True Detective written by Pizzolatto were lifted from writing by other authors, especially Thomas Ligotti. Pizzolatto and HBO have strenuously denied the allegations, but the audience didn't seem to really get the joke, anyway.
"Too much of an inside joke?" asked McConaughey. Harrelson agreed: "They can't all be winners."
Watch the exchange here:
NBC