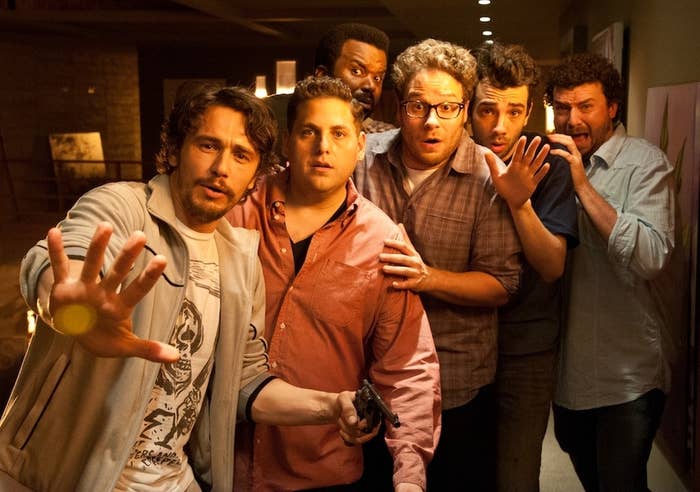 ANAHEIM, Calif. — There was a peculiar moment on Saturday at WonderCon, the annual fan convention organized by the same folks behind July's massive San Diego Comic-Con. During a panel for the June 14 comedy This Is the End — featuring stars Seth Rogen, James Franco, Jonah Hill, Jay Baruchel, Craig Robinson, and Danny McBride playing variations of themselves during a global apocalypse — Rogen stepped on stage wearing a Wolverine costume, comically frustrated that fellow panelists Robinson and McBride weren't playing along. Then Evan Goldberg, who cowrote and codirected the film with Rogen, walked on stage wearing short black shorts, a leather chest harness, a black hood, and nothing else. "No, Evan," bellowed Rogen, "Adult-Con was last week!"
The crowd ate it up. But that's wasn't what was peculiar. A few minutes later, Rogen played an extended clip from the film that showcased several celebrities — like Michael Cera, Aziz Ansari, and Rihanna — dying in horrific, bloody ways as the world came to an end. As you would expect in such a scenario, every so often someone would say "fuck" — and every so often, that "fuck" would be bleeped.
But sometimes, the "fuck" would fly free and clear for all to hear.
BuzzFeed has learned that the organizers of WonderCon told officials at Sony Pictures that they were concerned there was too much foul language in that clip and in another clip featuring a makeshift exorcism of Jonah Hill. Sony had to recut the footage so only eight usages of "fuck" were used, and the rest were bleeped out. But scenes of horrific, bloody violence in both This Is the End and Evil Dead, which also screened footage during the Sony panel, were apparently fine.
(Warning: This paragraph discusses a few SPOILERS in both This Is the End and Evil Dead.) To wit: In This Is the End, Michael Cera is impaled in the chest by a light pole, several people fall into a deep hole of molten lava, and Paul Rudd crushes a girl's skull with his foot. In Evil Dead, a girl slices off half her face with a mirror and then attacks her boyfriend with a syringe, causing him to pull a needle out from his face just below his eye. All of it screened at WonderCon without a shred of censorship.
It is clear that WonderCon's organizers are keenly aware that the people attending the convention often bring their children. Before the panels for Evil Dead and This Is the End, WonderCon head programmer Eddie Ibraham repeatedly warned the crowd that the films are R-rated with material that is inappropriate for minors, imploring parents to use their discretion about allowing their children to see them. For every panel, there is a printed warning on the back of the name cards for each panelist stating that there are people in the audience under 18 and asking panelists to mind their language. But that didn't stop panelists for several films from swearing up a blue streak, no more so than Pacific Rim director Guillermo Del Toro, whose creative use of the word "fuck" has no equal. (Del Toro did sheepishly curtail his swearing, however, once he saw a 3-year-old in the audience.)
WonderCon wasn't picking on Sony, either — every studio has to abide by the conventions' footage guidelines. When reached by BuzzFeed for comment, Comic-Con spokesman David Glanzer sent the following response via email:
Typically a studio will submit a clip and the clip will be reviewed by Comic-Con. If there is material we feel may not be for all ages there are a couple of ways the material can be addressed.

1) The studio is told that the material cannot be shown in its present format and to resubmit. Typically this results in the studio submitting a copy that is more accessible to audiences.

2) The panel happens to occur at the end of the day/night and no other panels are scheduled after. If this is the case we may screen a clip that may not be all ages appropriate, but will include a disclaimer before the presentation that the panel will include clips that some may find offensive.

We aren't in the habit of giving a number of allowed words in a clip. I can only imagine that, in this case, the clip was submitted very late and in an effort to accommodate the studio, a decision was made to work with the studio quickly to ask that some of the offensive language be removed.
In a way, WonderCon is only reflecting the culture's complicated relationship with sex, violence, and bad language. Action movies like G.I. Joe: Retaliation are able to land a PG-13 rating from the MPAA so long as the constant, rampant violence in the film is bloodless and so long as the word "fuck" is only said once, maybe twice, and never in reference to a sexual act. Television is an even stranger landscape. Both FX's The Americans and A&E's Bates Motel series premieres featured the violent rape of its female lead, and AMC's The Walking Dead keeps discovering creatively disgusting new ways for both the dead and the living to meet their end. But none of these shows would ever consider allowing a character to utter an uncensored "fuck." That would be crossing the line.