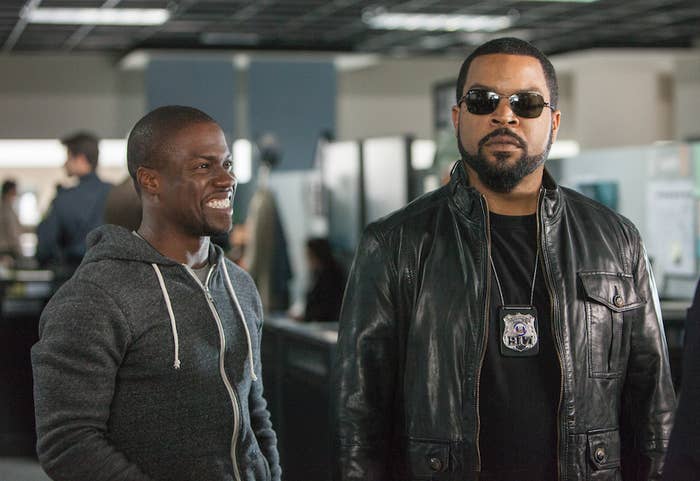 For the second weekend in a row, the Kevin Hart comedy Ride Along was No. 1 at the box office, with an estimated $21.2 million. Matched with the film's record-setting $41.5 million debut last weekend, Ride Along has pulled in just over $75 million in 10 days. For Hart, there is no mistaking what this outcome means: After 10 years of small supporting roles, the 33-year-old stand-up comedian and Twitter phenom is poised to have a breakout year as a true box office star.
Elsewhere on the box office chart, the story isn't nearly as bright for two other actors with star vehicles debuting in January. I, Frankenstein — starring The Dark Knight's Aaron Eckhart as the titular monster, this time in the middle of a modern-day battle between gargoyles and demons — just debuted in sixth place with a limp $8.3 million. And Jack Ryan: Shadow Recruit — starring Star Trek's Chris Pine as Tom Clancy's titular CIA analyst, this time in a rebooted, updated origin story — barely did any better, grossing $8.8 million in its second weekend, for a 10-day total of just $30.2 million.
Before this month, Hart, Pine, and Eckhart could all be thought of as roughly the same kind of actor: a poor man's version of a more famous movie star. And it's not like Ride Along's success and I, Frankenstein and Jack Ryan's failure was about perceived quality: Jack Ryan has by far the best Metacritic and Rotten Tomatoes scores of the three, but none of them could be called well reviewed. Yet Ride Along is clearly a hit, and Hart is clearly one of the main reasons why it's a hit. So what is he offering that Pine and Eckhart aren't?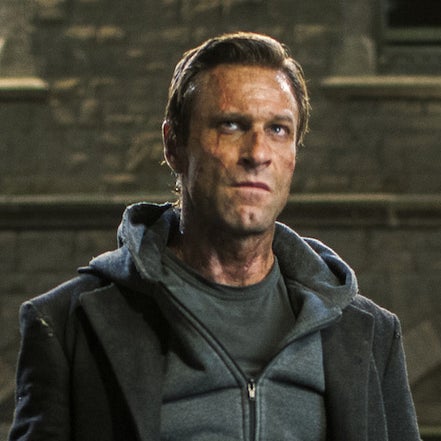 Aaron Eckhart in I, Frankenstein, and Chris Pine in Jack Ryan: Shadow Recruit.
Well, of course, there's the obvious: personality. This isn't just about charm, however — Pine and Eckhart can be plenty charming. It's about demonstrating a singular persona, something that audiences can hook into that makes us want to watch that actor independent of what he or she is in. Think Melissa McCarthy in Identity Thief, or Channing Tatum in 21 Jump Street. Audiences wanted to see those actors in those movies, and their respective studios marketed them largely in that way.
This isn't restricted to comedies either. The Iron Man movies have been fueled largely by Robert Downey Jr.'s unique blend of wily wit and quicksilver intelligence, and the Hunger Games films could not work without Jennifer Lawrence's fiery intensity — and both actors have brought these qualities to other (successful) films outside of their respective franchises. Pine, for all his appeal as Kirk in the last two Star Trek films, hasn't yet worked out how to separate himself from that iconic character in a way audiences can key into. Eckhart, meanwhile, is a solid actor with a movie star face whose unfussy competence has never cohered into a discernible movie star persona.
Hart does not have that problem. He's honed an unmistakable persona as a fast-talking, self-aggrandizing funny man, largely in smallish parts in spoof movies like Scary Movie 3, Scary Movie 4, Superhero Movie, and Extreme Movie, and in sidekick-y parts in studio comedies like Fool's Gold and Meet Dave. The parts were so small, however, that he had no real chance of breaking out. But then came social media.
Thanks pretty much entirely to grassroots marketing through Twitter and Facebook, Hart's 2011 concert film Kevin Hart: Laugh at My Pain managed to gross $1.9 million in just 98 theaters, the best per-theater average of that weekend. In 2012, Hart co-starred in the ensemble romantic comedy Think Like a Man, which surprised Hollywood when it bested the Zac Efron-Nicholas Sparks romance The Lucky One to open with $33.6 million — an accomplishment Hart credited to the entire cast's get-out-the-audience effort on social media. Hart has likened his now-10.9 million Facebook subscribers and 9.7 million Twitter followers as part of an ongoing party he is constantly throwing online — a party that helped make Hart's second concert film, last year's Kevin Hart: Let Me Explain, one of the top five grossing stand-up feature films of all time. (A movie star doesn't have to be on Twitter, however, to make a strong impression with the public when they're not in character — McCarthy, Downey, and especially Lawrence have all captivated audiences with their talk show and awards show appearances. Pine and Eckhart — not so much.)
Next month, Hart will star in the romantic comedy About Last Night (this time, as the comic relief-providing best friend), and in June, Think Like a Man Too will debut, likely marketed with Hart front and center. If those films are box office disappointments, Hart will potentially continue working as an in-demand comic actor, but not an A-list star. Should just one of those films prove to be as big a hit as Ride Along, however, then 2014 will be to Hart's career as 2013 was to McCarthy's, and 2012 was to Tatum's.
Here are the estimated top 10 box office figures for Friday to Sunday, courtesy of Box Office Mojo:
1. Ride Along — $21.2 million
2. Lone Survivor — $12.6 million
3. The Nut Job — $12.3 million
4. Frozen — $9 million
5. Jack Ryan: Shadow Recruit — $8.8 million
6. I, Frankenstein* — $8.3 million
7. American Hustle — $7.1 million
8. August: Osage County — $5.04 million
9. The Wolf of Wall Street — $5 million
10. Devil's Due — $2.8 million
*Opening weekend