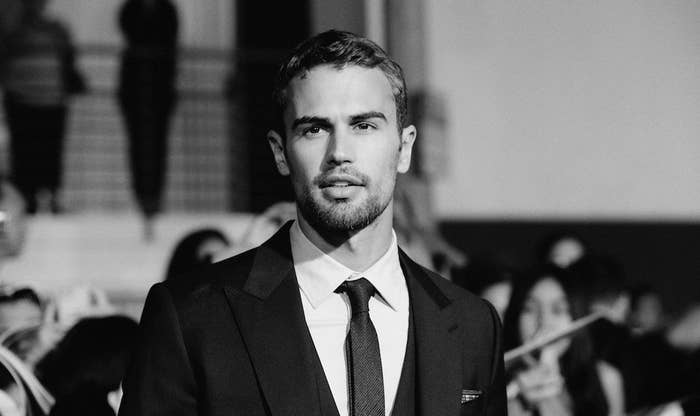 Unless you're a Downton Abbey obsessive or one of the few viewers of some unsuccessful CBS dramas, most people who see Divergent this weekend will be unfamiliar with the film's male lead. And that's how Theo James prefers it.
The actor plays Four in the adaptation of Veronica Roth's best-selling novel, set in a post-apocalyptic world in which the fenced-in citizens of Chicago are broken up into five separate factions. He's an enigmatic instructor of the Dauntless faction who pays special attention to Tris (Shailene Woodley), a young woman with a predisposition for three different factions (i.e., being "divergent"), which puts her life at risk within her society's rigid structure.
While Woodley is a critically acclaimed actress (for The Descendants and The Spectacular Now) and a former ABC Family star (on The Secret Life of the American Teenager), U.K. native James is likely best known for his single-episode stint on the first season of Downton Abbey in which he played Kemal Pamuk, the Turkish high society stud who died while in flagrante with Lady Mary. Since then, James has also appeared in films (Underworld: Awakening) and as the title character of the CBS series Golden Boy, which was canceled after its first season in 2013.
But the 29-year-old actor had to fight for the role of Four during the kind of exhaustive search filmmakers embark upon when attempting to launch a major feature film franchise in the vein of The Hunger Games.
Although this has all happened for James over a scant four years since his memorable visit to Downton, he still doesn't quite feel like he's made it just yet.
"I think being the youngest from a big family, I've always been fairly pragmatic," he told BuzzFeed while hunched over on a couch in a Beverly Hills hotel. "So every time I get a part, I luckily haven't fallen into [reacting with] Yes! — and then being like, Oh shit," he said with a laugh. "You know, some people do get this huge thing, and it's a bang that kind of changes their life. ... In terms of breaks, in a funny way, I haven't felt like one thing has done anything specific [for my career]. It feels likes I've just been kind of incrementally moving up."
If Divergent hits big, it could be the true big "bang" moment in James' career — and certainly director Neil Burger (Limitless) and screenwriters Evan Daugherty (Snow White and the Huntsman) and Vanessa Taylor (Game of Thrones) give the actor plenty of opportunities to smolder and shine.
Here are seven essential things to know about James as he negotiates moving from That Handsome Guy from Downton Abbey into a far bigger spotlight.
1. He changed his last name professionally to James from Taptiklis.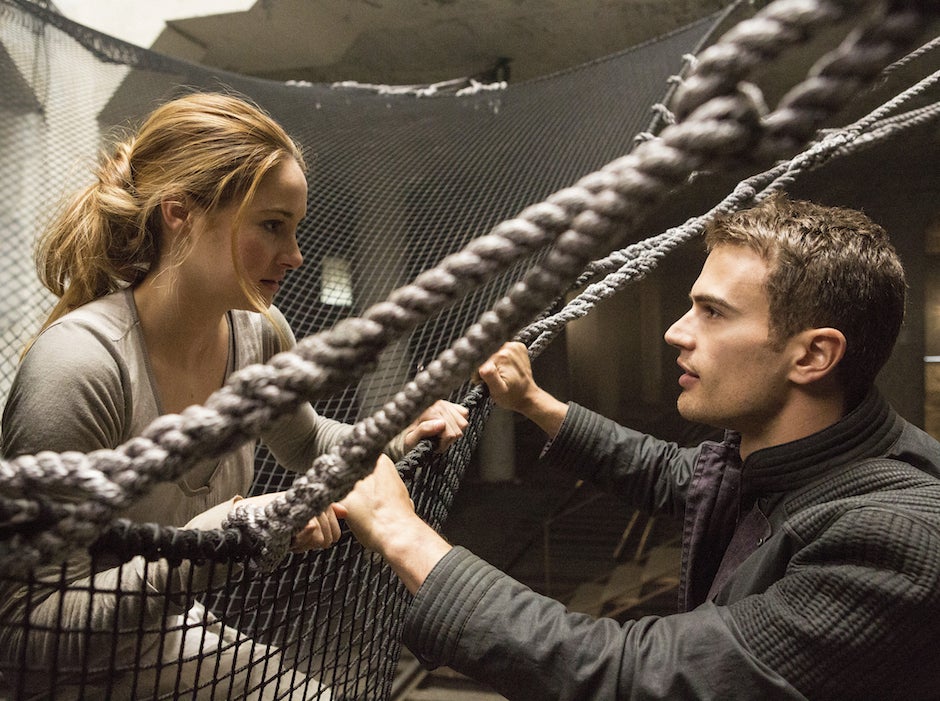 After studying acting at the Bristol Old Vic Theatre School in England, James decided working as an actor under his family's Greek surname might be a difficult proposition. "Taptikilis is one of those names," he said. "A) It's very identifiable and B) It's kind of hard to say and C) I kind of like the idea of not everything [about you] is out there. I mean, ironically, it is, because you just fucking google it. But that was kind of my thinking." He chose James, his middle name, due to "a very pertinent personal connection to a family member," but he declined to explain the connection further. Some things, he felt, should remain private.
While James performed in school plays as a teenager and at Nottingham University, he majored in philosophy and put most of his attention into launching a music career. "I had this naive dream," he said. "I sing and then I'm kind of bad at lots of different instruments. … [I was in] many, many incarnations of bands, some better than others." He started with a funk band called Barracuda — "which is hilarious" — before moving onto folk music, and finding what he calls "a modicum of tiny success" with a band called Shere Khan.
Throughout, James also kept doing plays and short films on the side, at first not taking acting too seriously. "We went up to the Edinburgh Fringe [Festival] a lot," he said. "It started become more endemic to our life and more part of my life. Then I was doing a really bad production of Patrick Marber's Closer. And I did have a moment where I suddenly thought, This is not only gratifying, but it would be a really fun and very rewarding thing to do if possible that you could do for your career."
3. He doesn't think Downton Abbey made that big of an impact on his career.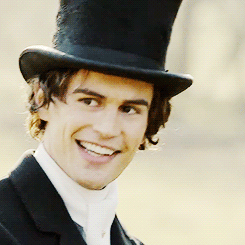 James' turn as the ill-fated Mr. Pamuk on the popular period British soap Downton Abbey was only his third professional acting gig, after the 2010 BBC miniseries A Passionate Woman and Woody Allen's 2010 film You Will Meet a Tall Dark Stranger. And from James' point of view, as memorable as his appearance was on the show, it did not really blast open any doors for him. "It was like one episode in a fun TV show," he said. "It was big in England, but it wasn't, like, massive. I had a huge wig on. It didn't particularly change things, and then in America, it got big much later, [after] I'd already had to do the graft to get other jobs."
4. He is mostly OK with the cancellation of Golden Boy.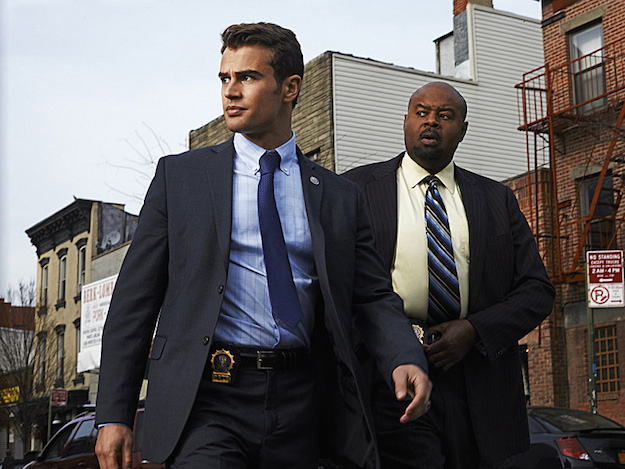 The 2013 CBS police procedural — about a newly minted detective played by James who is fated to become New York's youngest police commissioner — was not only James' first lead role, it was, as he puts it, "the first properly American thing" he'd done. "That was a huge learning curve for me," he said. "Being a lead in a TV show [in the U.S.] is such a different experience because potentially you could be there for a long time. The seasons are longer. You really have to invest in it in a way that you don't have to in Britain — in a good way, I think. You have to show that you have some leadership qualities."
Golden Boy debuted to solid reviews, but its ratings weren't up to muster, and the network canceled the show after its first season. While he was sorry to say good-bye to the show, he wasn't that upset about it. "I loved it and I loved the people, but, you know, I had realistic expectations," he explained. And, besides, just five days after the show was canceled, James was officially cast as Four in Divergent. "I knew that doors were opening," he said. "It just feels each job is a way to progress forward and open a few more doors. You're constantly having to climb ladders, whatever career you're doing."
5. He has a good sense of humor about Four's tattoos.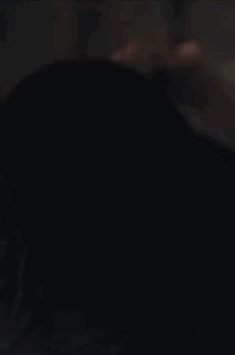 Four's elaborate back tattoo was a critical part of the character, demonstrating his own inner torment about remaining loyal to a single faction. It's also the scorchingly sexy catalyst for Four's first kiss with Tris. "Every morning Shai would kiss it on with oil," he joked.
In truth, James estimated he had to wear the back tattoo "between seven and 10 times through the whole movie," with makeup artists painting the design on him for about three or four hours. "I mean, I can't really complain, because it's pretty easy comparatively," he said. "Because, obviously, I don't have to get my shirt off too much."
6. He's not quite sure, however, how to handle being a heartthrob.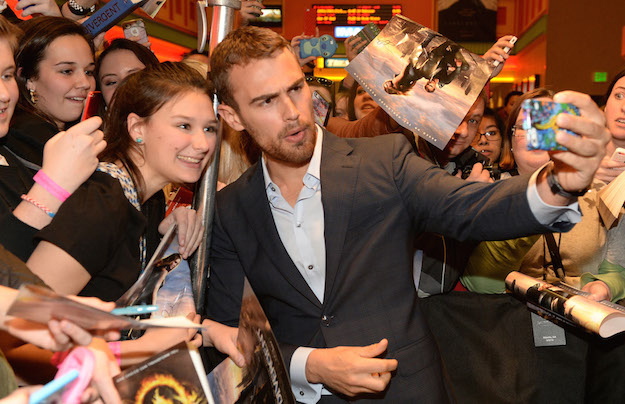 When pressed about the whole "shirt off" part of the role — and its service to a core demographic of straight female and gay male tweens and teens — James first laughed off the question: "Like, he's like a piece of ass or something?"
But he gets it. "There's nothing wrong with satisfying that area of the audience," he said. "That's partly what fucking movies are about. It's escapism. You want to see people in a certain light. But I guess I just hope that he has enough complexity in his character to see beyond that."
James explained that he had an "instant affinity" for Four, and wanted to be sure that he captured his inner life as well as his outward appearance. "He drew me to the story really, almost more than the story itself," the actor explained.
And James is still learning how to navigate the part of the role that has nothing to do with the story, in which he has virtually no control of how and where his face is plastered nationwide. "You have to avoid it. Because if you have zero power over something, then if you are invested in it in any way it's so frustrating because you're like, 'What the fuck is that?! Can we change it?' 'No, you can't,'" he chuckled. "It's a hard thing to do for any human being, because you're the product. But if you do start looking too much, you get into this very strange world of non-reality. It's kind of an unhealthy place."
7. But he's already planning out the rest of his career.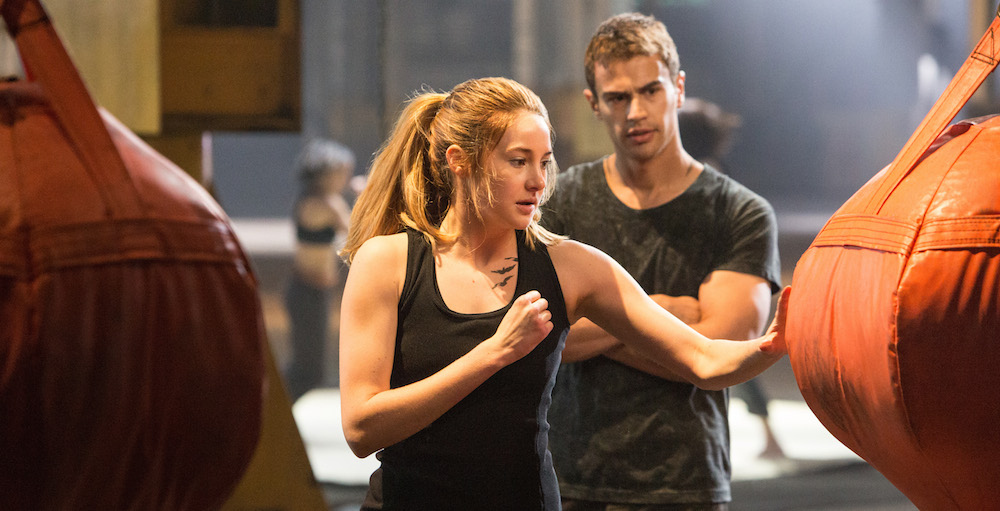 To that end, before he has to return to begin work on the final two movies in the trilogy, Insurgent and Allegiant, James managed to squeeze in two other films after he finished production on Divergent. "I think it's going to be a very important time in my career," he said. "You do get pigeonholed very quickly. I wanted to make a conscious effort to do things that were completely different."
First, he shot London Fields, an adaptation of the Martin Amis novel co-starring Johnny Depp, Amber Heard, Billy Bob Thornton, and Jim Sturgess. "The character was this naive, extremely posh, kind of broken, shy person, and from an upper-class British family," he said. Then James co-starred with Richard Gere and Dakota Fanning in Franny, which he described as "really a three-hander about a couple kind of facing their demons — very naturalistic."
The goal with these films, James said, is straightforward: "So I can carry on being an actor rather than a celebrity."