"The Wolf Of Wall Street" Struggled At Christmas Holiday Box Office
After a strong start, Leonardo DiCaprio and Martin Scorsese's latest effort fell behind The Hobbit 2, Frozen, Anchorman 2, and American Hustle.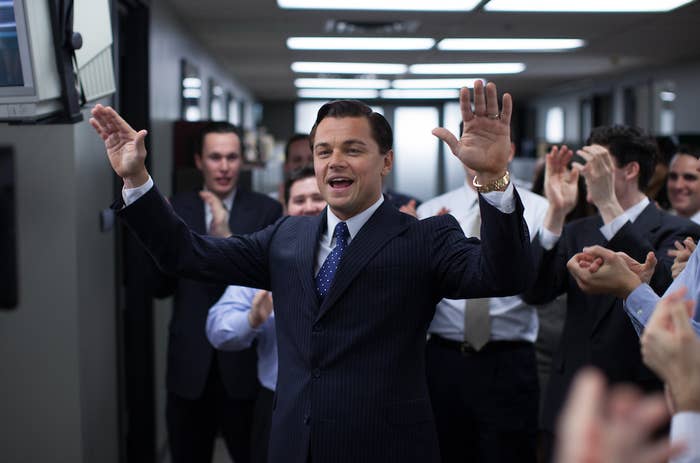 Jordan Belfort may have been a wizard at playing the stock market, but director Martin Scorsese's feature film about his real-life exploits — starring Leonardo DiCaprio as Belfort — has not enjoyed the same fortunes at the box office. The Wolf of Wall Street opened with an estimated $34.3 million over the five-day Christmas holiday weekend, good enough for just fourth place behind The Hobbit: The Desolation of Smaug (with $49.7 million over five days in its third weekend), Frozen (resurgent with a fabulous $44.3 million in its fifth weekend), and Anchorman 2: The Legend Continues (recovering from an iffy debut weekend with $35.6 million).
When you drill a bit deeper in the numbers, however, The Wolf of Wall Street's box office outlook seems even more shaky. The movie opened strongly on Christmas Day, pulling in an estimated $9.2 million, ranking just behind The Hobbit sequel for the day. But of the top five films over the holiday, Wolf suffered the steepest drop from Wednesday to Thursday, falling 27.4%. By Friday, the film had fallen behind American Hustle, ultimately coming in fifth for the traditional Friday–Sunday weekend.
The movie's three-hour running time, limiting the number of screenings per day, did not help its financial bottom line. But its dismal C score from the audience polling firm CinemaScore also points to lousy word-of-mouth, likely thanks to the film's unflinching depiction of Belfort's sex-and-drug-filled life of self-indulgent excess. For a movie with a reported $100 million budget and with the goal of breaking into the most competitive awards season in years, these are not positive indicators of future success.
To be fair, though, Wolf did at least enjoy the strongest box office debut of the holidays. Every other film opening this week either struggled to make an impact — like Ben Stiller's family drama The Secret Life of Walter Mitty, grossing only $25.6 million since Wednesday, and the Sylvester Stallone–Robert De Niro boxing movie Grudge Match, opening with a measly $13.4 million over five days — or was an outright box office belly flop. The long-delayed, mega-budgeted Keanu Reeves medieval samurai thriller 47 Ronin opened with only $20.6 million since Wednesday, and could force Universal Pictures to take as much as a $175 million write-down on the film. (In fact, according to Reuters, the studio has already started writing down the budget.)
And then there's the Justin Bieber concert documentary Believe, which pulled in a microscopic $4.3 million over five days. Bieber's last concert doc, 2011's Never Say Never, made three times that in its first day. Perhaps Bieber's attempted jokes that he's (possibly) retiring are real after all?
Here are the estimated top 10 box office figures for Friday to Sunday, courtesy of Box Office Mojo:
1. The Hobbit: The Desolation of Smaug — $29.9 million
2. Frozen — $28.8 million
3. Anchorman 2: The Legend Continues — $20.2 million
4. American Hustle — $19.6 million
5. The Wolf of Wall Street* — $18.5 million
6. Saving Mr. Banks — $14 million
7. The Secret Life of Walter Mitty* — $13 million
8. The Hunger Games: Catching Fire — $10.2 million
9. 47 Ronin* — $9.9 million
10. Tyler Perry's A Madea Christmas — $7.4 million
*Opening weekend