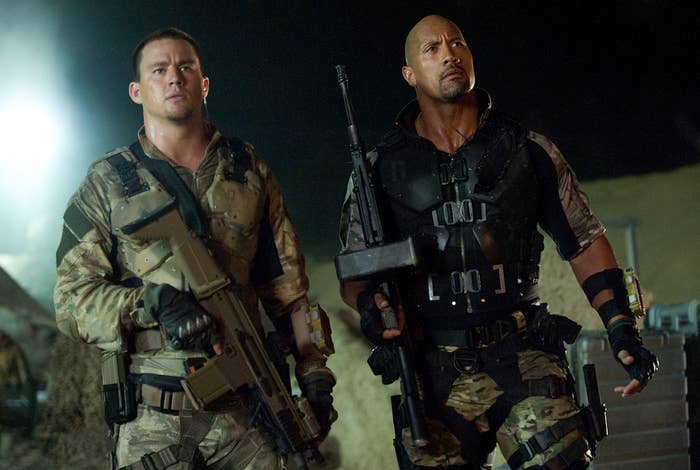 On the one hand, this story contains what could be considered a major SPOILER for G.I. Joe: Retaliation. On the other hand, it's not exactly a spoiler if the Dec. 12, 2011 trailer for the movie pretty much gave it away within the first 90 seconds.
I'm talking, of course, about the decision to kill off Channing Tatum's character, Duke, after just the first few scenes in the movie.
It's been a nagging issue for director Jon M. Chu, especially after Paramount decided just a month before its original June 29, 2012 release date to push the film to this weekend instead. The official explanation was that the film was being converted into 3-D, a time consuming process. But pretty much immediately after the announcement, Hollywood watchers began speculating that the real reason was to figure out a way to shoot more scenes with Tatum, whose star was exploding thanks to The Vow, 21 Jump Street, and the then-impending Magic Mike.
But according to Chu (Step Up 3D, Justin Bieber: Never Say Never), that was never the plan. "No, we didn't shoot anything [new]," he says in a phone interview. "It was very frustrating that everyone started making up stories about how we were putting Channing back in the movie. You know how the internet works — you just can't stop it."
Moreover, Chu says that there was never any possibility of adding in more scenes with Tatum, since the story was conceived from the very beginning to be a revenge tale about the three Joes — The Rock's Roadblock, Adrianne Palicki's Lady Jaye, and D.J. Cotrona's Flint — who survive a massacre in the desert that wipes out all the other Joes. "Even before I even came on [to direct], it was always, 'What can we do to shock the audience?'" he said. "'What can we do to shake audience expectation of what a second G.I. Joe movie would be?'"
Chu did shoot a new scene with Tatum and The Rock that comes in early in the film, but he says it was shot was "maybe five, six months prior to the delay." (Click here for more on that scene, and the one with a shirtless Cotrona that it sadly replaced.) But he insists that he was never tempted to resurrect Duke to take advantage of Tatum's newfound A-list status. "We knew we could go crazy in this movie if and only if the danger felt real," he says. "Having a big character like that be blown to bits in the first 15 minutes of the movie was a shocker. You would now know no one is safe at any point, and you would feel that danger."
In a way, the fact that Tatum is now an enormous star could mean that his character's death will resonate that much more with audiences. "Emotionally, you would feel that one of your brothers was no longer with you," says Chu. "[It] was something that our characters were going through. Random characters [dying] don't have that effect."
You heard the man, movie stars: No one is safe anymore.