"The Fifth Estate" Has The Worst Opening Weekend Of The Year
Benedict Cumberbatch's superfans couldn't keep the first WikiLeaks feature film from tanking at the box office. But was WikiLeaks founder Julian Assange's campaign against the film the reason why?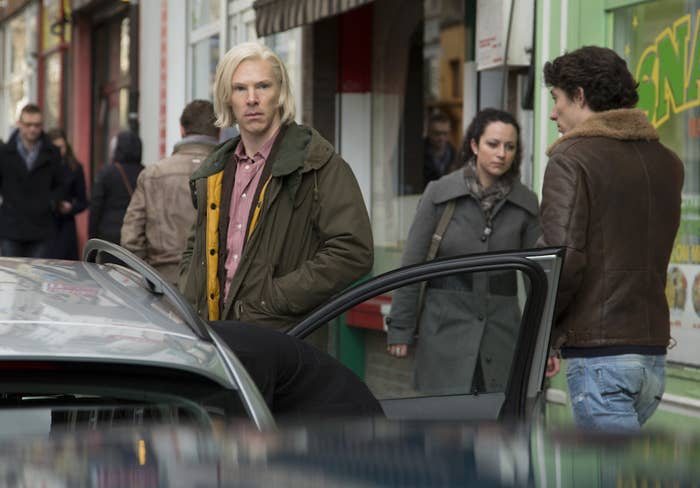 Julian Assange may still be trapped in the Ecuadorian embassy in London, but he is likely having a very good day.
The Fifth Estate — the DreamWorks Pictures film about how Assange worked to make his secret document publishing site WikiLeaks a lightning rod for activist journalism — just recorded the worst opening weekend for a wide-release film in 2013, taking in an estimated $1.7 million in 1,769 locations, for a tiny per-theater average of $969. In comparison, in its fifth weekend of release, the romantic comedy Enough Said made $1.8 million this weekend in less than half the number of theaters.
For almost a year, Assange has been actively campaigning against The Fifth Estate. He directly pleaded with star Benedict Cumberbatch not to play him in the movie before production began. Last month, WikiLeaks released a version of the entire script, along with a detailed manifesto explicating all the perceived errors in the film. The WikiLeaks Twitter feed posted a link to all of The Walt Disney Company's major shareholders — Disney has a distribution deal with DreamWorks. And then finally last week, Assange gave a rare interview with the Hollywood Foreign Press in which he predicted The Fifth Estate "is destined to be a box-office failure."
In short, Assange did almost everything within his power to control the media narrative about the film. But as much as he will want to take credit for its box office belly flop, the reasons behind The Fifth Estate's failure to connect with audiences are far more mundane.
The film's tepid-at-best premiere at the Toronto International Film Festival failed to garner the kind of buzz necessary for a movie hoping to win over educated and discerning moviegoers amid an unusually stuffed season of high-caliber awards season films. Disney and DreamWorks' decision to give the film a wide release and market it as a full-out thriller — as opposed to a smaller platform release selling the film as the cerebral drama it really is — never managed to win over a mainstream audience that clearly has a waning interest at best in Assange and WikiLeaks. (This summer's blanket coverage of Edward Snowden, whose leaks about the National Security Agency surveillance program bypassed WikiLeaks in favor of traditional media outlets, also robbed Assange of much of his Most Dangerous Man on the Internet mojo.)
And finally, this was simply an overcrowded weekend, with no less than six high profile premieres in both wide and limited release, not to mention the continuing box office juggernaut that is Gravity, which grossed $31 million to win the box office for the third weekend in a row. (Its domestic total now stands at $170.5 million.) Of all the weekend debuts, 12 Years a Slave — which, incidentally, features Cumberbatch in a supporting role — came out the best, grossing $50,500 per theater in 19 locations despite its well-publicized difficult subject matter.
Those Cumberbitches bereft at the utter failure of Benny Batch's first major feature film star vehicle, meanwhile, should take solace in the fact that their favorite actor did an epic job trying to generate publicity for his film. It wasn't that audiences didn't care about Cumberbatch. It's that they didn't care about Assange.
Here are the estimated top 10 box office figures for Friday to Sunday, courtesy of Box Office Mojo:
1. Gravity — $31 million
2. Captain Phillips — $17.3 million
3. Carrie* — $17 million
4. Cloudy with a Chance of Meatballs 2 — $10.1 million
5. Escape Plan* — $9.8 million
6. Prisoners — $2.1 million
7. Enough Said — $1.8 million
8. The Fifth Estate* — $1.7 million
9. Runner Runner — $1.6 million
10. Insidious Chapter 2 — $1.5 million
*Opening weekend