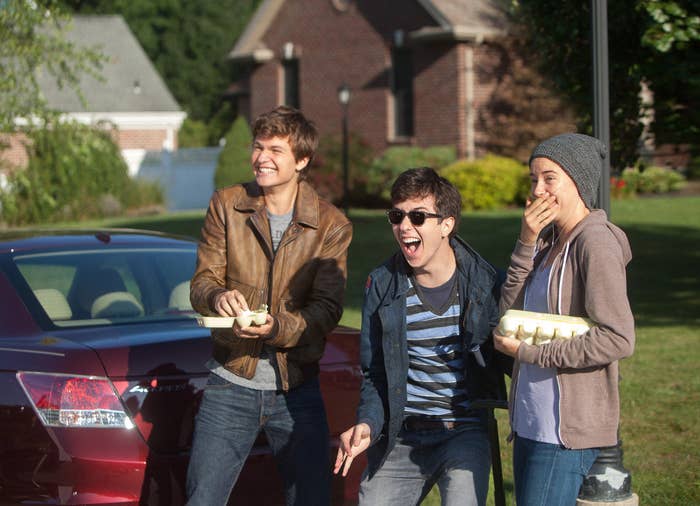 It's no secret that the contemporary drama has had a rough time at the box office for the past 15 years or so. As franchise movies, high-concept comedies, and family pictures have started to dominate Hollywood's business model, movies about regular people living (more-or-less) regular lives in the world we live in now have become a scarce commodity at the multiplex.
That might begin to change with the phenomenal success of The Fault in Our Stars, which opened this weekend with an estimated $48.2 million — the best debut for a contemporary drama pretty much ever. I'm hedging my bets there because the definition of a "contemporary drama" is somewhat subjective. Some may count romantic comedies like Sex and the City or Valentine's Day, but I do not — while both of those films have some major dramatic moments, neither were made with anything close to the intent of rendering their audiences helpless amid a constant cascade of tears.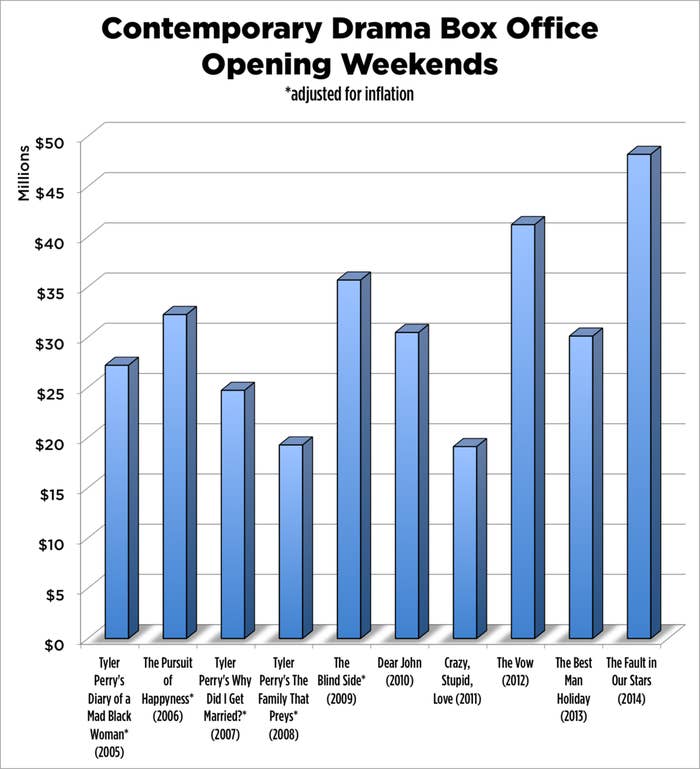 The Fault in Our Stars does fall in the footsteps of a different kind of box office champion, however — the YA novel adaptation, typified in grand fantasies like The Twilight Saga, The Hunger Games, and most recently Divergent. With exactly zero CG-laden action sequences to its name, the debut of TFIOS doesn't approach the box office highs of those movies, but the film nonetheless came with a passionate built-in fan base of author John Green's best-selling novel. That fan base was so passionate, in fact, that it dramatically front-loaded the movie's box office, bringing in $26.1 million, over half of its debut, on Friday and Thursday night (thanks to a $25-a-ticket special screening that included a simulcast Q&A with the film's stars and filmmakers).
The Twilight movies were similarly front-loaded, and subsequently suffered steep drop-offs in ticket sales for the rest of their box office runs — a fate TFIOS could duplicate. But with a reported $12 million budget, TFIOS has also already made its money back, while dwarfing the paltry $29.1 million debut weekend for the Tom Cruise sci-fi thriller Edge of Tomorrow — also a very good movie, but one that cost more than 10 times as much to make and market as this weekend's box office champion.
Hollywood should heed those numbers. Building a movie about nothing more fantastical than the importance of human connection can be just as profitable as one built on the importance of giant CG monsters — and far less of a financial risk. OK? OK.
Here are the estimated top 10 box office figures for Friday to Sunday, courtesy of Box Office Mojo:
1. The Fault in Our Stars* — $48.2 million
2. Maleficent — $33.5 million
3. Edge of Tomorrow* — $29.1 million
4. X-Men: Days of Future Past — $14.7 million
5. A Million Ways to Die in the West — $7.2 million
6. Godzilla — $6 million
7. Neighbors — $5.2 million
8. Blended — $4.1 million
9. Chef — $2.6 million
10. Million Dollar Arm — $1.8 million
*Opening weekend