"The Best Man Holiday" Is Another Box Office Hit In A Great Year For Films With Black Casts
The sequel to the 1999 sleeper hit opened with an estimated $30.6 million. It even beat Thor: The Dark World on Friday.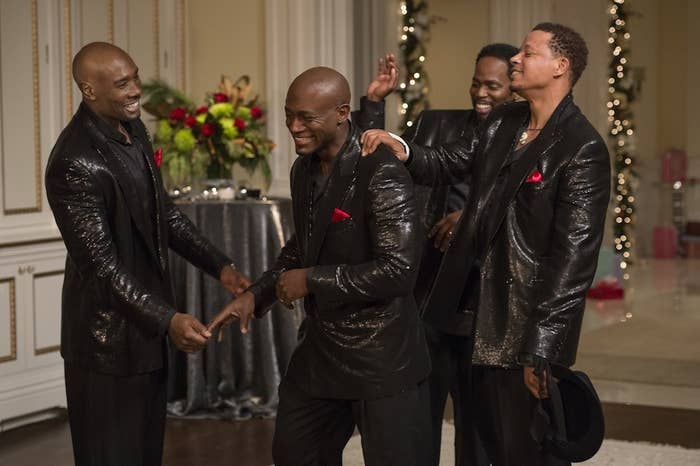 It's becoming a cliché to point out that new releases by black filmmakers are having an unusually fabulous year.
The latest example: The Best Man Holiday just opened with an estimated $30.6 million this weekend. That is good enough for second place just behind Thor: The Dark World — which pulled in $38.5 million in its second weekend. But considering that the film reunites the cast from 1999's sleeper hit The Best Man — which you may have noticed opened 14 years ago — there are a few more figures that are even more impressive:
• On Friday, The Best Man Holiday grossed roughly $200,000 more than Thor: The Dark World, indicating it was a genuine "must see" for its core audience.
• That core audience: 75% female, 63% 35 and older, and 87% African-American — rarely do any of these three appear as the main demo for a box office success in modern Hollywood, and even more rarely do they all appear together.
• Every demographic, meanwhile, out-and-out loved the film: The film earned an equally rare A+ from the audience polling firm CinemaScore — and that's from men and women, both over and under 25 years old.
• Over the full weekend, The Best Man Holiday had the best per theater average among all wide releases, with $15,100 per location.
At this point, none of this should be a surprise. Both 42 and The Butler — biopics about trailblazing African-Americans — opened at No. 1 at the box office, and the latter has grossed nearly $150 million worldwide. Fruitvale Station grew from a Sundance Film Festival darling into an art house theater hit, and 12 Years a Slave just expanded to 1,411 theaters, a wider pre-Academy Awards release than similarly "bleak" Oscar winners like Precious: Based on the Novel 'Push' By Sapphire, No Country For Old Men, and The Hurt Locker.
Another equally important factor in all this success: All of the aforementioned African-American-centric films also happen to be good movies. Two other films from this year with predominantly black characters — May's Tyler Perry Presents Peeples (produced but not directed by Perry) and June's After Earth (starring Will and Jaden Smith) — were unqualified flops in the U.S., in no small part because they were, to put it gently, bad.
So, to recap: Audiences will pay to see really good movies with black casts that aren't directed by Tyler Perry. It seems like a simple proposition. Let's hope Hollywood is paying attention.
Here are the estimated top 10 box office figures for Friday to Sunday, courtesy of Box Office Mojo:
1. Thor: The Dark World — $38.5 million
2. The Best Man Holiday* — $30.6 million
3. Last Vegas — $8.9 million
4. Free Birds — $8.3 million
5. Jackass Presents: Bad Grandpa — $7.7 million
6. Gravity — $6.3 million
7. Ender's Game — $6.2 million
8. 12 Years a Slave — $4.7 million
9. Captain Phillips — $4.5 million
10. About Time — $3.5 million
*Opening weekend