Comic-Con exclusive concept art from The Avengers: Age of Ultron of Captain America, Hulk, and Iron Man fighting off the title villain's robotic minions.
SAN DIEGO — The cast of The Avengers: Age of Ultron came in full force to the massive fan convention Comic-Con on Saturday, and unveiled a first look at their film that played to a raucous standing ovation among the 6,000-plus person crowd in Hall H, Comic-Con's largest venue.
Movie veterans Robert Downey Jr., Jeremy Renner, Mark Ruffalo, Chris Hemsworth, Samuel L. Jackson, Chris Evans, and Cobie Smulders were joined by new recruits Aaron Taylor-Johnson, Paul Bettany, James Spader, and Elizabeth Olsen, as well as Marvel Studios chief Kevin Feige. Scarlett Johansson couldn't attend due to her pregnancy, and writer-director Joss Whedon was forced to stay behind in London — where the cast is still shooting the film — after undergoing knee surgery last week.
Despite those absences, the lively, jokey panel kept the crowd entertained, before Feige unveiled an extended first look at the movie:
It opens with the main Avengers — Tony Stark (Downey), Steve Rogers (Evans), Thor (Hemsworth), Clint Barton (Renner), Natasha Romanoff (Johansson), and Bruce Banner (Ruffalo) — hanging out after a party, joined by Maria Hill (Smulders) and Stark's buddy James Rhodes (Don Cheadle). To pass the time, all the men try to lift Thor's hammer, and they all fail. Banner jokes about hulking out, but no one buys it. Romanoff doesn't bother trying: "I don't need an answer to that question," she says with a wry smile. When Rogers tries, the hammer does budge, just a bit, causing Thor to blanche. But ultimately, as Thor tells them all while effortlessly tossing the hammer in the air, "You're all not worthy."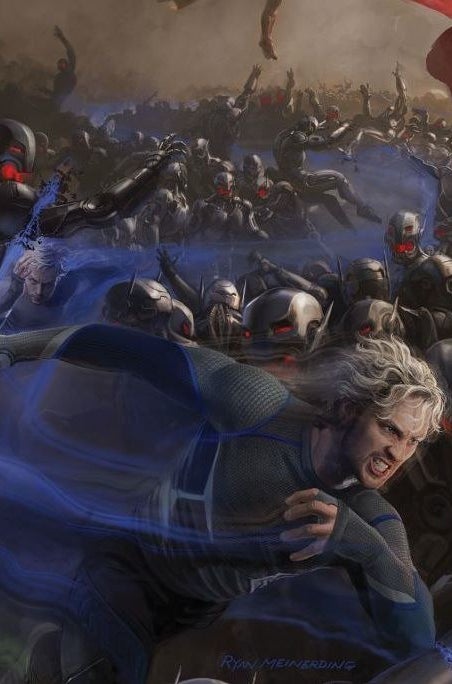 Quicksilver, Black Widow, and Scarlet Witch in the same Comic-Con exclusive posters
Cue Ultron (played in performance capture by Spader), the artificially intelligent robotic creation of Tony Stark, still in a skeletal form, with a face frozen in a jagged, jackolantern smile. "You aren't worthy," he says. "You want to protect the world, but you don't want it to change. … There's only one path to peace. Your extinction."
The rest of the footage was an all-out assault of battles and carnage, painting a grimmer, darker picture than the first movie's rah-rah derring-do. We see Wanda Maximoff (Olsen), aka Scarlet Witch, briefly toss out a scarlet-colored blast of energy, and Pietro Maximoff (Taylor-Johnson), aka Quicksilver, running while everything else around him moves in slow motion. Iron Man dons a much larger suit to subdue a rampaging Hulk in South Africa. (There was also a quick shot of Andy Serkis, who recently hinted at a live-action role in the movie. He was shot in a close-up, and had what appeared to be a long beard; beyond that, his appearance was impossible to discern.)
Throughout the footage, Ultron intones portents of dark things to come: "I had a vision. The whole world screaming for mercy."
At one point, Stark says, "It's the end — the end of the path I started us on," a line that refers to both the notion upon which Ultron was built — so the Avengers can take a break, while Ultron fights evil for them — and possibly what lies ahead for their team. The final shots are of Captain America, crumpled and unconscious on the ground, his shield snapped in two, as Stark looks on in horror. Then we cut to Ultron's face once again, and this time, it's far more advanced. The mouth can move. And as the robot bares his teeth, he says, "There are no strings on me."
After the first look played, everyone in Hall H lost their minds, leaping to their feet in a spontaneous standing ovation.
And if that wasn't enough, Josh Brolin, who voices Marvel Big Bad Thanos in Guardians of the Galaxy, emerged on stage brandishing the Infinity Gauntlet.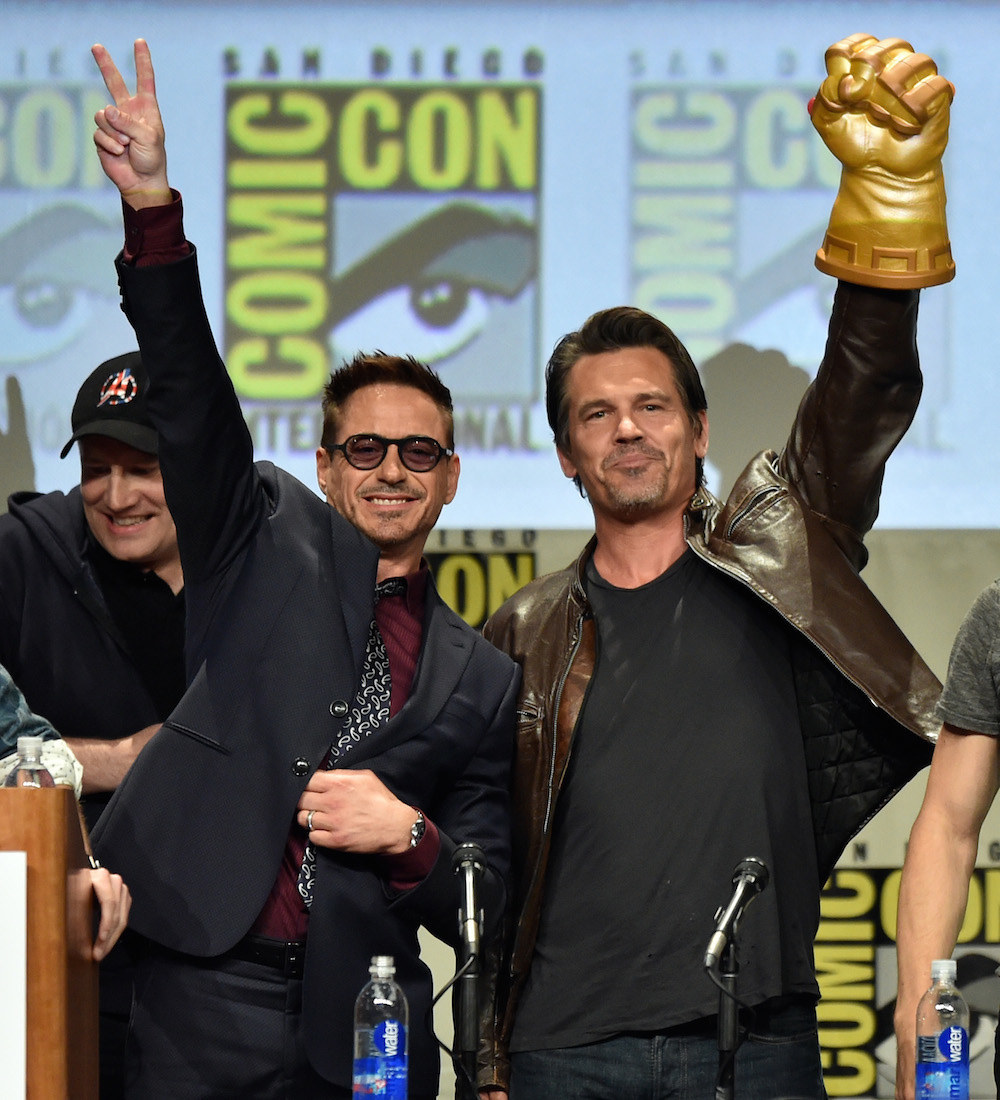 Thanos has a small role in Marvel's Guardians of the Galaxy, which opens on Friday, Aug. 1, and, if Brolin's appearance at the end of this panel is any indication, Thanos will only become a bigger part of the Marvel Cinematic Universe.
To cap off the panel, Feige queued up a jokey video between Guardians of the Galaxy's star Chris Pratt and director James Gunn, in which they revealed the sequel to their film will open on July 28, 2017. He made no other announcements — not even an anticipated reveal of Doctor Strange — but for many in the Hall H crowd, the first look of The Avengers: Age of Ultron was enough.