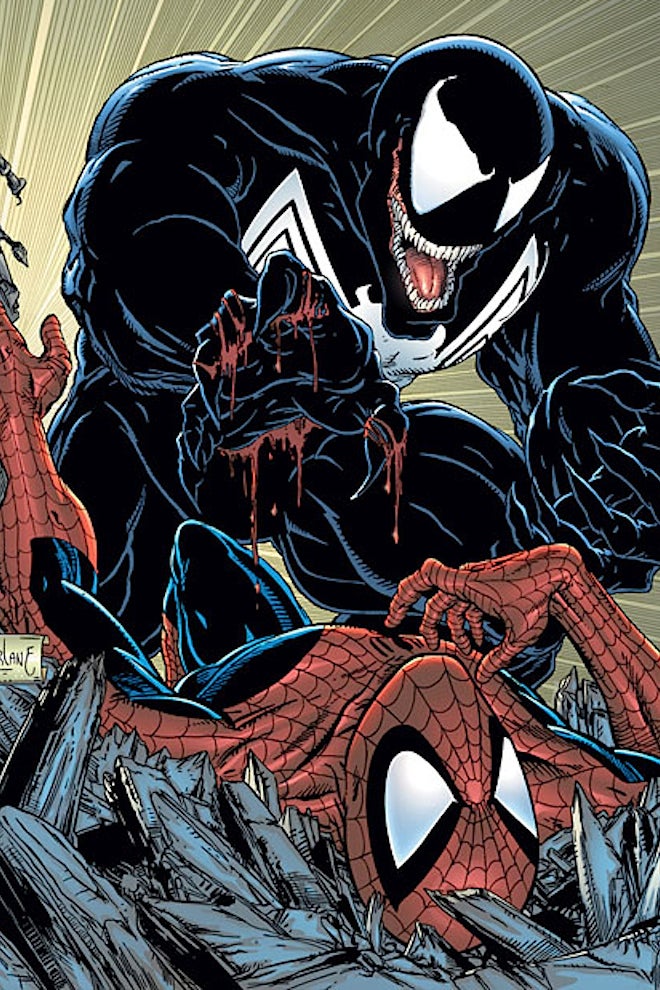 Venom (left); The Sinister Six, at least, one iteration of the group (right).
It seems Beyoncé wasn't the only superhero to drop big news Thursday night.
In a stealth release via a marketing website for next summer's The Amazing Spider-Man 2, Sony Pictures announced that the studio has hired five screenwriters to expand the Spider-Man movie universe with at least two spin-off movies focusing on other characters from the Spider-Man comic books — specifically, several Spider-Man villains.
Alex Kurtzman and Roberto Orci (Star Trek Into Darkness) will partner with screenwriter Ed Solomon (Now You See Me, Men in Black) to write the screenplay for Venom, based on the fan-favorite character who is transformed via an alien symbiote into a hulking, sharp-toothed brute. (Venom was first played on screen by Topher Grace in 2007's Spider-Man 3, to virtually no one's satisfaction.) Kurtzman will direct the film, his second feature after 2012's little-seen family drama People Like Us.
Filmmaker Drew Goddard (The Cabin in the Woods, Cloverfield), meanwhile, has been tapped to write a screenplay for The Sinister Six, with "an eye to direct" the film, Hollywood-speak for "the deal isn't close to final yet." (Sony's hesitation is likely because Goddard is already committed to write and direct the pilot episode and serve as the showrunner for Marvel Television's 13-episode Daredevil series for Netflix, which is set to premiere in 2015.) In the Marvel comics, there have been several iterations of the Sinister Six, which was first founded by Doctor Octopus, and also consisted of Kraven the Hunter, Mysterio, Sandman, Vulture, and Electro. The last villain in that group, of course, will already be played by Jamie Foxx in next May's The Amazing Spider-Man 2, but Sony's announcement did not specify which villains within Spider-Man's rogues gallery would make up this particular version of the Sinister Six.
Finally, Sony also announced that The Amazing Spider-Man 2 screenwriters Kurtzman, Orci, and Jeff Pinkner (Fox's Fringe) would return to write the screenplay for The Amazing Spider-Man 3, which already has a release date set for June 10, 2016. Marc Webb, who has directed the first two Amazing Spider-Man movies, has not yet signed on to direct the third film, but, as the release wryly puts it, "the studio hopes Webb will return to direct [The Amazing Spider-Man 3]."
All together, the announcement makes plain Sony's ambition to marshall its own Spider-Man mega-franchise, like the one first pioneered by Marvel Studios. According to the announcement, Webb, Kurtzman, Orci, Pinkner, Solomon, and Goddard, along with producers Avi Arad and Matt Tolmach, are forming "a franchise brain trust to expand the universe for the brand and to develop a continuous tone and thread throughout the films." (Sony's announcement also comes on the heels of Warner Bros.' announcement last week that the as-yet-untitled Superman-Batman movie will also feature Wonder Woman, as played by Fast & Furious 6 actress Gal Gadot — another clear attempt at a comic-book driven mega-franchise, this time in the DC Comics universe.)
Unlike Marvel Studios' films, however, Sony — whose film licensing agreement with Marvel Entertainment is limited to characters from the Spider-Man comics — is focusing on Spider-Man's enemies as the subjects of its expanded cinematic universe. Those characters are likely more familiar to a general audience than the smaller collection of more genuinely heroic figures in the Spidey comics who aren't Spider-Man. But creating a series of spin-off films about characters who are inherently up to no good could pose something of a marketing challenge for the studio.
Another major question mark: whether star Andrew Garfield will stick around for any Spidey spin-off movies. His contract only lasts through The Amazing Spider-Man 3, and the actor recently told Yahoo! UK that he doesn't know anything about a fourth Amazing Spider-Man film, which Sony has already scheduled for May 4, 2018. "I'm under contract for another one," he said. "As far as a fourth one? That's not anything to do with me."
No firm release dates for Venom or The Sinister Six were announced, but reps for Sony did not immediately respond to inquiries about whether either film would take over the May 2018 release date for The Amazing Spider-Man 4.