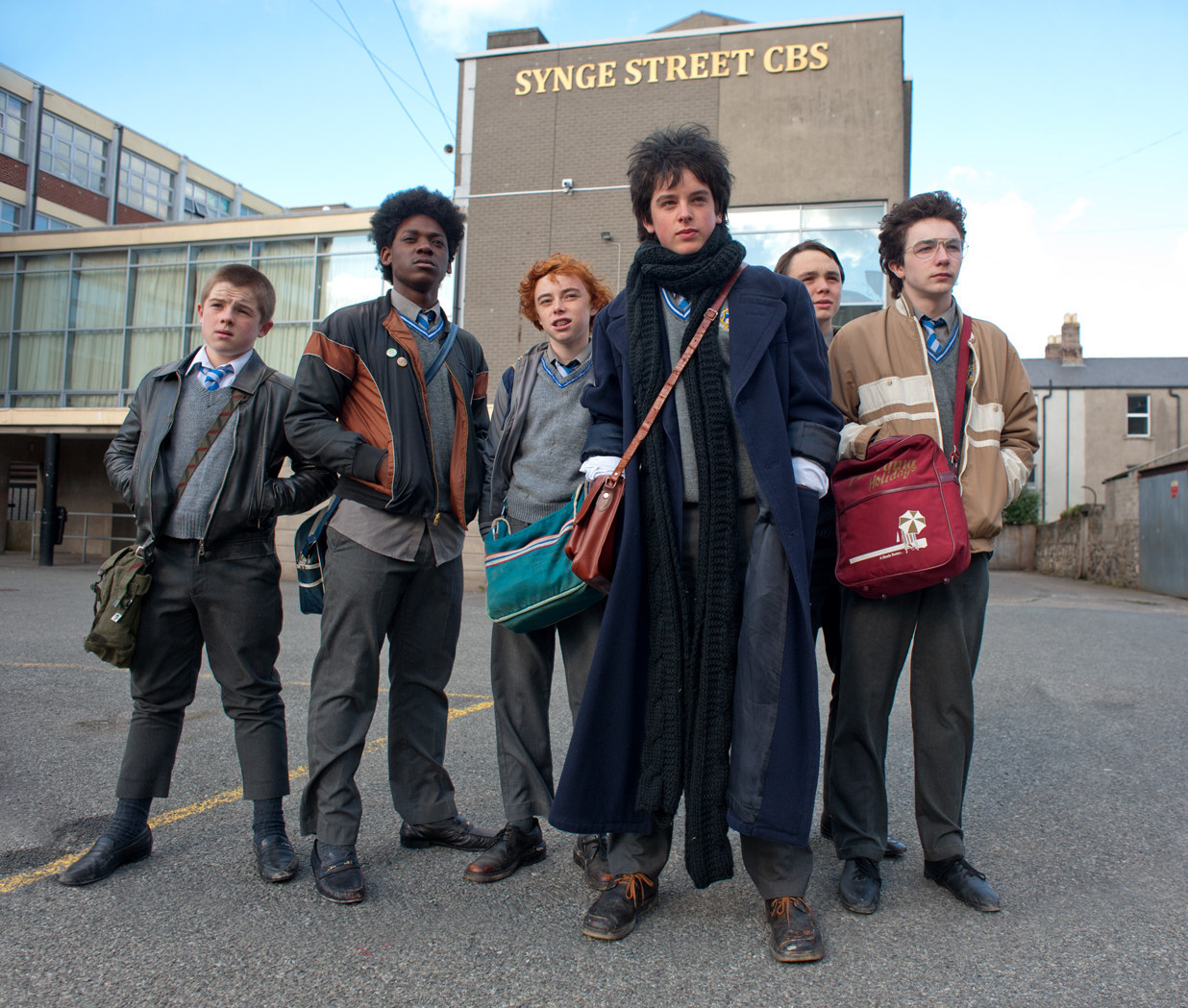 In Sing Street — the exuberant new musical film from director John Carney (Once, Begin Again) — a 14-year-old Dublin teenager named Cosmo (Ferdia Walsh-Peelo) forms a band to survive bullying from students and teachers at his harrowing Catholic high school. Carney based the film on his own experiences playing in a band while attending Dublin's Synge Street School in the 1980s; he infused the original music in the movie with an infectious patchwork of '80s influences, ranging from Duran Duran to the Cure to Elvis Costello.
The first song in the film, "The Riddle of the Model," was especially crucial to whether the film's scrappy coming-of-age story through the lens of '80s pop would succeed. Carney explained to BuzzFeed News how he and a team of songwriters and musicians created the song, what it needed to accomplish, and how the band in the movie compares to its real-life inspiration.
---
The story and the music evolved at the same time.
Like he did with Once, Carney invited a professional musician to collaborate with him on creating Sing Street's story — this time it was Scottish songwriter Gary Clark, who wrote the hit song "Mary's Prayer" in 1987. "He's been a hero of mine for so long," said Carney.
Carney, Clark, and their team of musicians crafted the script and the songs together. "The song would inform a piece of dialogue, or a theme, and vice versa," said Carney. "Sometimes I'd suggest some ideas from the script to the songwriters, and suggest some notional ideas for where a song might go. I think it's a good way to write musical films."
Carney had already written the scene that inspired "The Riddle of the Model": Cosmo approaches a the beautiful (and intimidatingly mature) teenager Raphina (Lucy Boynton), an aspiring model, outside of his school, and talks her into starring in a music video for his band...a band that did not, at that point, exist, so Cosmo quickly cobbles one together. Carney wanted Cosmo's first song to be inspired by their initial encounter.
"You'd seen him go up to this girl on the corner, and you'd seen him talk to her," he said. "And now you see his lyrical memory of that scene, or what it means to him. … So we knew what the scene was, and I pitched it in the studio, and we started to write the song around that."
---
The song needed to be "plausibly naive."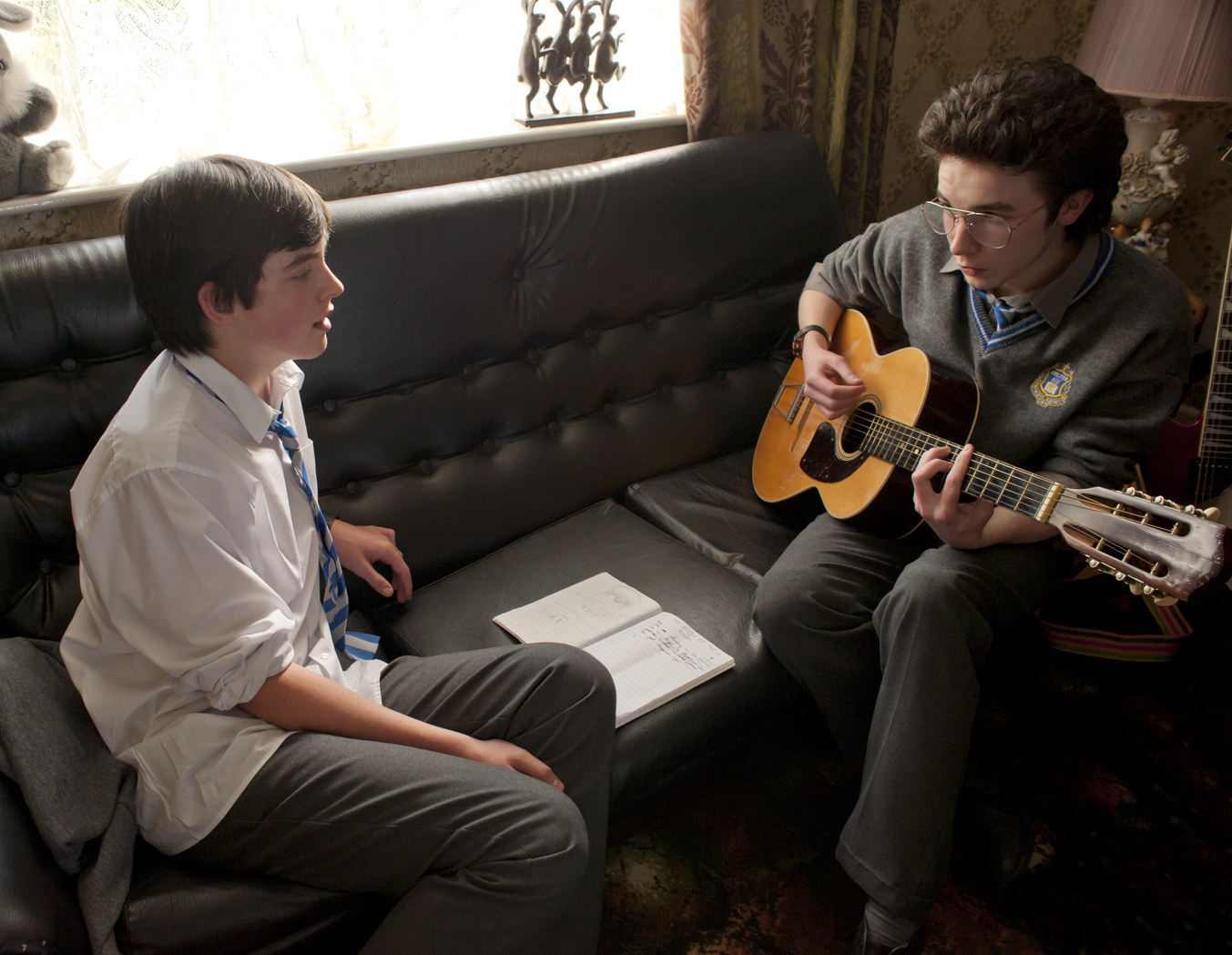 "I didn't want this film to be about a bad school band," said Carney. "I wanted it to be about one that was potentially really, really good." The trick was that the first song written by a bunch of teenage boys with zero prior musical experience could not be too good, either. "It has to sort of sound plausibly naive, but it has to also suggest that they actually did know how to write some quite catchy songs."
For the music to "The Riddle of the Model," Carney wanted to keep things very simple, so he built the opening riffs of the song from his own memory of his first days with a guitar. "They were the first two chords that I learned," he said. "They're very simple, little funky chords. And it's very easy to build a little song around them. So that came with me in the studio playing those two chords on a loop, and adding bass and drum. And then in between each riff, I thought it would be kind of cool if it goes, you know, riff of guitar, line of [lyrics], riff of guitar, line of [lyrics]. And you'd structure around that sort of idea."
Similarly, Carney wanted the lyrics to sound like a smart 14-year-old wrote them. So while the song's opening lines remain couched in tried-and-true clichés — "She's standing in the corner / like an angel in disguise / and as I look a little closer / she's got dangerous eyes" — Carney also wanted it to seem like Cosmo was trying to show off his vocabulary. "He uses big words like 'stipulation,' which maybe his [older] brother taught him, or he heard around his house or something," Carney said.
The chorus was Clark's contribution, a pointed homage to what Carney said was an "overly dramatic, almost theatrical singing that a lot of those kinds of alternative English bands were into" like Duran Duran and Japan — and that Cosmo's band would want to emulate.
---
The band's musical immaturity meant getting professional musicians to play like they were kids again.
Other than Walsh-Peelo's vocals, "The Riddle of the Model" is performed by professional musicians with years of experience — which Carney worked hard to get them to forget.
"We went through take after take of getting the musicians to play worse," he said. "If ever they got too good, we would rewind and erase and start over. Musicians are usually hired to play as well as they can, and so it was quite good fun to get them to do the reverse of that. It's an interesting discipline to try to play out of time and make it sound plausible. Doing drumrolls with a cymbal at the end, but no bass drum underneath it. It's a very specific thing, the naïveté of young musicianship."
---
The music drew from '80s British pop music stars — and their American influences.
Like any high school–aged kid just starting a band, Carney wanted Cosmo's band to evoke the music they would be listening to at the time — or, rather, the music Carney listened to when he was growing up.
"The thing that I quite liked about British pop music of the '80s is that they took influences from American music, and different types of American music, and made it their own," he said. "All of my real, genuine love of music is American music — like, categorically. But the fun of pop music in the '80s, which is what you're seeing in Sing Street, mainly came out of Britain for me. I don't take that music particularly seriously, you know?"
For "The Riddle of the Model," Carney especially leaned on slap bass, in which the bass player would literally slap the instrument in order to produce a percussive sound. "Slap bass comes from a way more late '60s, early '70s American funk," Carney explained. "Bands in the '80s in England were very influenced by that sound. So you got a lot of Level 42 and Duran Duran that would use the bass as sort of percussive instruments."
---
The hackneyed "Asian" musical riff at the end of the song is meant to evoke a particularly inane strain of racism in '70s and '80s pop music.
The last moment of "The Riddle of the Model" features the famous sonic phrase commonly (and problematically) called the "Oriental riff" — which Carney meant as a deliberate reference to how often Asian culture was crassly manipulated in pop music of the time.
"It seemed to me, like, something that you could imagine a British band doing at the time," he said. "David Bowie has a song called 'China Girl,' which is just so awkward. Level 42 had a song called 'The Chinese Way' — the lyric is, 'Who knows what they know / the Chinese legend grows' — just about the entire race of Chinese people, basically."
In Sing Street, Raphina and Cosmo perpetuate that Asian fetishism in their music video for "The Riddle of the Model" with "Asian"-themed makeup and wardrobe. Carney doesn't see their appropriation, however, as particularly mean-spirited; it was instead another way to demonstrate just how inexperienced they are. "It's almost comically racist," he said "It exposes a naïveté which I thought was very funny."
---
Eventually, Cosmo's band is supposed to get good, so Carney decided they should be really good.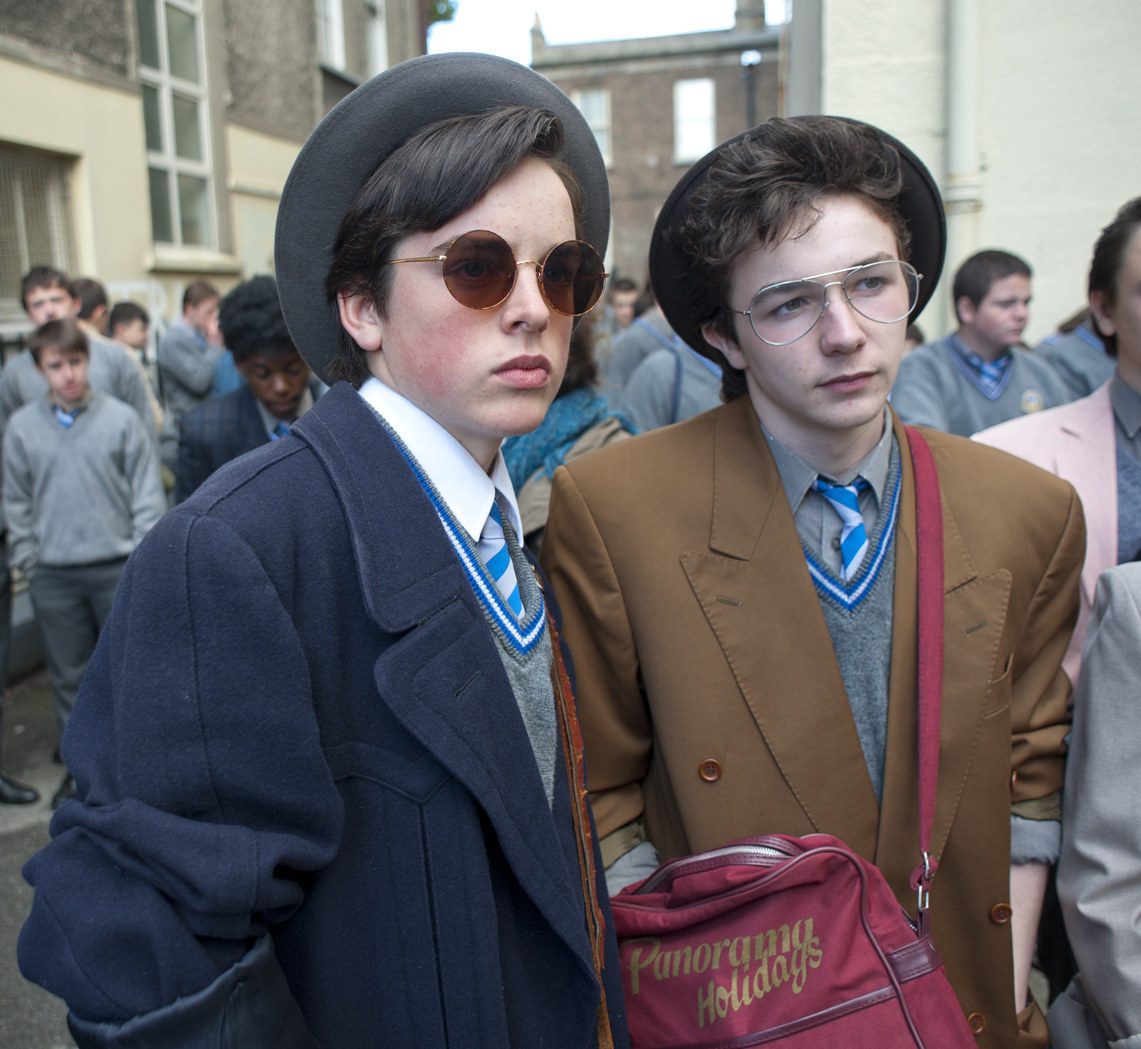 "The Riddle of the Model" works as a pop song almost in spite of its amateurish failings, but Carney knew Cosmo's band would have to start to get better. "I wanted to show that they actually had a really good song in them," he said. That desire became "Drive It Like You Stole It," a terrifically catchy song that plays out as a fantasy sequence in Sing Street, complete with full studio production values and an accompanying top-flight music video. "You're hearing it inside their head," said Carney. "And you're seeing this could be a great song. This band could be a proper band when they grow up."
Clark, said Carney, wrote the song after Carney gave him a sense of what he wanted it to accomplish in the story. "I think I gave him some sort of [instruction] like, 'Think about Hall & Oates, and Huey Lewis, and those funky, poppy '80s backbeats,'" he said. "I remember the day he sent that song through — it was unbelievable. He couldn't have come up with a song that better suits the era but was also in itself just a ridiculously catchy earworm."
When asked how Cosmo's band compared to the group Carney was in as a teenager, the filmmaker just started laughing. "The songs that I wrote when I was a kid were terrible," he said. "They were nothing as good as the songs in the film."
Carney, however, wasn't really concerned with realistically capturing a young wannabe rock star's musical evolution. "It's a musical fantasy film, so I don't have a problem with the fact that they get very good very quickly," he said. "I think that's fine."