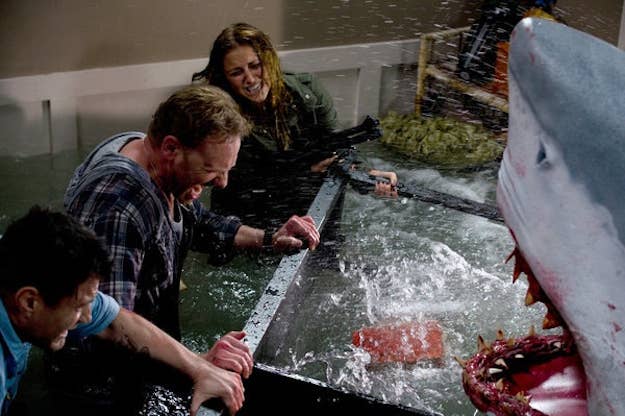 It has been a dizzying evening for director Anthony C. Ferrante. His Syfy Original Movie Sharknado — about, well, sharks in tornados, because Syfy — has exploded on social media in a way television events rarely ever do. Before taking on this instant camp classic, Ferrante had directed straight-up, straight-to-video horror films like Headless Horseman and Boo; he calls the reaction to Sharknado a "one in a billion" experience.
He had on his side, he says, a brilliant formula: "Sharks do well and disasters do well. Put them together, and you get something out of it," he told BuzzFeed on the phone Thursday night as he was heading to a West Coast viewing party with the film's crew, where he was planning on live-tweeting the film for the second time.
"I'm sitting here kind of numb," Ferrante said. "I know that what just happened is, like, one in a billion, in terms of this weird confluence of things. There wasn't a marketing budget on this thing. It was all just the stuff we did with the trailers and just telling people about it and stuff."
"But the universe took it," he said. "All these fans just embraced this crazy little movie we did and turned it into this thing which, I mean, I'm just, like thrilled. I've been making movies for a very long time and I've never had this many eyeballs on anything I've ever done, and having this communal experience live-tweeting. You're not seeing it in a movie theater, but it's even better, because I'm getting to play with people on Twitter and talk about it. Mia Farrow is watching my movie. It's just strange and amazing. It's a great feeling!"
Ferrante says he had a feeling the film could do well — it's sharks and disasters, after all! — and he knew there was something a bit over the top about it.
"That title is crazy, and it's something that's been floating around for a while. I wanted to do the movie. No one else wanted to make this movie because they didn't think it could be shot or done. It was, like, a $100 million script, and we had no money to make this thing," he said.
"I'm kind of known as the horror guy, and I like comedy and I wanted to do a visual effects movie and they took a chance on me doing this. It was like playtime. I did say at the time we were making it, I knew because of what we were trying to do with it that it had the potential to be the highest rated SyFy channel movie."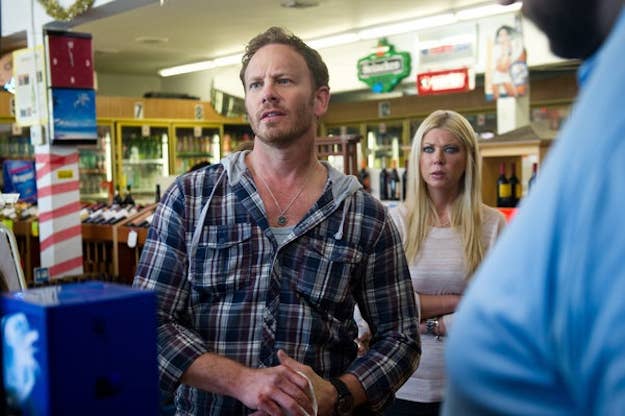 Ferrante's movie was mocked and embraced Thursday night on Twitter for its dialogue — "They took my grandfather, so I really hate sharks," one character deadpans. Another, seeing a floor covered with blood, says: "Looks like it's that time of the month."
"You can't write that stuff going in knowing you're going to write a line that's going to get somebody to respond," said Ferrante, who credited the inspiration to screenwriter Thunder Levin, but noted he did "a little extra work" himself.
"All I wanted to do is try to make sure that the stuff kind of was firmly grounded. I encouraged people to improv lines whenever necessary. Things just evolved out of that, but a lot of the stuff was scripted. That 'time of the month line,' I think we dropped in when we were doing ADR," said Ferrante, speaking about the common practice of additional dialogue recording with actors while in post-production. "It was one of those lines where I was like, 'Should we do it, or should we not do it?' Against my better judgement, we kept it in. And I guess it was the right choice."
Ferrante was always aware of the major campy elements in his film, he didn't ever want to let that deter him from acquitting himself well on set. "Yeah, some things work, some things don't, but it's a crazy film," he said. "A friend of mine plays the bus driver; he said to me, after he'd seen the rough cut, 'It's a movie that doesn't know it can't do that.' And the other thing I was saying all the time is, 'We have to embrace the 'nado.' You can't go in being embarrassed by what you're doing. You have to go in and go, 'I'm genuinely going to try to make the best damn movie I can.'"
To that end, Ferrante says he "lobbied" the network for the climactic moment (SPOILER ALERT) that involves a great white shark swallowing a chainsaw, in midair, with Ian Ziering still holding onto it. "I kept thinking they were going to make me cut it out of the movie because it was so bizarre, but they let me put it in there," he said. "You can't not have a moment like that. That's one of my favorite moments in the movie."
Indeed, it was you-cannot-believe-this-is-happening moments like that helped lead not only to the social reaction to the film, but the engagement from major figures in the industry — which especially came as a shock to Ferrante.
"I never expected to see Hollywood reacting to it and so many people embracing it, for better or for worse," he said. "There are people knocking it, but I've never seen people defending a movie like this either. Some people think it's the worst movie ever, others are like, 'Oh, this is fun!' I appreciate that people got that we wanted to make a fun movie."
So will there be a sequel? "Uh, no one's called me yet, but I wouldn't be surprised if it would be on its way soon," he said with a laugh. "I mean, what do you do after Sharknado? You've got to up the ante. I don't want to compare this to Star Wars, but if this is Star Wars, then you've got to make Empire Strikes Back — whatever version of that Empire Strikes Back is of a Sharknado sequel. Number twos are usually pretty damn good."