Why The Animation Studio You May Not Have Heard Of Is Making Waves In Hollywood
Blue Sky Studios has never been a big player in the U.S. — its latest film, Rio 2, opened with a just-OK $39 million. But overseas, the studio pulls in some seriously big money.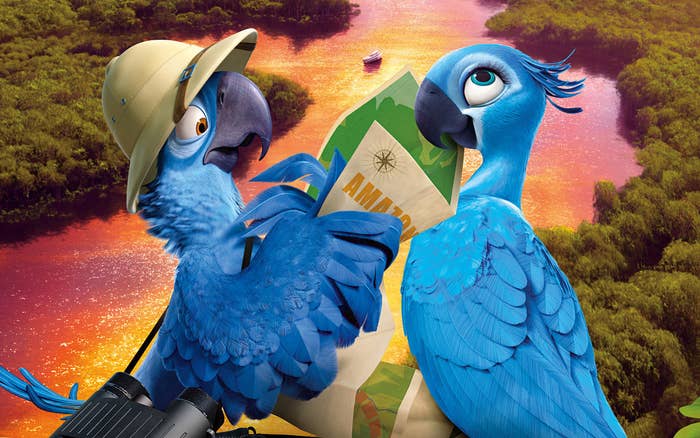 Rio 2, the latest animated feature film from Blue Sky Studios, opened this weekend in North America with an estimated $39 million. That's just under the $39.2 million opening weekend for the first Rio movie, which went on to gross an unexceptional $143.6 million domestically in 2011.
With that kind of shrug-worthy result, one may wonder why Blue Sky even bothered to make a sequel, but it's simple: Rio also grossed a far more impressive $341 million overseas. And since opening in Russia and Ukraine on March 20, Rio 2 has pulled in a whopping $125 million in just 14 international territories.
More than any other U.S. filmmaking operation today, Blue Sky is demonstrating the enormous power and sway the international market can have on Hollywood. But judging by the coverage (or lack thereof) of Blue Sky's films from most stateside media outlets, you could be forgiven for thinking of the studio as the RC Cola of feature animation, a third-tier operation without the cultural and commercial heft of Pixar, DreamWorks, and Disney. (Or, for that matter, the upstart Illumination Entertainment, which has basically only the Despicable Me movies and The Lorax to its name.)
It is true that none of Blue Sky's movies, which are distributed largely by 20th Century Fox, have made much of a box office impact in the U.S., not even the Ice Age movies, the studio's marquee franchise. Blue Sky's top-grossing film domestically is the third installment in that franchise, 2009's Ice Age: Dawn of the Dinosaurs, with $196.5 million. By contrast, eight DreamWorks films have made more in the U.S., and only three of 14 Pixar films have made less.
Ice Age: Continental Drift, Madagascar 3: Europe's Most Wanted, Despicable Me 2
The box office picture radically changes, however, when looking at how much money animated feature films make overseas. Two of the all-time top five highest foreign grosses for animated films have been from Blue Sky: Ice Age: Dawn of the Dinosaurs, with $690.1 million, and the fourth and most recent movie in that franchise, 2012's Ice Age: Continental Drift, with $715.9 million, which is the best foreign box office take ever for an animated film to date. Yes, even better than Frozen (although that will change likely this week). Blue Sky's movies do so well overseas that, on average, they gross more worldwide than DreamWorks Animation.
That kind of lopsided box office result — aided greatly by elevated 3D ticket prices — has led Blue Sky to creative decisions that lean towards international locales with visually arresting stories that are easy to digest for a wide swath of foreign-language speaking audiences. (One of the studios' upcoming projects includes an adaptation of the 1936 children's book The Story of Ferdinand for 2017, set during the running of the bulls in Spain.) Other animation studios have also embraced similar projects clearly set outside the U.S.: DreamWorks Animation's Kung Fu Panda 2, Puss in Boots, and Madagascar 3: Europe's Most Wanted all pulled in more than 70% of their global grosses from overseas, and Illumination's Despicable Me films feature babbling Minions that transcend any language barrier.
But Blue Sky's wild popularity overseas has also seemingly cut into its grosses in North America, which remains (for now) the biggest single market for feature films. The studio's most recent feature, 2013's Epic, was a departure from its broad stroke comedies into more dramatic storytelling — and its box office was disappointing across the board, barely grossing over $100 million in the U.S., and just $160.9 million overseas.
Next up, Blue Sky is making a fifth Ice Age movie (due in 2016) and the studio isn't shying away from taking an even bigger risk: a feature film version of the beloved Peanuts comic strip in a quasi-three-dimensional CG style, scheduled to be released on Nov. 6, 2015. And if there is anyone who knows about being the underdog, it's Charlie Brown.
Here are the estimated top 10 box office figures for Friday to Sunday, courtesy of Box Office Mojo:
1. Captain America: The Winter Soldier — $41.4 million
2. Rio 2* — $39 million
3. Oculus* — $12 million
4. Draft Day* — $9.8 million
5. Divergent — $7.5 million
6. Noah — $7.45 million
7. God's Not Dead — $4.5 million
8. The Grand Budapest Hotel — $4.1 million
9. Muppet's Most Wanted — $2.2 million
10. Mr. Peabody & Sherman — $1.8 million
*Opening weekend