The Hottest Bars In Emeryville, Calif. Are At Pixar Animation Studios
Hidden lounges, fully stocked bars, and Dame Edna's signature — what more could you want?
EMERYVILLE, Calif. — Animators, who have to maintain constant creative concentration and inspiration, obsessing over every possible nuance in every single frame of their projects, naturally like to blow off steam at the end of the day.
At Pixar Animation Studios, however, the options for the blowing off of said steam in the immediate vicinity of their Emeryville headquarters aren't exactly abundant. Ironically, while it sits smack in the middle of the bustling Bay Area, Emeryville is, by comparison, built more for commuting employees than for any sort of revelry.
So Pixar created its own revelry.
Pixar employees built three different locations within the animation wing of their sprawling campus, created specifically for Pixar employees — and visiting VIPs — to kick back and drink.
As part of an exclusive tour of the campus, BuzzFeed spoke with Craig Payne, Pixar's senior design project manager, about how these pubs/lounges/speakeasies came into being.
Ye Olde Knife & Fiddle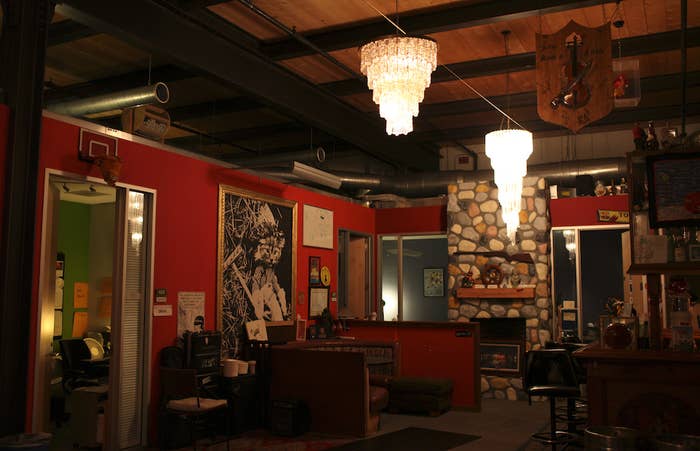 Built into an alcove of animation offices, this fully stocked bar is just about as old as Pixar's Emeryville campus, which was completed in the fall of 2000. "This is a place where they play music [and] hang out," says Payne. "It's a really popular spot on a Friday night." A guitar-and-drum-set is also always sitting at the ready for anyone to jump on for an impromptu jam session.
The name "Knife & Fiddle" comes from an actual fiddle (or, well, violin) and knife respectively sacrificed by two different Pixar animators to make up the bar's sign. (The cartoon, by the way, is a panel from the weekly comic strip Maakies.)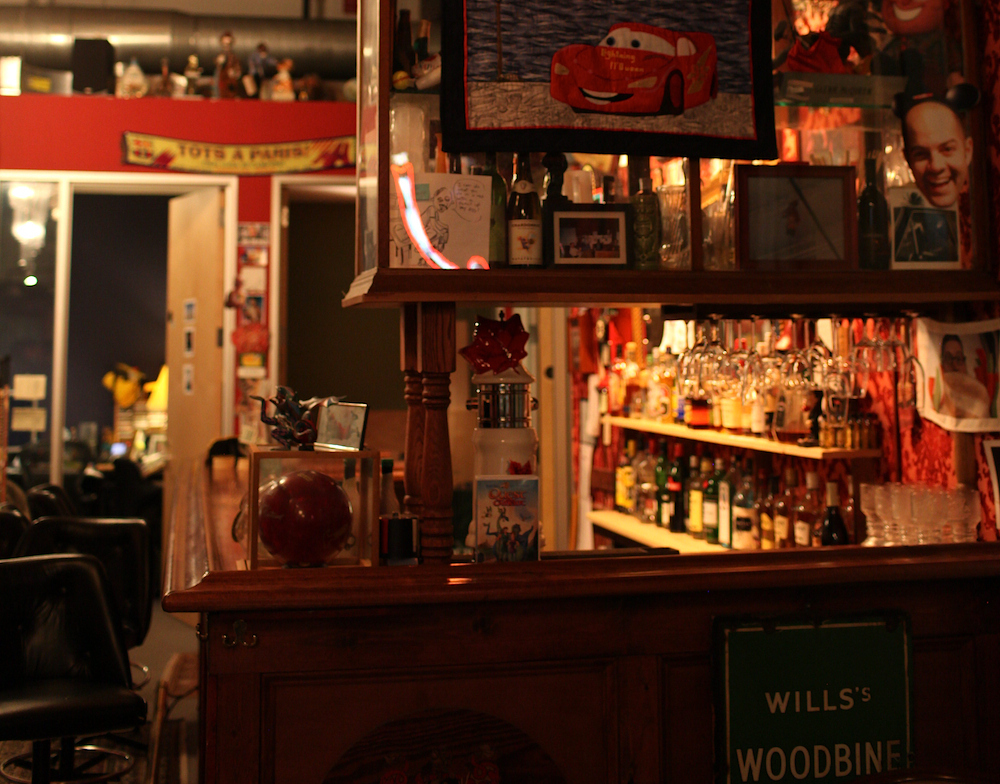 The responsibility of stocking the bar, and tending it, falls to whomever takes on the offices in the corner just past the bar in the above photo. Some animators said that at least a couple folks usually belly up to the bar around 6 p.m. every night, but the place is most crowded on Fridays, birthdays, or after reaching a major deadline.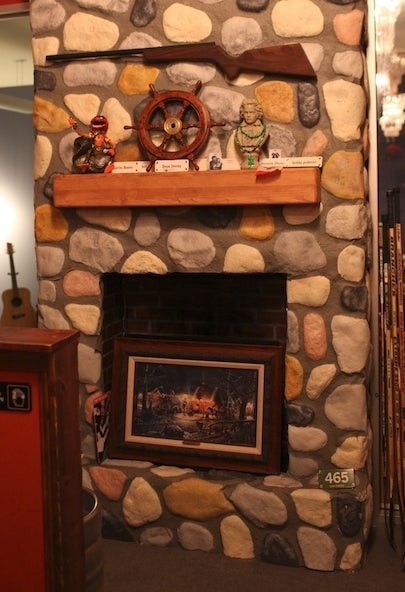 Over time, the Knife & Fiddle has grown as the animators have acquired an assortment of dive-y bric-a-brac. The booth was the first addition, arriving pretty much right after everyone moved into the facility. "The animators bought that at a salvage yard," says Payne, and by the looks of it, that seems about right.
A love for Molson Canadian is kind of a must — it's the only beer on tap.
The Knife & Fiddle has even had its occasional (themed) bar fight:
The Love Lounge
This hidden spot was discovered by animator Andrew Gordon after he opened an access panel soon after first moving into the office in Nov., 2000 on one of his walls and realized it led to an unusually large utility room designed for HVAC ductwork.
With a little decoration, the room became an instantly popular chill-out den for everyone at Pixar, especially after company chief John Lasseter and protégé Andrew Stanton got wind of it. "So they started bringing their guests into this shaft," says Payne, "and it became known as the Love Lounge."
Over the years, as the Love Lounge grew in renown, visitors have covered the walls with their signatures — and, occasionally, some artwork of their own.
There may be no other place on earth where you can find inscriptions from Bart Simpson, Eddie Izzard, Dan Rather, Marius de Vries, Dev Patel, Dame Edna, Jon Favreau, and, yes, even Malia and Sasha Obama all written on walls of the same room.
The Lucky 7
Eventually, Gordon changed offices, but to keep the karma of the Love Lounge alive, Pixar's top project manager Craig Payne says they deliberately placed him in an office next to another hidden room.
When you step into Gordon's new office, you're invited to swing back the head of a William Shakespeare bust and turn a hidden dial beneath it. After a loud hum, the bookshelf to the left opens wide…
…to reveal the Lucky 7. Why "Lucky 7"? Just before Pixar began renovating a warehouse on its property, workers found the sign. Gordon claimed it.
The room has red velvet couches, a mini-bar, a green felt poker and craps table, and as the growing number of framed portraits make clear, it's already become as hot an A-list destination as the Love Lounge — framed shots Helen Mirren, Reese Witherspoon, and Billy Dee Williams hang on the walls.
But the room's real purpose, says Payne, is to "hide all the data cabling…[that] goes from the first floor to the second floor. But it was totally oversized, so we thought what a perfect office to put Andrew in." (The dark velvet curtain behind Gordon conceals the plastic tubing scaling the far wall.)
Those aren't stock photos. They're the ancestors of Pixar's animators, sometimes going back several generations. It's part of the philosophy that runs through all three of Pixar's hang-outs, as well as the rest of the campus — any fun worth having is fun that they've made themselves.