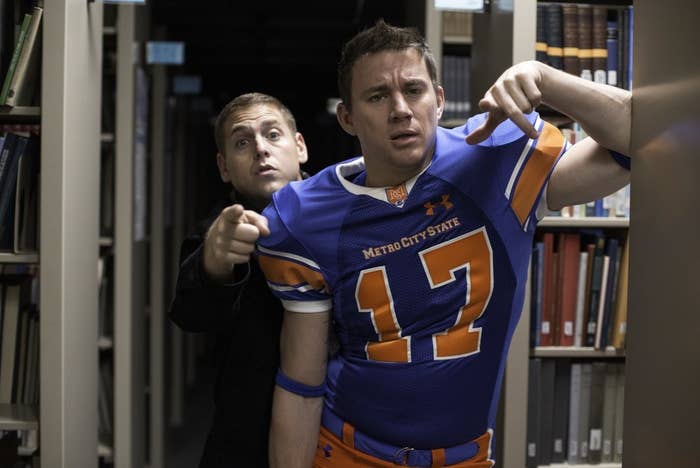 Less than two weeks before the debut of their highly-anticipated comedy sequel 22 Jump Street, directors Phil Lord and Christopher Miller (The LEGO Movie) were disheartened to hear about the anti-gay outburst from one of the film's stars, Jonah Hill, who recently told a paparazzo, "Suck my dick, you faggot."
"It obviously was really disappointing," Miller told BuzzFeed the day after the story swept headlines. "It was surprising because it was not the Jonah that we know. He's a very sweet and generous person."
Hill has issued multiple, lengthy apologies for the incident, including an appearance on The Tonight Show Starring Jimmy Fallon, in which he asked viewers "to use me as an example of what not to do."
And that's a sentiment shared by Hill's 22 Jump Street directors. "Hopefully it will do what he's saying. It will remind people why that's a shitty thing to say to people," said Lord.
Ironically, there is a scene in 22 Jump Street that, as Lord put it, "explicitly discusses that word and why you shouldn't say it." (SPOILER ALERT for the rest of this paragraph.) In the film, Hill and co-star Channing Tatum's characters go undercover at a university, where Tatum's character takes a human sexuality class that opens his mind to the dangers of homophobic speech. In the scene in question, a villain uses very similar language to what Hill said to the paparazzo, causing Tatum's character to explode in anger, lecturing the bad guy on why he cannot use "that word."
"It was part of Channing's character's growth of being at college, opening himself up to new ideas," explained Miller. But given Hill's outburst, the directors naturally wondered how the scene would play now. "I'm very curious how it affects people's experience of the movie," said Lord.
"I think that because Jonah is a sincere and good person, I think that hopefully, it won't take anything away from the movie," Miller added. "It's not the kind of person who he really is. I think hopefully people will see that."