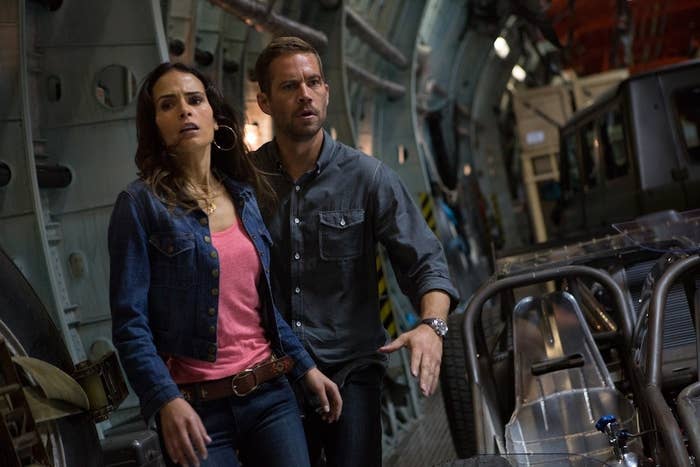 The news of Paul Walker's tragic and fatal car accident on Saturday has just started to sink in with his fans and colleagues, not to mention those family members and friends who knew him best.
Walker's passing also has a direct and profound effect on the projects he had yet to finish or were yet to be released, no more so than with Fast and Furious 7.
The last post to Walker's Twitter profile before his accident on Saturday was dated Nov. 29, and included a still from what appeared to be the set of Fast and Furious 7:
The final words in the tweet — "Will you be ready?" — take on a far different meaning in the wake of Walker's passing. BuzzFeed has confirmed with a source close to the project that Fast and Furious 7 is still in production — and it's been slated for a July 11, 2014, release date for months — but the future of that film and the entire billion-dollar franchise now hangs in limbo.
Actors have died while their movies were in production before. Heath Ledger died in 2008 with several scenes left to film in director Terry Gilliam's The Imaginarium of Dr. Parnassus — scenes that Jude Law, Colin Farrell, and Johnny Depp all stepped in to shoot in Ledger's stead. Oliver Reed died while making 2000's Gladiator, requiring director Ridley Scott to insert a digital recreation of Reed's face for a few key shots.
Neither of those options, however, are available to director James Wan for Fast and Furious 7. Walker died in a fiery car crash, reportedly in the passenger seat of a brand new Porsche GT — exactly the sort of car and very much the sort of crash that are stock in trade in the Fast and Furious movies.
It's unclear how many scenes in Fast and Furious 7 that Walker had left to shoot. But even if the 40-year-old actor had wrapped his part of the film, Wan has the deeply unfortunate job of finishing a movie in which one of his lead actors died under circumstances that are profoundly close to scenes in which that actor himself undoubtedly took part.
Walker's character is not easily written off, either. He had been a part of the franchise from the very beginning, when The Fast and the Furious — about Brian O'Conner (Walker), an undercover cop infiltrating a crew of drag-racing thieves, led by Vin Diesel's Dominic Toretto — went from a B-movie afterthought in the summer of 2001 to one of the surprise hits of the year. The franchise has since charted an improbable trajectory, from the box office low of 2006's The Fast and the Furious: Tokyo Drift — the only film in the series in which Walker did not appear — to the box office-busting run of last June's Fast and Furious 6, which has pulled in $788 million worldwide. It has become the crown jewel franchise for Universal Pictures, affecting the livelihoods of not just the actors involved, but also the many artisans and technicians who make the films possible.
From the start, the series' charm has been its focus on action sequences that eschew eye-popping CGI for a grounded realism (often still augmented with CGI) that gave its many, many car chase sequences a gritty kick. With each film, those sequences became more outlandish and elaborate, but Walker's unshowy acting — matched with Diesel's beefy stoicism — always kept the franchise tied to the its initial blue collar appeal. As O'Conner switched sides and joined Toretto's team — not to mention had a child with Toretto's sister (played by Jordana Brewster) — the films also became increasingly focused on the theme of family.
Walker's death shatters that family, both on screen and off. There are no good options for the filmmakers moving forward, and any assumptions about what happens now with the film remain simply conjecture. For one, understandably, Wan's focus is elsewhere at the moment:
But it is a cold reality of the movie business that at some point soon, someone is going to have to decide what to do with Brian O'Conner. One hopes, for the sake of Walker's many fans, that whatever is ultimately decided upon will honor the actor without dwelling on the tragic circumstances of his death.
Update - Dec. 1: The Hollywood Reporter is reporting that Universal executives met with director James Wan via conference call on Sunday morning to discuss how best to move forward with the film, which was due to resume production in Atlanta this week after a hiatus over the Thanksgiving holiday. No firm decisions reportedly have been made, but production is at least delayed until Tuesday, and Walker was apparently due to join the cast in Abu Dhabi in January to shoot additional scenes for the film.