Paul Rudd Will Play Ant-Man
UPDATE: The Anchorman 2 star will play the diminutive Marvel Studios superhero, the studio confirmed on Thursday. Edgar Wright (The World's End) is directing.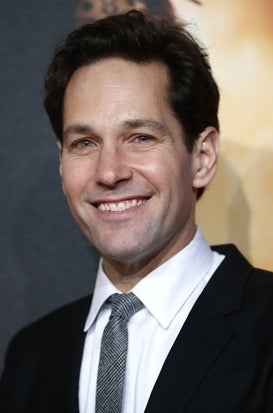 Paul Rudd will star as the titular tiny superhero in Marvel Studios Ant-Man, the studio confirmed on Thursday. The 44-year-old actor has long been rumored to be the front-runner for the role of Henry "Hank" Pym, a scientist who invents a method of shrinking his body down to the size of an ant, as the title subtly suggests. In the comics, Pym has also been able to communicate with other insects, as well as quickly grow his body back to normal shape. (There have also been characters other than Pym who have claimed the mantle of Ant-Man, but let's not get ahead of ourselves.)
The film will be directed by Edgar Wright (The World's End, Scott Pilgrim vs. the World), from a script that Wright has been developing since 2006, when Marvel Enterprises first announced it was forming its own independent film production company. It's slated to launch Marvel Studios' "Phase 3" films on July 31, 2015, after Joss Whedon's The Avengers: Age of Ultron rounds out the "Phase 2" movies when it opens on May 1, 2015.
Rudd may seem like an unconventional choice, given that exactly zero of his film roles have exuded the kind of grand heroics Marvel Studios' films are known for. But both Rudd and Wright are also known for a wry sense of humor that is very much in keeping with Marvel's stated goal of branching out beyond the standard superhero movie.
"The casting of Rudd represents the actor that Marvel had long ago identified as its first choice to play Ant-Man," the studio said in a statement, "continuing the studio's desire to cast actors that bring several dimensions to its onscreen heroes."
"We knew early on that we had found the right person in Paul," said studio chief Kevin Feige in a story on Marvel.com about the casting. "When he not only agreed to do it but became as enthusiastic as any actor we'd ever met with about doing the work, we knew we'd found the right guy."
There is no word, however, on the film's plot.
This post has been updated to reflect Marvel Studio's confirmation of Rudd's casting.