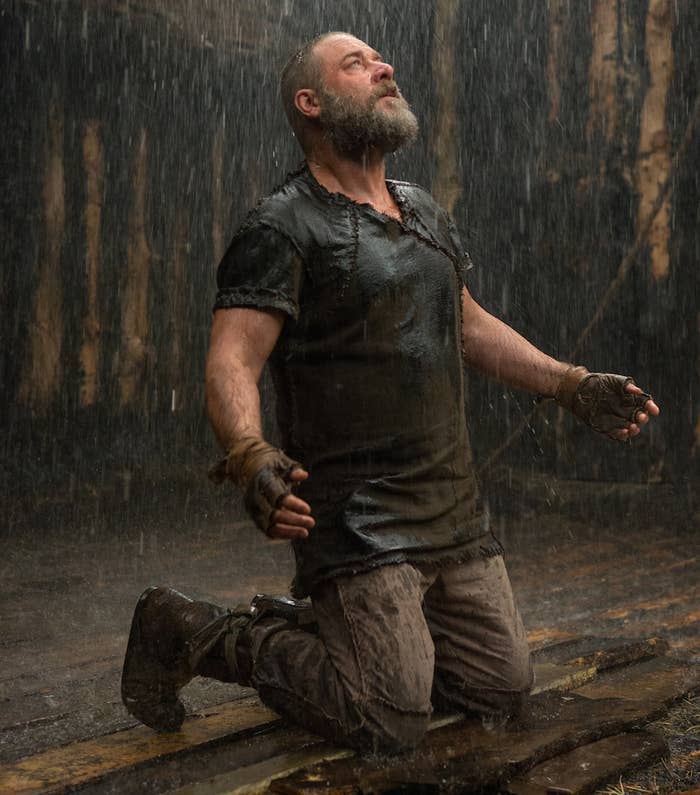 It may not quite approach the stature of building an ark to withstand an epochal flood, but the box office success of Noah this weekend — which opened with an estimated gross of $44 million — is still something of a remarkable feat. No other overtly Bible-themed feature film has opened anywhere close to that amount since 2004's The Passion of the Christ, doubly remarkable considering that director Darren Aronofsky's $125 million adaptation of the Old Testament story faced serious opposition from Christian groups that objected to perceived liberties the film takes with the biblical text. The film pulled in another $51 million overseas, for a total worldwide gross of $95.1 million — a very healthy start for what was nowhere close to a sure thing.
The reason is simple: Short of the phenomenal success of Mel Gibson's film 10 years ago, and the subsequent adaptations of C.S. Lewis' Christian-fantasy hybrid book series The Chronicles of Narnia, it has been a very long time since a Christian-themed movie made a lot of money at the box office. For the last 15 years or so, independently financed and distributed Christian films like 1999's The Omega Code and 2008's Fireproof have found a relatively healthy audience in limited release, but their grosses have never topped $40 million, even when adjusting for inflation.
That is certainly enough to sustain these films at a certain budget level for a niche audience, but ever since Gibson's The Passion of the Christ pulled in $370.3 million in the U.S. in 2004, filmmakers have been striving to tap into what seems like a vastly underserved audience. Hollywood's biggest attempt, 2006's The Nativity Story, made just $37.6 million, and the efforts of independent producers have usually pulled in just a fraction of that amount. (One exception: Tyler Perry's one-man industry of crowd-pleasing comedies and dramas made with a clear message rooted in Christian morality.)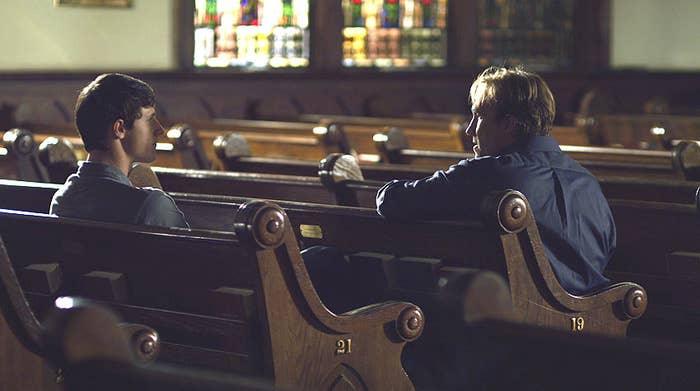 The perceived box office ceiling on Christian films, however, could be lifting. God's Not Dead, about a Christian college student confronted by an atheist professor, opened last weekend with a remarkable $9.2 million in just 780 theaters, and it grossed another $9.1 million after expanding into 398 more theaters this weekend, for $22 million total. At this pace, it could easily clear $50 million as it plays into the Easter holiday weekend, a robust result for any independent film, let alone one explicitly geared toward a Christian audience.
Son of God, meanwhile, has pulled in $57.9 million over five weeks — while some have seen this as a disappointment given that the adaptation of the popular TV miniseries The Bible was initially released wide in 3,260 theaters, it is still an impressive figure considering how many ticket buyers likely had already seen at least part of the 10-hour History Channel series last year.
But this spike in interest still pales in comparison to the "golden era" of biblical epics in the 1950s, typified by astronomically popular movies like Cecil B. DeMille's The Ten Commandments in 1956 and William Wyler's Ben-Hur in 1959. By the 1960s, however, American moviegoing taste had softened on this kind of film, and they quickly fell out of favor in Hollywood.
The story of Moses leading the Israelites out of Egypt remains the highest grossing Bible-themed film ever — when adjusting for inflation, The Ten Commandments grossed over $1 billion in the U.S. alone. So it is perhaps only fitting that Hollywood's next attempt at a biblical epic will be tackling this particular story once more: Ridley Scott's Exodus: Gods and Kings, starring Christian Bale as Moses, is scheduled to open on Dec. 12.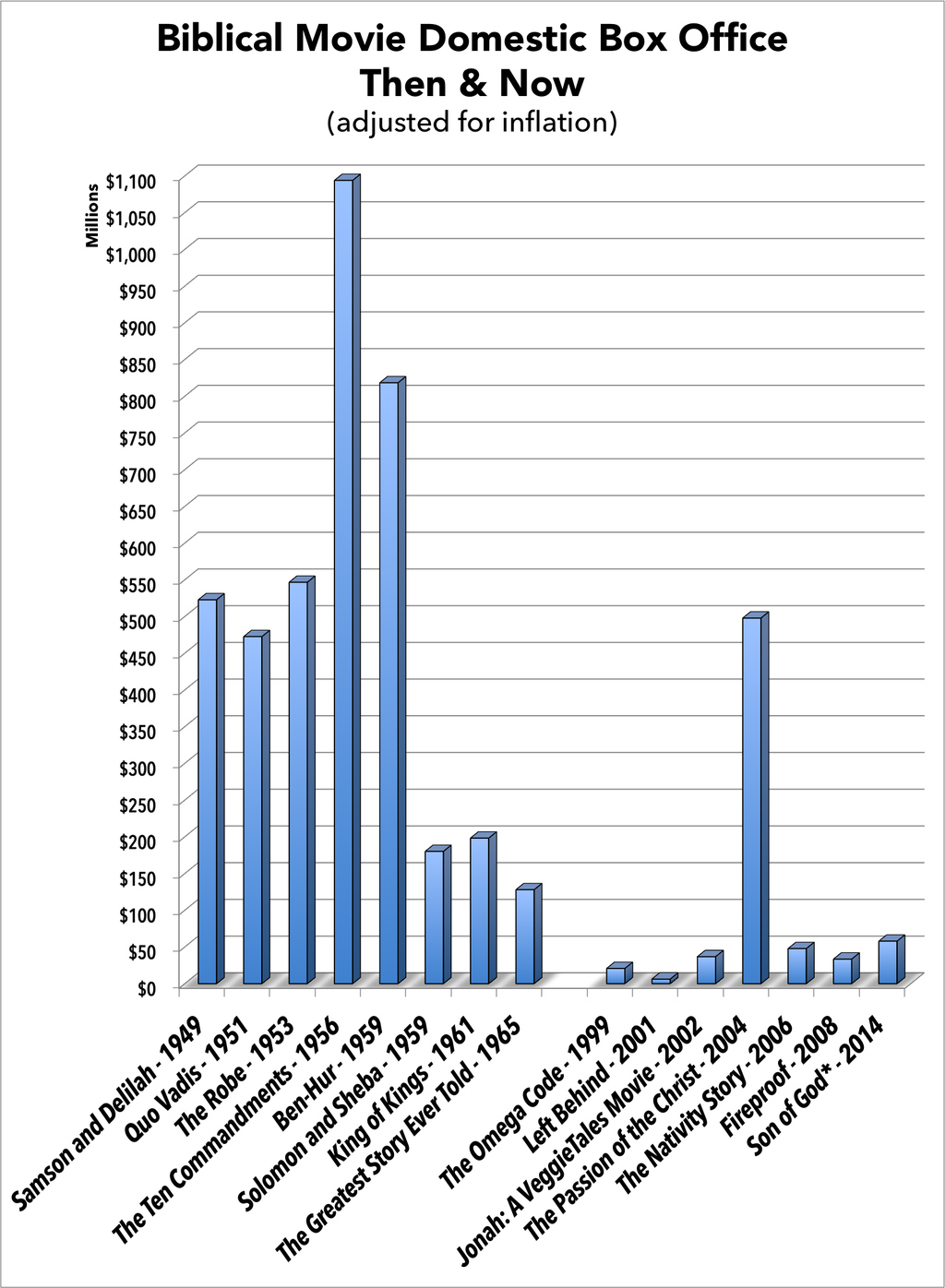 Here are the estimated top 10 box office figures for Friday to Sunday, courtesy of Box Office Mojo:
1. Noah* — $44 million
2. Divergent — $26.5 million
3. Muppets Most Wanted — $11.4 million
4. Mr. Peabody & Sherman — $9.5 million
5. God's Not Dead — $9.1 million
6. The Grand Budapest Hotel — $8.8 million
7. Sabotage* — $5.3 million
8. Need for Speed — $4.34 million
9. 300: Rise of an Empire — $4.3 million
10. Non-Stop — $4.1 million
*Opening weekend