Melissa McCarthy Is Officially A Movie Star
Identity Thief just opened to $36.6 million, launching McCarthy right onto the A-list. Take that, Rex Reed.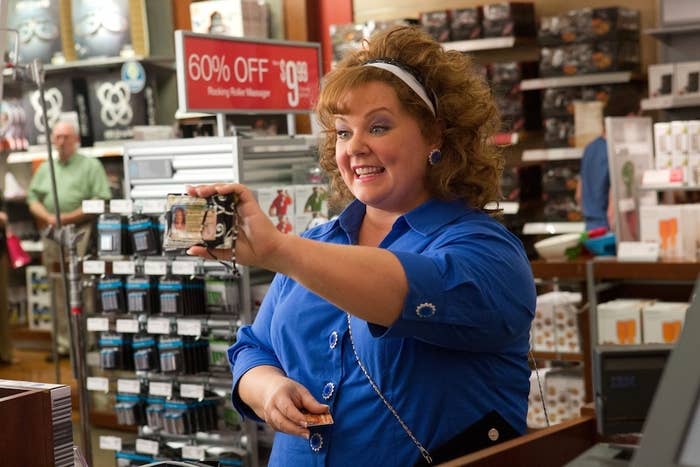 Usually, it takes an actress several films to break into The $30 Million Club, when a film sold primarily on her star power opens past $30 million. It took Melissa McCarthy just one.
Identity Thief, starring McCarthy as a Florida con artist who swindles the identity of an average schmo (Jason Bateman), opened to an estimated $36.6 million this weekend — especially remarkable considering audiences across New England were buried under several feet of snow thanks to Winter Storm Nemo. It's McCarthy's first lead feature film role ever, and just her second film after her breakout, Oscar-nominated supporting role in 2011's Bridesmaids. (She had a featured cameo in December's This Is 40.) More importantly, Universal marketed Identity Thief by focusing on McCarthy's killer comic chops, so as she recently told Jon Stewart, "For this one...oof, I'm really to blame."
It means McCarthy officially joins the rarefied company of Cameron Diaz, Jennifer Aniston, Julia Roberts, and Sandra Bullock as an actress who can open a film that isn't laden with visual effects or swooning vampires. That bodes particularly well for her next movie, The Heat, a buddy comedy starring McCarthy as a plays-by-her-own-rules Boston cop who's forced to pair up with a by-the-numbers FBI agent played by Sandra Bullock. The film impressed 20th Century Fox so much that it recently moved the film from April 5 to the far more high profile date of June 28, right before the July 4 holiday.
Elsewhere this weekend, Steven Soderbergh's reputed final film Side Effects opened to a tepid $10 million, one of the lowest wide releases of the filmmaker's storied career. And a 3-D re-release of the '80s blockbuster Top Gun earned a just-okay $1.9 million on 300 screens.
Here's the full top 10, courtesy Box Office Mojo:
1. Identity Thief — $36.6 million
2. Warm Bodies — $11.5 million
3. Side Effects — $10 million
4. Silver Linings Playbook — $6.9 million
5. Hansel and Gretel: Witch Hunters — $5.8 million
6. Mama — $4.3 million
7. Zero Dark Thirty — $4 million
8. Argo — $2.5 million
9. Django Unchained — $2.3 million
10. Bullet to the Head — $2 million