Left: A shot from director Edgar Wright's test reel for Ant-Man. Right: Ant-Man stars Paul Rudd and Michael Douglas at San Diego Comic-Con 2014.
SAN DIEGO — The upcoming Marvel Studios movie Ant-Man faced its biggest challenge yet — the 6,000-person Hall H crowd at Comic-Con during Marvel's hour-long panel on Saturday. The movie's filmmaking team chose to deftly dodge looming questions surrounding Ant-Man, rather than face them head on.
To be fair, the hardcore geeks packed into Hall H were likely more aware of the recent unrest with the project than general audiences: In late May, its original director Edgar Wright (The World's End) abruptly left the film after developing Ant-Man since at least 2006, with both Marvel and Wright citing "differences in their vision."
What those differences are have never been addressed — and they weren't during the Ant-Man panel, either. In fact, even though Wright's test-reel footage for Ant-Man was screened at Marvel Studios' Comic-Con panel in 2012, his name was never mentioned at this one. The closest the panel ever got to addressing the issue was what moderator Chris Hardwick said about, and to, the new director, Peyton Reed (Bring It On), "If you had any question as to whether or not Peyton might be the right guy for this job — what number of San Diego Comic-Con is this for you, Peyton Reed?"
Reed's response? It was his "20th anniversary visit to Comic-Con" and he further provided his geek bona fides by noting that he was a drummer in a punk band in the '80s called Johnny Quest, and drew the fliers for their gigs himself — one of which was a rip-off of the Marvel Comics issue Avengers #1, featuring Reed as Ant-Man. The crowd laughed, and Marvel Studios chief Kevin Feige and Reed looked visibly relieved. (Feige also noted that Reed didn't tell him any of this until after he'd landed the gig.)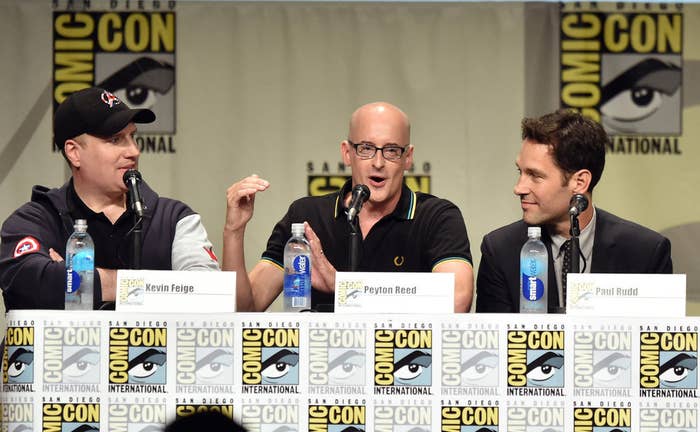 Reed was joined by stars Paul Rudd (who plays Scott Lang) and Michael Douglas (who plays Hank Pym, the creator of the Ant-Man suit), both of whom were making their Comic-Con debuts. And Feige also welcomed actors Evangeline Lilly (as Pym's daughter Hope Van Dyne) and House of Cards star Corey Stoll (as the film's villain, Darren Cross, who becomes the Yellowjacket) — officially confirming their involvement with the project. (Three other actors, meanwhile, reportedly left the film this week, apparently due to the scheduling and creative fallout of Wright's departure.)
Production doesn't start on Ant-Man for two weeks, and Lilly even said she's yet to see a script. But Feige still showed off what was essentially a visual effects test reel, with voice-over work by Rudd and Douglas. It was a quick sequence, with Lang trying out the miniaturizing Ant-Man suit for the first time as he broke into some kind of technical facility. Visually, the movie's world made sense, with a strong sense of scale. Without a decent sense of the characters or their relationship, however, the banter between Rudd and Douglas felt a little forced. The crowd's response was polite, with genuine cheers, but in comparison to other footage that had screened in Hall H that day, it was also rather subdued.
Ant-Man remains Marvel Studio's hardest sell, some of it due to the inherent comic-book-y strangeness of the concept — a superhero who can shrink down smaller than an ant, and communicate with insects — and some of it due to the wound of Wright's exit from the film. The movie had been dated for July 17, 2015, and Marvel.com's announcement of Lilly and Stoll joining the movie still lists that date. But when the test reel concluded, the release date under the Ant-Man title only read "Summer 2015" — giving the movie a little PR wiggle room should its release need to be delayed a bit.
With only a small slate of films to its name — and a near-unbroken track record of blockbuster hits that has reshaped how Hollywood organizes its own movie slates — each of Marvel's subsequent attempts to launch a franchise takes on an outsize importance, and scrutiny. All of the issues with Ant-Man will melt away, of course, if the movie turns out to be entertaining.
Marvel's next big franchise launch with an out-there concept, Guardians of the Galaxy, opens on Friday. Advance reviews have been quite positive, and at the end of its Comic-Con panel, Marvel announced that the sequel has been greenlit. Which means that Ant-Man has even bigger shoes to fill now.