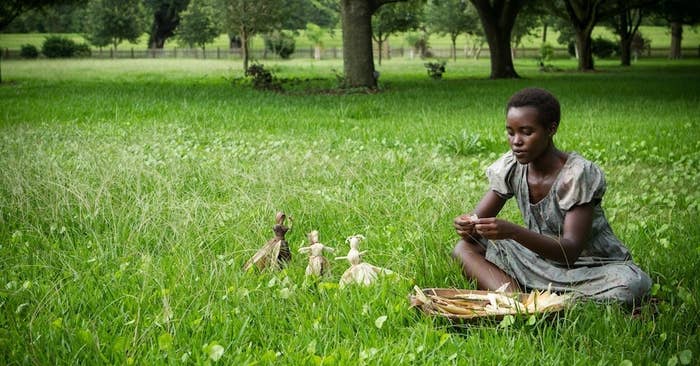 There are so many great actors teeming within 12 Years a Slave that singling out just one of them almost feels selfish. To start, Chiwetel Ejiofor (Salt, American Gangster) gives the performance of his career as Solomon Northup, a free black man living in New York in the mid-19th century who was kidnapped into slavery and wrote the titular memoir that served as the basis for the film. Michael Fassbender (Prometheus, Shame), meanwhile, is also winning raves for playing the dangerously cruel plantation owner Edwin Epps who ends up as Solomon's master and tormentor. And then there's Sarah Paulson, Paul Giamatti, Benedict Cumberbatch, Paul Dano, Alfre Woodard, Garret Dillahunt, Michael Kenneth Williams, and Brad Pitt, all stunning actors with fabulous résumés, contributing superlative performances under the direction of Steve McQueen (Shame, Hunger) from a screenplay by John Ridley (Red Tails).
There is one actor, however, who you have not heard of before this film, and who you will almost certainly be talking about after you see it. And her name is Lupita Nyong'o.
She plays Patsey, another slave on Epps' plantation, who endures the worst kind of scrutiny from both Epps, who is obsessed with her, and his wife (played by Paulson), who detests her. It would be an enormously demanding role for any actress. But for Nyong'o, it not only marks her feature film debut, it's also a role the Kenyan native landed three weeks before graduating from the Yale School of Drama last year, and one that could earn her a trip to the Dolby Theatre for the Academy Awards next March.
Not bad for someone who has wanted to act "from when I was an itty bitty girl," as she puts it while settled comfortably on a hotel suite couch. How Nyong'o was able to make her childhood dream a reality is itself a Hollywood-friendly tale that is equal parts perseverance and great good fortune.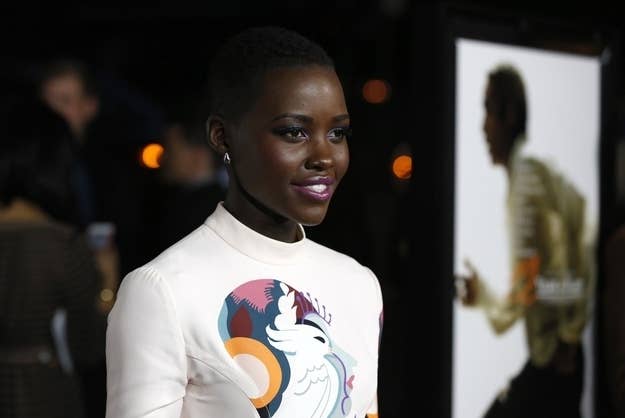 The first step was even believing she could actually be a professional actress in the first place. "When I was growing up [in Kenya], there wasn't much of an entertainment industry," she says. "Entertainers were not financially stable, and always had to do other things to make ends meet." Then there's the sheer fact that there aren't that many African women in movies at all. "The first time that it occurred to me that I could maybe make a career out of [acting] was when I watched The Color Purple," Nyong'o says. "I saw people that looked like me on camera. I was like, 'Wow! Maybe I can be like that!'"
Like many budding actors, she corralled her classmates to perform in plays with her, but when Nyong'o left Kenya to go to Hampshire College in the U.S., she only pursued film studies, as well as African studies, rather than acting itself. She worked as a production assistant on 2005's The Constant Gardener, which shot in part in Kenya, and she did score a part in a Kenyan miniseries called Sugar. But that dream of acting in major feature films like The Color Purple began tugging hard at her heart. "I was going through a career crisis of 'What's my life about?'" she says. "I realized that I would really, truly regret it if I never tried to be an actor professionally. So I decided I would apply to the best schools I knew of in the U.S., which is a country that I'd come to know and love. I got into Yale. And I never looked back."
Within her immediate family, Nyong'o says her dream was met with nothing but support. "My father used to be an actor in school — so he lives vicariously through me," she says. "My parents always taught us to do the thing we felt we were called to do on this Earth, and just do it to pursue it with spirit of excellence, you know?" Her actual given name, Eba, is after her great-grandmother, "who was known for her storytelling."
But without any real role models of major Kenyan movie stars to point to, everyone outside of her family was less than supportive of Nyong'o flying off to America to try her hand at acting. "I know some of it stems from love, but there was a lot of doubt," she says. "I was definitely encouraged to keep the acting as an extracurricular activity, as a hobby, rather than the main focus."
And then came 12 Years a Slave.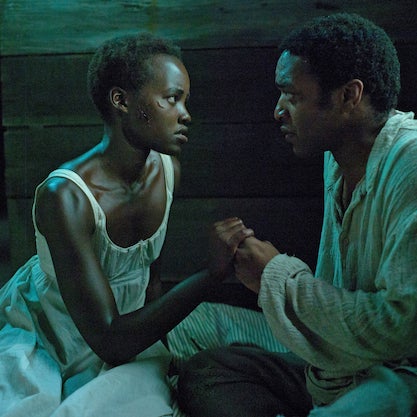 Nyong'o tried out three times to play Patsey, each time performing two of the character's most emotionally intense roles in the film. For every audition, Nyong'o had to figure out how to step into scenes of profound emotional vulnerability in stark, anonymous audition rooms with bad lighting and overeager air conditioners. So she leaned on an acting maxim she picked up somewhere: "An audition is about getting the dart on the board, not hitting the bull's-eye," she says. "Obviously, you don't have the kind of time to sit with a character and be marinated by the character. So you just go with what you know, until that point, and hope that that's what they're looking for."
And it was. Still, at first, Nyong'o truly couldn't believe she had won the role. "To get this was incredible," she says before taking a deep, long breath. "I honestly could not believe that I had booked a job, and I spent the weeks before going up to Louisiana preparing for the role, but also being certain that I would get fired before I got there. I was just certain. I was just like, They made a mistake! They're going to call me up and say, 'Oh, sorry, we called the wrong person.'"
Fassbender and McQueen apparently sensed how overwhelmed Nyong'o was feeling. "I remember in my first rehearsal with Michael, he said to me after the rehearsal, 'You are my peer,'" Nyong'o remembers as her eyes begin to well up. She puts her hand to her chest, and her voice drops to a whisper. "And Steve said to me, 'Thank you for being born.' Oh, god, I'm even going to cry now."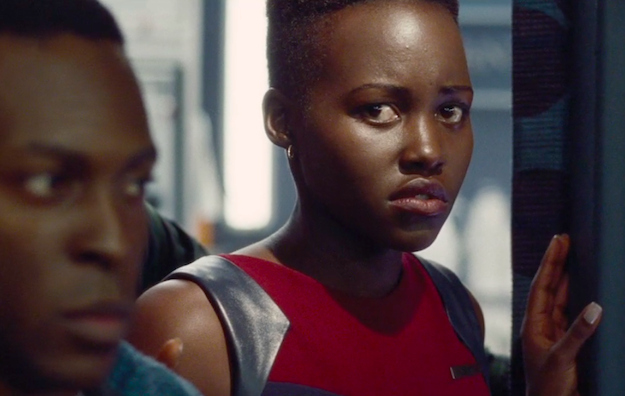 Just when it seems like things are starting to get too heavy, Nyong'o breaks into a wide smile and laughs at herself, the kind of easy, generous, infectious laugh that comes as a relief after watching her harrowing work in 12 Years a Slave.
Still, it is difficult not to wonder at least a little how anyone could be functional enough to work again at all after enacting a role that could be so emotionally shredding. But Nyong'o was able to approach Patsey with a kind of pragmatic grace one wishes were much more common in Hollywood, proving she won't have too much trouble in the future (and fortunately, her next role is much less intense — she plays a flight attendant alongside Downton Abbey's Michelle Dockery in the Liam Neeson airline thriller Non-Stop, due out in February 2014). "It was very hard, but it was so necessary," she says of playing Patsey. "I recognize that I have the privilege of stepping in and out of it. Patsey didn't. This was her life. And the fact that this was real I think is what made it so much more possible. I'm not drawing from abstractions. I'm drawing from hard facts. So that was very grounding for me. It's like, if Patsey could have lived this, surely you can do it for a few hours a day."
Nyong'o chuckles nervously. She is the type of person who can speak with genuine wonder about having her own trailer — "I remember walking in and I was like, 'Oh wow, there's a cot there. Oh there's a fridge. My god there's a TV!'" Even when she shares that she suffered from insomnia while shooting, Nyong'o cannot help but interpret that experience through the best possible lens. "The insomnia was a combination of grappling with the pain that I was conjuring," she says, "and the joy of doing it with such an incredible group of people who are just as inspired, challenged, and committed to telling this story."