"Lone Survivor" Pulls In Biggest January Box Office Since 2008
The Afghanistan war drama expanded in wide release to earn $38.5 million. That's good news for Mark Wahlberg and incredibly good news for director Peter Berg and co-star Taylor Kitsch.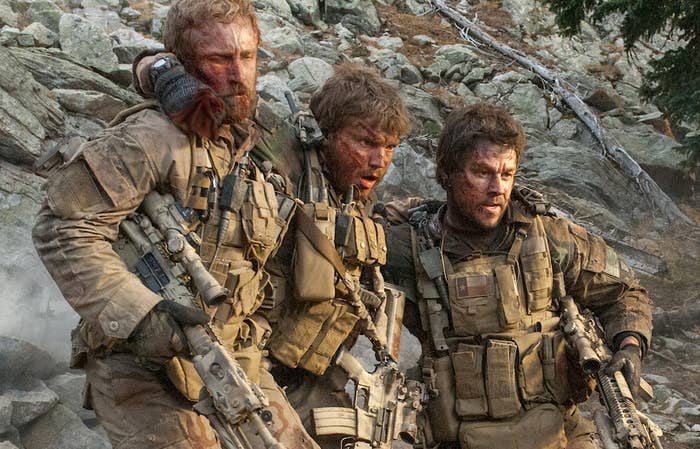 The Afghanistan war drama Lone Survivor expanded nationwide this weekend (after a two-week run in two theaters), earning an estimated $38.5 million, which makes it the best wide-release weekend in January since 2008's Cloverfield opened with $40.1 million.
It is a great start to 2014 for Lone Survivor star Mark Wahlberg, who's enjoying his best weekend for a non-comedy since 2001's Planet of the Apes (although perhaps that should be qualified to non-intentional-comedy). With Transformers: Age of Extinction set to open this June, Wahlberg is positioned to have the best year at the box office of his career.
But the box office numbers are perhaps most welcome for director Peter Berg and especially co-star Taylor Kitsch. They re-teamed for Lone Survivor after their attempt at a summer popcorn blockbuster — 2012's Battleship — capsized with a disastrous $25.5 million debut against a $200 million budget. And that was the second gut punch to Kitsch's nascent movie career after John Carter opened two months earlier with $30.2 million against a $250 million budget. If in Hollywood, you're only as good as the success of your most recent film, then Berg and Kitsch can breathe a huge sigh of relief.
Based on former Navy SEAL Marcus Luttrell's eponymous non-fiction account of Operation Red Wings, Lone Survivor also continued what has become something of a successful-military-film-in-January tradition. It pulled in roughly $14 million more than the nationwide expansion of 2012's critically-acclaimed, also factually based military film Zero Dark Thirty. And it's right in line with the nationwide expansion of Black Hawk Down — about a disastrous U.S. military operation in Somalia — which opened wide over Martin Luther King, Jr. weekend in 2002 with $38.6 million over its first three days when adjusting for inflation (or $28.6 million in 2002 dollars).
Both Zero Dark Thirty and Black Hawk Down, however, compounded their box office bounty by earning a few significant Academy Award nominations (including Best Picture and Best Actress for Zero Dark Thirty and Best Director for Black Hawk Down). But due, in part, to an unusually competitive awards season, top tier Oscar nods do not seem likely for Lone Survivor, which appears to have unfortunately arrived at the party far too late to be seriously considered.
Here are the estimated top 10 box office figures for Friday to Sunday, courtesy of Box Office Mojo:
1. Lone Survivor** — $38.5 million
2. Frozen — $15.1 million
3. The Wolf of Wall Street — $9 million
4. American Hustle — $8.6 million
4. The Legend of Hercules* — $8.6 million
6. The Hobbit: The Desolation of Smaug — $8 million
7. August: Osage County** — $7.3 million
8. Saving Mr. Banks — $6.6 million
9. Paranormal Activity: The Marked Ones — $6.3 million
10. Anchorman 2: The Legend Continues — $6.1 million
*Opening weekend
**Wide release expansion