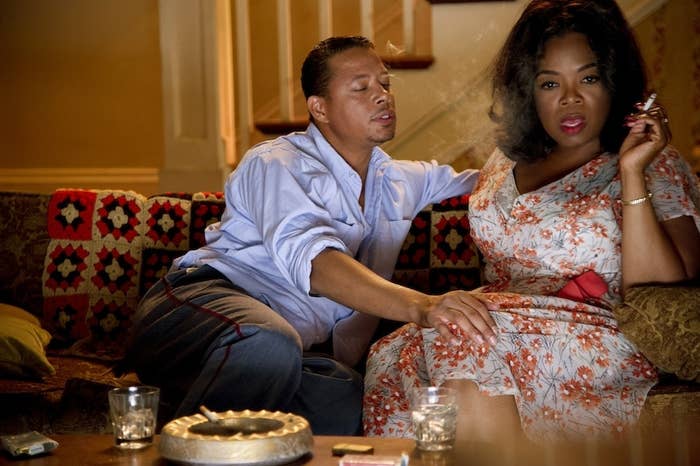 Thanks to a full-court media press by Oprah Winfrey — and some headline-grabbing Hollywood shenanigans by Harvey Weinstein — Lee Daniels' The Butler opened with an estimated $25 million this weekend.
It is an especially sweet victory for Winfrey, who is winning wide acclaim for her performance as the long-suffering (and hard-drinking) wife of the White House butler played by Forest Whitaker. Winfrey hasn't appeared on a movie screen since her devastating experience producing and starring in 1998's Beloved — the adaptation of Toni Morrison's Pulitzer Prize-winning novel was so ignored by audiences, Winfrey has said it drove her into a depression. Winfrey did not produce Lee Daniels' The Butler, but it is nonetheless her first home-run success since she ended the daily daytime talk show that made her a global celebrity to oversee her basic cable network OWN, which has had a very public ratings struggle since it launched in 2011. (Indeed, to boost viewership, Winfrey has had to lean on high-profile interviews, like her news-making sit-down with Lance Armstrong in January, and her interview with Lindsay Lohan airing tonight.)
Lee Daniels' The Butler's box office debut also establishes the sweeping historical drama as the first major "awards movie" of the year. With its A grade from the audience polling firm CinemaScore, the film could be well on its way to a long and lucrative run in theaters, similar to other August releases that went on to earn major box office as well as Oscar nods — like The Help, Inglourious Basterds, The Sixth Sense, and The Fugitive. That must sit well with Harvey Weinstein, who waged a bizarre public battle with Warner Bros. over the title to the film that resulted in the new possessive title for director Lee Daniels (Precious: Based on the Novel Push by Sapphire, The Paperboy) and a barrage of free press for the movie.
Winfrey and Weinstein's triumphant efforts to drive audiences to see a movie about an African-American butler at the White House also stand in stark contrast to the other three movies opening this weekend that on paper seemed like better box office prospects: a sequel to a cult favorite comic book adaptation; a biopic of one of the most accomplished, successful, and well-known businessmen of the last 50 years; and a corporate thriller starring Liam Hemsworth, Harrison Ford, and Liam Hemsworth's abs. Instead, all three suffered humiliating debuts.
To wit:
• Kick-Ass 2's estimated $13.6 million opening weekend could not top the $19.8 million debut of its 2010 predecessor, which itself was seen ultimately as a box office disappointment. Decent home video sales convinced Universal to green-light the sequel, but the buzzy The World's End opens next weekend and will likely draw away the fanboy audience that Kick-Ass 2 needs to sustain any hope of a healthy box office run.
• The Steve Jobs biopic Jobs opened with $6.7 million, which may give Sony Pictures some pause on Aaron Sorkin's in-the-works screenplay of Walter Isaacson's official Steve Jobs biography, Steve Jobs. At the very least, audiences have made clear they are not too interested in a Steve Jobs movie starring Ashton Kutcher.
• Paranoia, a corporate espionage thriller, was DOA, coming in 13th place with just $3.5 million, officially the worst wide release debut of the year so far. Poor Liam Hemsworth. Poor, bored Liam Hemsworth.
Here are the estimated top 10 box office figures for Friday to Sunday, courtesy of Box Office Mojo:
1. Lee Daniels' The Butler* — $25 million
2. We're the Millers — $17.8 mhillion
3. Elysium — $13.6 million
4. Kick-Ass 2* — $13.57 million
5. Planes — $13.1 million
6. Percy Jackson: Sea of Monsters — $8.4 million
7. Jobs — $6.7 million
8. 2 Guns — $5.6 million
9. The Smurfs 2 — $4.6 million
10. The Wolverine — $4.4 million
*Opening weekend