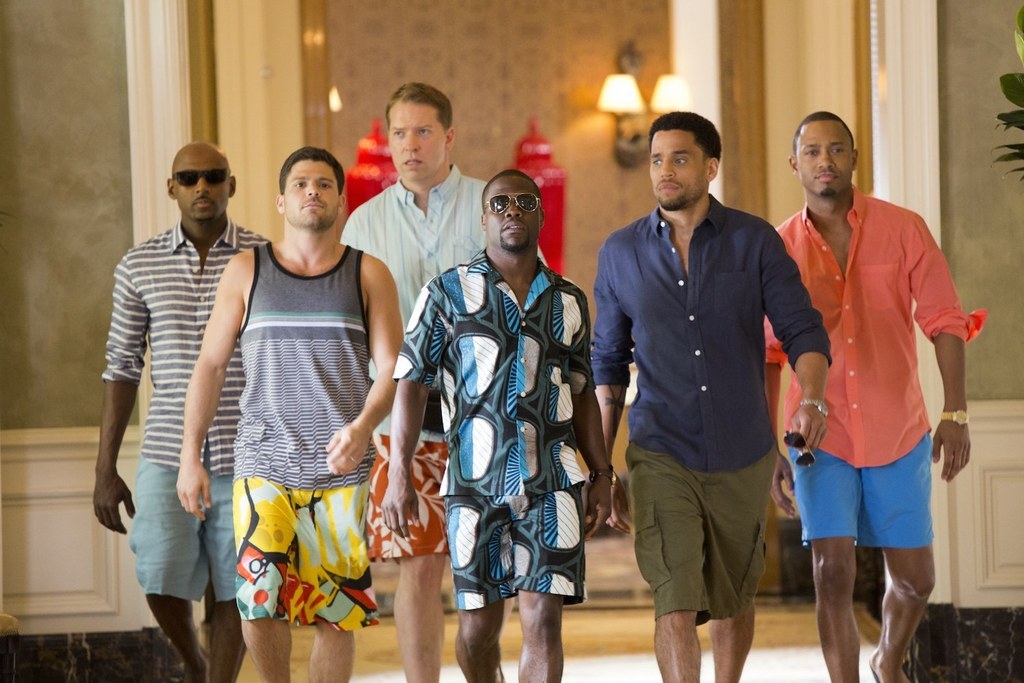 Like Melissa McCarthy and Channing Tatum before him, Kevin Hart has spent this year starring in a series of hits that have catapulted him into a major box office movie star. This weekend, Think Like a Man Too — an ensemble comedy sold almost exclusively on Hart's presence — opened with an estimated $30 million. It's Hart's third movie in a row after January's buddy cop comedy Ride Along and February's romantic comedy About Last Night to score an outsize debut at the domestic box office.
To be sure, Hart is not quite yet a top-tier box office phenomenon. Think Like a Man Too actually opened roughly $3.6 million lower than its 2012 predecessor, even though the sequel debuted in just over 200 more theaters. Had the sequel bested the original, Hart's star could have climbed that much higher in the eyes of Hollywood executives looking for talent who can reliably bring in big numbers. (Competition from the blockbuster comedy 22 Jump Street and uniformly negative reviews for Think Like a Man Too likely contributed to the dip in returns from the first film.)
None of Hart's films have made any significant splash at the international box office, where Hollywood has been making the lion's share of its money for the past decade. Comedy rarely plays well outside its home country, but for Hart to join the rarefied ranks of stars like Robert Downey Jr. and Angelina Jolie, he would have to headline a truly global hit — a high bar to clear for any American comedy star.
Still, with Think Like a Man Too, Hart has proven his brand of high-wire, high-strung comedy to be a big-time draw in the U.S. On average, his films have opened better at the domestic box office, in fact, than the most recent star vehicles for some far more well-established actors, like Liam Neeson (Non-Stop, opening with $28.9 million), Tom Cruise (Edge of Tomorrow, opening with $28.8 million), Cameron Diaz (The Other Woman, opening with $24.8 million), Adam Sandler (Blended, opening with $14.3 million), and Johnny Depp (Transcendence, opening with $10.9 million).
Hart already has a busy slate of films in the pipeline, including the January 2015 comedy The Wedding Ringer with Josh Gad, the March 2015 comedy Get Hard with Will Ferrell, and a supporting role in writer-director-star Chris Rock's Finally Famous (opening likely next year). As was the case for his trio of films in 2014, all of Hart's upcoming movies feature other actors in at least co-leading roles, a smart position for Hart, who risks overexposure as he seemingly starts showing up in every other comedy released by Hollywood. But at some point, if Hart really wants to chart his own destiny in showbiz, he will have to headline a film on his own — like McCarthy is doing with Tammy in two weeks. As any high-wire performer can tell you, the most impressive accomplishment is working without a net.
Here are the estimated top 10 box office figures for Friday to Sunday, courtesy of Box Office Mojo:
1. Think Like a Man Too* — $30 million
2. 22 Jump Street — $29 million
3. How to Train Your Dragon 2 — $25.3 million
4. Jersey Boys* — $13.5 million
5. Maleficent — $13 million
6. Edge of Tomorrow — $10.3 million
7. The Fault in Our Stars — $8.6 million
8. X-Men: Days of Future Past — $6.2 million
9. Chef — $1.84 million
10. Godzilla — $1.82 million
*Opening weekend