When then-32-year-old filmmaker Karyn Kusama arrived at the Sundance Film Festival in January 2000 to premiere her debut feature Girlfight, she had steeled herself for a mixed reception. Her movie was about a troubled Latina teenager from Brooklyn's Red Hook housing projects who finds love, and purpose to her life, when she starts training at a dingy local boxing gym. The cast was made up entirely of Latino actors, and its star was an unknown named Michelle Rodriguez. The audience at the premiere screening in Park City, Utah's 1,200-seat Eccles Theater, by sharp contrast, was filled with upwardly mobile white people, many of them film executives — just like the ones who had told Kusama years earlier that they would be happy to finance her movie, if the lead was white.
But when Kusama stepped in front of the screen for the post-credits audience Q&A, she was greeted with an onslaught of enthusiasm and goodwill for Girlfight, with questions breathlessly praising Kusama's expressive direction and Rodriguez's star-making performance — that is, after the cheering died down. Kusama was completely caught off guard. "I really didn't think people would find the movie universally appealing, which is something that a lot of people talked about," Kusama recently told BuzzFeed News, sitting on a couch in her Los Angeles home while her 9-year-old son, Michio, watched episodes of Star Wars Rebels nearby. "They didn't expect to identify with this character, but they did."
When Kusama finally left the stage at the premiere, introductions were hurriedly made, and business cards were thrust in her hands. "None of it could quite register," she said. "It was all so overwhelming." She could see what she called "the crush of the business coming right at [her]" — it's her most vivid memory, in fact, of that night.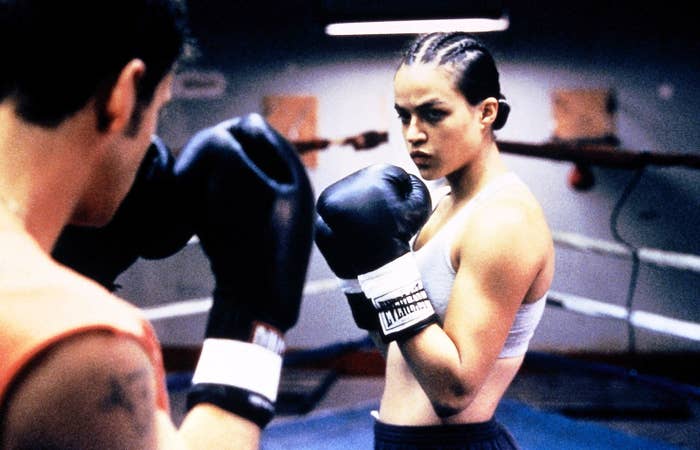 Three days later, after a fierce bidding war, Screen Gems bought the movie for a reported $3 million. Variety raved about "the arrival of a major new talent" in Kusama. Girlfight had become The Big Movie of that year's Sundance, and at the end of the 10-day festival, that designation became official: It won the Grand Jury Prize (along with Kenneth Lonergan's You Can Count On Me), and Kusama won the Directing Award.
To date, she is the only filmmaker ever to earn both accolades.
But rather than celebrate this propitious start to her career at the giant festival wrap party, she chose instead to cook dinner for her cast and crew back at the condo where they were all staying. It was a gesture, of course, to celebrate the people who'd worked so hard to help her realize her film. It was also a way to escape the near-constant bombardment of congratulations, and the subtle judgment that seemed to come with it.
"It's pretty gratifying to spend so long to make your first film and then feel like it got a lot of love — that was an incredible feeling. But there's something very distorting about that much attention. It felt like such a double-edged sword," she said. "As much as people said, 'Oh, we want to work with you. What's your next project?' it also was coupled quite frequently — and this came with the press as much as anything — with this rhetorical question of, 'How grateful are you that this happened?' As if somehow luck was a really huge component."
"There's something very distorting about that much attention. It felt like such a double-edged sword."
Once the glare of the Sundance spotlights had dimmed, however, Kusama quickly began to experience another side of "the crush of the business." Rather than catapulting into success, or even slowly building out her body of work, Kusama seesawed between years of demoralizing industry indifference and directing two studio features that were challenging in the extreme: the sci-fi spectacle Æon Flux in 2005 and the horror-comedy Jennifer's Body in 2009. The latter was a flop, but it has become something of a cult favorite. The former, however, was nothing less than a filmmaker's nightmare, a self-described "eviscerating" disaster that nearly killed her career before it could really get started.
On Friday, Kusama's fourth film, the taut psychological thriller The Invitation, opens in limited release and on VOD. When it premiered last year at the SXSW Film Festival in Austin, Texas, the venue held just 298 seats, and after the film's Q&A, there was no mad swarm of Hollywood types eagerly waiting for Kusama to step off the stage. However, once again, the movie played like gangbusters, earning acclaim for Kusama and screenwriters Phil Hay (also Kusama's husband) and Matt Manfredi. In many ways, The Invitation is the ferociously entertaining, idea-packed showcase for Kusama's considerable filmmaking talents, which were always central to the promise of that heady week in Utah. It just took 15 years for it to arrive.
As she sat in her warmly lit living room packed with books on cinema and art, it became clear just how often the now 48-year-old has had to push past difficult circumstances, and how, after being lauded as one of the most promising filmmakers of her generation, she was unprepared for how little the film business was interested in what she actually had to say. The arc of her life and career easily reflects the trials faced by so many other female filmmakers. But it is also the singular story of an (at times) painfully solitary artist, someone whose temperament has put her at odds with the lopsided demands of her chosen profession — and, ultimately, allowed her to survive it.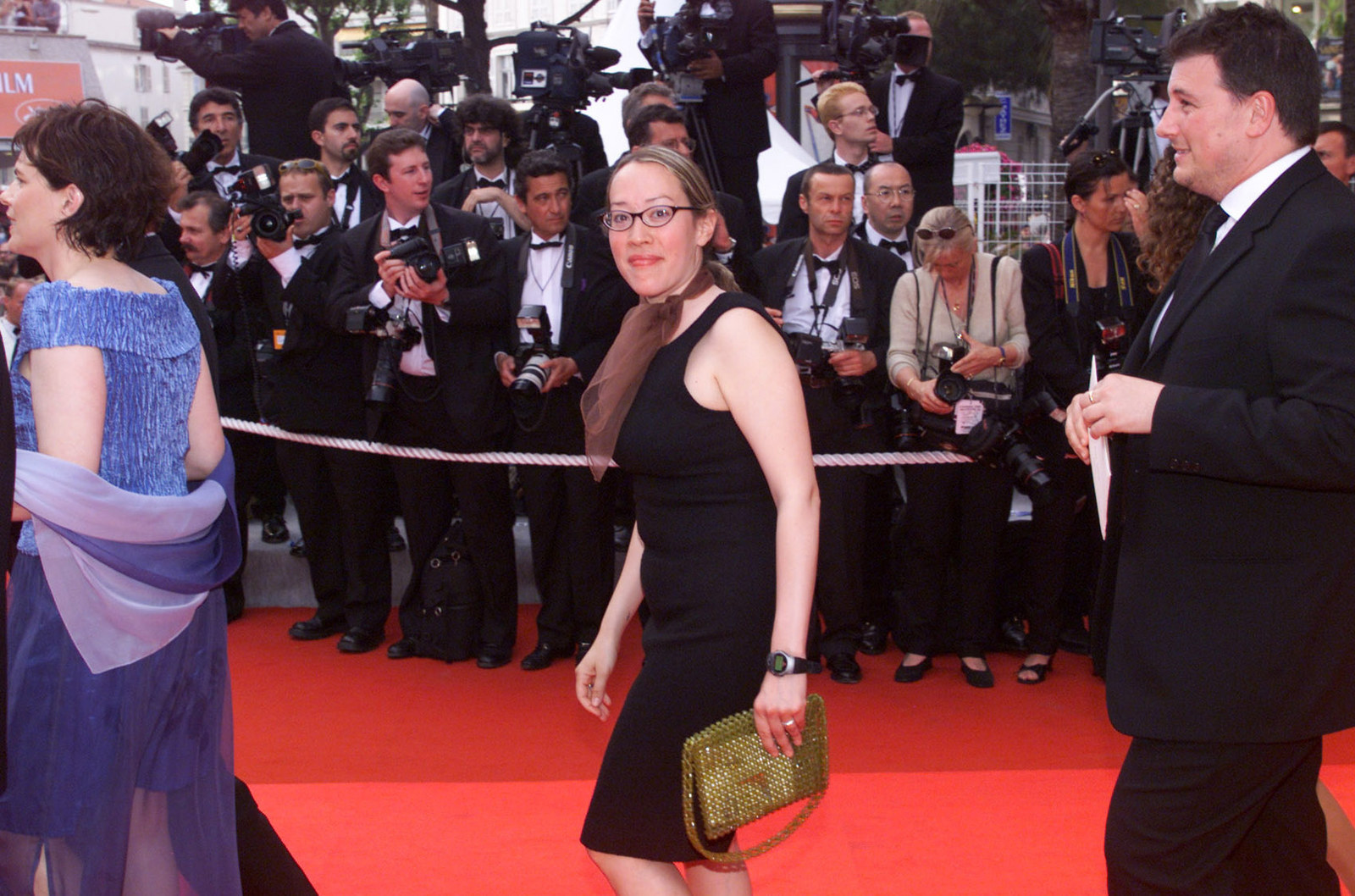 From the moment she was born in 1968, to a Japanese father and white Midwestern mother, Kusama stood out in her St. Louis neighborhood. "We were kind of the only family like us," she said. "People felt no problem just coming up to you and saying, 'What are you? How'd you get Chinese eyes and freckles?'"
Her parents met while in college, both of them studying to be mental health professionals: He was a child psychiatrist, and she an educational psychologist. Her childhood imbued Kusama with a keen emotional vocabulary and a therapist's ear for introspection. "There's something about that combo that made for a very open, intellectually lively household, but more reserved emotionally," she said of her parents' similar professions and differing nationalities. "I think I was a pretty anxious dreamer, maybe a fundamentally lonely kid."
Like so many other filmmakers before and since, Kusama turned to movies as, she said, "a survival tool." By the time she was 13, she was having her parents drop her off at the local art house theater, called the Tivoli, on weekends, where she would drink in a day's worth of revival screenings. "I became obsessed with Warren Beatty," she said. "I could see McCabe & Mrs. Miller, Parallax View, and Splendor in the Grass in one day."
Then, in the same school year, Kusama saw Amy Heckerling's Fast Times at Ridgemont High and Martha Coolidge's Valley Girl. They were a revelation. "I hadn't yet seen a woman's name so close to the main title," she said. "And all of a sudden, it was like, oh! Women do this!" As she began actively seeking out more films directed by and about women — "not that there were tons to find at the time" — she decided she would become a filmmaker, and make movies about women, too.
"All of a sudden, it was like, oh! Women do this!"
She settled on NYU's prestigious film production program, in part because she could get her hands on cameras right away. "And they gave me a scholarship!" she added. Her thesis film, Sleeping Beauties — a fantastical allegory about two teenage sisters trapped alone in a Gothic house — won a student filmmaking prize and earned her a chance to fly out to Los Angeles to meet with some agents. But those meetings didn't take, and it would be another 10 years before Kusama would make her first feature. "Day-to-day concerns really trumped big dreams for quite a while in my life," she explained. "I was so freaked out about money. And until, honestly, I was in my early thirties and made Girlfight, that anxiety was a real issue: How are you going to live? How are you going to survive?"
To make ends meet, Kusama babysat and took odd jobs editing NYU student films, which led to slightly surreal encounters like Bianca Jagger asking for help cutting her documentary on Nicaragua. But those nagging aforementioned questions had much more primal implications for Kusama. Within two years of each other, her closest friend and writing partner, and then her older brother, both died of drug overdoses.
"I had no shortage of wild times in my youth. But it just hadn't occurred to me that a night would get out of control, and then somebody would not be awake the next day." She took a deep breath. "As that was all happening, you know, I had friends my age who I realized had AIDS, and, um…" She sighed again, and her eyes began to glisten with tears. "I think, you know, for all of that to hit by the time I was 24, 25, 26 — the notion of how lives can just turn upside down really hit me in a visceral way. … I really recognized I was not prepared to take on expressions of the adult world because I was still so trying to figure it out."
Emotionally depleted and creatively blocked, Kusama started taking boxing lessons at Gleason's Gym in Brooklyn on the recommendation of a friend. The regimented workouts became a kind of therapy — and a source of inspiration. "There was a moment where I just looked at this gym, took it all in, and wondered, Where are the girls?" Kusama said.
She began listening to the stories of the young Latino and black men who would train next to her, how they would treat their trainers as surrogate father figures and channel their anger from their days at school into their work at the gym. Then, one day, a male sparring partner in a clinch essentially dared Kusama to hit him. A script began to form: It featured a young Latina character named Diana Guzman, whose mother had died when she was young and whose father was a washout alcoholic who barely paid her any notice at all.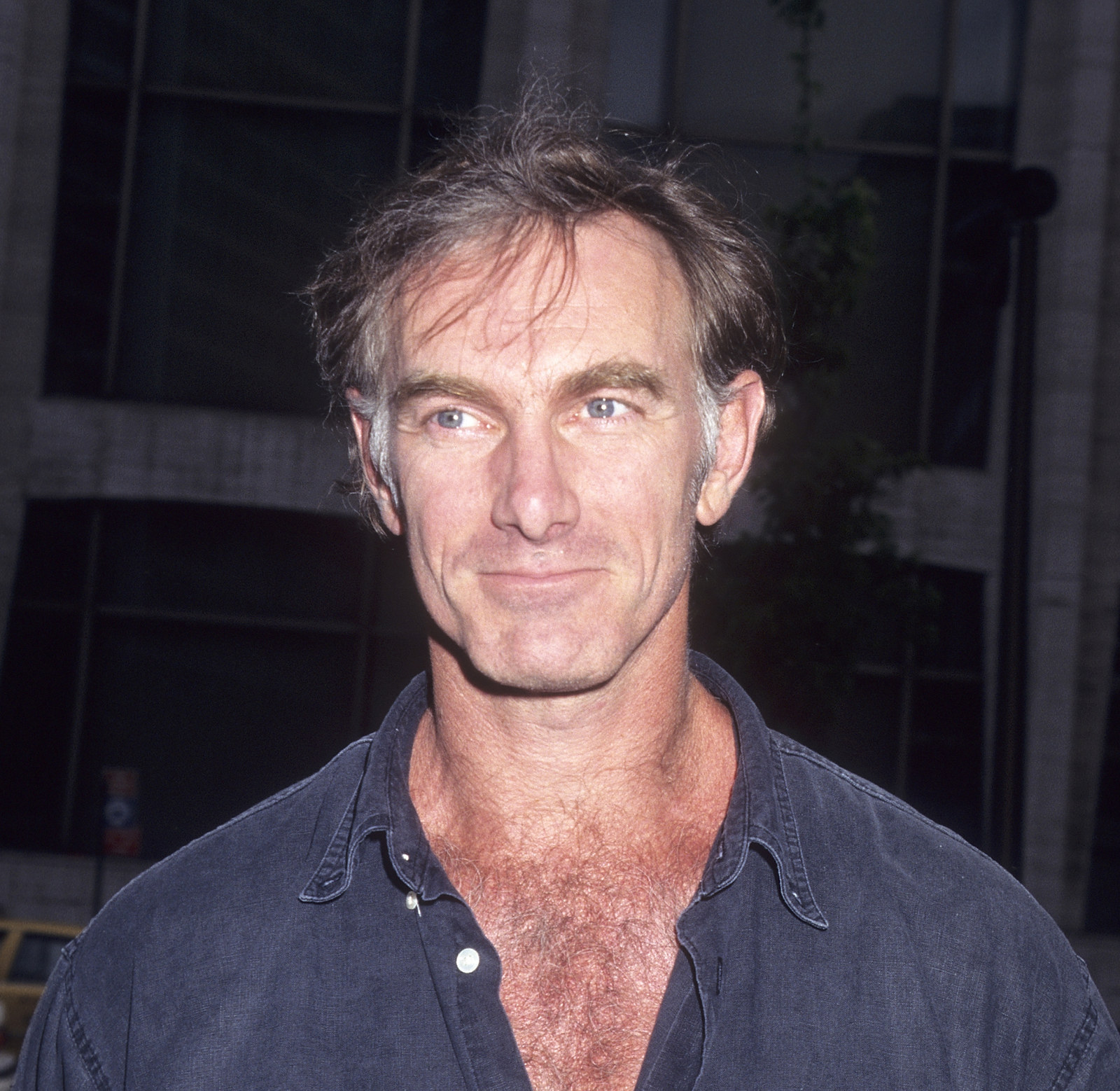 It was around this time that Kusama met John Sayles, a dyed-in-the-wool independent filmmaker who was friends with the couple Kusama babysat for. He was in the midst of prepping what would become one of his most acclaimed films, the 1996 Western-mystery Lone Star, and Kusama became his assistant. In Sayles, she finally found a mentor, someone from whom she could learn the practical logistics of filmmaking, and who could supply the focused creative motivation for Girlfight she desperately needed. "He just had a couple of really great notes along with some incredible encouragement," she said with a sigh. "I mean, man, it just means so much to have people you respect just give you a little bit of support."
He also gave Kusama something else only a good mentor can provide: a firm push out the door. "She had been kind of wandering in the wilderness for it seemed like a year and a half with a very good script," Sayles recalled in a phone interview. "And various fairly dilettantish people who sometimes put money into movies were [saying], 'Oh, yes, maybe, no, maybe.' It just got kind of ridiculous. I said, 'Karyn, you have to dedicate yourself to this one thing.'" In essence, he fired her so she could focus on Girlfight full-time.
Thus began a dispiriting multi-year process for the then-29-year-old Kusama of taking meetings with independent film companies and financiers, and hearing the same note over and over and over again. "'Does she have to be Latina?'" Kusama repeated. "And also, 'Can she be not just a white girl, but a vehicle for a more well-known actress?'" And yet, even after she spent the better part of the decade with the director's chair so distressingly out of reach, there was never any temptation for Kusama to acquiesce to their demands.
"It just didn't feel worth it to give away something so personal to me to accommodate somebody else's deep fears."
"I was never going to make much money on the movie, really at any budget," she said. "I knew I could cobble together as much of a life, frankly, by babysitting, being a screenwriter's assistant, and being John's assistant. It just didn't feel worth it to give away something so personal to me to accommodate somebody else's deep fears."
In the end, Sayles and his producing and life partner Maggie Renzi provided the bulk of the film's roughly $1 million budget. "I thought it was really well-written," Sayles said. "I thought it had potential to get a release and a chance to make its money back. I felt like from talking with Karyn, she knew what she was doing. And also, quite honestly, it was frustration that nobody else was going to invest in this thing."
The film's $3 million sale at Sundance did indeed earn Sayles his money back, and the rousing treatment the film received at the festival appeared to validate, quite profoundly, Kusama's creative convictions. But when Girlfight opened in theaters that September, it never played in more than 253 locations, and it only grossed $1.6 million.
"That was like, Oh, it's all over," Kusama said. "It's been three or four weeks. We're done. That's a real comedown." While Girlfight did make several critics' top 10 lists at the end of the year, it is now held up, fairly or not, as a classic example of the fevered, altitude-induced enthusiasm of the "Sundance bubble" unduly inflating a movie's acquisition price — and overestimating its true commercial potential.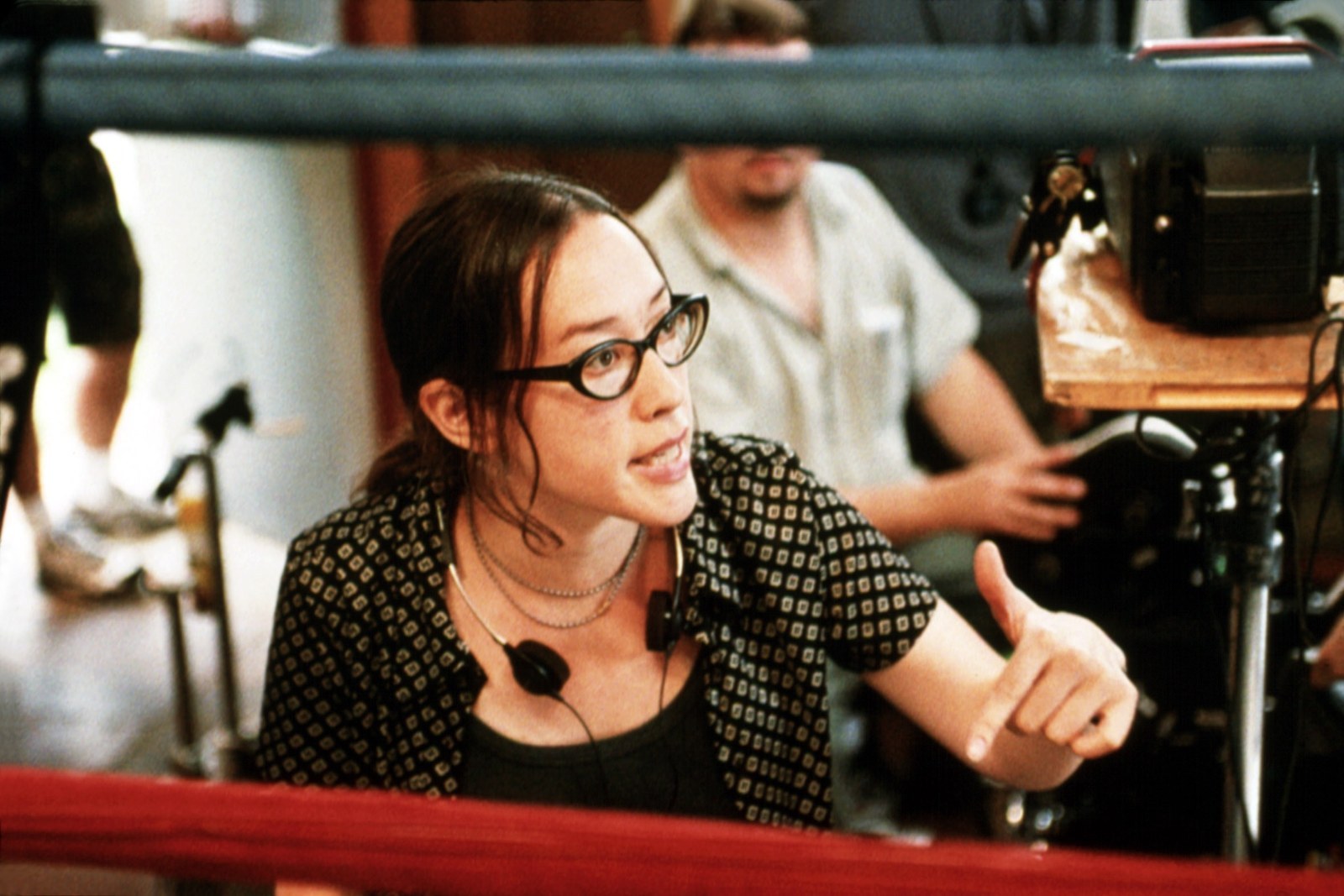 Although Girlfight fizzled at the box office, that obviously didn't change the quality of the film, or Kusama's abilities as a filmmaker. And, besides, the movie had still made more money than, say, Todd Haynes' first film, Poison, or David O. Russell's debut, Spanking the Monkey. Kusama believed that she'd earned at least the right for her next film — a sci-fi script she'd written about a man who begins changing into a woman against his will — to be taken seriously. But, to put it mildly, it was not.

"It was pretty interesting to have agents and managers say, 'There is no way my client is going to play a character who is shedding his masculinity, and then have that role taken over by a woman. No fucking way,'" Kusama said. One manager of a major A-list star was "repulsed" by the script, especially a scene in which the man's balls literally fall off on the bathroom floor. "It was kind of funny, because it's not that challenging," Kusama continued, her genial voice taking on an edge. "But in the same way [as with] Girlfight [when] people said, 'Can Laura Dern play this part instead?' — people said, 'You know, you would have a lot more success making this if this guy would turn into a dog.'"
Kusama understood that her artistic taste was not naturally mainstream. On the eve of Girlfight's theatrical release, she'd even told Bomb magazine, "I wanted to test myself with a traditional narrative story because, in many regards, that's not what interests me." Other filmmakers, though, with more unorthodox career breakouts — Darren Aronofsky, Christopher Nolan, Steven Soderbergh, Richard Linklater — gained at least some financial traction for their follow-up efforts. It had been years, and Kusama was not only nowhere, it began to feel like the system was rigged against her. "I had moments of just being like, wow, I'm kind of getting killed here," she said with a deep sigh, shaking her hands in frustration. "Like, what is legitimate success if the environment you're in feels sometimes fundamentally hostile?"
By 2003, she could not help but ask herself, What if I were male? How much easier would this be? As a female filmmaker who'd already earned a fair amount of press and plaudits, Kusama kept walking into rooms and negotiating expectations for her to be at once brash and charming, independent and humble. But men? "You can essentially be autistic and be male [in filmmaking]," she said, throwing up her hands. "I am in some ways really attempting to really nurture my inner autistic self. But ultimately, my instinct is being an antisocial woman who maybe seems like she had a chip on her shoulder, or seems like she'd be really hard to work with, or maybe seems slightly crazy — that doesn't seem like a good thing. But I feel like there's a promise, this like whiff of excitement, around men who display those traits, as if there's a secret to all of it. Women don't get that free pass."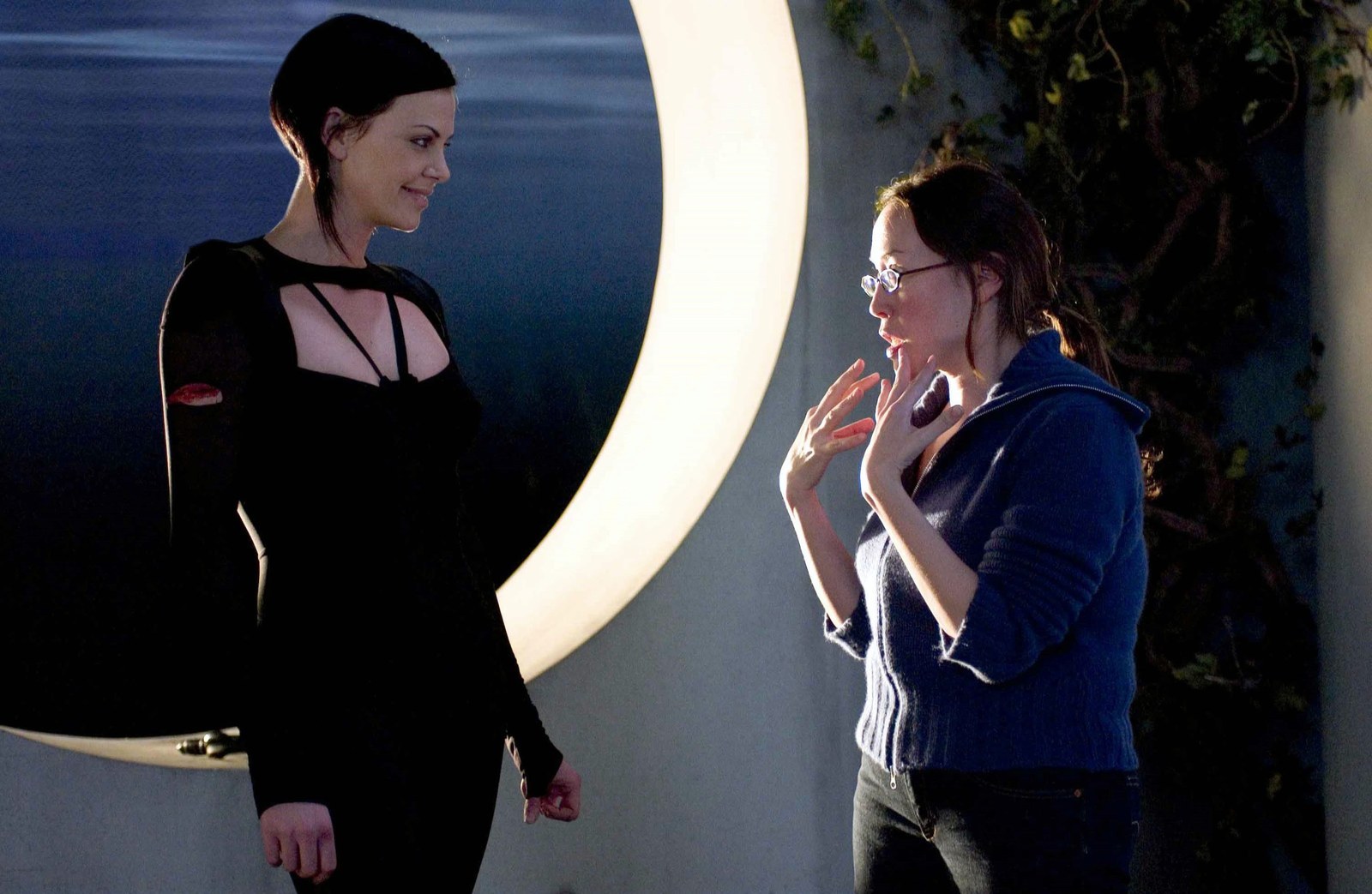 It was in this environment that Kusama's agent sent her Phil Hay and Matt Manfredi's script for Æon Flux. The project was based on a sequence of animated shorts by Peter Chung that had aired on MTV's Liquid Television, and then as its own half-hour series, in the early 1990s. It had earned a devoted following for its distinctive animation, post-apocalyptic setting, and barely clad titular heroine.

Despite Paramount Pictures' interest in developing the property into an action movie franchise akin to The Matrix, there were some elements to Chung's work that vexed the studio. In his earliest shorts, Æon keeps trying to assassinate an autocratic leader named Trevor Goodchild, only to fail, die, resurrect, and try again in an endless loop, with no clear sense of continuity or explanation. Confusing things further, sometimes Æon and Trevor are lovers. And for the first two seasons — if one could even demarcate this show by seasons — virtually all of the dialogue consists of incoherent grunts.
"We were like, 'We want to do the craziest version of this movie possible, something really, genuinely weird,'" Hay said. So he and Manfredi refashioned the story into a cerebral action-romance between Æon and Trevor, who are trapped in a closed-off society forced to perpetuate itself by cloning after a virus wipes out humanity's ability to reproduce.
It captured Kusama's imagination. "There was something really interesting there about this idea of the soul and its expression across time," she said. "I said, 'OK, I'm not going to get this job, but I'll just go through the motions of meeting with a studio to see what that's like.'"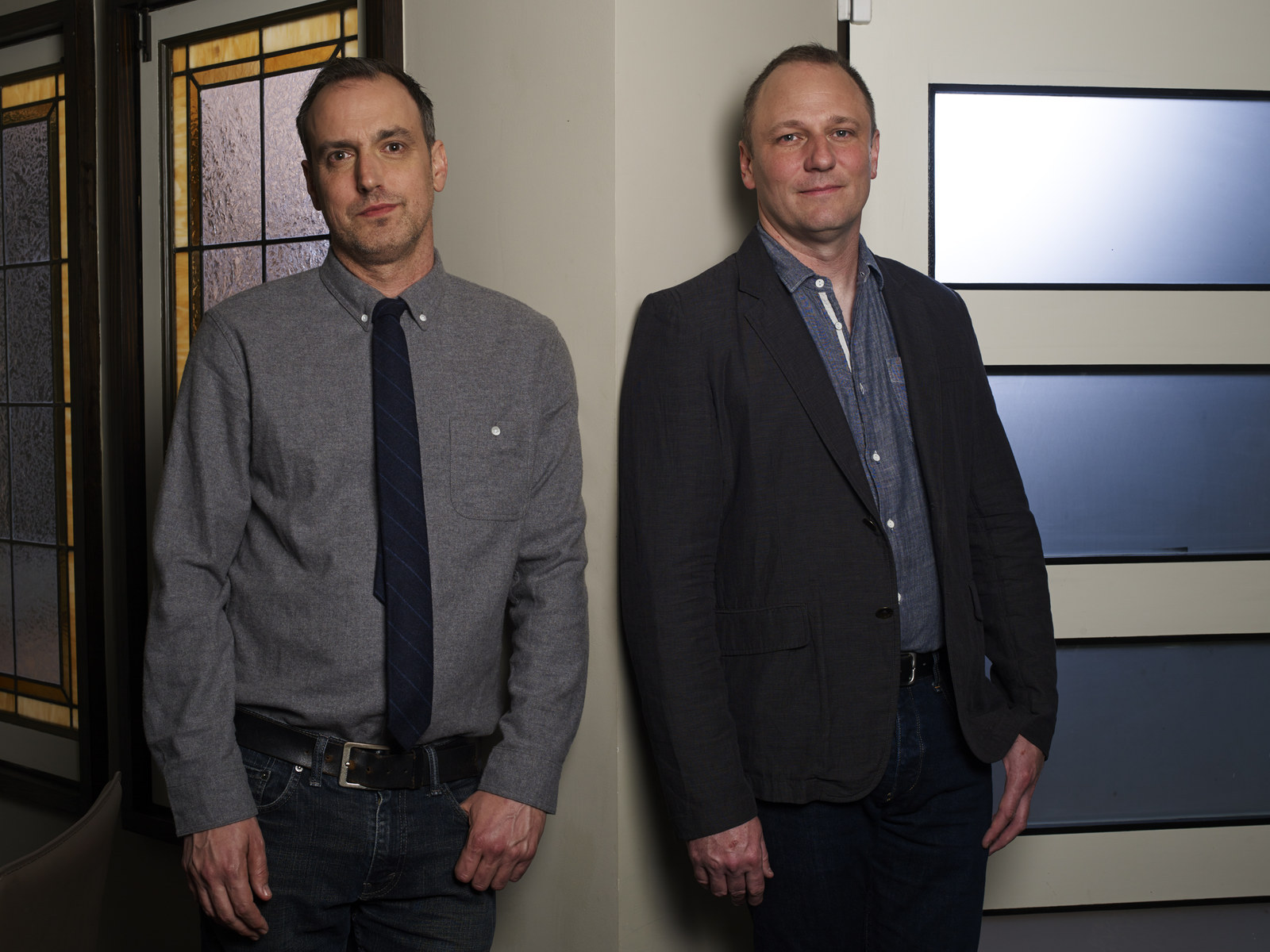 What Kusama hadn't realized was that merely going through the motions — creating a presentation with potential storyboards and visual cues — had put her so far ahead of her competition that she'd practically landed the gig the moment she started her pitch. "Other directors came in like, 'Ah, we'll have Moby do some music for it. It'll be great!'" Manfredi said, rolling his eyes. "And that was the take. They were really impressed that Karyn was prepared."
It was the first time a studio had expressed enthusiasm for Kusama's creative vision. And yet, from the start, Kusama felt wary of how to navigate her first studio project, let alone an effects-heavy sci-fi action movie with a prospective budget stretching precariously into nine figures. "There was a sense everyone was in the dark about what does it mean to be a woman behind, at the time, what was a very high-profile assignment," she said. "It had been budgeted at something insane that the studio didn't want to make it for, like $110 million. And so they said, 'Can you basically make it for half that?' But that was still a really big movie to be my second movie, and a really big movie to be any woman's movie."
Throughout the yearlong preproduction process, however, Kusama and her team enjoyed the blessing of Paramount Pictures chief Sherry Lansing. "She always liked the script, liked what Karyn was doing," said Hay. "Our collective idea was trying to make something that could stand next to a Crouching Tiger, Hidden Dragon. That's how everybody kind of bought in." Charlize Theron, hot off of winning an Oscar for Monster, signed on as the star; several other esteemed actors — Frances McDormand, Pete Postlethwaite, Sophie Okonedo — also joined the cast.
But then, in the fall of 2004, Lansing announced her plans to leave Paramount the following year. Regime change at a studio is always an enormous red flag for any in-progress production, especially one with as tricky an artistic trajectory as Æon Flux. By the time Brad Grey and former Fox TV executive Gail Berman had taken the reins at the studio, Kusama had delivered a movie that fulfilled her original vision: a challenging sci-fi romantic thriller with the thoughtful pacing of a highbrow Asian martial arts film. It was just that the studio didn't want that movie anymore.
"We heard it come down: 'This is a $50 million art movie,'" said Hay. "And we were like, 'That's sounds great to me!' But that's not what the current regime had signed up for."
Almost overnight, all encouragement and support was replaced with open hostility. Kusama was removed from the movie, and the studio brought in new editors to change it into something else entirely.
"I felt like I was having, like, open-heart surgery without the painkillers," she said. "This is where gender plays a part. This is where big personalities and power and influence really make a difference. Because I just didn't have anyone who could advocate for why it was important that they treat me better. There are so few playbooks to go by in my situation. It was kind of like I was in this primeval forest."
Typically, when a studio takes a movie away from a director, it's because that filmmaker's behavior — be it indecisiveness, belligerence, wastefulness, or a nasty cocktail of all three — has cost the studio considerable money. "I was never, like, out of control," Kusama said. "I was never wishy-washy or over-bossy. I'm actually an extremely reasonable person. And I definitely got pushed to a place where it was harder and harder for me to be reasonable. It was a little bit like, 'Is this what you say to all the girls?'"
Having lost control over her film, all Kusama could do was watch helplessly as the studio dismantled every choice she, Hay, and Manfredi had made. "The emotional core of things was always being questioned as sentimental, over-romantic, short of literally saying the words 'female' or 'feminine,'" said Kusama. "Huge swatches of storyline, which gave the movie a kind of emotional weight, were completely removed." The action sequences, so carefully choreographed and shot with long, deliberate takes, were chopped up into a jumbled mess. Even the sexuality of a gay supporting character was cut out of the film.
"It was a little bit like, 'Is this what you say to all the girls?'"
By the time the studio was done, Kusama's Æon Flux had been hacked down, she said, to 71 minutes, barely long enough to qualify as a feature film. More to the point, it made absolutely no sense whatsoever. "Once they saw what that Frankenstein project looked like, they legitimately freaked out," said Kusama. "I got a call from one of my executives that was essentially like, 'I really hated your version of the movie, but, believe it or not, I hate the new version even more.'" (A representative for Paramount Pictures declined to comment.)
Kusama was asked back into the editing room to cobble together a version that was at least marginally comprehensible. She considered taking her name off the movie and letting the studio deal with the mess they'd made on their own. But she didn't want her work, and her team's work, to languish out of spite. "She won't ever walk away from something that she feels responsible for," said Hay.
There was one further indignity Kusama had to suffer, too: She wasn't ever allowed to be alone with the editor. "There was still a sense that she was going try to turn it back to an art movie, which, ironically, wouldn't have made an ounce of difference at the box office," said Hay with a mordant chuckle. "We probably couldn't have made less." Indeed, Æon Flux ultimately made $25.9 million domestically and $52.3 million worldwide, a costly and embarrassing flop for Paramount.
The last time Kusama brought herself to watch the film, she thinks, was at the premiere. "I drank literally 10 vodka tonics in a row, and was perfectly kind and nice and generous to everyone at the party, and then staggered out of the car, got to my doorstep with Phil, and puked for six hours straight," she said.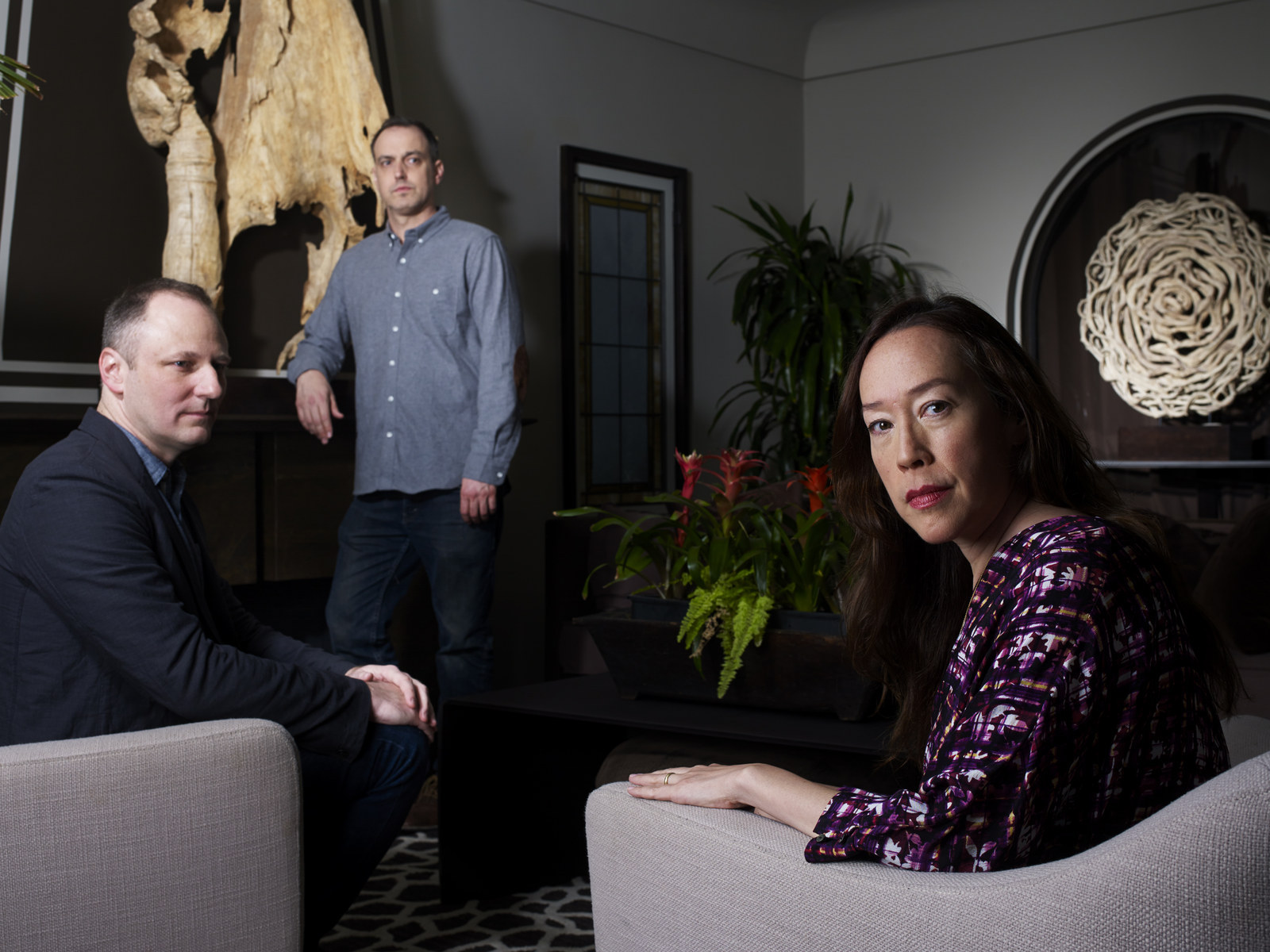 Beyond her unfortunate post-premiere evening, the magnitude of the fallout to Æon Flux was difficult at first for Kusama to calculate. But she knew it was bad. "There was a real attitude that somehow I had really blown it," she said. "I think people were like, Is this the end?"

Kusama's agents told her in a singsong, jokey tone that she was "in movie jail now." It's an industry term for the fate of filmmakers who helm a box office bomb, and the implication is that, eventually, you'll be released from movie jail. But Kusama wasn't so sure. "Maybe it's supposed to sound like a rite of passage, but so few women get any opportunity to have more than just the rite of passage," she said. "Which is a big part, I think, of what we really need to be talking about when it comes to women's careers in film. It's the sense that each movie represents some kind of finality, potentially, to their career, as opposed to the sense of you have hits, and you have misses. That's called being an artist. I'm very conscious of how frequently great artists in film who are male and are also generally called 'big personalities' get to fail." (Some examples: After David Fincher bombed with Alien 3, he made Seven. After Bryan Singer bombed with Apt Pupil, he made X-Men. After Joss Whedon bombed with Serenity, he made The Avengers. Jon Favreau went from Zathura to Iron Man, Peter Jackson from The Frighteners to The Lord of the Rings, and Zack Snyder from Legend of the Guardians: The Owls of Ga'Hoole and Sucker Punch to Man of Steel.)
"I'm very conscious of how frequently great artists in film who are male and are also generally called 'big personalities' get to fail."
There was at least one unambiguously good thing to come out of Æon Flux: Hay and Kusama began dating during production. They'd previously met through Girlfight's composer, and Hay even attended Kusama's cast and crew dinner at Sundance. They married in October 2006, and the next year, their son was born. Kusama directed an episode of The L Word while pregnant with him, but that was the only directing work she was able to secure after Æon Flux. Hay and Manfredi's screenwriting career, however, barely seemed to take a hit. Kusama turned her attention to motherhood.
Then in the fall of 2007, Kusama received a script for Jennifer's Body, a horror comedy by a new screenwriter named Diablo Cody. The film's core conceit — a plain Jane's mean-girl BFF becomes possessed by a demon and needs to eat boys to survive — immediately grabbed Kusama. She especially loved the film's exploration of a dangerously codependent friendship between two teenage female leads. "I just thought, This is totally the movie I would've wanted to see when I was 16, and I need to make it for 16-year-olds now," she said. Never wanting to repeat her experience on Æon Flux again, Kusama also recognized a potential advantage to the awards season buzz swirling around Cody's first feature, Juno, which opened at the end of that year. "Meeting Diablo, and thinking about the field at that moment, I was like, I think she's going to win an Oscar, and I think it's going to make the [filmmaking] process a little less problematic," said Kusama.
Before she could land the job, however, Kusama actually had to plead her case to get out of movie jail. "I remember [Fox Atomic chief] Peter Rice, who has pretty sophisticated film acumen, asking very pointed questions about Æon Flux," said Kusama. "Like 'Why did this happen? Why is [Æon] wearing what she's wearing when no one else is?' I was like, 'Well, because she's coming from a funeral, but you don't know that, because they cut that from the opening of the movie.'"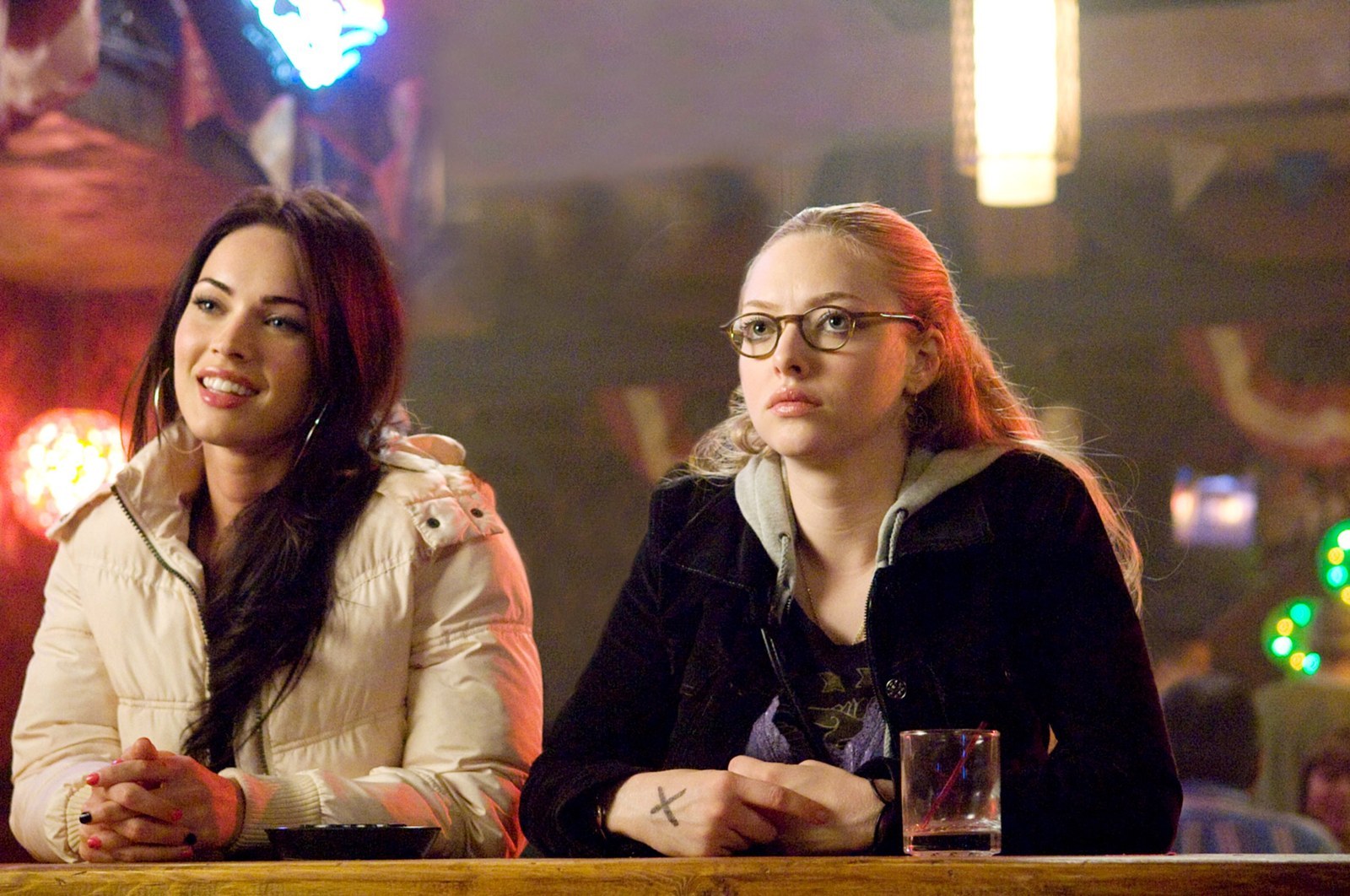 To Kusama's relief, Rice appeared to understand that Æon Flux was, in Kusama's words, "a real fuck-job of a movie." And once he signed off on her to direct Jennifer's Body, she was also relieved that she and the studio ultimately remained on the same page about the movie throughout production. That is, until Kusama started to see the marketing plans.
Megan Fox's pungent sexuality as Jennifer was front and center, and Amanda Seyfried — who played the socially pliable Anita "Needy" Lesnicki, the film's true lead — was all but ignored in the publicity materials, as was the fraught relationship between the two of them. "They were so uncertain about really embracing the reality of the movie, which is that it was made by women and about women, and that the ultimate goal was to make a movie for girls," Kusama said. "To see them suddenly make it a movie about Megan Fox looking hot, I was like, 'That's disastrous! She seduces guys, and then she eats their intestines! How is that appealing [to teenage boys]?'"
Yet again, Kusama learned a difficult lesson. "I see now how it is really important to push back on the poster, the trailer, the press notes," she said. "It's really important to have that dialogue with people who are getting your movie out into the world to see if they see the same movie. Because I realized with Jennifer's Body too late, Oh my god, we don't." (Fox Atomic, the division that released Jennifer's Body, no longer exists; a representative for 20th Century Fox declined to comment for this story.)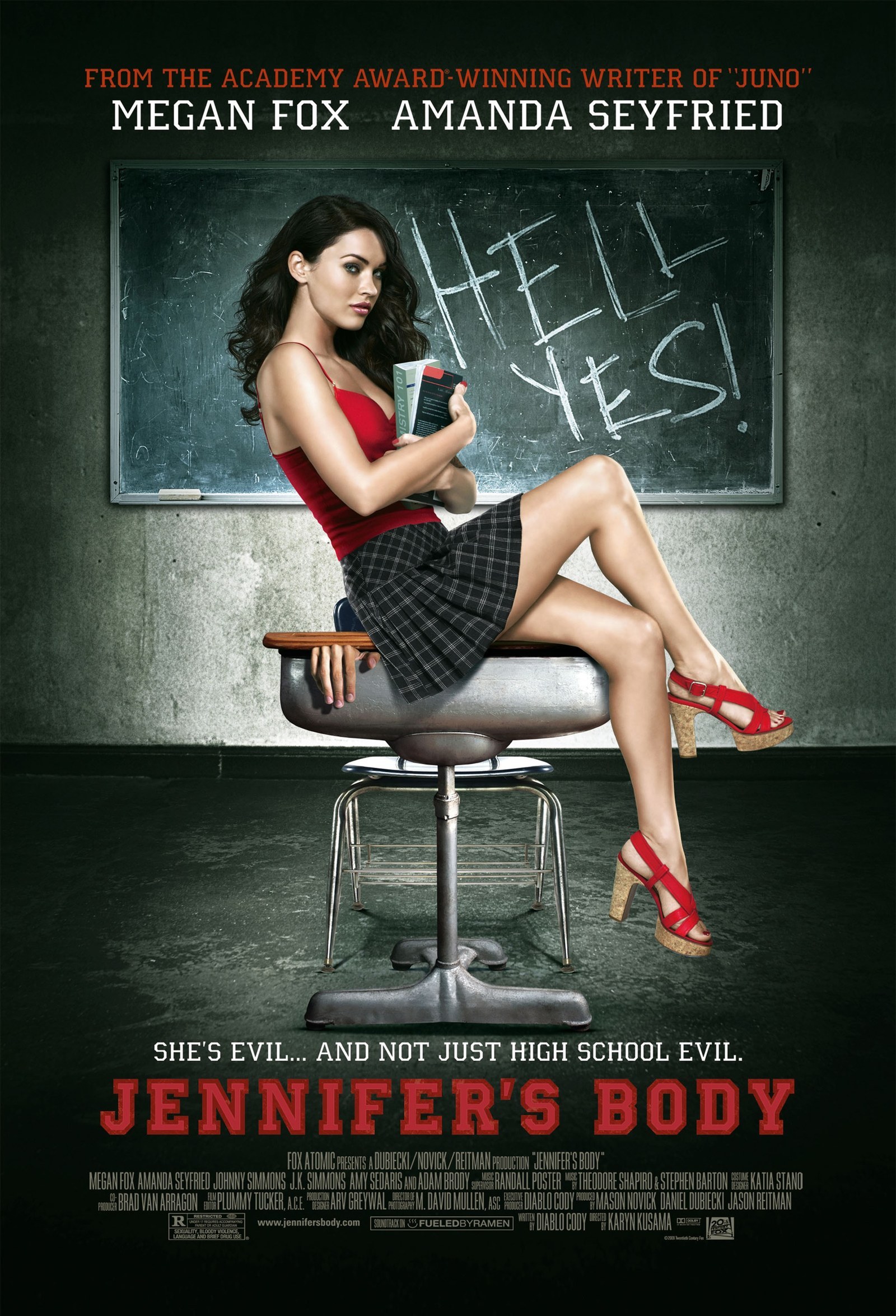 The movie opened in fifth place, behind films like the anemic Jennifer Aniston romance Love Happens, and ultimately earned just $16.2 million domestically and $31 million worldwide. No one blamed Kusama — if anything, the public seemed to be rejecting Fox as a box office star and Cody as an acclaimed new screenwriter. But Jennifer's Body did precious little to bolster Kusama's reputation in the industry, especially as she tried once more to land directing work in TV. "Now that I've made two studio movies, everybody's saying, 'Well, how do we know that you can work within a very specific structure and schedule?'" she said.
Kusama certainly is far from alone in having difficulty charting a coherent filmmaking career. (As a comparison, Lonergan — the previously mentioned director who shared the Sundance Grand Jury Prize with her — has only made two films since 2000, one of which was Margaret, which remains among the truly great movie clusterfucks of the last 25 years.) But consider that Hollywood execs most often operate by relying on what are called "comps," models of past successes and failures that they use as a guide for how to move forward and perhaps mitigate risk.
Kusama has no real comp for her place in Hollywood. The constant trial of having to fight baseline assumptions that she doesn't know what she's doing, plus the apparent disadvantage of focusing on female-driven storytelling, started to tear at her emotional equilibrium.
So, over the last few years, she's been cultivating relationships with other filmmakers and hosting filmmaker dinners. "One of them was Eli Roth and Jill Soloway and John Hamburg, in one room," she said with a grin. "I'm trying to find ways to take the loneliness out of the director job, as well as the false sense of entitlement or power that comes with it, so that we can all get real about what it is to have to be a career marathoner. Because that's really what directing is. It's really committing to what I need it to be for myself, and to every aspect of the process. And that just requires a lot of stamina."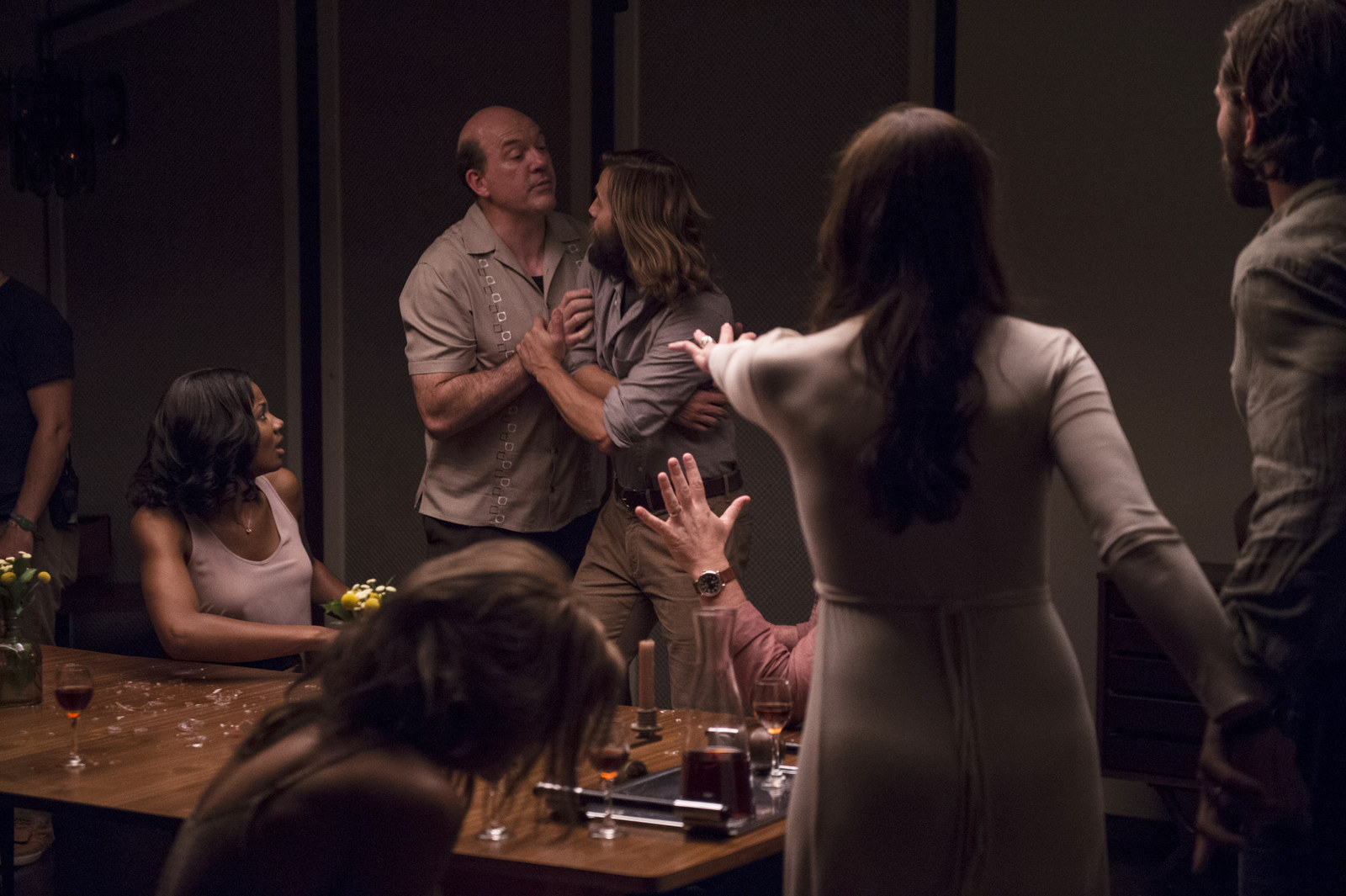 Around the time of the release of Jennifer's Body, Hay sent Kusama an early draft of a screenplay that he and Manfredi had been working on in between writing massive studio movies (Clash of the Titans, R.I.P.D., Ride Along). The two hoped their script would serve as their directorial debut, and Hay simply wanted Kusama's feedback. But when Kusama read it, she couldn't help but think about helming it herself.

Still, she said, she "wanted to give Phil and Matt the space that they would need to think of it as their own as directors." For years, she just encouraged them to pursue the film for themselves, even though, she said, "I felt such a magnetic pull toward the material."
That material was The Invitation. It's an exercise in deftly avoiding spoilers to describe the movie's plot, but the basic thrust involves a dinner party grudgingly attended by Will (Logan Marshall-Green) and his girlfriend, Kira (Emayatzy Corinealdi), which is hosted by Will's ex-wife Eden (Tammy Blanchard) and her mysterious new boyfriend David (Michiel Huisman) at the same posh Hollywood Hills home that Eden and Will used to share. The rift in Will and Eden's marriage was rooted in a deep, abiding grief; as Will's paranoia grows over why Eden and David are hosting a party, the differing ways one deals with profound loss — one of the film's major themes — begin to rise to the surface.
It's familiar territory for Hay, whose father died when he was 22, and for Manfredi, who lost his wife in 2002. The deaths of her brother and close friend in her twenties, of course, had a profound effect on Kusama — including how she perceived her studio flops staining her career. The Invitation resonated with how she dealt with all those losses. "The trauma around my creative endeavors and around this sense of self collapsing...without perspective or enlightenment, failure can be a kind of death," she said, with a laugh. "I've had both death and perceived death in relative abundance."
As the years stretched on, Hay and Manfredi became unsure if they wanted The Invitation to be their debut — and, rather adorably, both Hay and Kusama each claim to be the one who first delicately broached the idea of her directing it instead. Once the three decided Kusama was the right person to take the helm, however, they also agreed that this project would be on their terms alone — no studio meddling, no marketing snafus, no one constantly looking over their shoulder.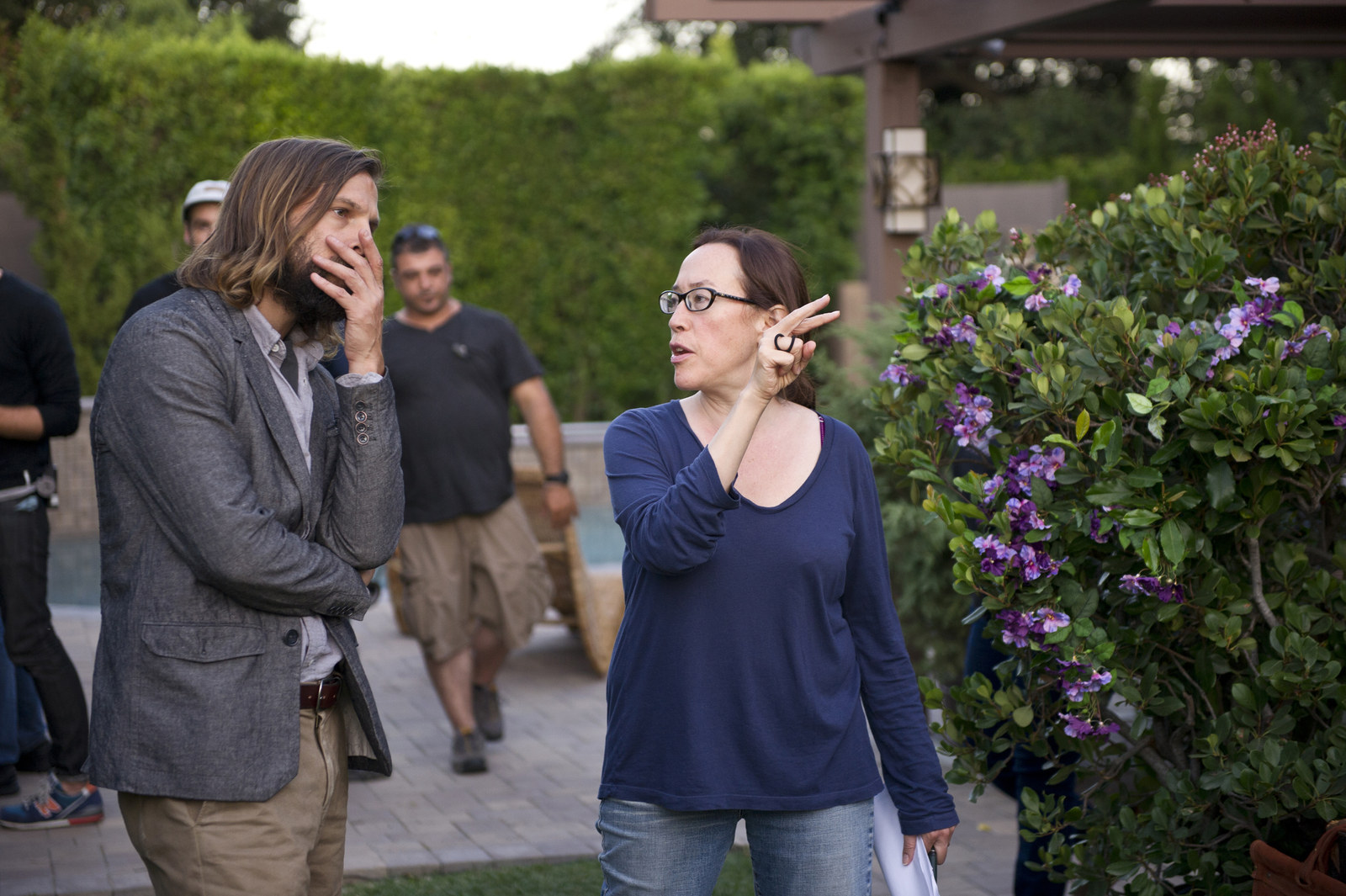 They shot The Invitation over 20 days, on a $1 million budget provided by Gamechanger Films, an equity fund founded in 2013 to finance movies directed by women. Kusama missed the deep pockets of a Hollywood studio — "I do see how money can be utilized toward a creative end," she prudently put it — but having the freedom to make a movie her way made up for her return to the spartan world of indie filmmaking.
And it would appear the results have been nothing less than transformative for Kusama's career. Last year, as The Invitation played the festival circuit to a series of Girlfight-level rhapsodic reviews, Kusama suddenly started booking work directing episodes of AMC's Halt and Catch Fire, NBC's Chicago Fire, Amazon's The Man in the High Castle, Hulu's Casual, and Showtime's Billions. She was approached to write and direct a segment of the female-centered horror anthology film XX, due to open later in 2016. She's started receiving more scripts for consideration, and, for the first time in years, she's taking studio meetings.
She isn't sure how much this new windfall of opportunity is tied to The Invitation's critical reception, or to the increased scrutiny of Hollywood's hiring practices for women and minorities. Whatever means got her here, she's grateful — and acutely aware of how much more work the industry still needs to do to provide ample opportunities to filmmakers wanting to tell women's stories.
Case in point, those scripts she's been getting: "Today, I read eight scripts that I'd been sent in the past two weeks. And of those eight scripts, six had scenes in which a man murders a woman. Three of those scripts, it's his wife," she said. "Like, oh my god, a girl or a woman is getting beaten to death or murdered somehow, often for sport, and we're supposed to just feel that as an unfortunate harsh reality of the world. … It's the stories that also need to change."
So she's striving to do that. Kusama is starting to pitch an anthology miniseries that she would direct entirely, based on Mary Gaitskill's short story collection Bad Behavior. Hay and Manfredi are writing a female-driven police thriller set in Los Angeles for her to direct. And she would still love to make her man-turns-into-a-woman script someday.
"The place I'm in is very much a place of 'I am not going away, people.'"
After spending so many years untangling others' expectations of her, Kusama is also trying to change her expectations of herself; this starts with how she allows herself to talk about her own abilities. "I know when I sit in these studio meetings — I'm not afraid to say this — I'm one of the smartest people they've ever met, and I'm certain it's terrifying [for them]," Kusama said. She burst into laughter, her eyes betraying a panic that she would say something so boldly self-aggrandizing. "And that's all I'm going to say on the matter," she continued, still laughing. "This is where my ego is allowed to express itself, for better or for worse!"
Even just the act of talking at length about her life put Kusama in a contemplative mood. "I've had to think a lot about what is it I want out of the process of making movies," she said. "I want to be able to keep finding every way I can to make thoughtful work. Somehow, I'm recognizing at this very moment just how difficult that is and what a long road it's been to really, fully embrace that in myself."
"The place I'm in is very much a place of 'I am not going away, people,'" she continued, raising her voice just slightly, as if to declare her intentions to anyone who might be listening. "You will have to keep dealing with me, whether you like it or not." •