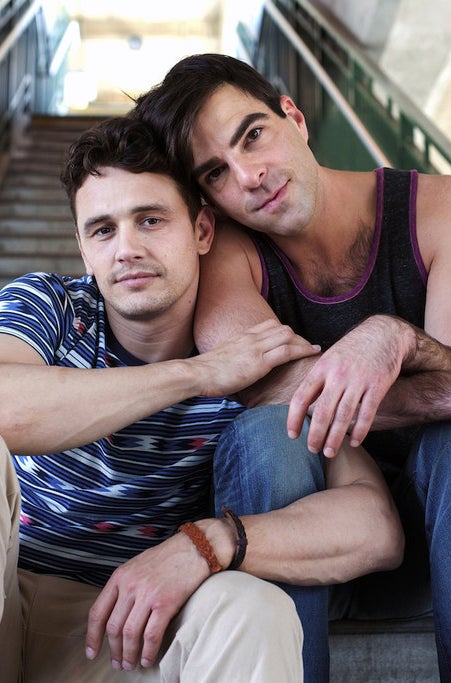 PARK CITY, Utah — James Franco has built his career, at least in part, on making audiences wonder what he is really thinking. Why is he really starring on a daytime soap opera? Why would he really host the Oscars? Why does he really keep winking about his own sexuality? Even his trademark Cheshire smile suggests some kind of hidden knowledge, as if he's sitting on a secret too exquisite to reveal.
And that made Franco's confession at the post-premiere Q&A of True Story, one of two films starring the actor that is debuting at the 2015 Sundance Film Festival, all the more shocking. Franco was asked by a Sundance programmer about what drew him to the role of Christian Longo, a man who was accused of murdering his three young children and wife and then fled to Mexico under the assumed identity of disgraced former New York Times reporter Michael Finkel (Jonah Hill).
"I was always interested in this character. I don't know why," Franco said. Then, he paused for a brief moment, before uncharacteristically blurting out his next thought, "I hate this character."
It's a startling statement for any actor to make, but from Franco, an actor not known for bluntly honest revelations, it was a particularly unexpected one. In the same breath, he even acknowledged that this is something actors aren't supposed to do. "As an actor, you always want to not be judging your characters as you play them," he said. And yet, Franco went on to admit that he found it so difficult to find anything about Longo he could identify with that at one point, he couldn't even concentrate while performing a scene. "Wow," Franco remembered thinking. "I'm distracted because I hate him so much."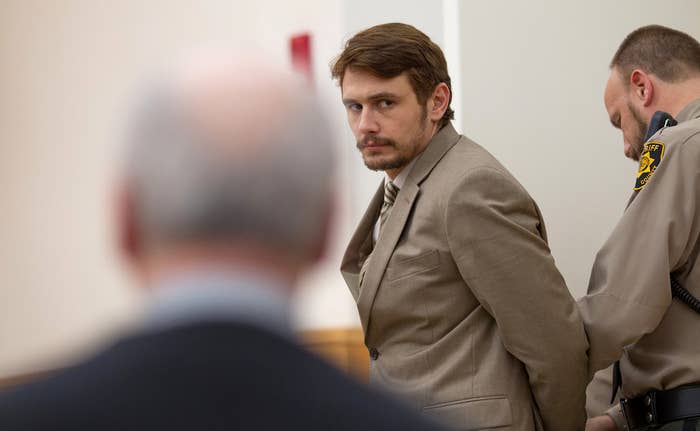 As surprising as Franco's confession was, it's also understandable. True Story is a hard movie to like, in part because none of its characters is particularly likable. Finkel was fired from the Times after he begrudgingly admitted to creating a composite character for a story about the abuses of young laborers in Mali. Both in life and in the film, Finkel does not initially evince much genuine regret for his significant ethical and moral lapse. Hill plays him with intelligence, but his performance is so understated that the reporter comes off as remote and cold, even after he meets Longo, with whom he forms an unnerving friendship after Longo agrees to share his story exclusively with Finkel for a book.
For most of the film, Longo strings Finkel along as he hints at but never reveals a larger story behind the death of his family, suggesting he is protecting someone else culpable in their murders. But (spoiler alert for something that is a matter of public record) after his conviction — and after the publication of Finkel's book — Longo did indeed confess to killing his family. So True Story basically demands Franco play Longo as a charming-but-mysterious psychopath, manipulating Finkel and the audience up to and including his sickeningly calculating (and false) confession on the witness stand.
Longo is such a snake that Franco's post-screening Q&A acknowledgement that he hated the man is certainly valid. And the actor also said that he felt his detachment ultimately worked for the role because Longo was such a dissociated sociopath. But True Story and his performance reveal how limiting it can be for an actor to remain unknowable. Because Longo never fully reveals himself to the audience, our curiosity about him only extends as far as Franco can make him interesting. But by his own admission, Franco is either unable or unwilling to do that. Instead, all he can rely on is his ability to project inscrutability. It makes for a bloodless moviegoing experience, which is only amplified by first-time feature director Rupert Goold's coolly understated tone.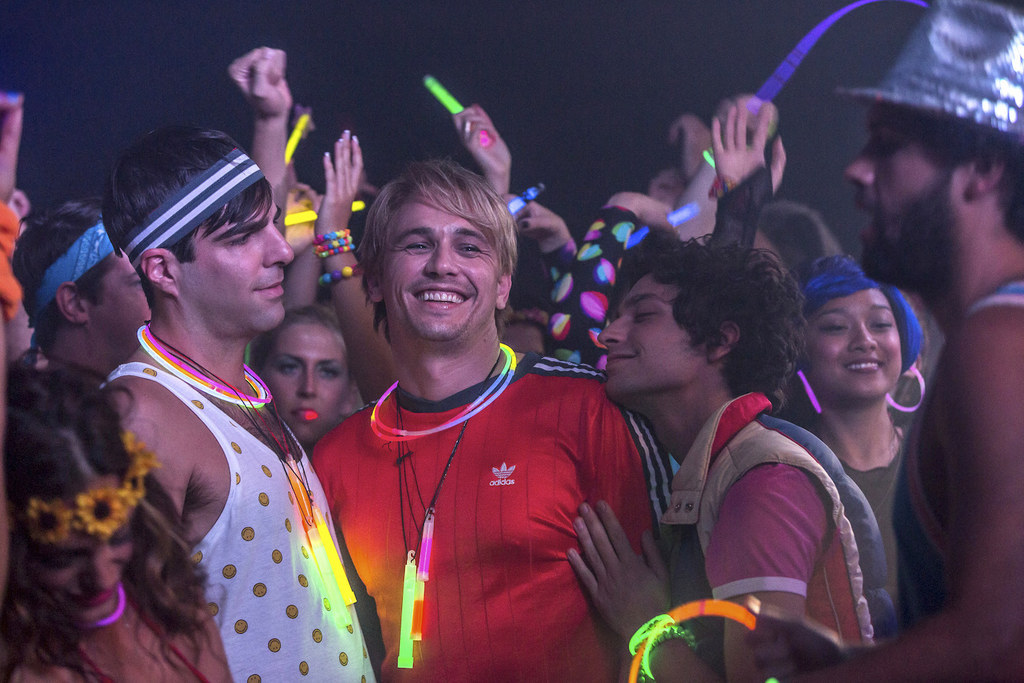 Franco's second film at Sundance actually leans even harder on the actor's enigmatic persona, but this time at least, it's for a more dramatically rewarding effect. In I Am Michael, Franco plays Michael Glatze, an LGBT rights activist and journalist who abruptly and famously renounced his homosexuality and became a Christian minister. (The film doesn't officially premiere at the festival until Thursday, but it screened on Saturday for the press.)
The role of a gay man who seemingly becomes straight is almost too perfect for Franco, who has spent years playfully daring audiences to wonder where he falls on the Kinsey scale. He's explored gay roles and themes before at Sundance, playing Allen Ginsberg in 2010's Howl, and starring in and directing the 2013 documentary/narrative hybrid Interior. Leather Bar, about the infamous 1980 gay film Cruising. Beyond the fest, he has directed biopics about gay icons Sal Mineo and Hart Crane; he famously played Sean Penn's boyfriend in 2008's Milk; and his breakout post-Freaks and Geeks performance was in the title role of the 2001 TV movie James Dean. And that's not including any of Franco's off-screen dances with sexual ambiguity. Most recently, a New York Times article about Franco and his then-roommate, actor Scott Haze, caused Gawker's J.K. Trotter to wonder aloud if the Times was suggesting they were also dating — which Franco responded to on Instagram by calling Gawker's story a "cutting edge, homophobic scoop," calling Haze "my live-in boyfriend," and proclaiming, "Love you SCOTT!!!!"
In I Am Michael, however, Franco does no winking. He plays the confounding trajectory of Glatze's life sincerely, attempting as best he can to capture whatever caused him to so radically change his life in such a seemingly short period of time. Franco has great chemistry with both Zachary Quinto, who plays Glatze's longtime boyfriend, Bennett, and Charlie Carver (MTV's Teen Wolf), the college student who becomes part of their polyamorous relationship. All three aptly convey the lust and love these men shared with each other — even if their much buzzed-about threesome scene ends up feeling underwhelming. (Franco does at least dig his hand into Quinto's ass with gusto.)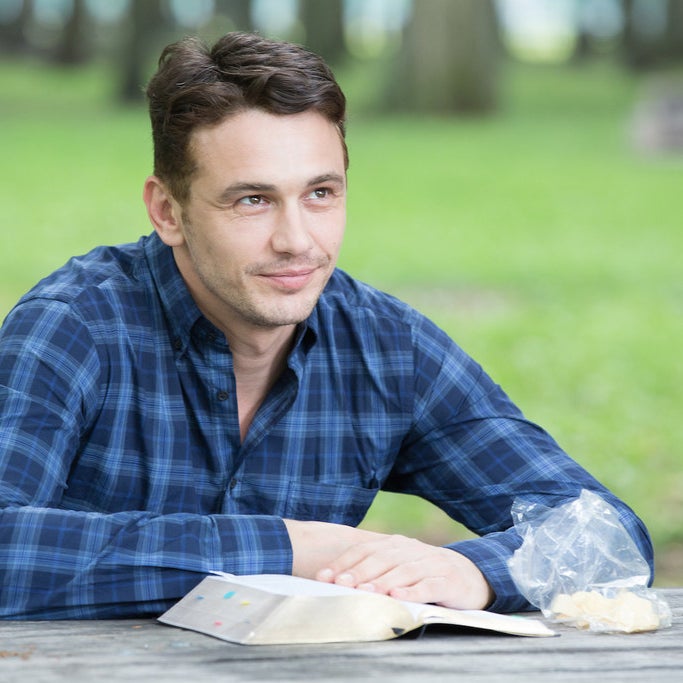 As Glatze's psyche begins to unravel — first with a health scare, then with a crisis of faith — he also begins to embrace religion and profoundly question his sexuality. But his motivations to do so soon become difficult to track, and the film suffers for it. That does not, however, seem to be the fault of Franco or of I Am Michael's co-writer/director Justin Kelly, who's also making his feature debut. Without Glatze's involvement, how or why he made the choices he did (ultimately rejecting homosexuality with rhetoric more likely to come from a Christian fundamentalist) seems ultimately impossible to know.
And yet Franco, who also produced I Am Michael, appears determined to try. He and Kelly invest the same conviction to Glatze's born-again conversion as they do to his LGBT activism, tracing it back to an existential fear of dying caused by the sudden death of his father from a heart condition when Glatze was 13. That makes sense, to a point. But what is more remarkable is how committed Franco is to giving an honest reckoning to a story that most LGBT-friendly people would find, at best, deeply frustrating. Franco has played so much with the idea of his own unknowable sexuality (even though he's said on the record that he is, in fact, straight) that he appears totally at ease with exploring the baffling contradictions of Glatze's — even if those contradictions ultimately tie down the actor's performance. Working so hard to genuinely understand a man who is perhaps impossible to understand, however, may be one of the most revealing things Franco does in his career.