"Iron Man 3" Just Destroyed "The Avengers" Overseas
Opening in 42 foreign markets a week before its U.S. debut, Marvel Studios' latest blockbuster just raked in $195.3 million. It was especially huge in Asia.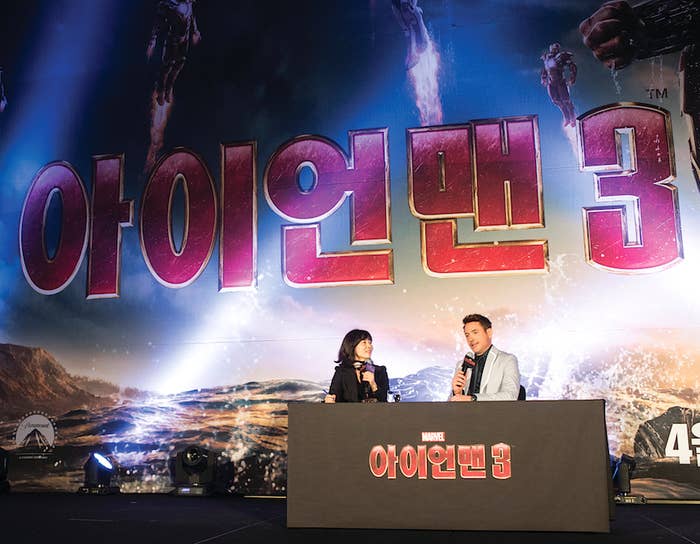 Could Tony Stark best all the Avengers on his own?
He just did overseas.
One week before its stateside debut, Iron Man 3 just raked in an estimated $195.3 million money pit this weekend in 42 international territories. That's just over $10 million more than Marvel's The Avengers managed to make in its foreign debut last year, two weeks before it exploded with the biggest opening weekend ever in the U.S.
According to Walt Disney, which owns Marvel, Iron Man 3 was especially huge in several Asian territories, breaking the all time opening weekend record in Hong Kong, Singapore, Indonesia, Vietnam, Taiwan, Philippines, and Malaysia, as well as Argentina. And it hasn't even opened yet in three major overseas markets: Russia, Germany, and China. (One caveat: Japanese moviegoers had to wait three months before The Avengers opened in their country — Iron Man 3 suffered no such delay.)
If you're wondering, no, this is not the biggest overseas opening of all time. Several Harry Potter films, two Pirates pictures, and a Spider-Man, Transformers, and Twilight film all did better. But consider: All those films opened overseas on roughly the same day that they opened in North America. If you still needed a sign that the U.S. is no longer the most important market for Hollywood, look no further.
Still, the selectively record-breaking haul was well-earned by star Robert Downey Jr., who embarked on a month-long global press tour for the movie. On April 4, he was in South Korea. Two days later, he was in Beijing. By April 10, he'd jetted to Moscow with costar Sir Ben Kingsley. On April 12, Downey was joined by Gwyneth Paltrow in Munich, and in Paris on April 15. By April 17, Downey had finally met up in London with the film's full contingent, including costars Paltrow, Kingsley, Don Cheadle, and Rebecca Hall, writer-director Shane Black, and Marvel Studios chief Kevin Feige. They all gathered together again on April 24 for the film's Los Angeles premiere. And Downey will finally wrap things up in New York tomorrow.
Does the Iron Man suit get frequent flier miles?