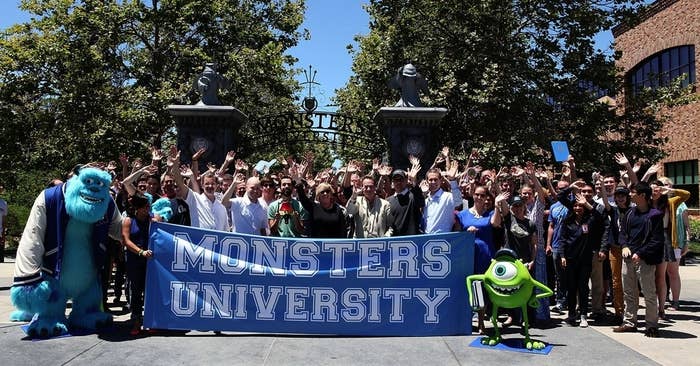 This weekend, Monsters University became Pixar Animation Studio's 14th feature film to open at No. 1 at the box office. That is especially remarkable considering Pixar has released only 14 feature films.
No other studio comes close to that record.
One major factor that sets Pixar apart from the rest of Hollywood is the fact that Pixar is not in Hollywood. Since 2000, the studio's campus has been on a lushly green 22-acre rectangle in the middle of Emeryville, Calif., an enclave for tech-based companies just north of Oakland. "I was there once for a day," said Billy Crystal, who voices eager Monsters University freshman Mike Wazowski, in an interview last month. "And I just remember this open feeling of the campus. There were ball fields to play on, and there were exercise places — very much the Japanese influence of, 'Let's get out at 12 and we'll do push-ups and sit-ups and get into the sun.' And then they all just drifted back to make something great."
The beating heart of the campus — and of Pixar itself — is the two-story Steve Jobs Building that provides a tremendous 218,000 square feet of space for roughly 700 people to work, eat, and play. The name is not just an honorific to the late Jobs, who bought the company from LucasArts in 1986 and served as its Chairman and then CEO until it was purchased by Disney in 2006. In a very real sense, the building is Steve Jobs.
"Since Steve didn't actually make our movies, the building itself became his project," says company President Ed Catmull, one of Pixar's co-founders with John Lasetter. "This is the only building that Steve ever designed and built and carried through [with finishing] it."
"Steve loves the design process," adds Craig Payne, the senior design project manager who Jobs brought over to Pixar from his computer company Next. "He was involved in every detail of this building, down to the door handles of the offices."
Earlier this month, BuzzFeed got an exclusive guided tour of the Pixar campus, to try to figure out what it is about this building and the surrounding grounds that have helped lead Pixar to its unprecedented winning streak.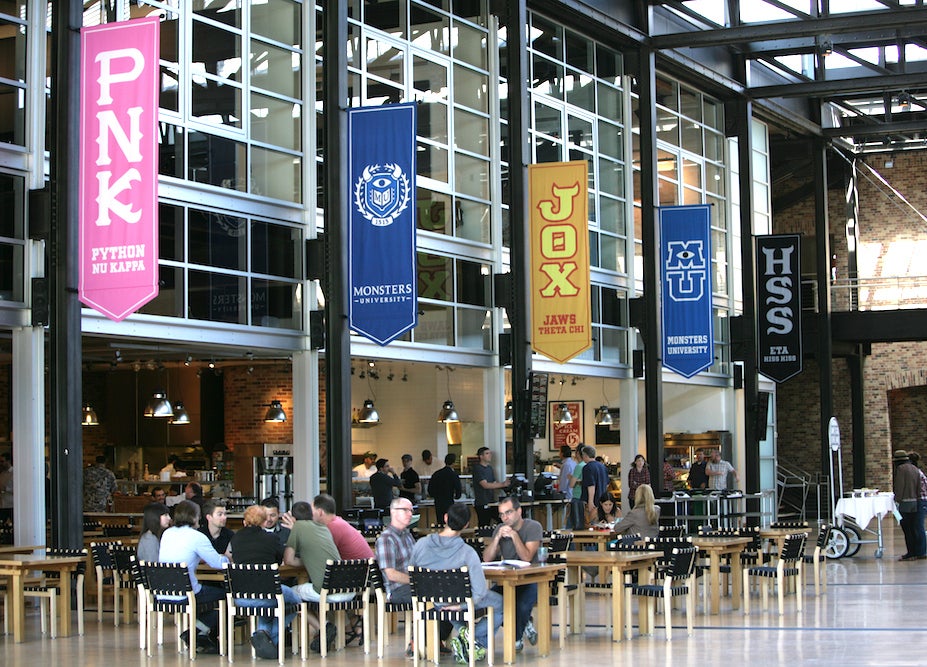 "Originally we were going to build four buildings, around a piazza," Payne says. "Steve thought about that — and he decided that he wanted everybody under one roof, and also he didn't want it more than two stories, so it became a very big building. Steve's always had the philosophy of bringing people together in one central space."
That became what is known at Pixar simply as "the Atrium," an enormous two-story cathedral-like space that greets employees and visitors alike as they enter the main doors. Along with life-size versions of the Monsters duo Mike Wazowski and James "Sulley" Sullivan, and a display case for Pixar's multiple Oscars, Golden Globes, and Annie Awards, the Atrium is always decorated each year to reflect whatever Pixar feature is coming out.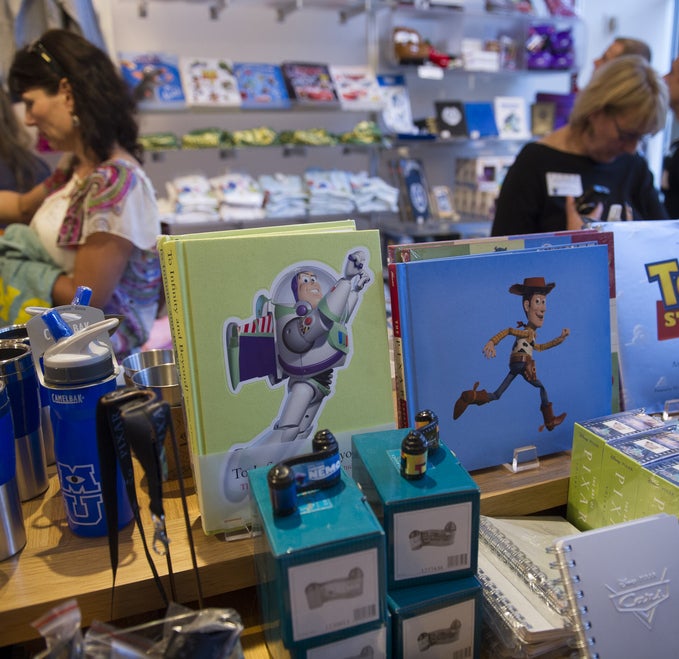 "[Steve] really wanted people to come into this shared area," Payne says. "That's when you have those happenstance conversations with other colleagues. It happens to me all the time. It keeps the culture alive."
Adds Catmull, "When something good happens, because of the strong center, then it spreads out, quickly, to the rest of the building."
To draw people to the center for those random connections, Jobs placed the main restaurant there, which includes a wood-fire pizza oven, a burrito bar, daily specials, and free fountain drinks. The mail room and a free cereal bar sit on the other side of the Atrium, along with the gift shop. And the only bathrooms in the entire building are in the atrium. "You really have to come here," says Payne. "You don't have a choice."
Materials Matter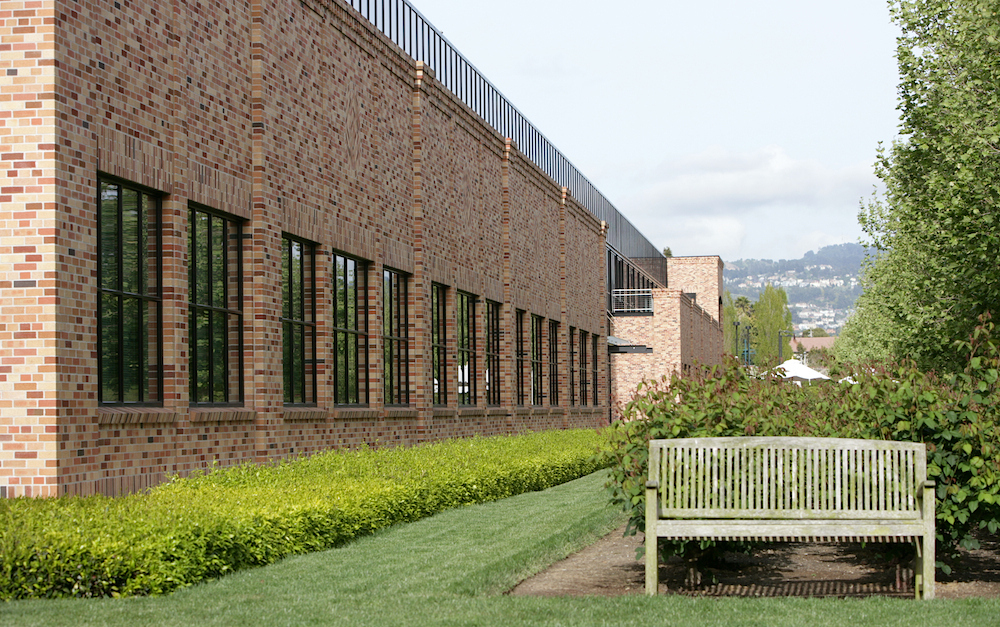 "Steve wanted a space that felt like the Musée D'Orsay in Paris," Payne says. "He wanted the building to feel like it's been around for a long time. It's really about the timeless design." And as anyone who has ever watched one of Jobs' keynote addresses knows, the man's obsession with good design often translated into an obsession with the perfect building materials. Pixar's HQ was no different.
"When we were designing this building," Payne says, "Steve really wanted the steel to feel romantic." And how does one make steel "romantic"?
After fabricating the steel in Little Rock, Ark., Payne let it sit in the campus parking lot. Once it had become totally oxidized, they began using it to erect the structure — with a very specific stipulation by Jobs. "Steve was very adamant he wanted it to be bolted [together], not welded," Payne says. "So the contractor had a couple issues with putting it together and having to take it apart and put it together in a different sequence."
Once a particular section was completed, Payne's construction team would cover it with thick plastic sheeting called "visqueen," blast off all the oxidation, and then clear-coat it. "You got this natural patina on the steel," Payne says. "But it all had to be done in the same day — we've got the salt air from the Bay coming in."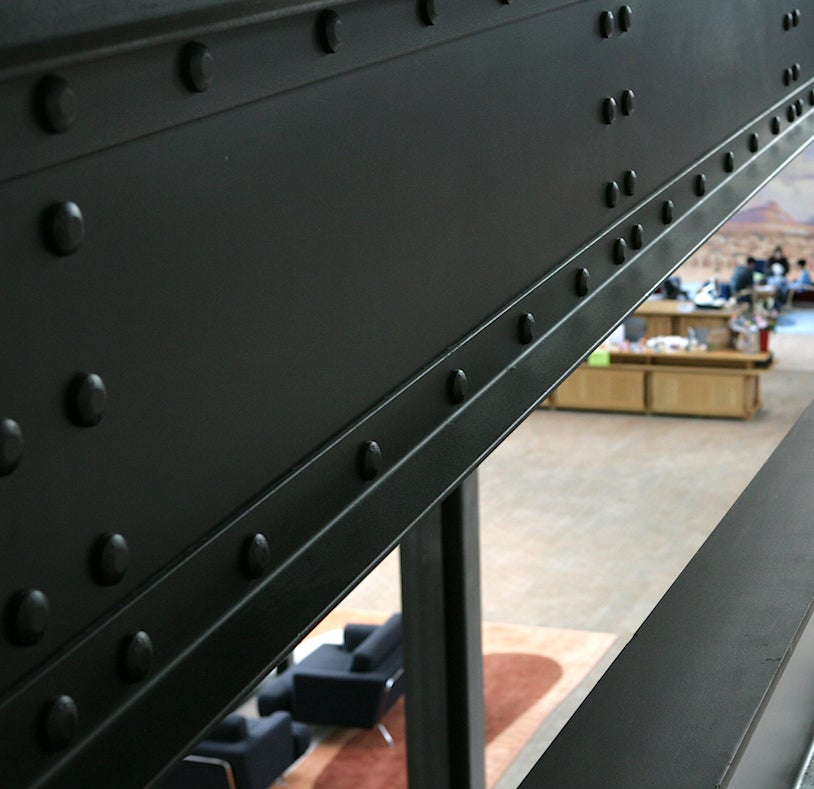 That process, however, had nothing on how particular Jobs was about the brick. The outside of the building was originally designed to be all steel, but Jobs never quite got on board with the idea. Instead, he decided he wanted the facade to be covered in different colored red brick. But not just any color brick.
"So Steve loves the Hills Brothers building in San Francisco, and he wanted to replicate that [brick] palette," says Payne. "So we found a company in Washington state that agreed to match that as best as possible. It was like five different colors of brick. So they made a 10-foot-high by 10-foot-wide panel of the brick, and Steve said, 'I love it.' He even said, 'I want to eat it,' which is a funny comment. It was done. We found our brick."
That is, until the brick started to be applied to the walls. "Steve looked at it and said, 'There's something wrong with those colors,'" says Payne. "Sure enough, they took the production brick and they built another panel next to the one that he approved, and one of the colors was off. We were in a real mess because we were at the point where the brick was going to be laid on the building. We went back to the brick manufacturer, and we were like, 'That deep brown needs to be deeper.' They sent, like, three more samples, and after the third sample they said, 'We're going to do one more, but that's it, and if you don't like it, we're done.' They were just at their wits' end. So I was the sacrificial lamb. I flew up to Spokane. The brick came out of the kiln, the guy grabbed the brick and said, 'Do you want it or not?' I didn't lose my job, so I guess I made the right decision."
The Importance of Artistic Freedom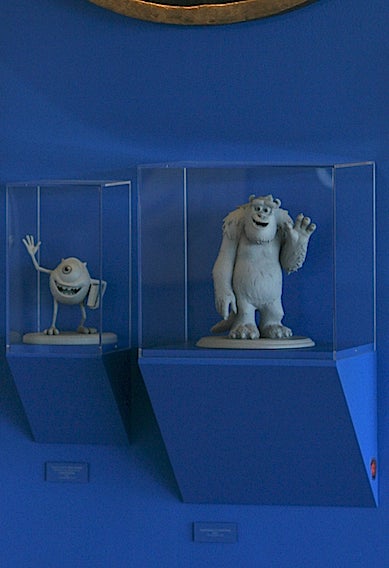 Art is all around the main Pixar building. The two main second-floor hallways that run parallel to the Atrium are filled with it, with the east hall devoted to the artwork for the feature nearest to completion, and the west hall dedicated to showcasing artwork created by Pixar employees that isn't part of the company's films. "We got more artwork than we know what to do with," says Payne with a chuckle.
That commitment to artistic expression extends also means each animator is allowed to do pretty much whatever they want to their office space. "We don't try to police the environment," says Payne. "Everybody here really takes ownership to their space." (Pixar pays for the basic structures — walls, basic desks, chairs, and computer equipment, etc. — but the animators are financially responsible for how they decorate inside them.)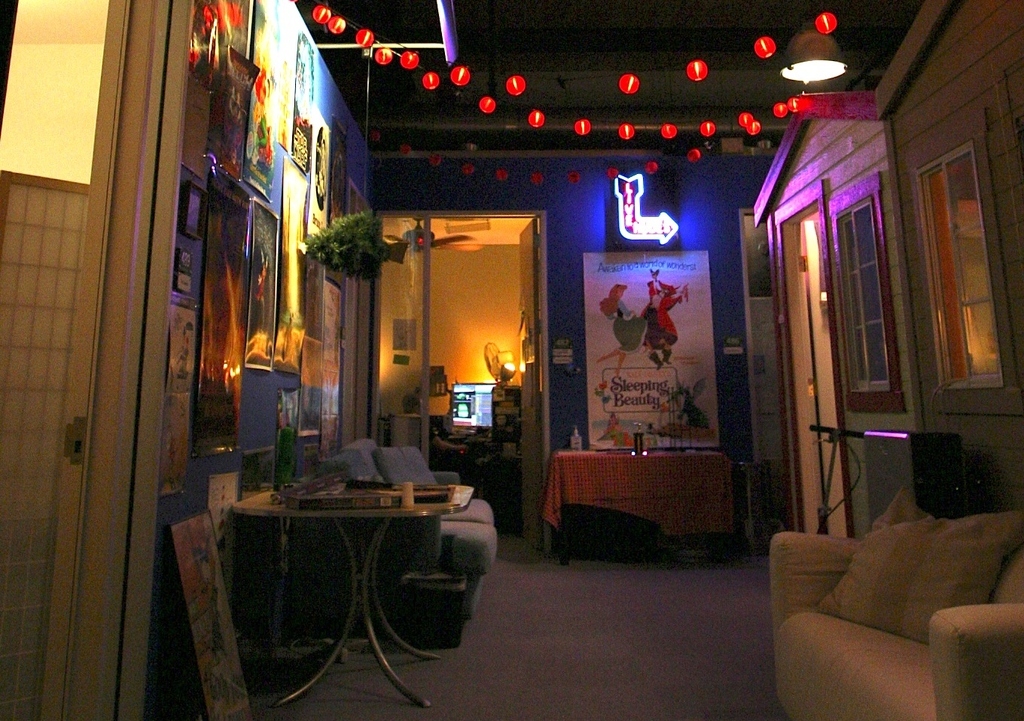 One animator created a tiki cabin; another erected an entire second floor on top of his office. "The animators as a whole tend to be more competitive in making interesting spaces," says Catmull. "There's really a sense of pride in outdoing everybody else." To that end, several cubicle-like spaces throughout the animation wing have been converted into tiny duplex houses.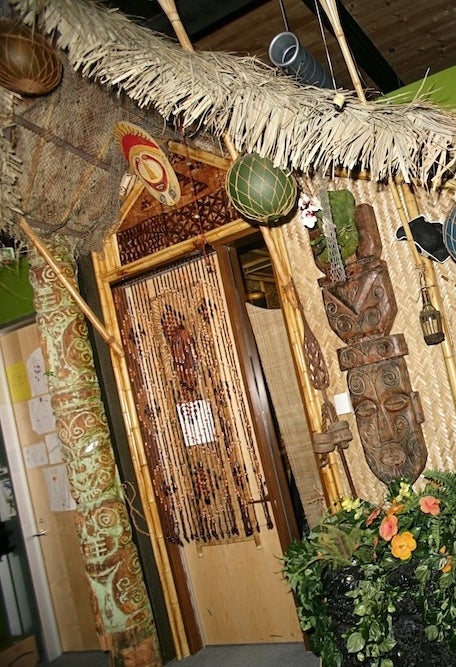 "I worked with this company that literally builds outdoor sheds for your backyard," says Payne. "It's two 8-by-10 sheds, back to back. They built them in place. I let the person moving in pick where the door went, where the window went. They could totally customize it. We left the ceiling open, so there's no issues with mechanical or fire safety. I got the fire marshal to sign off on them."
"Actually, Steve hated those [cabins]," says Catmull with a wry smile. "There were a lot of things in here that Steve didn't approve of. But his view was, it's our choice."
The Seemingly Infinite Toy Chest of John Lasseter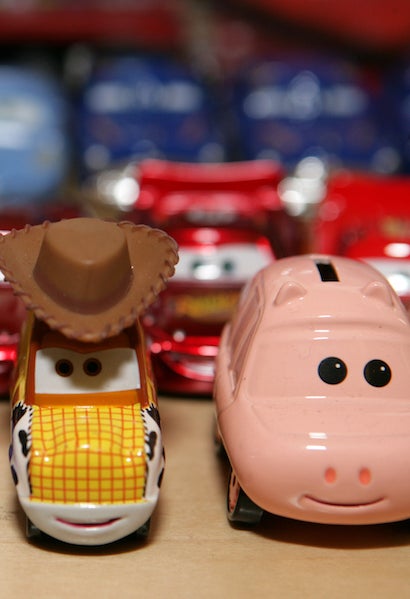 Arguably no person at Pixar has had more fun decorating his office than Chief Creative Officer John Lasseter. After Disney purchased Pixar and Jobs no longer held a direct executive role within the company, Lasseter moved into Jobs' office.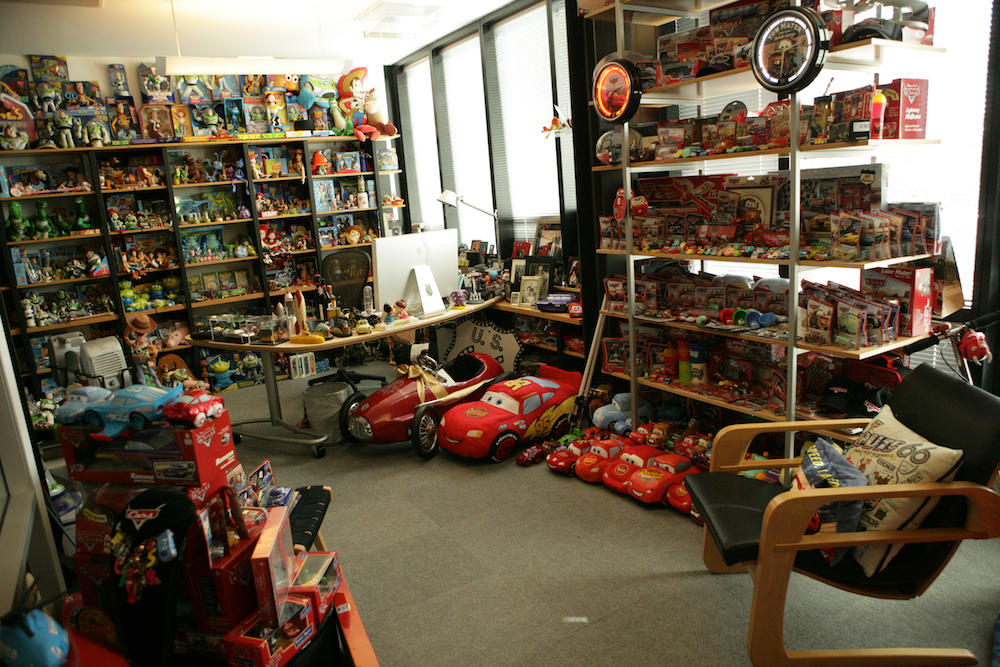 He quickly took over the adjoining office that had belonged to Jobs' assistant as well — "because we didn't have enough room for all the toys," says Payne with a big laugh. "I don't know how many thousands of toys are here. As you can imagine, this is just, like, a tiny percentage of the things that he has. I know we have things in storage for him. And he's got lots of stuff at home too."
As Billy Crystal puts it, "You go into his office, and you look at it and you go, 'Well, this is a hoarder.'"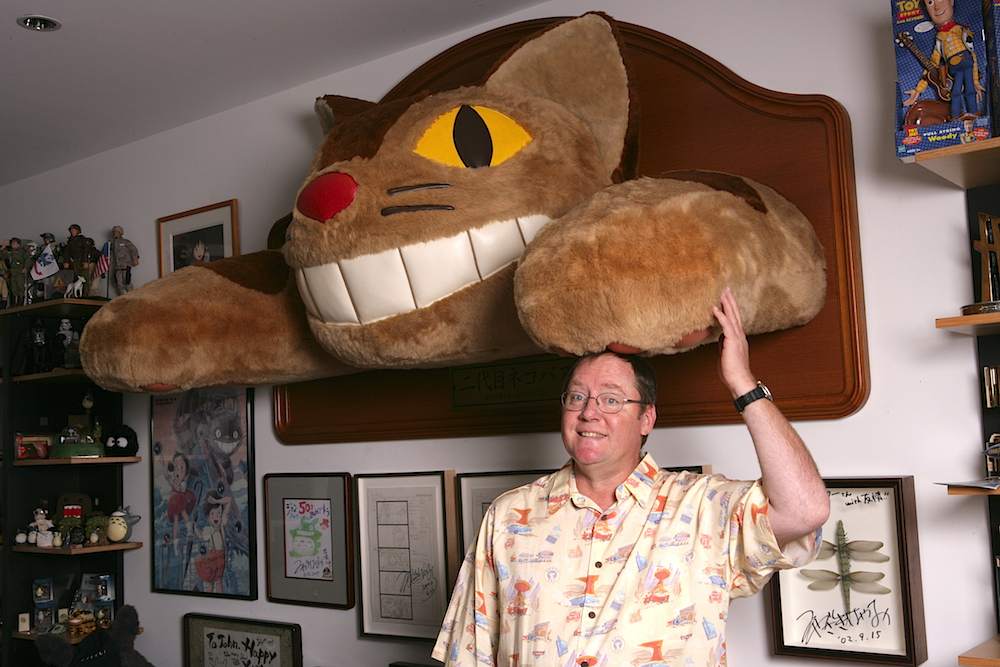 It's probably best that Lasseter himself isn't responsible for organizing all the toys in his office — someone comes in and curates it for him — though Payne says he's certain Lasseter knows where every single one of them is. Practically an entire wall is dedicated to the work of Japanese animation master Hayao Miyazaki, the director of well-regarded masterworks like Princess Mononoke and Spirited Away. That enormous creature dominating the office is the Catbus from Miyazaki's My Neighbor Totoro (and the title creature Totoro has a prominent cameo in Toy Story 3). Just off of Lasseter's left elbow is a signed model of one of the creatures from Miyazaki's earliest films, Nausicaä of the Valley of the Wind. It reads: "To John Lasseter, with friendship."
The Future and Beyond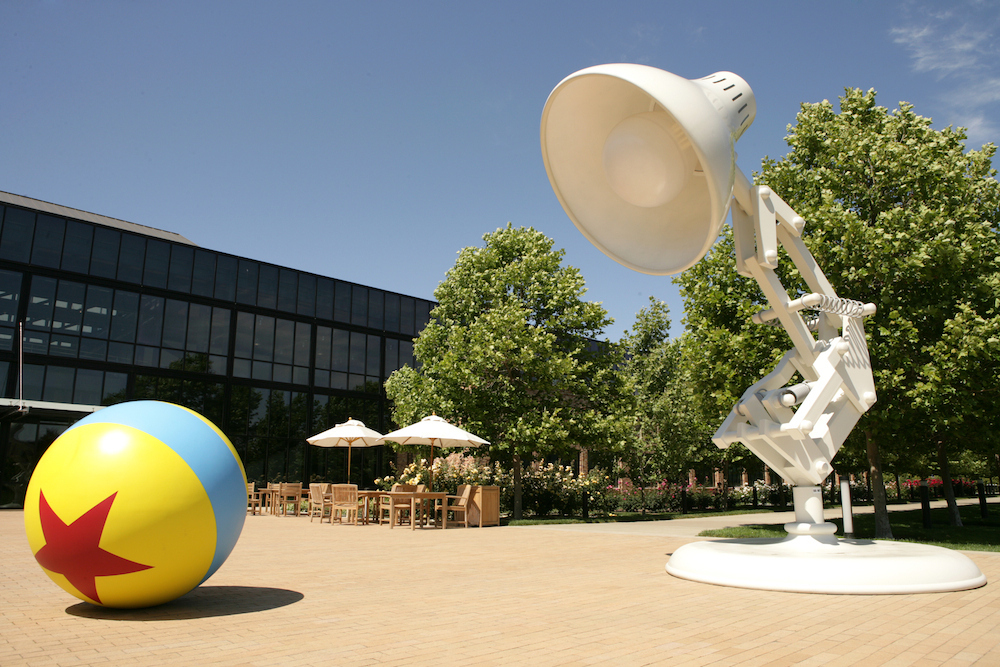 Since the main building was completed in 2000, and Pixar itself has expanded considerably, the campus has had to grow and change with it — increasingly without Jobs' input. Perhaps the most obvious change is the addition out in front of the main building of a giant version of company mascot Luxo Jr. (based on a 1986 short film by Lasseter), which Payne says Jobs would never have wanted on his own. "Steve was never about any gimmicks or props or anything on our site," he says.
The statue (which lights up at night) and his accompanying ball (which is decidedly not made of rubber) arrived five or six years ago thanks to a show of Pixar artwork that has been traveling the world since 2006. "When the show went to Melbourne, Australia," says Payne, "a company in Australia made this life-sized Luxo lamp and ball [for it]. And after the show was done [there], they were like, 'John, do you want it?' And of course John was like, 'Yeah, I want it, I want it!'"
More recently, the campus opened an expanded physical fitness center in a building called the West Village. (The main building is organized like parts of Manhattan, with sections called the Upper West Side, Lower East Side, etc. An annex building for overflow staff two blocks away, meanwhile, was appropriately called Jersey.) What used to just be a lap pool now includes beach volleyball, a basketball court, a yoga and Pilates "breathing room," a fitness center, and an on-site nurse, doctor, and physical therapist. So, basically, you never have to leave. And all pre-production work has moved into a new three-story building called Brooklyn that is so top secret, Pixar has (politely) declined all requests for photography inside of it. (It's a shame, too — a quick glimpse inside the modern ski lodge-like interior lobby makes clear it's a real architectural marvel of materials, light, and shadow.)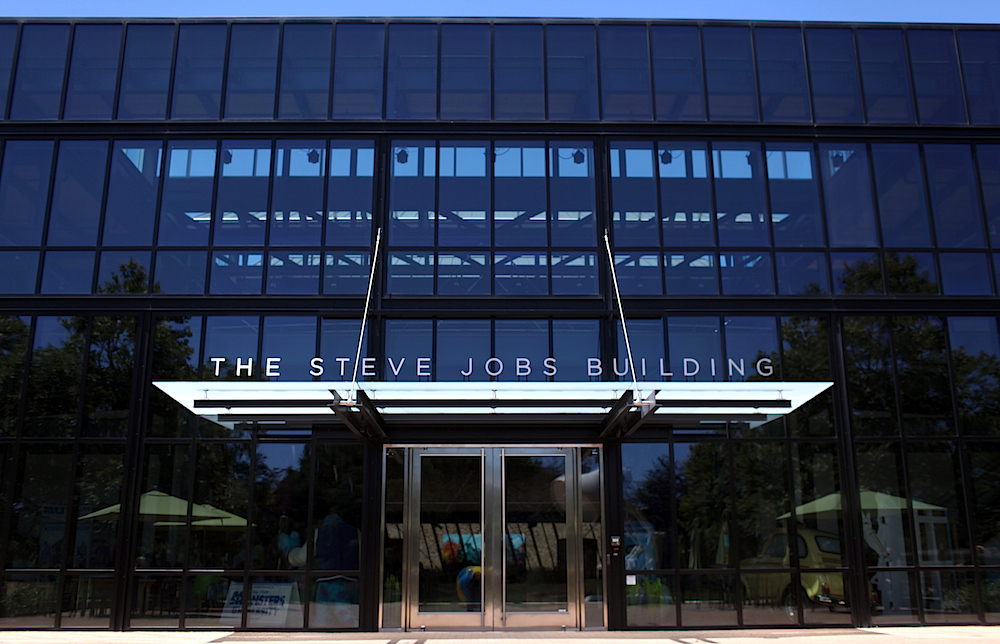 It's the newest addition to the campus, however, that perhaps means the most to its employees. Last November, a year after Jobs passed away from cancer, Pixar officially named a building after him. The exterior sign over the main doorway was unveiled one morning with a dramatic flourish that Jobs would've likely appreciated. All employees were asked to meet at the front of the building, most of them unaware that the awning — obscured with a special covering by Payne — had been updated to read "The Steve Jobs Building." When it came time to reveal the sign, Payne pulled back the covering — and the "T" in "The" promptly fell on its side.
"I almost died," says Payne with an uneasy chuckle. "John thought it was hilarious. He's like, 'That's just Steve, playing with us.'"