"The Hunger Games: Catching Fire" Breaks Twilight's Record For Biggest November Debut
If estimates hold, the film also grossed the biggest 2D debut of all time.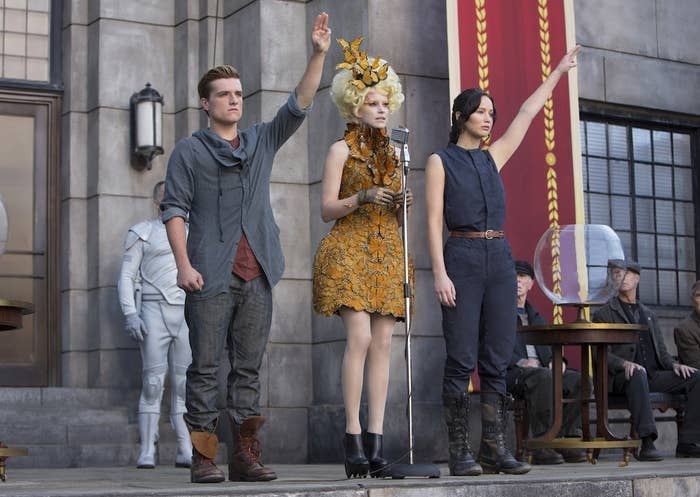 The odds are definitely in Katniss Everdeen's favor.
The Hunger Games: Catching Fire opened this weekend with an estimated $161.1 million in the U.S., according to figures from Lionsgate, blasting past 2009's The Twilight Saga: New Moon for the best November debut ever (even when adjusting for inflation). To put that further in perspective, Catching Fire just made more money in three days than Thor: The Dark World made in 15 days.
If the final numbers come in at or above Catching Fire's estimated take, the film will have also just squeezed by The Dark Knight Rises for the biggest opening weekend for a 2D film ever. (It still isn't enough, however, to best Iron Man 3's $174.1 million opening weekend, still the best of 2013, and the second best of all time.)
But the real accomplishment here is the film's $146.6 million international take, which puts Catching Fire's global total at $307.7 million — a whopping 45% improvement over The Hunger Games' worldwide debut in March 2012. The first film pulled in just $283.2 internationally over its entire run, an unusually low number for a blockbuster of this scale, but it appears the rest of the world has caught up with American's fever for all things Katniss. To wit: In the UK, Sweden, and the Netherlands, Catching Fire opened with two-and-a-half-times the debut gross of The Hunger Games, and in Germany and Denmark, Catching Fire tripled The Hunger Games' opening weekend.
Needless to say, this bodes incredibly well for the franchise's global box office health.
It also bears noting that The Hunger Games is now the second franchise to destroy box office records with a woman at the center of the story. Unlike the Twilight films, however, the audience for The Hunger Games: Catching Fire was more demographically balanced, with 41% men and 59% women. The film was also evenly split between audiences under and over 25 years old. And it earned an "A" grade from the audience polling firm CinemaScore, indicating word of mouth will carry the film throughout the holiday moviegoing season.
Here are the estimated top 10 box office figures for Friday to Sunday, courtesy Box Office Mojo:
1. The Hunger Games: Catching Fire* — $161.1 million
2. Thor: The Dark World — $14.1 million
3. The Best Man Holiday — $12.5 million
4. Delivery Man* — $8.2 million
5. Free Birds — $5.3 million
6. Last Vegas — $4.4 million
7. Jackass Presents: Bad Grandpa — $3.5 million
8. Gravity — $3.3 million
9. 12 Years a Slave — $2.8 million
10. Dallas Buyers Club — $2.77 million
*Opening weekend