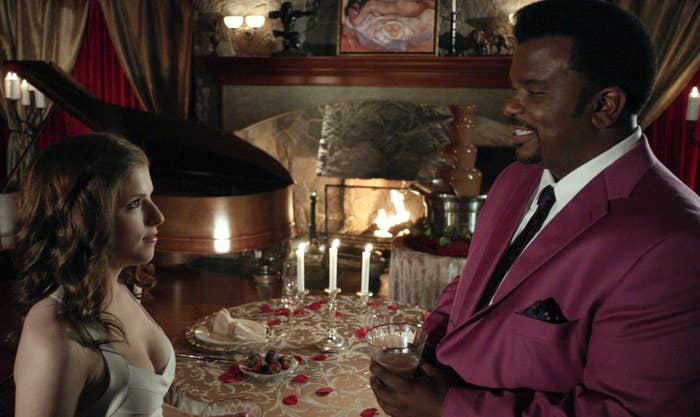 With so many movies spending so much time depicting various ways the world might end, the folks behind the comedy Rapture-Palooza (in theaters and on VOD June 7) had a different idea: What about a movie depicting how mundane the End Times could be?
"This is kind of the apocalypse at the end of your driveway," says director Paul Middleditch (Separation City). "It's a very familiar and domestic view of this so-called great, religious moment in history…in a very, very banal way. Which I think [is] key."
Pitch Perfect's Anna Kendrick plays Lindsey, an average young girl trying her best to take the Rapture in stride, despite the hysterics of her father (John Michael Higgins) and mother (Ana Gasteyer). The main plot of the film follow's Lindsey's efforts to kill off the anti-christ (Craig Robinson), but in this exclusive clip from the film, she's just trying to weather her parents' dealing with a particularly nasty torment of the Rapture: Locusts.
Fun fact! That's Middleditch face as the locust yelling "Suffer!"
"We weren't sure [how] we were going to do it," he says, "and then one of the producers, Matt Riley [said] 'You should do it, man! You've got an expressive face.'" Middleditch's also provided his voice for some foul-mouthed crows who bedevil the humans left behind on Earth. "I sort of play the more irritating, obscene things," says the filmmaker with a chuckle.
As it happens, the movie was in production on May 21, 2011, the day many believed would be the actual Rapture. "It was on Monday," remembers Middleditch. "I said, 'Guys, I might not see you on Monday. If this is real, we all know where we're going.'" He laughs. "I just thought, 'Now this is why we're making this movie. That is completely friggin' insane.' And of course it didn't happen. On Monday morning, everyone was there."
Middleditch says screenwriter Chris Matheson (Bill & Ted's Excellent Adventure) aimed to stay faithful (pun intended) to how the end of the world is detailed in the Book of Revelation. But reverence was not what they were going for. "I grew up Catholic," says the director. "I certainly wouldn't say I'm religious. It doesn't mean I'm not spiritual or anything, but I do think a lot of the content of particularly the fundamentalist Christian beliefs is insane and crazy and nuts and great fun to play with, for sure."