How Denzel Washington Became Hollywood's Most Reliable Movie Star
Updated: Thanks to a mixture of action flicks and weighty dramas, no male movie star has a better brand than Denzel.
Update for the weekend of Sept. 26, 2014: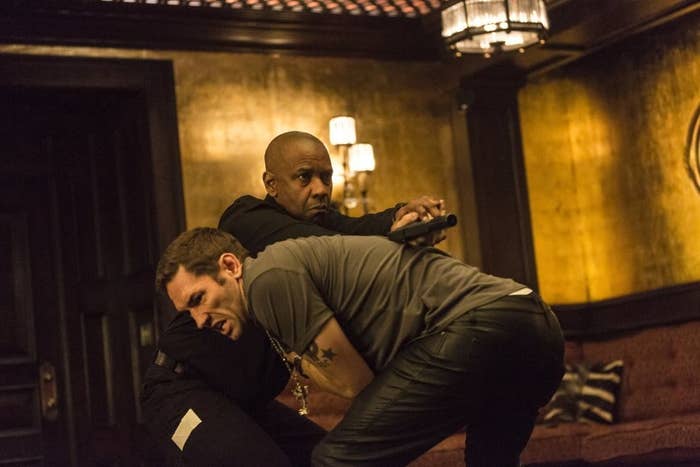 With an estimated $35 million opening in the U.S. over the weekend of Sept. 26, 2014 for his action thriller The Equalizer, Denzel Washington has maintained his near-unbroken record of $20 million-plus debuts for wide releases.
Read on below for a full report on Washington's singular reliability as a box office star in Hollywood, based on his last film — and his last No. 1 hit — 2013's 2 Guns.
Original story on 2 Guns below: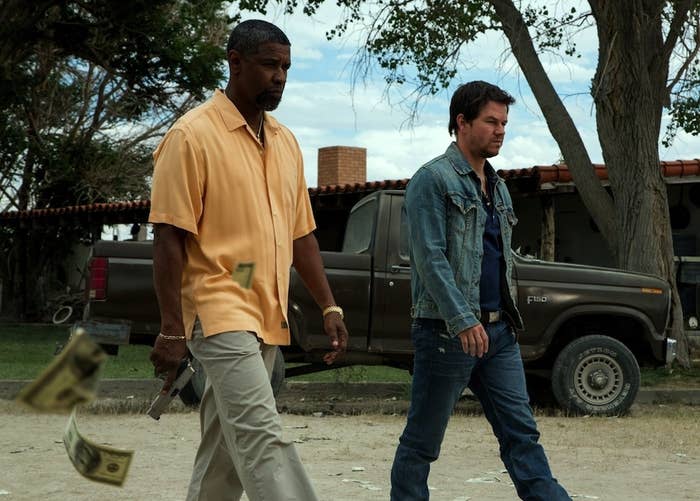 The action drama 2 Guns opened this weekend with an estimated $27.4 million, enough to win the weekend over The Wolverine (which fell nearly 60% in its second weekend despite positive reviews and word-of-mouth — indicating audiences may just be tired of superhero movies this summer).
It was a run-of-the-mill weekend at the box office, in other words: With the summer movie season beginning to cool off, there were no broken records, but there weren't any humiliating flops, either. (True, The Smurfs 2 did underperform with $18.2 million this weekend, but it appears to be making up the difference overseas, where people still get the Smurfs. So don't worry; there will almost certainly be a Smurfs 3.)
Still, I'd like to return for a moment to that reliably normal opening gross for 2 Guns, because it demonstrates once more how Denzel Washington has become the most consistent and steady box office presence in Hollywood.
For the last 13 years, Washington has rarely witnessed one of his wide releases open under $20 million — in fact, you could almost call him the $20 million movie star, if it wasn't for the enormous $40 million-plus debuts for 2007's American Gangster and 2012's Safe House. Compare that with his 2 Guns costar Mark Wahlberg, who has seen higher highs (2012's Ted) and lower lows (this January's Broken City) in just the last year.
Indeed, unlike virtually every other major actor working today — trapped within the vagaries of a franchise-driven business that prefers to plug male movie stars into CG-driven action fantasias — Washington has managed to carve out a successful career that harkens back to the way movie stars used to operate in Hollywood. Since the 1990s, Washington has placed himself at the center of male-driven, human-scaled action films (2010's Unstoppable, 2009's The Taking of Pelham 1 2 3, 2006's Inside Man, 2004's Man on Fire, 1999's The Bone Collector, 1995's Crimson Tide) that deliver action tropes like gun fire and explosions while still allowing him to act his butt off. And then every so often, Washington will take on a meaty drama — like 1999's The Hurricane, 2004's The Manchurian Candidate, or 2012's Flight — that reaffirms his stature as one of the premiere actors of his generation. Occasionally, he does both, most notably with 2001's Training Day, for which he won the Oscar for Best Actor.
This kind of career was the stock-in-trade for male movie stars like Robert Mitchum, Jimmy Stewart, and Gene Hackman. But as American mainstream movies have become less about great acting and more about great action, the great actors of today — most of them Washington's peers, many of them fellow Oscar winners — have floundered where Washington has succeeded. Actors like Robert De Niro and Russell Crowe just are not credible as solo action stars, while action stars like John Travolta and Nicolas Cage lost their credibility as quality actors years ago. (Yes, it's true, there was a time when Travolta and Cage were considered among the best actors of their generation, despite their best efforts to get us to forget it ever happened.)
Washington, miraculously, is still both: A great actor who is also a credible action star. And he's maintained that reputation since the Clinton administration.
Let's not overstate the case here: Washington's movies still rarely gross over $100 million domestically, and he's not quite the box office draw overseas that he is the U.S. But in a summer where mega-stars like Johnny Depp and Will Smith embarrassed themselves with major box office belly flops, there is something to be said for the quiet dependability of Denzel Washington.
Here are the estimated top 10 box office figures for the weekend of Friday, Aug. 2, 2013, courtesy of Box Office Mojo:
1. 2 Guns* — $27.4 million
2. The Wolverine — $21.7 mhillion
3. The Smurfs 2* — $18.2 million
4. The Conjuring — $13.7 million
5. Despicable Me 2 — $10.4 million
6. Grown Ups 2 — $8.1 million
7. Turbo — $6.4 million
8. Red 2 — $5.7 million
9. The Heat — $4.7 million
10. Pacific Rim — $4.6 million
*Opening weekend
This post has been updated to reflect the debut for Denzel Washington's film "The Equalizer" over the weekend of Sept. 26, 2014.