16 Things You Didn't See Or Hear During The 2016 Golden Globes
I went to the ceremony for the first time and witnessed plenty of things that the cameras didn't show you.
1. Champagne for everyone! Upon entering the Beverly Hilton, guests were immediately offered either a bottle of water or a mini bottle of champagne, so everyone was either really hydrated or already kinda lit before the show even began.

2. There was so much wasted food. I arrived at my table — No. 314, far in the back in a space leading to the bathrooms — by 3:45 p.m. PT. There was an appetizer and salad plate waiting for me. I made the tactical error of taking a quick restroom break before sitting down to eat and, when I got back, my first course was gone — as was the rest of my table's. I watched, stomach grumbling, as tons of food was dumped by a small army of waitstaff, who were already preparing to serve the main course.
3. Absent any context, Quentin Tarantino bellowed the words "white racist hillbilly" at Chris Tucker. But Tucker at least seemed happy to see the filmmaker!
4. Everybody loves Oscar Isaac. The eventual winner (for the HBO miniseries Show Me a Hero) was one of the most popular nominees of the night, and easily the most social, bouncing around just about every corner of the ballroom to shake hands and enjoy the fulsome praise and attention of his peers. Before the show, director Jason Reitman told Isaac that his daughter has seen Star Wars: The Force Awakens three times — "She's got the costumes and everything!" Reitman said, a bit wearily. After his win, Isaac greeted Jane the Virgin star and fellow nominee Gina Rodriguez with a warm smile and an immediate hug. The two did not seem to have met before, though Rodriguez has been in the mix for a while now as a potential new co-star in Star Wars: Episode VIII. "I hope we get to work together soon," Rodriguez said to Isaac before they parted — whether that meant she knew they would or wouldn't was unclear!
5. Billy Bush was a big fan of Ricky Gervais. At one point, after Gervais' joke about Ben Affleck, the Access Hollywood host screamed, "Oh, he's on fire!"
6. Sylvester Stallone did thank the man who helped bring Rocky Balboa back. Stallone won Best Supporting Actor for Creed, and gave thanks to his team, Rocky producers, and the character of Rocky Balboa himself in his award acceptance speech. He began walking away from the mic, until someone in the audience caught his attention, seemingly reminding the 69-year-old star that he had neglected to thank Creed co-writer and director Ryan Coogler, and his co-stars Michael B. Jordan and Tessa Thompson. As the walk-off music began to play, Stallone stepped back to the mic, and tried to stop the music. He praised Coogler as a "brilliant, brilliant filmmaker," and Jordan and Thompson for doing all the heavy lifting in the film and making him look good. It was as enthusiastic as anything else Stallone had said on the air, and should the actor find himself accepting another award for his performance in Creed, one would expect that he won't forget them again.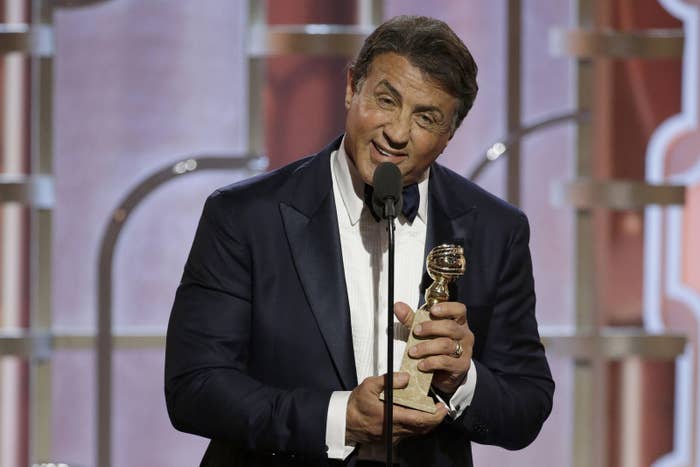 7. The bar and smoking deck were popular escapes. Many of the attendees even missed the main course before the telecast began, so the bar — in a separate room with no TV monitors with which to watch the show — became the only refuge for anyone seeking food. There, they could choose from cheese and crackers, a chocolate dessert station, and multiple bars for mixed drinks and wine. At various times, I spotted Stallone, Christian Bale, Cate Blanchett, Michael Fassbender, Kirsten Dunst, Boyd Holbrook, Brett Ratner, Ben Mendelsohn, and Lady Gaga in the bar area, or the outside smoking deck right next to it.
8. Brooklyn star Saoirse Ronan met another nominee, Jamie Lee Curtis, while in line for the ladies restroom. And then Ronan introduced her mother to the Scream Queens star, which I imagine is one of the rare perks of having to wait in line for the bathroom.
9. People felt completely comfortable paying absolutely no attention to a winner's acceptance speech. Isaac and Steve Carell chatted while Mozart in the Jungle won Best TV Comedy, Eddie Redmayne hugged Sean Bean hello as Christian Slater won for Best Supporting Actor for TV, and Bush took a selfie with Jason Sudeikis during Denzel Washington's acceptance of his Cecil B. DeMille Lifetime Achievement Award.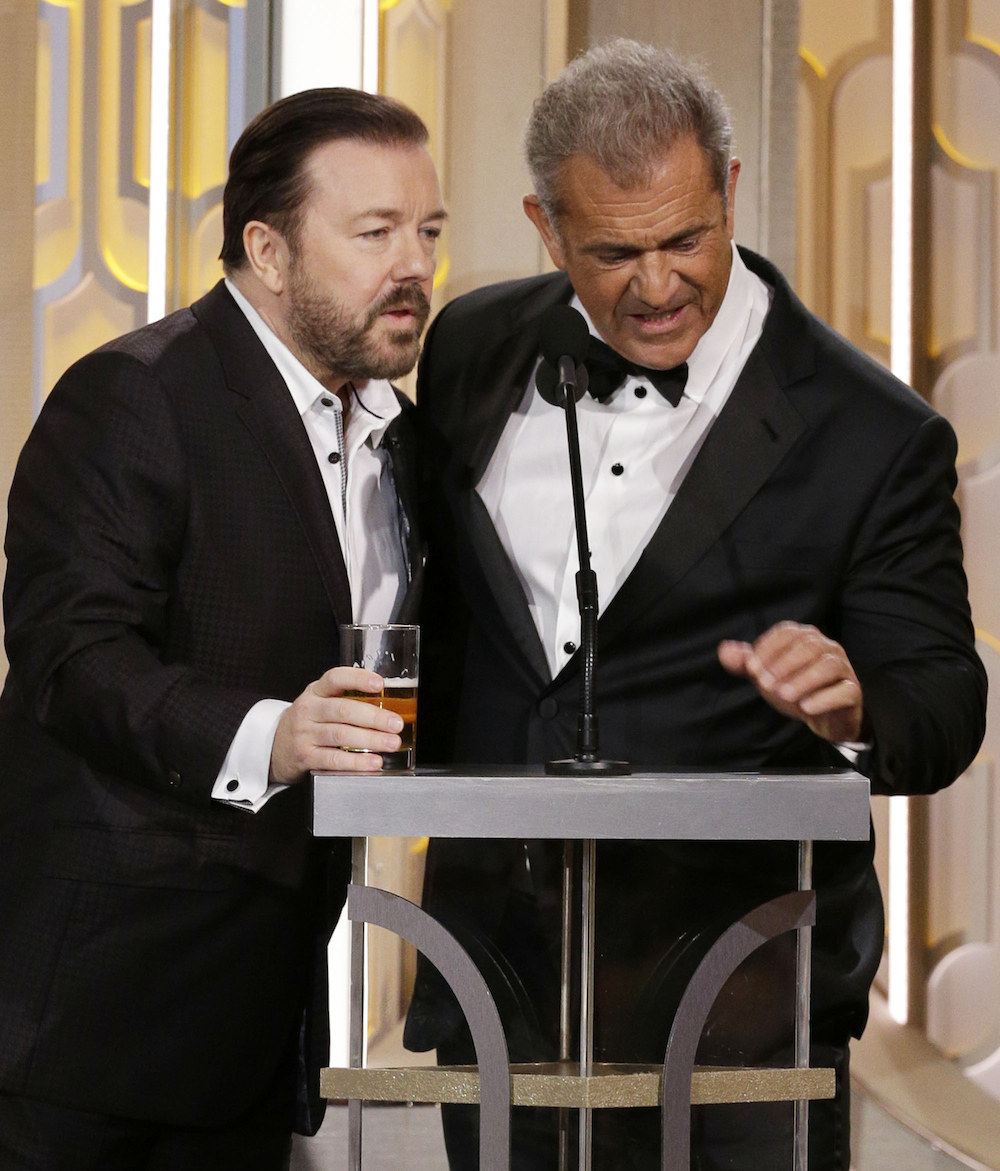 10. Ricky Gervais confronted Mel Gibson. So that moment when Ricky Gervais was bleeped talking to Mel Gibson? That was Gervais asking, "What the fuck does 'sugar tits' even mean?" in reference to Gibson's 2006 arrest in which the actor called a female police officer by that colorful sobriquet. While a few attendees were shocked by the question, the majority of the ballroom didn't appear to know what to make of the entire exchange between Gibson and Gervais. I saw a lot of blank stares, and "can you believe this?" looks.
11. Eva Longoria enjoyed Gervais' Donald Trump joke about her. "I thought it was funny," she told me, "and true that Trump kind of lumps all Latinos together."
12. Lady Gaga got some unsolicited advice. As the Best Actress in a Miniseries winner left the ballroom, an older man grabbed her by the arm, congratulated her, and then barked, "You're never too big! Remember that!" Gaga seemed, at best, befuddled.
13. Two men had this very Hollywood conversation:
Man 1: "Six nominations and no wins?"
Man 2: "You've won before!"
Man 1: "I can be pissed."
14. Ricky Gervais let the ballroom have it. At various points in the telecast, presenters like Will Ferrell, Mark Wahlberg, and Tom Hanks tried to get the deafeningly loud crowd in the ballroom to quiet down, to precious little effect. By the final segments of the night, the impatience for the show to finish became so palpable that several tables were deserted, and many more people were standing by the door. It was into this chaotic environment that Gervais stepped to the podium and vented his spleen. "It's so fucking loud in this fucking room," he said. "I hope you all fucking die." At which point, the show came back from commercial break, catching Gervais calling the crowd, "You filth," before he cracked up realizing he was on the air. (If the ballroom got any quieter, by the way, it was impossible to tell.)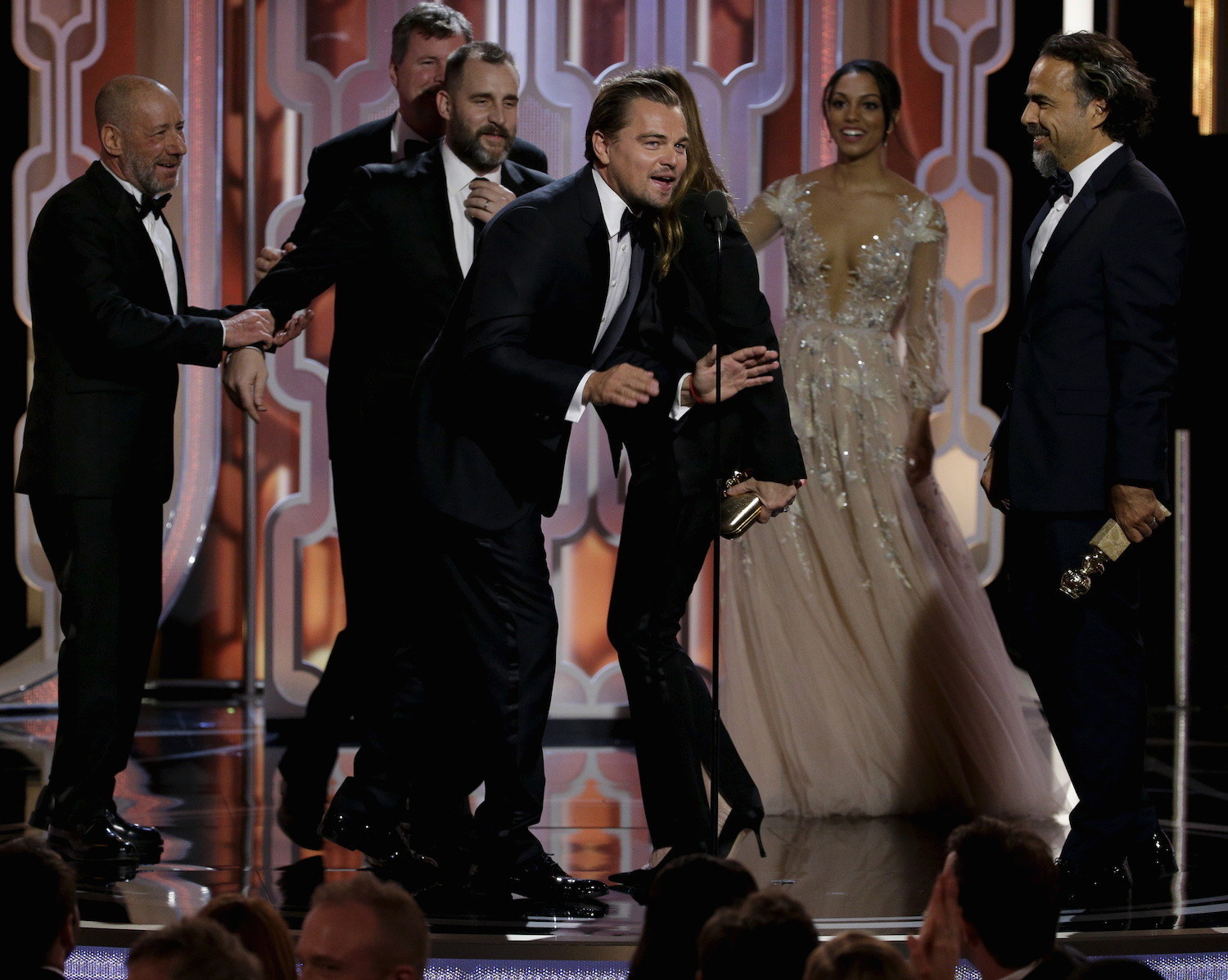 15. The telecast director basically begged the Best Drama winners to be brief. The Golden Globes usually run pretty much on time, but with the big winner yet to be announced, the show had already pushed passed 8 p.m. PT, running long. So someone -- whom I assumed to be telecast director -- got on the loudspeaker and pleaded with whomever won Best Motion Picture Drama to respect the "wrap it up" signal and stop talking once the music started to play, because that person would get cut off. And true to their word, after The Revenant won and once the music started to play, Gervais ended the show and the camera panned to a chandelier — even after The Revenant producer Mary Parent and star Leonardo DiCaprio (who'd won Best Actor in a Motion Picture Drama earlier) both stepped to the mic for their thank yous.
16. The whole ballroom was like, Let's get out of here. I have no frame of reference for the rushed exodus from the Beverly Hilton Ballroom as a Golden Globes first-timer. But I do have this small, telling tableau: Fashion designer and filmmaker Tom Ford dragged Julianne Moore by the hand out of the ballroom with such insistent speed that it was all Moore could do to keep up in her heels without toppling over.