This is George Takei. He's best known, of course, as Sulu from Star Trek.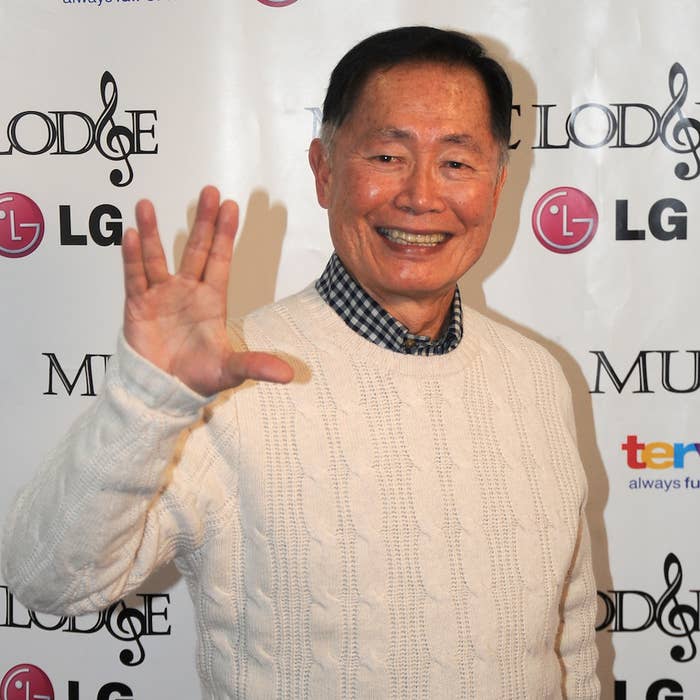 Takei spent the past five days at the 2014 Sundance Film Festival in Park City, Utah, to promote the feature documentary To Be Takei, which chronicles his exceptional American life.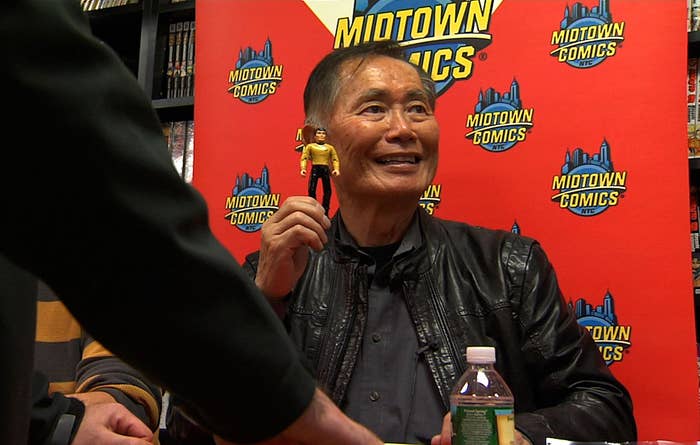 BuzzFeed shadowed Takei and his husband, Brad Takei (né Brad Altman, left), on Sunday, Jan. 19, to get a better idea of what it's like to have a film at Sundance.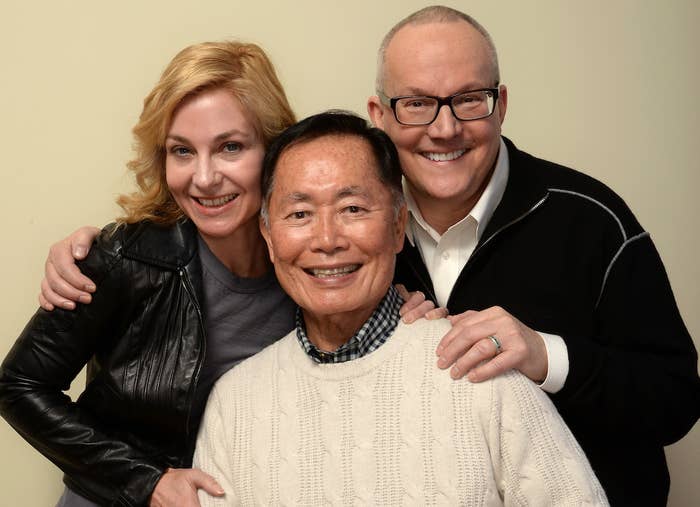 The day officially began for George at 10:15 a.m. MT, with a series of interviews with him, Brad, and director Jennifer Kroot (center) at the Sundance Press Center on Main Street in Park City.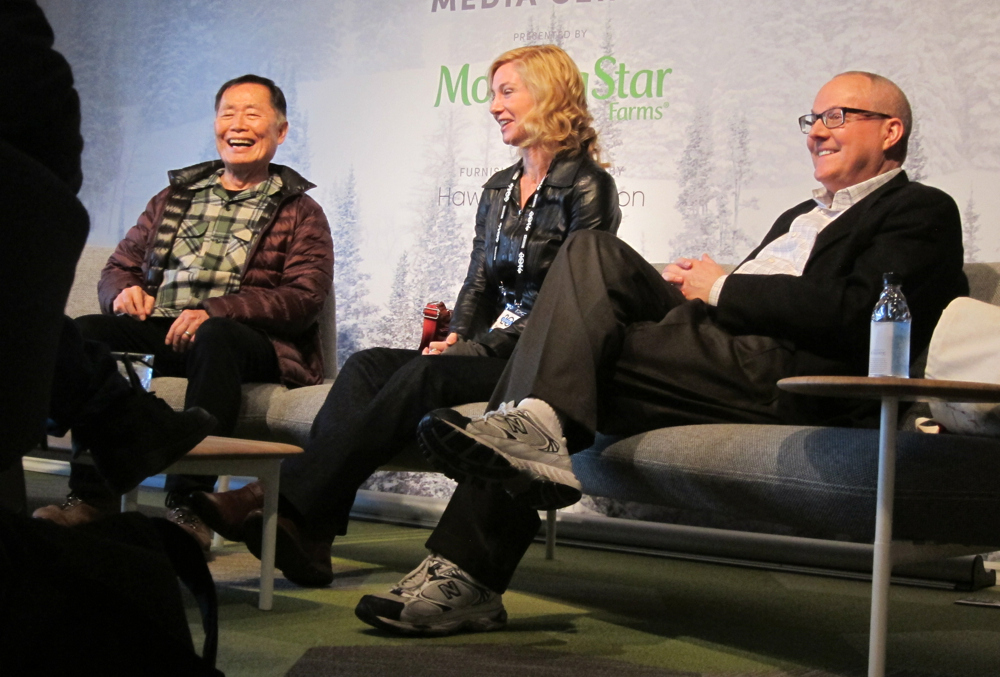 Kroot first approached George and Brad about making a documentary about them in 2010, and then filmed them through 2011 and 2012.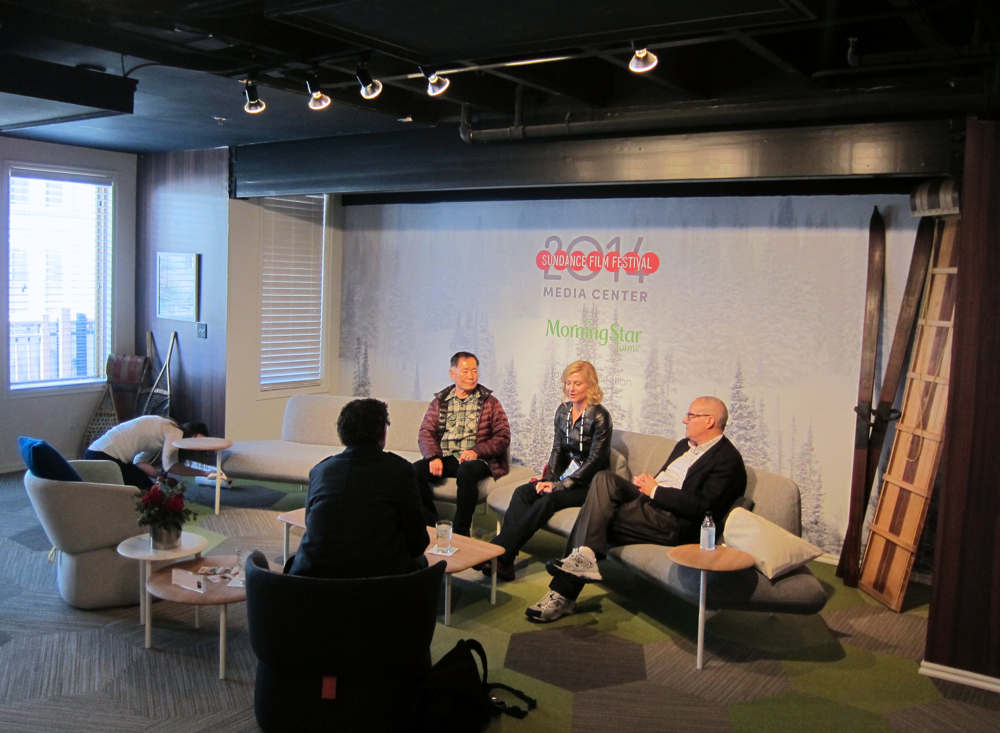 To Be Takei premiered at Sundance on Saturday night at 9 p.m., so everyone had been up late celebrating.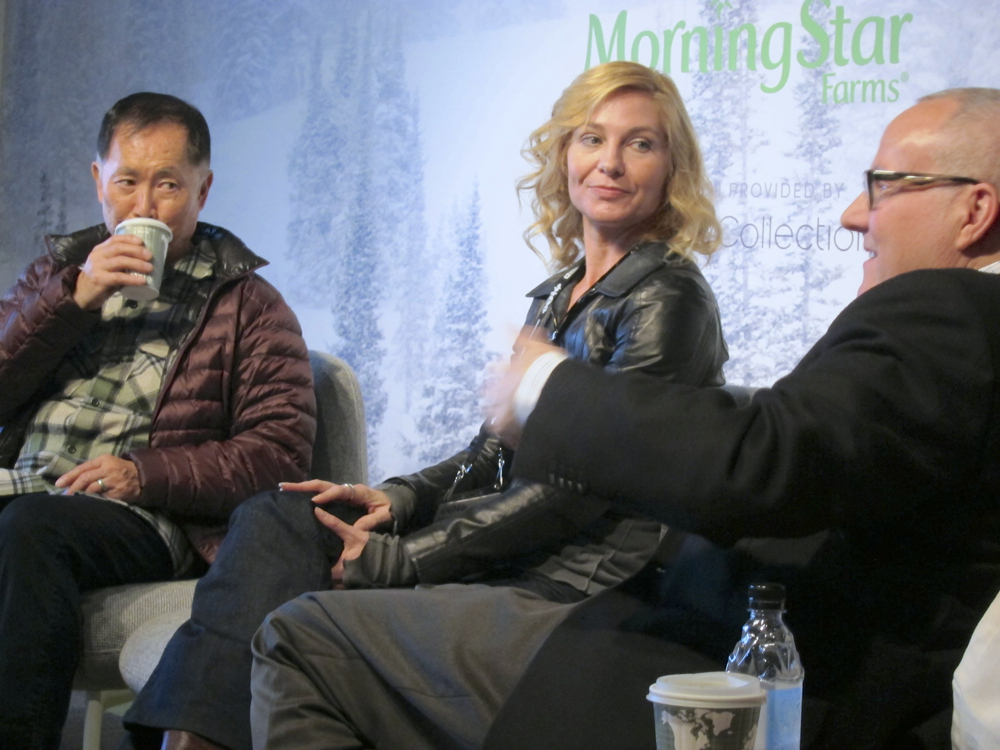 Once the interviews were done, assistant Zachery McGinnis (left) and publicist Gerilyn Shur (right) collected George and Brad to shuttle them to their next event.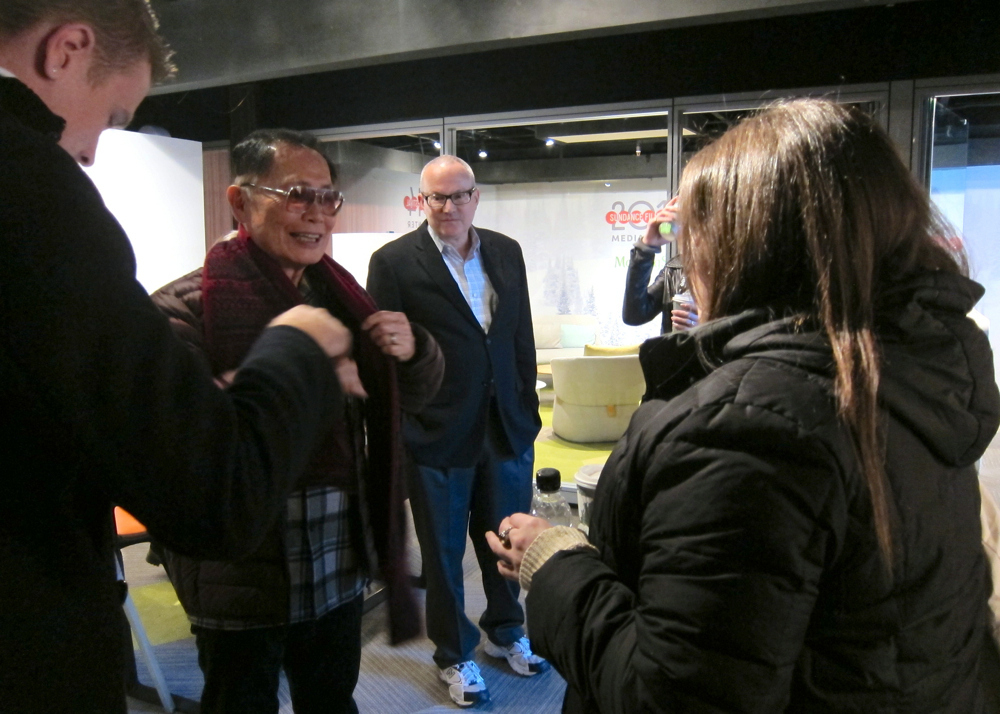 "All we have to know is our call time at the hotel," said Brad. "We're really being carted around at this point."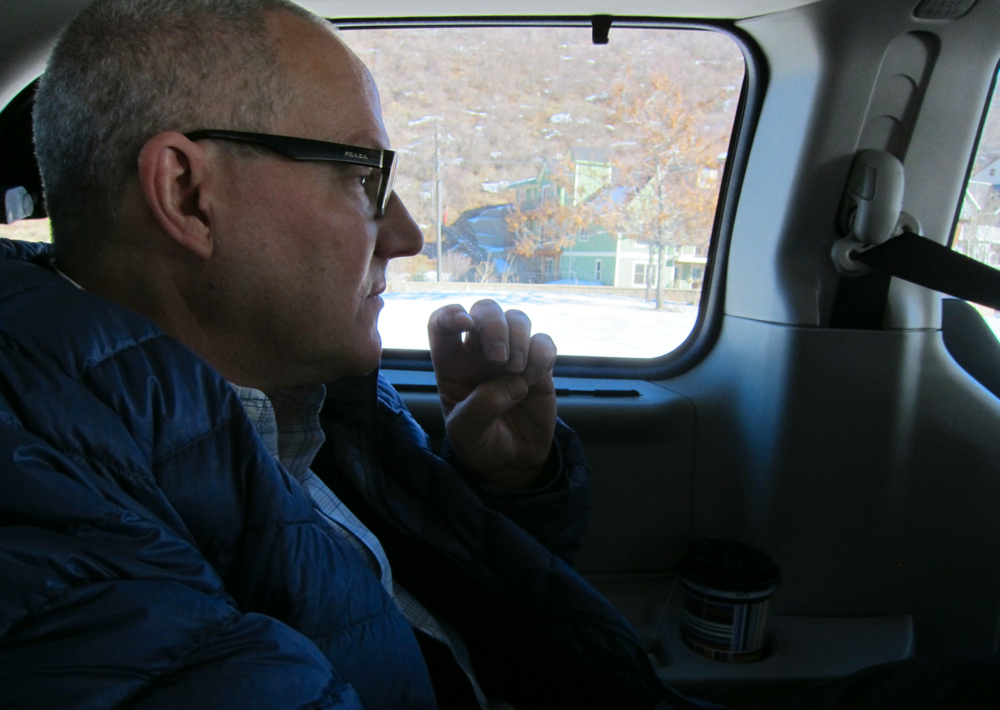 "Where are we going?" asked George.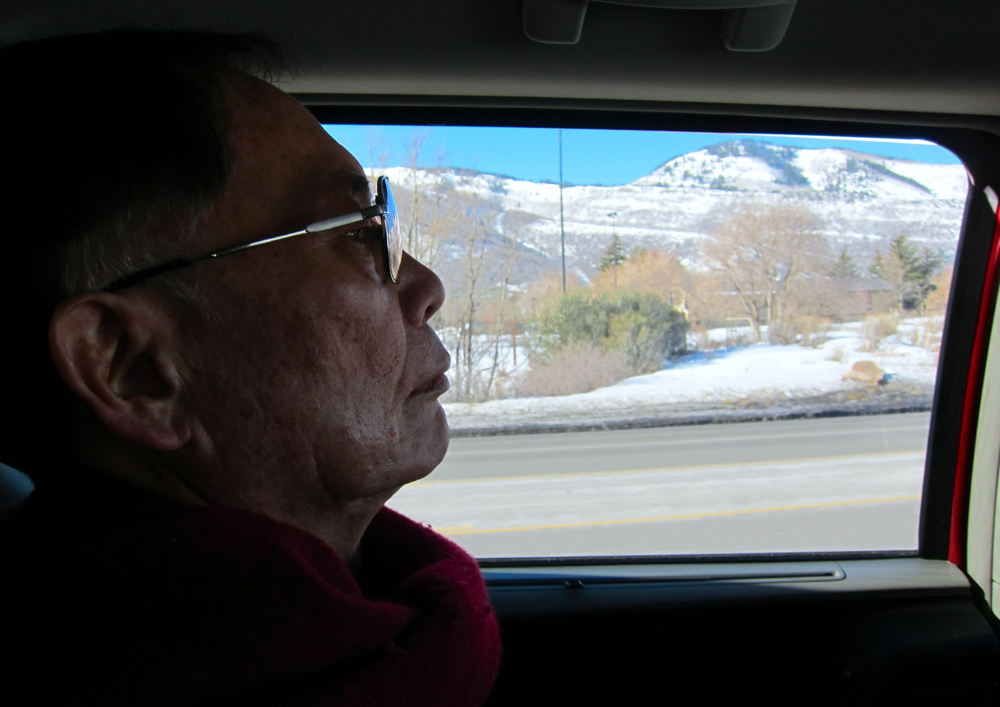 At the brunch — an annual Sundance institution — Brad insisted on taking off George's coat before he went through the buffet, without really asking George first.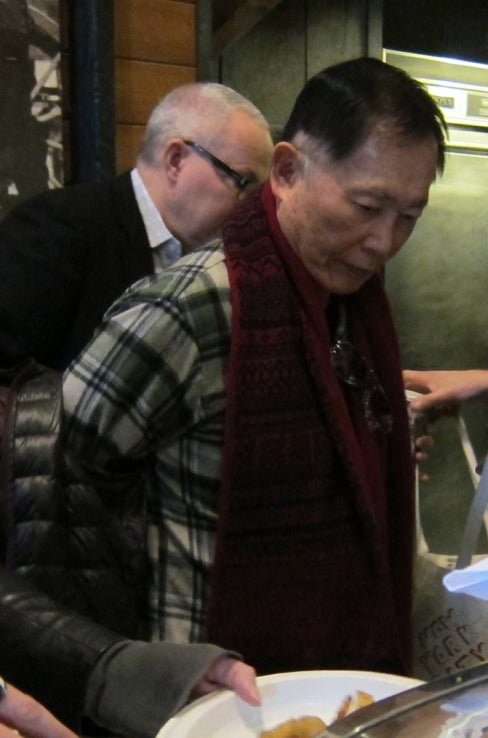 But even though George and Brad were invited guests, it became clear very quickly no one had bothered to reserve them a table.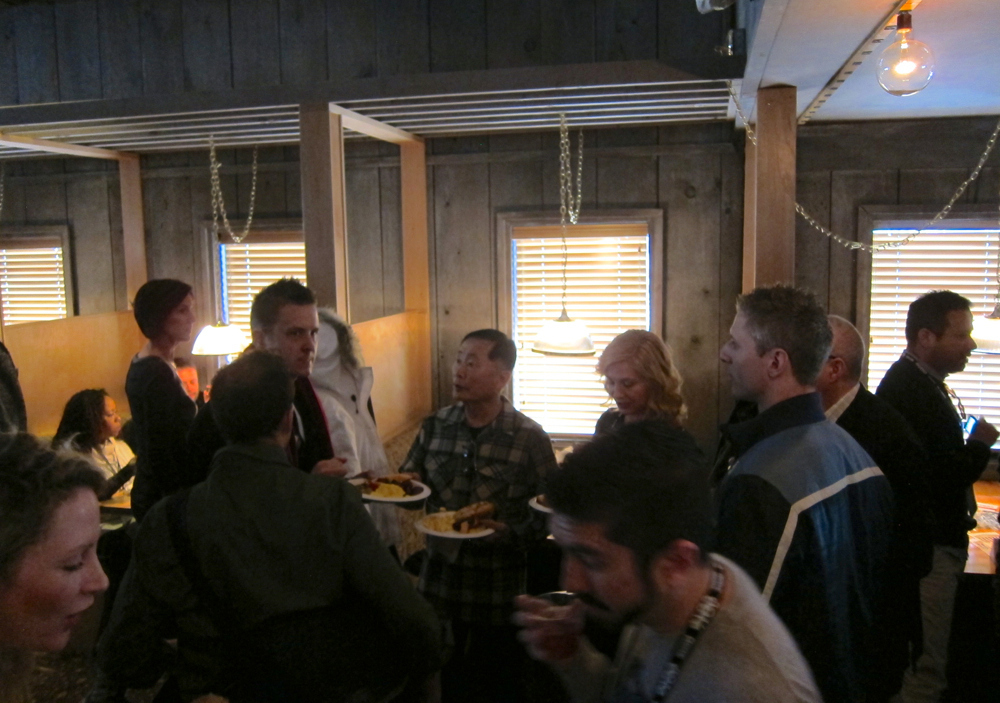 So George just started eating.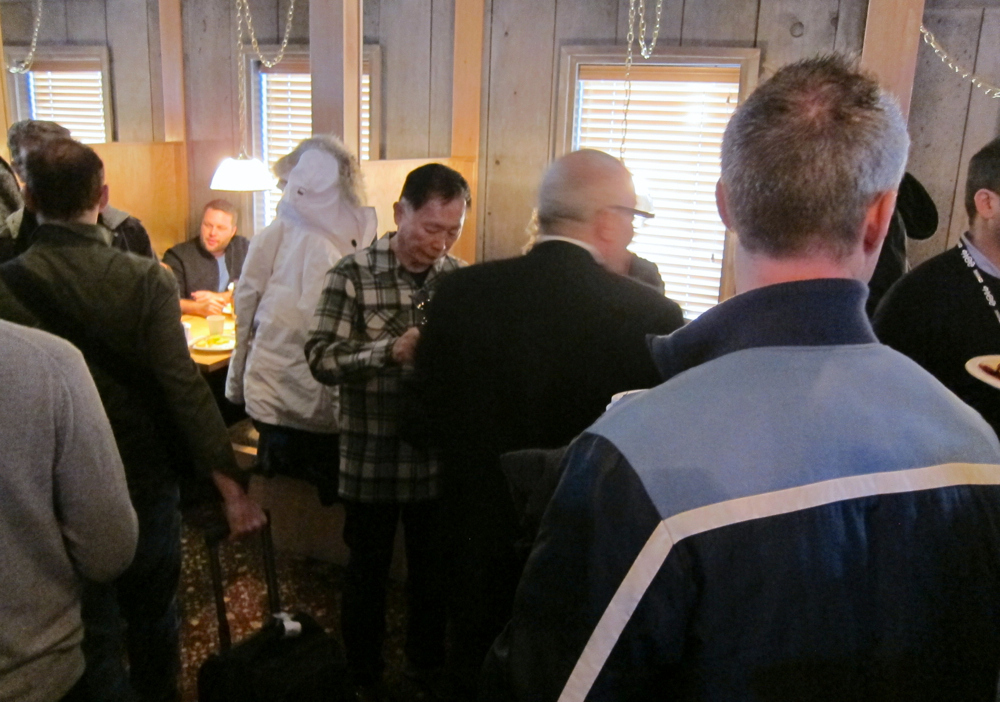 Eventually, they trekked upstairs and finally found a place.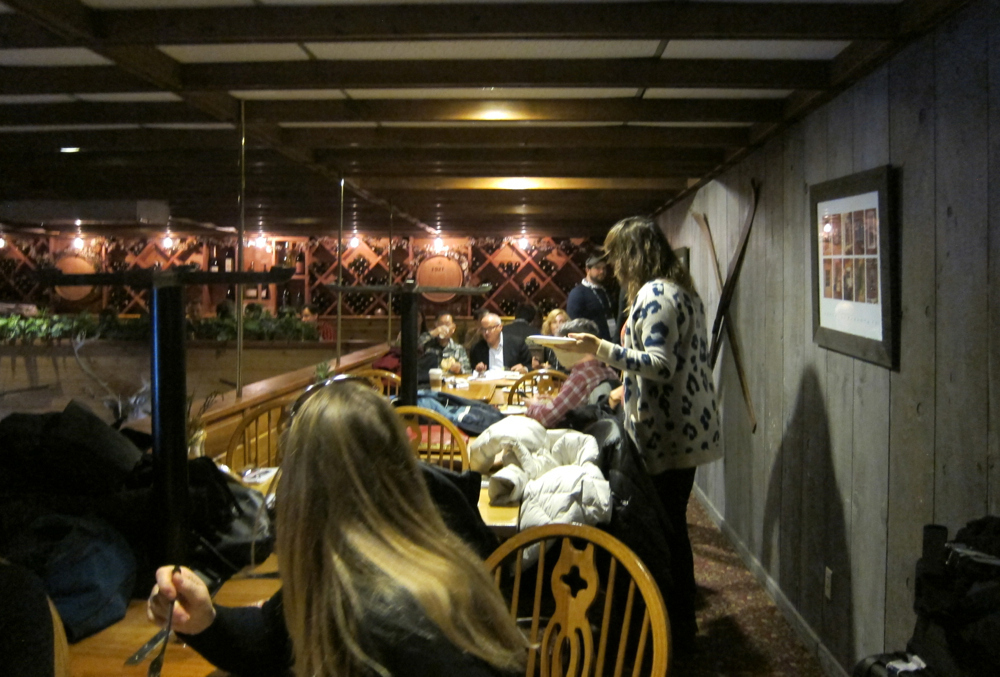 Next: a trip to Salt Lake City, for a screening of To Be Takei.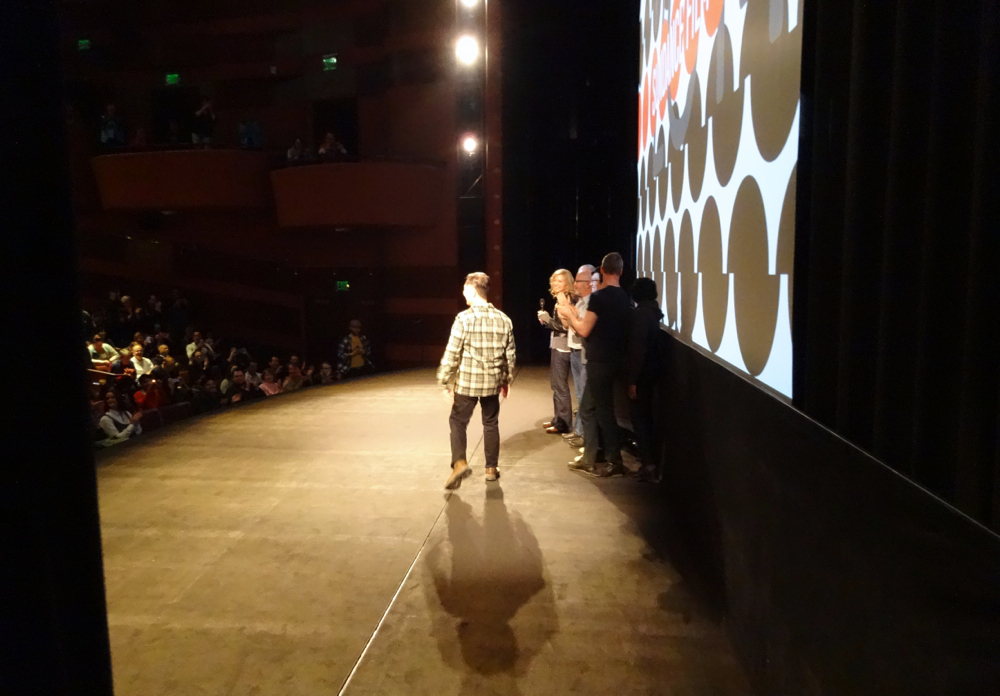 The house was packed, and they got a standing ovation.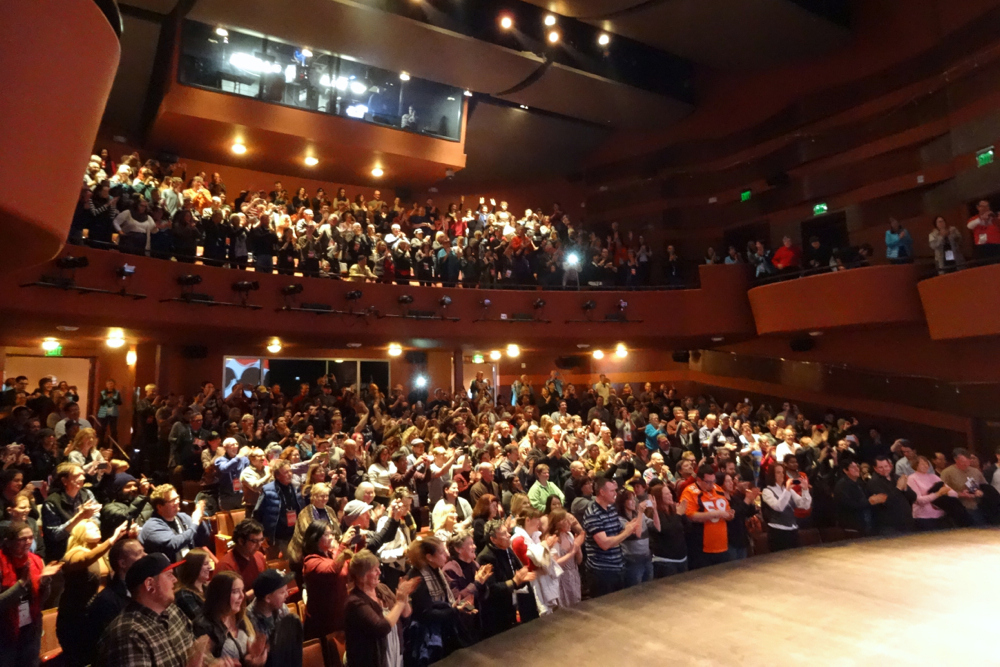 While in Salt Lake City, George stopped to get some more hot tea. When he asked for some lemon, a random woman handed him an entire lemon.
Back in Park City, George and Brad attended a cocktail party held by the Academy of Motion Picture Arts and Sciences, of which George is a member.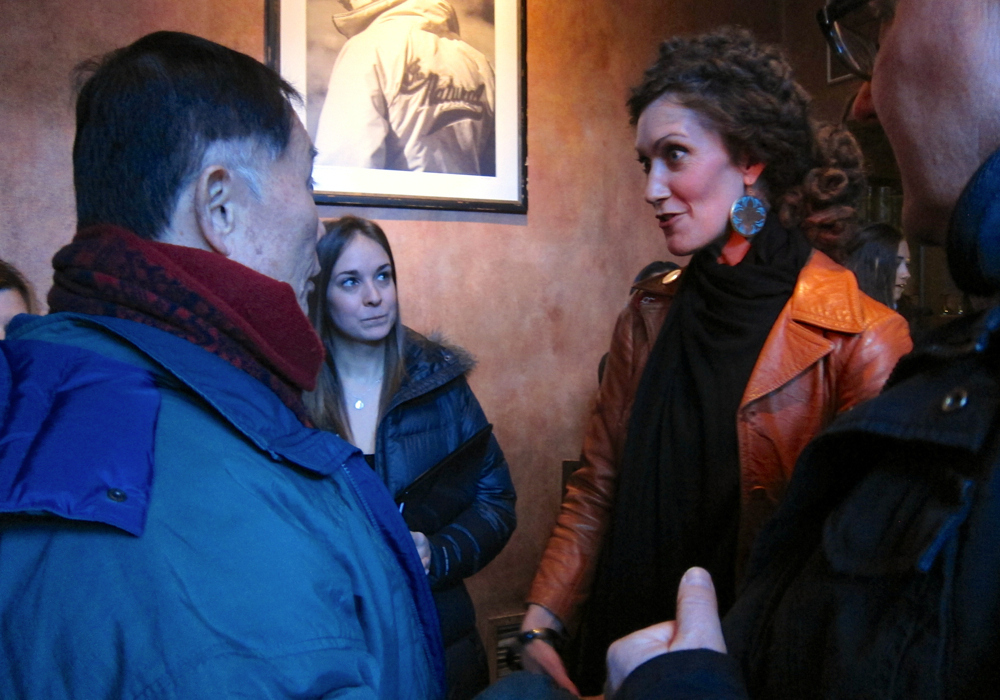 With no official function to fill, Brad was more than content to sit and rest while George chatted up other people there.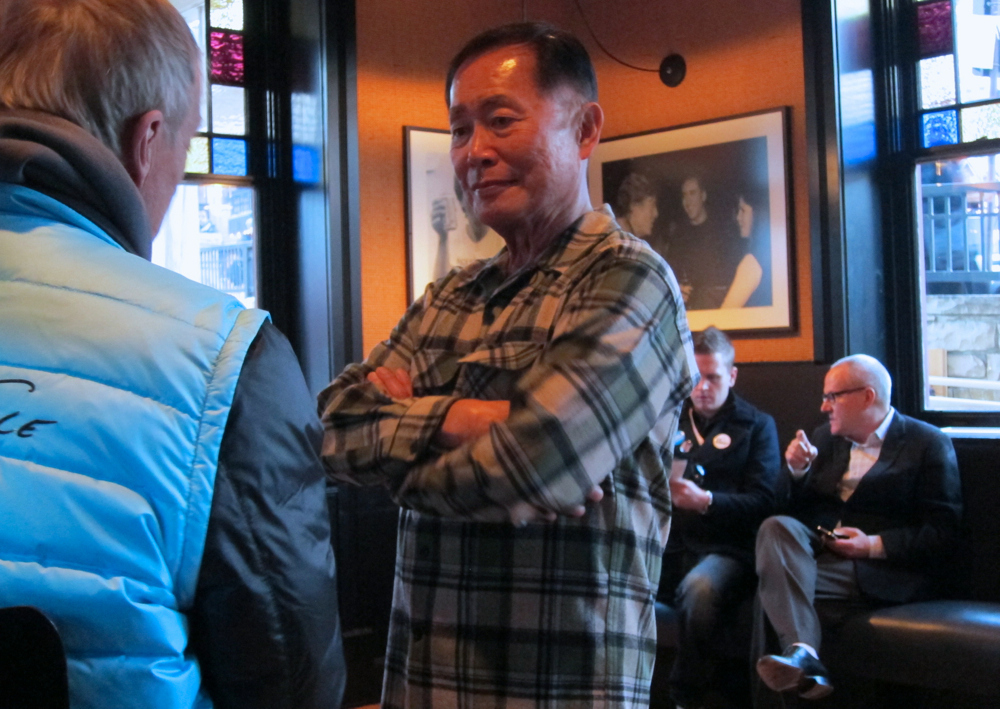 Although conversations almost always start with Star Trek, George often pivots to the other topics dearest to him.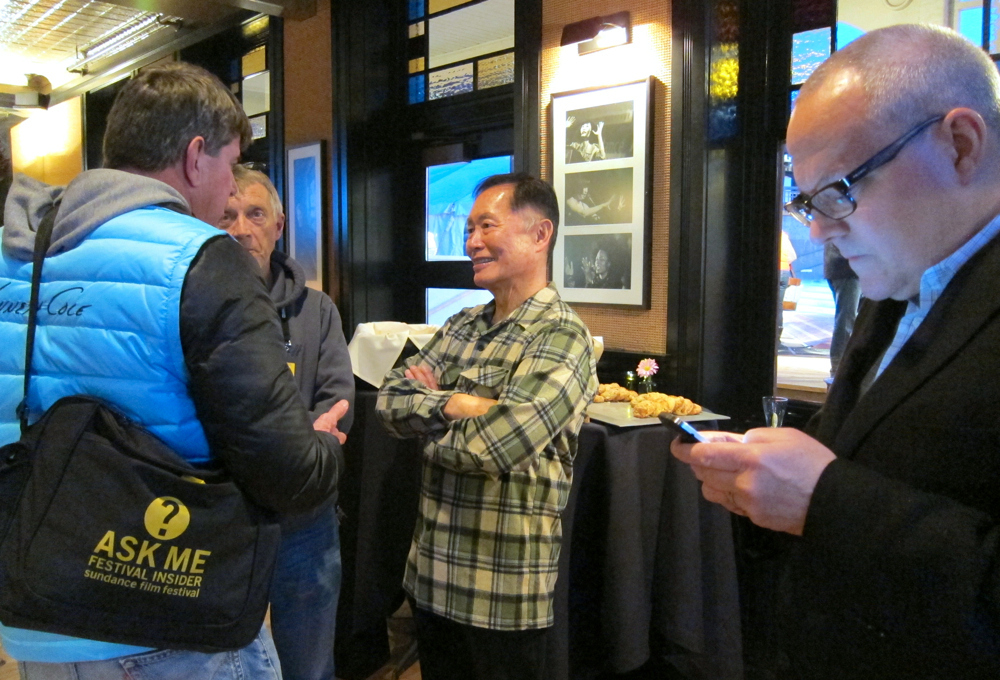 Of course, while taking this photo, the man with the camera could not help himself: "Say 'Klingon'!"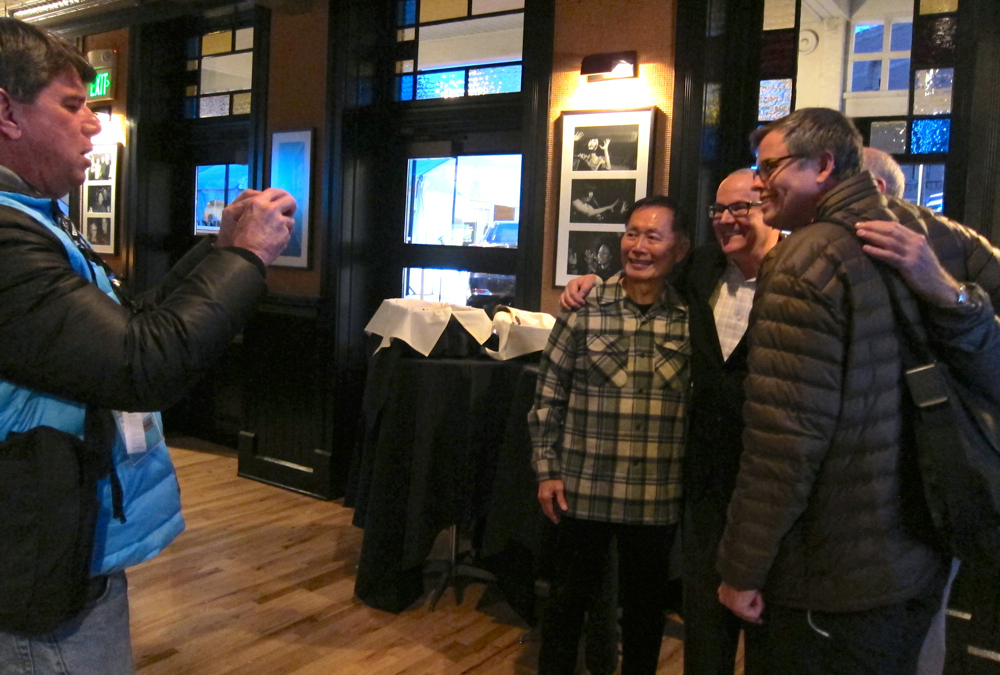 One of the AMPAS guests most excited to meet George was Oscar-winning documentarian Roger Ross Williams.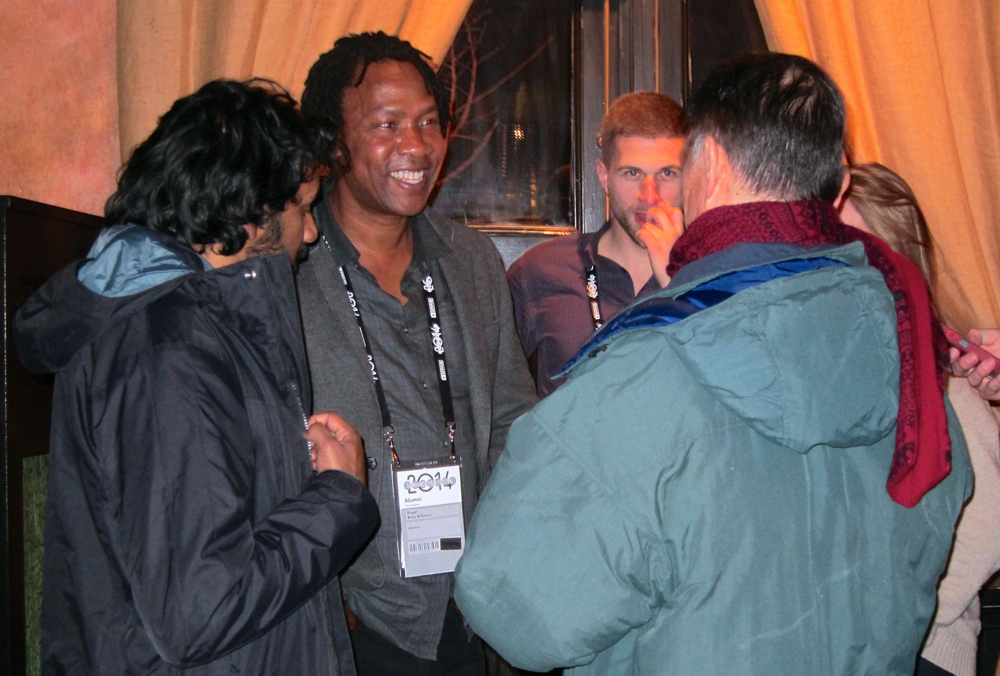 After the AMPAS event, To Be Takei producer Mayuran Tiruchelvam walked George and Brad up Main Street to their next event.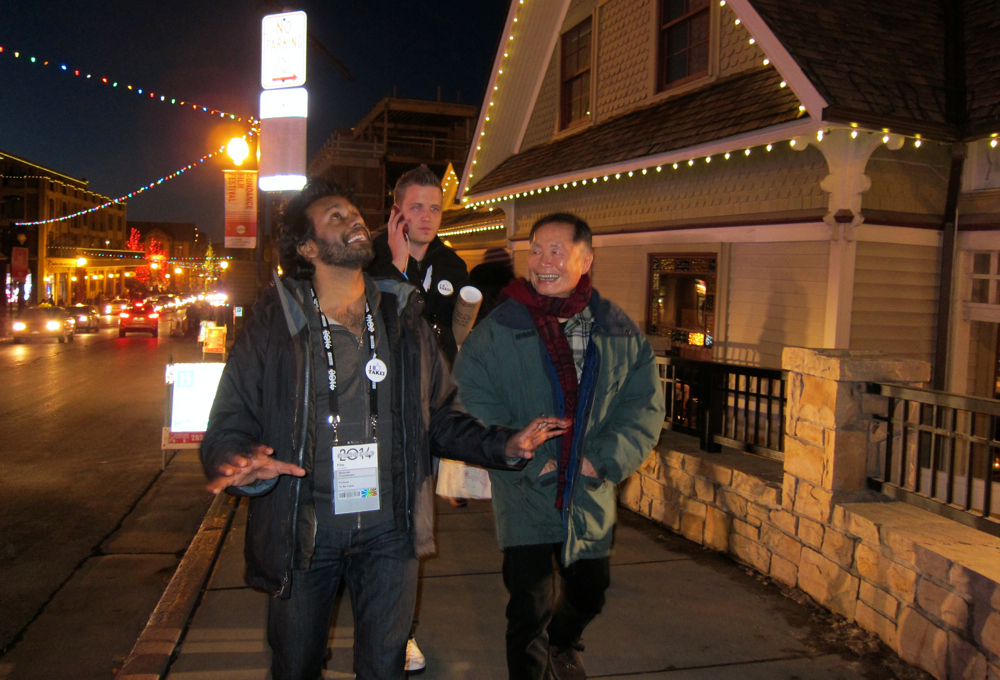 Naturally, fans wanted to say hi, and get a picture.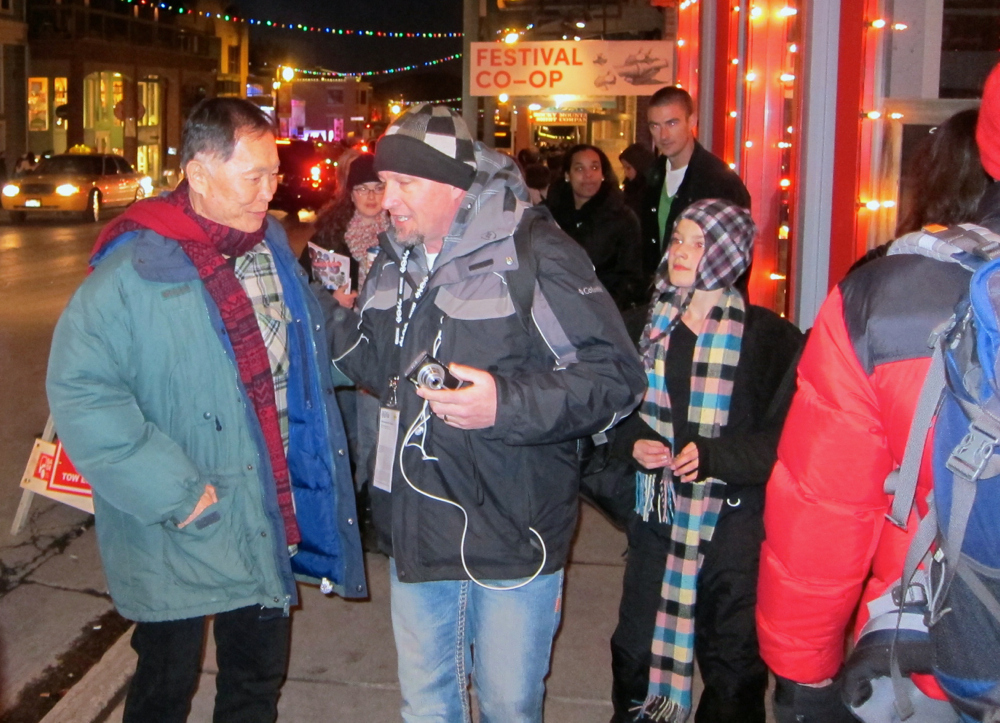 Instead of walking to the official To Be Takei party like George and Brad expected, however, Tiruchelvam brought them to a Vietnamese restaurant, called Taste of Saigon, for dinner.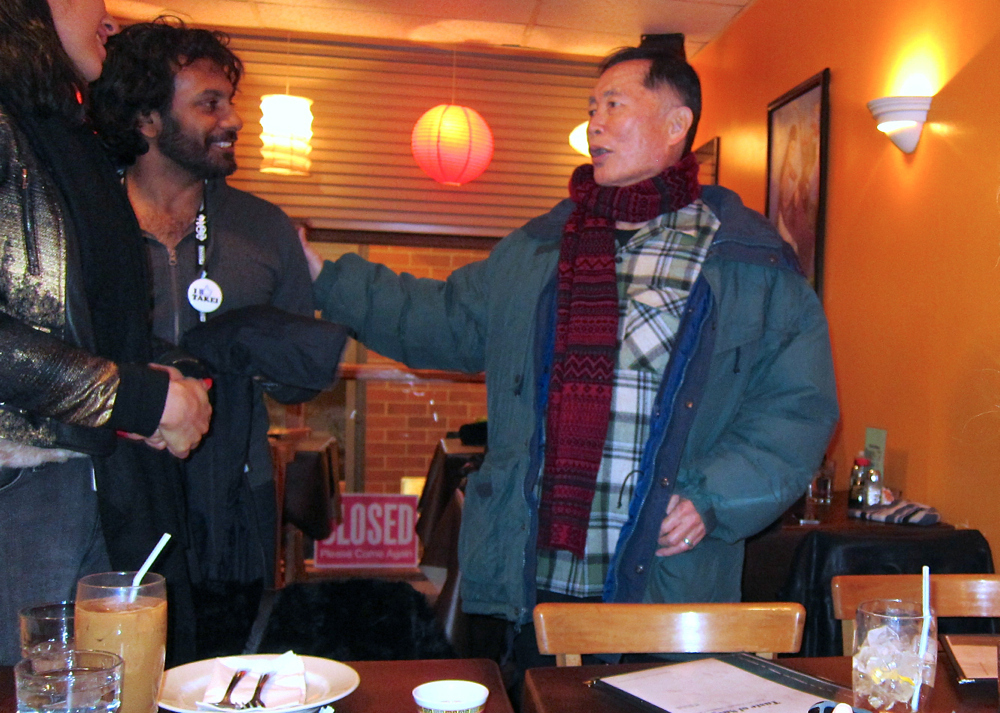 At this point, Brad became very concerned about George's voice, reminding everyone that he had a 30-minute Google Hangout scheduled in a roughly an hour.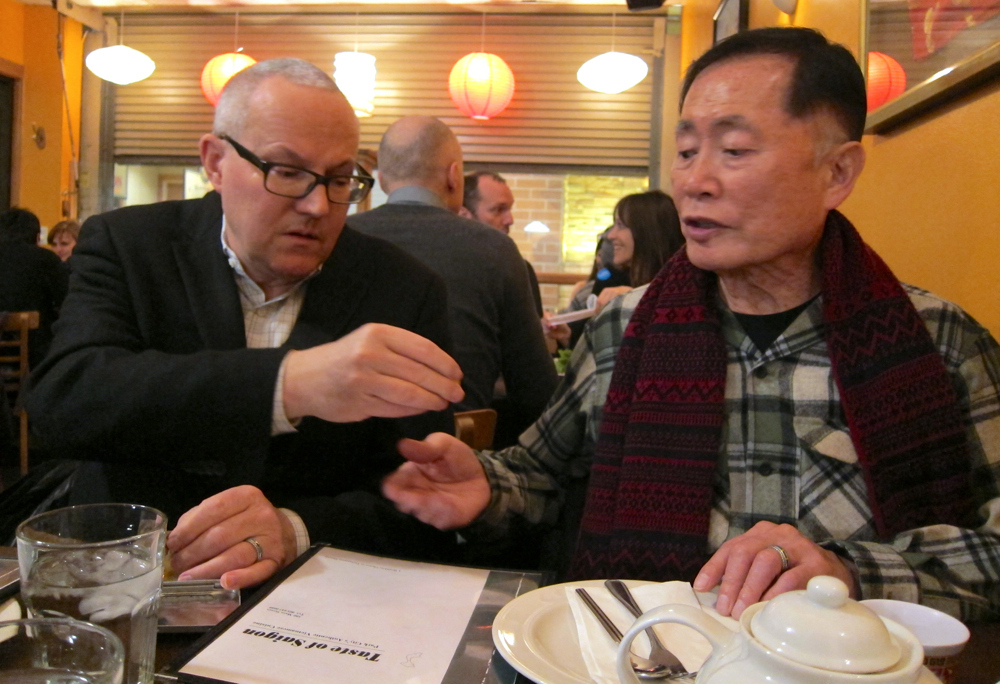 What bothered Brad even more, though, was that George was incapable of not talking, no matter how much Brad admonished him to rest his voice.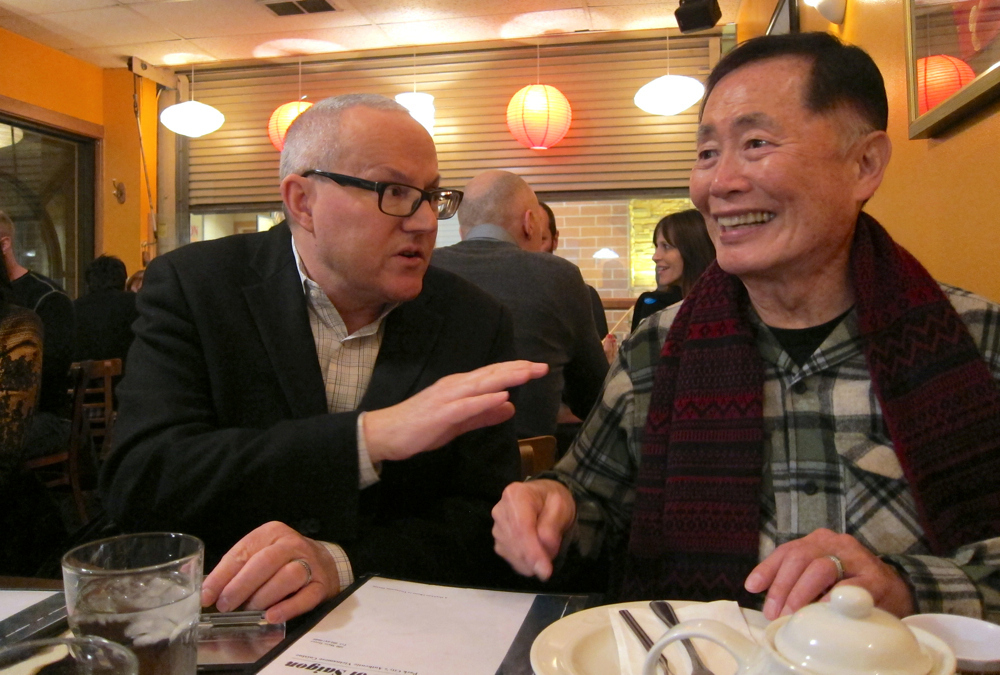 Documentary filmmaker Kat Lo, a guest of Tiruchelvam, even switched seats with Brad so she could talk to George while George kept quiet. It did not work out that way.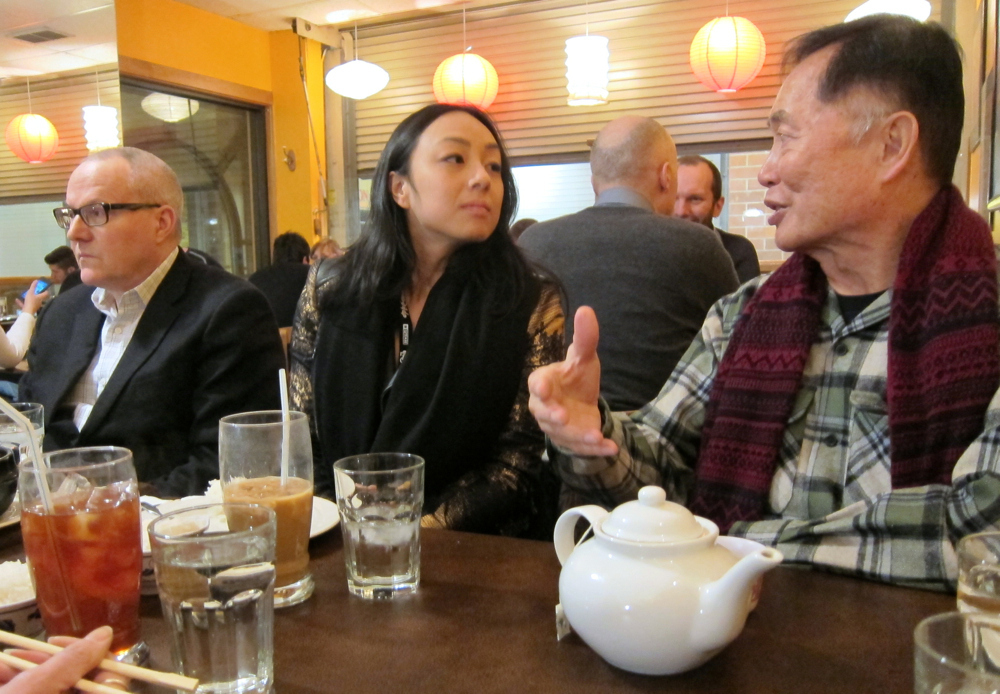 Finally, at 6:30 p.m., everyone left for the party, but not before grabbing a few more photo ops with fans (much to Brad's chagrin).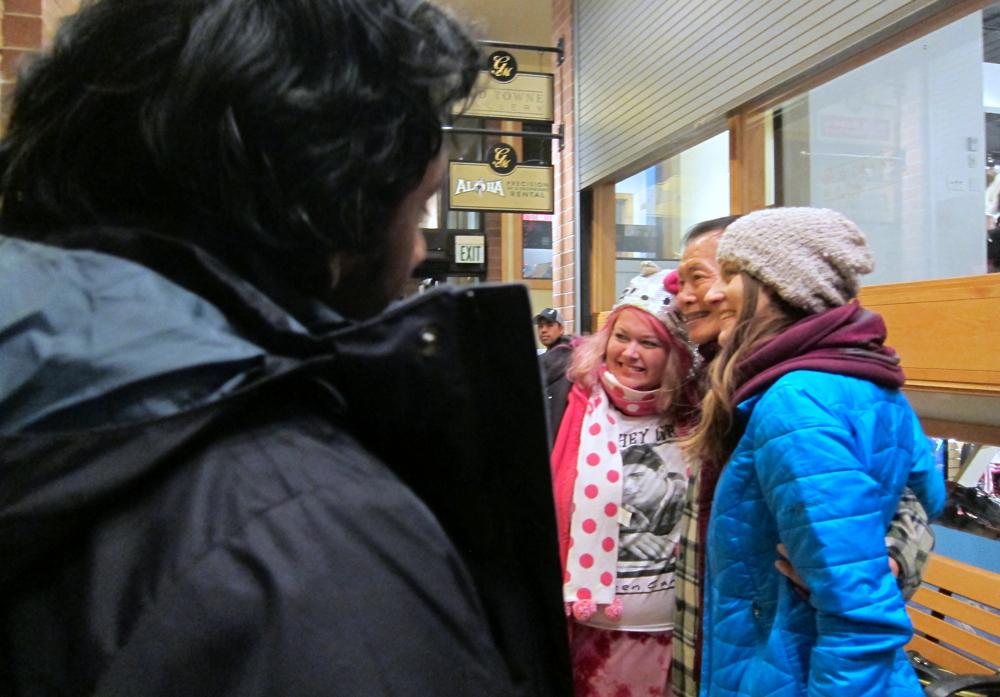 But they arrived in plenty of time for the Google Hangout, moderated by Entertainment Weekly writer Lindsey Bahr.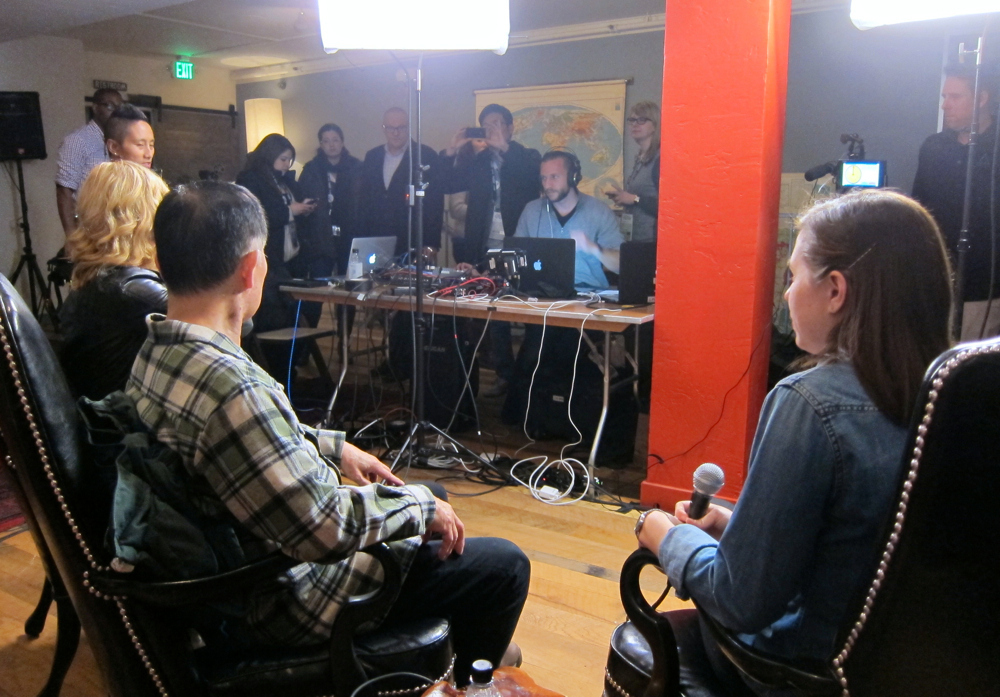 It went off without a hitch.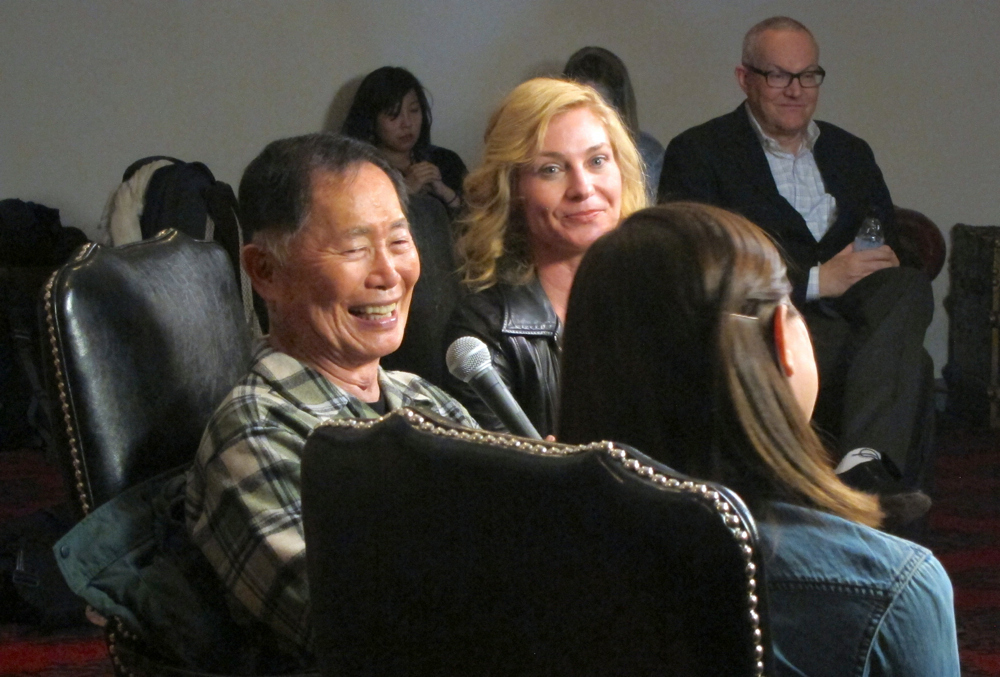 Brad, watching just off camera, visibly relaxed as the interview progressed.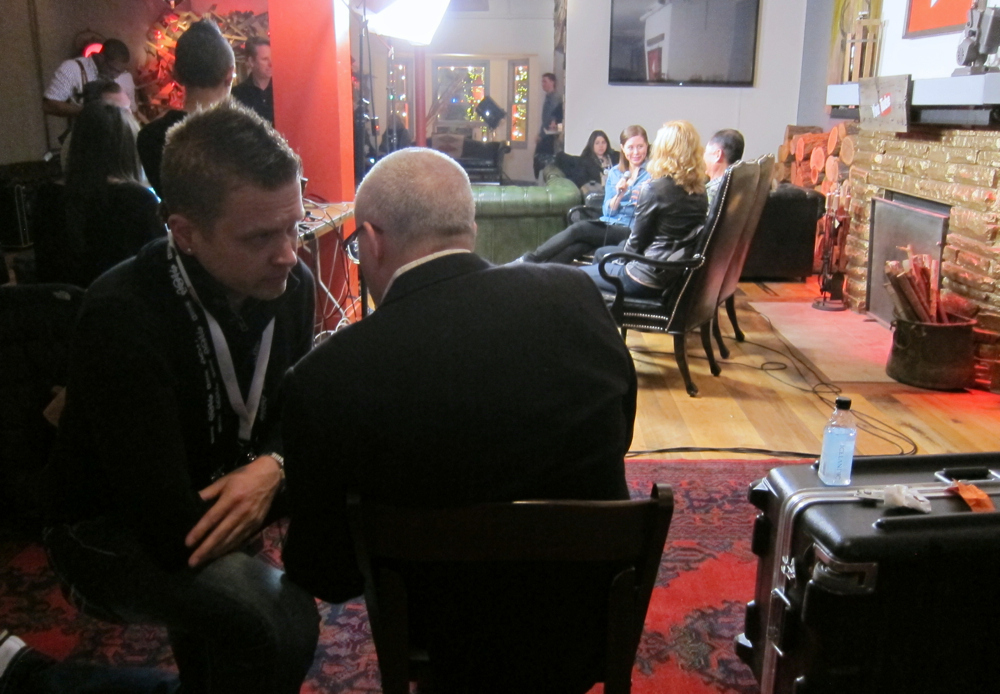 By the time it was over, in fact, he was positively giddy.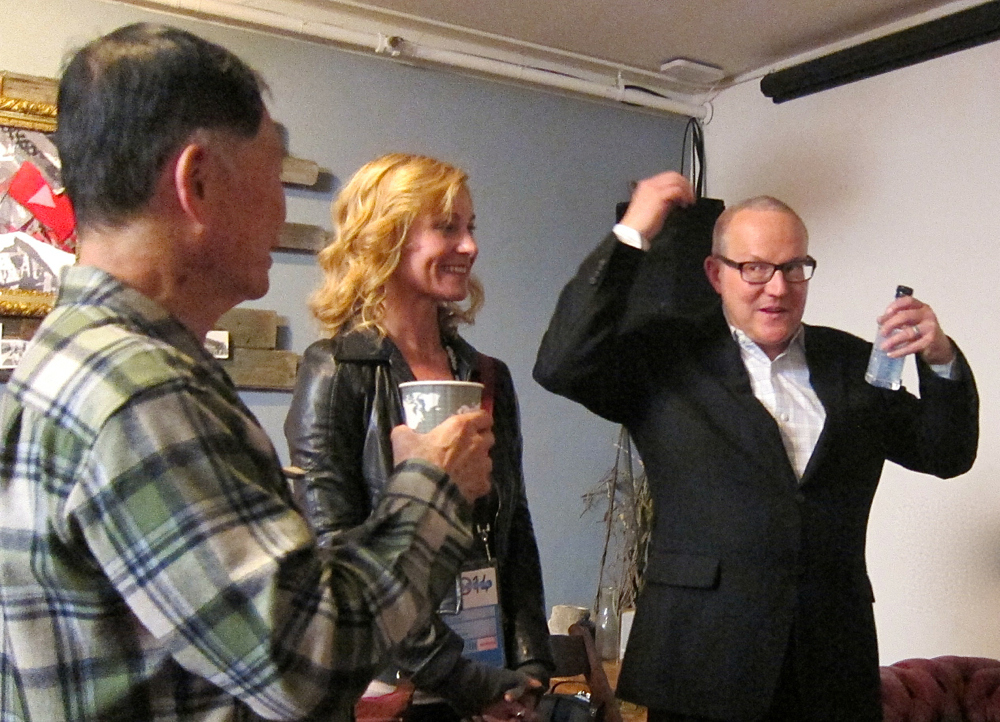 Finally, it came time to introduce everyone from To Be Takei to the ongoing party at YouTube's Sundance space one floor below.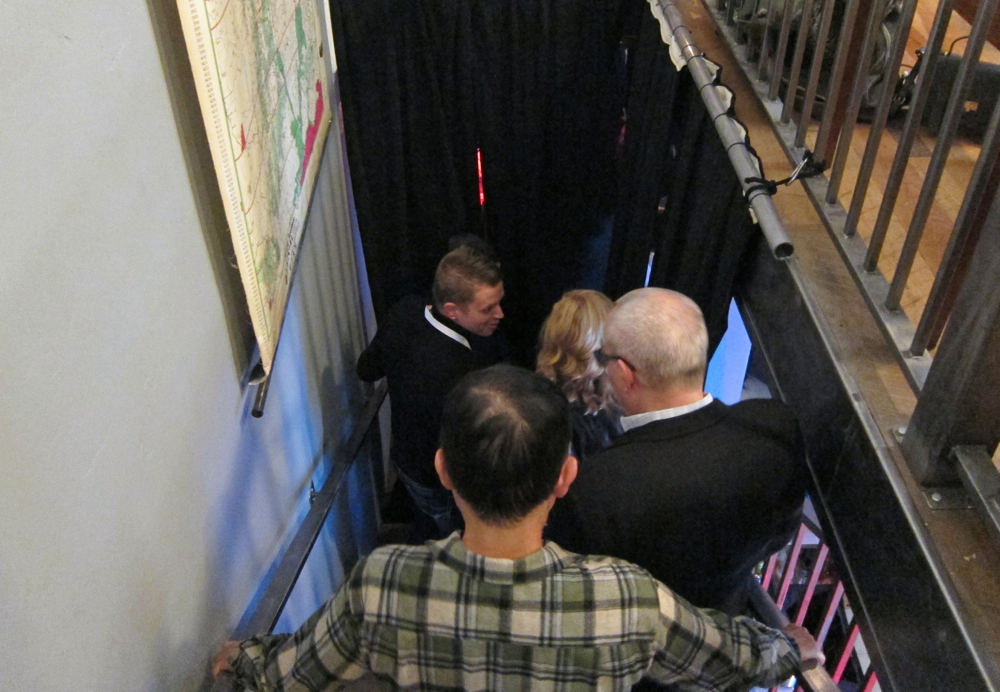 Brad was ecstatic.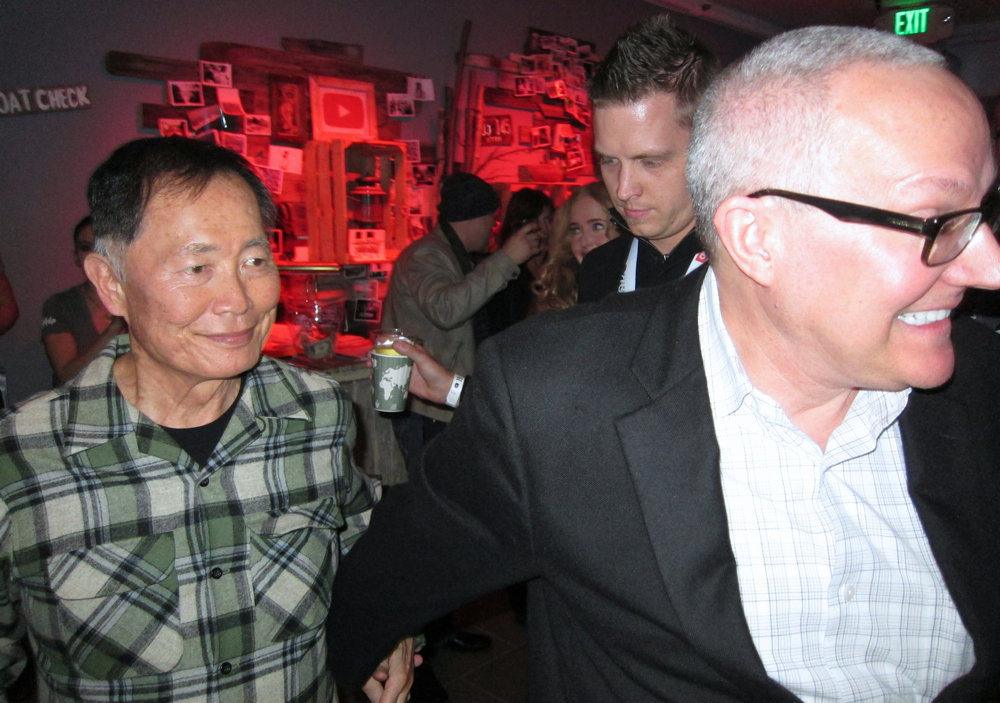 George, Brad, and the rest of the To Be Takei team thanked everyone for coming…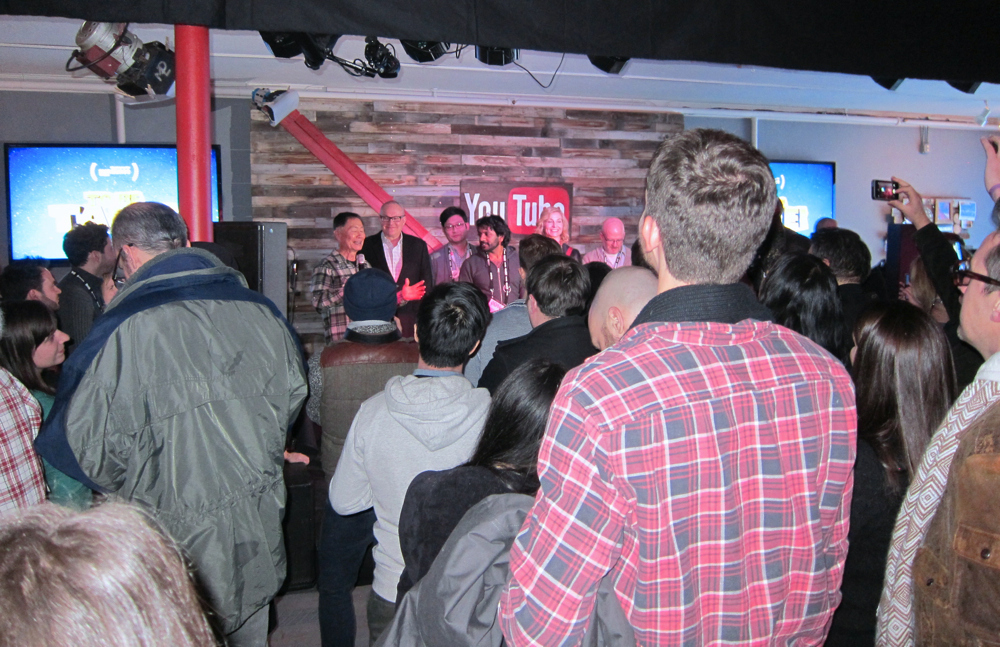 …and George and Brad were moved into a roped off area to meet waiting fans.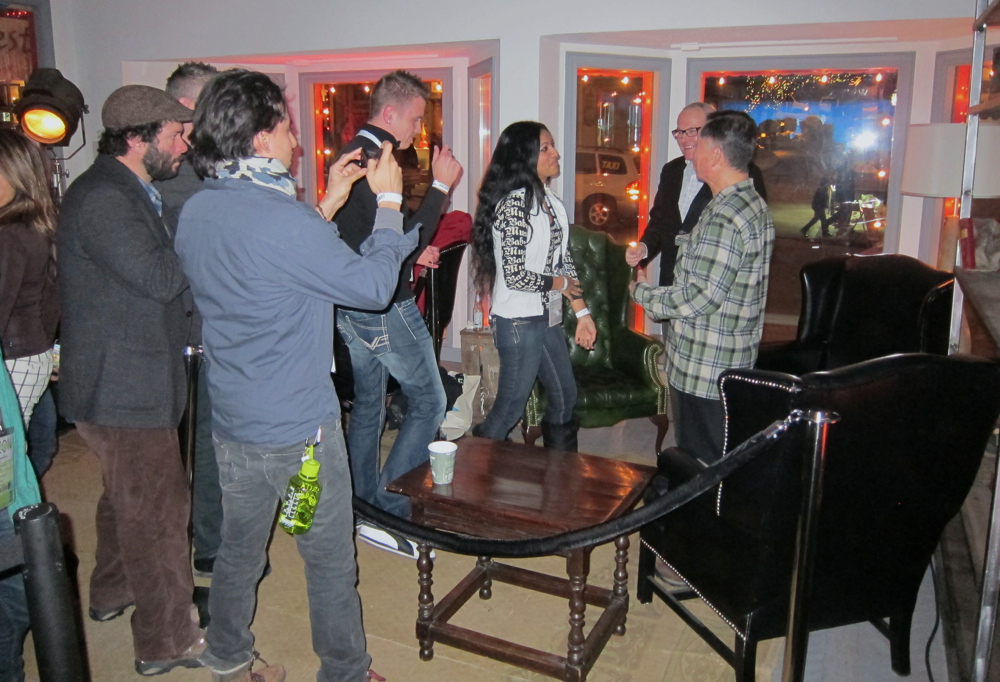 This is what it looked like from their perspective.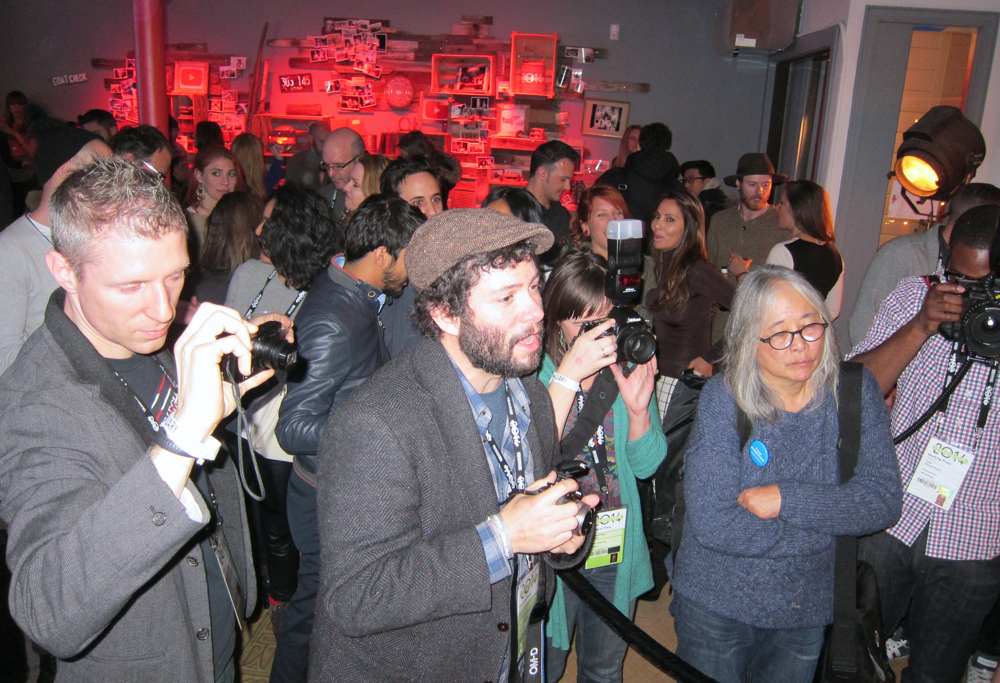 There were even people passing by on Main Street outside who stopped to grab a picture.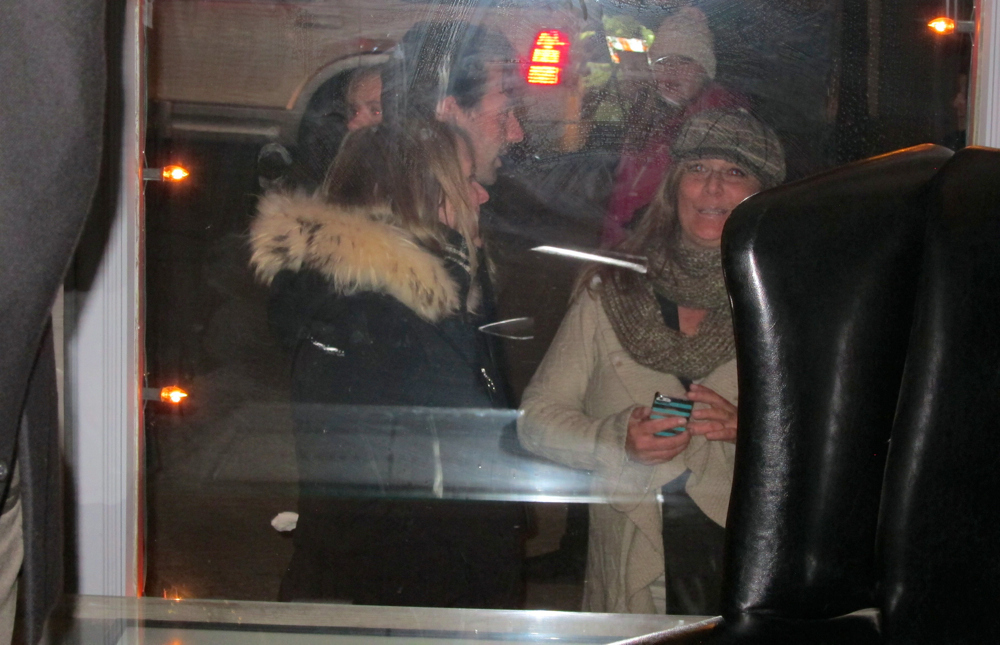 Eventually, things got a little frisky.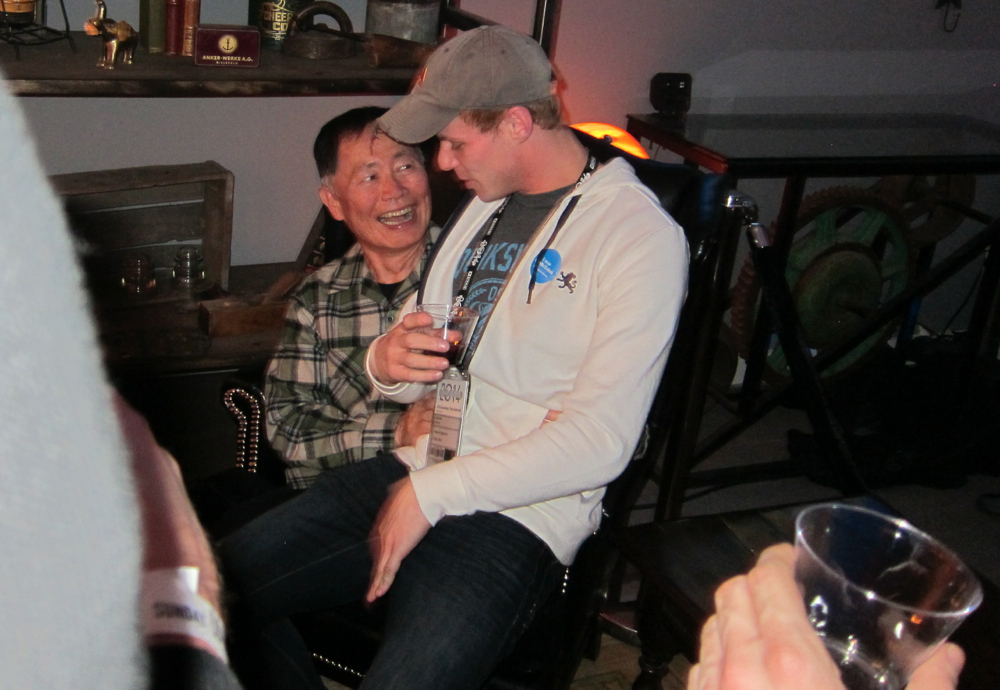 And George's lap was open to all.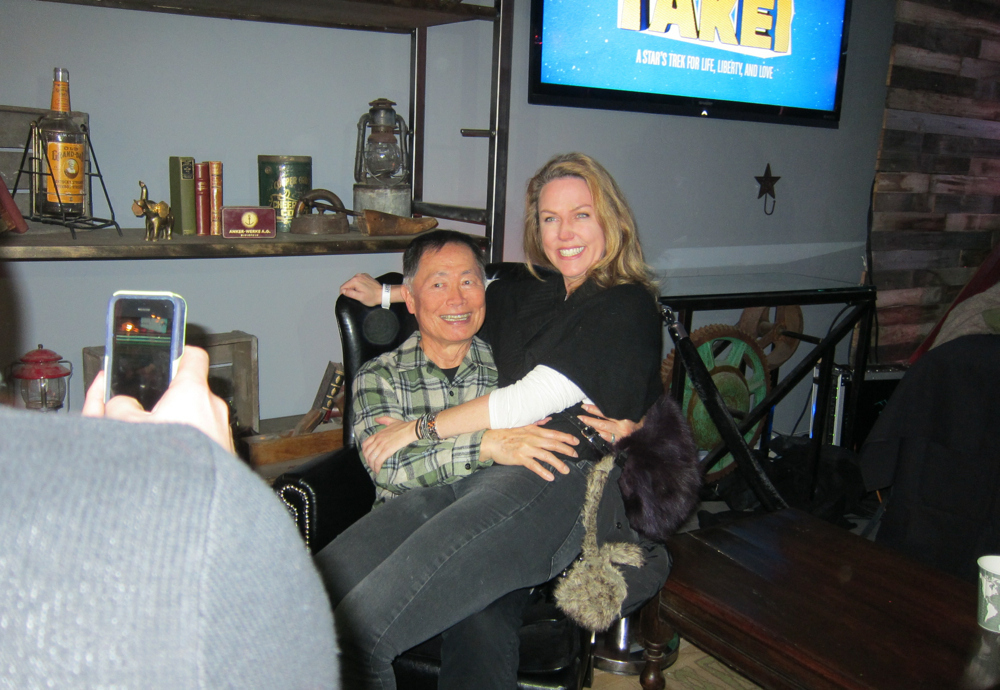 The night, however, was not over!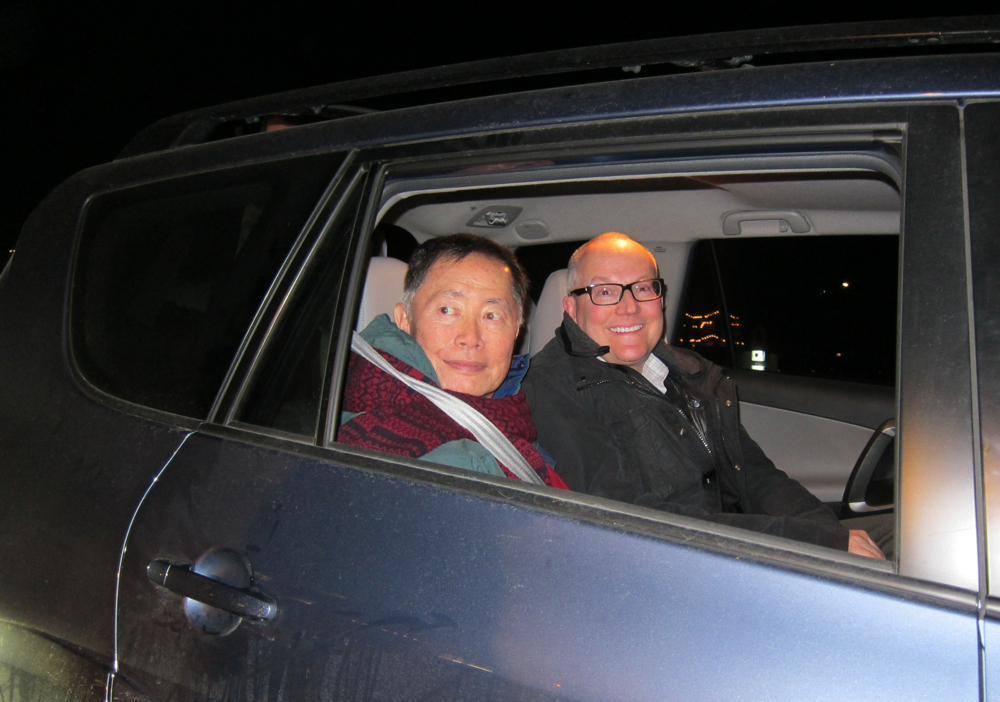 At first, everyone relaxed in a quiet and dark "green room," as George drank yet more tea.
Eventually, Utah State Sen. James Dabakis came up to greet them.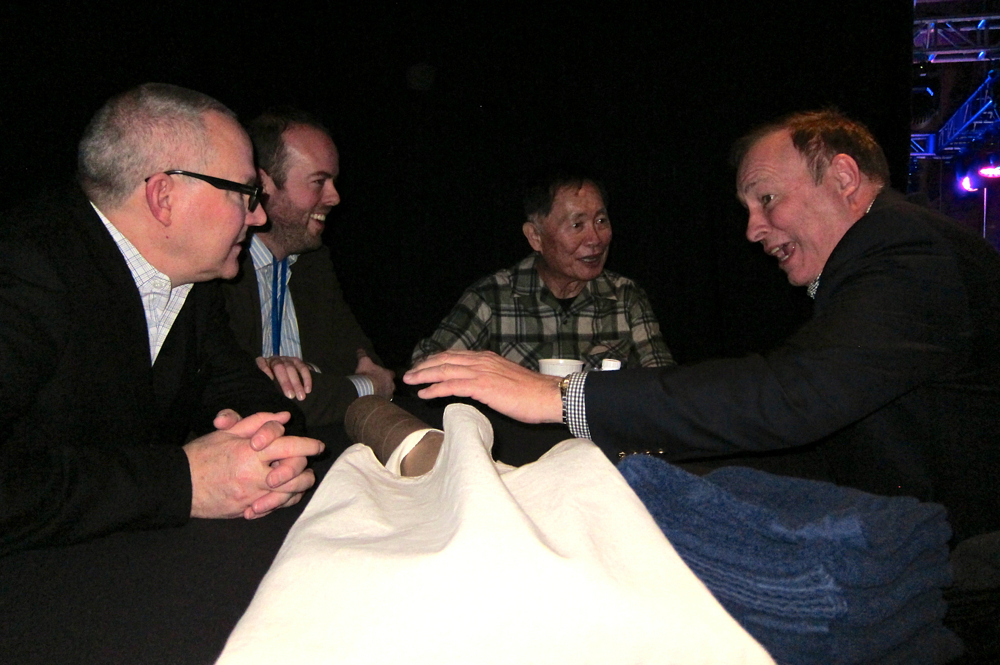 Brad and George's chauffeurs for the rest of the evening were Weston Clark and Brandon Mark, one of more than 1,000 same-sex couples who got married in Utah before the Supreme Court put a stay on same-sex marriages in the state.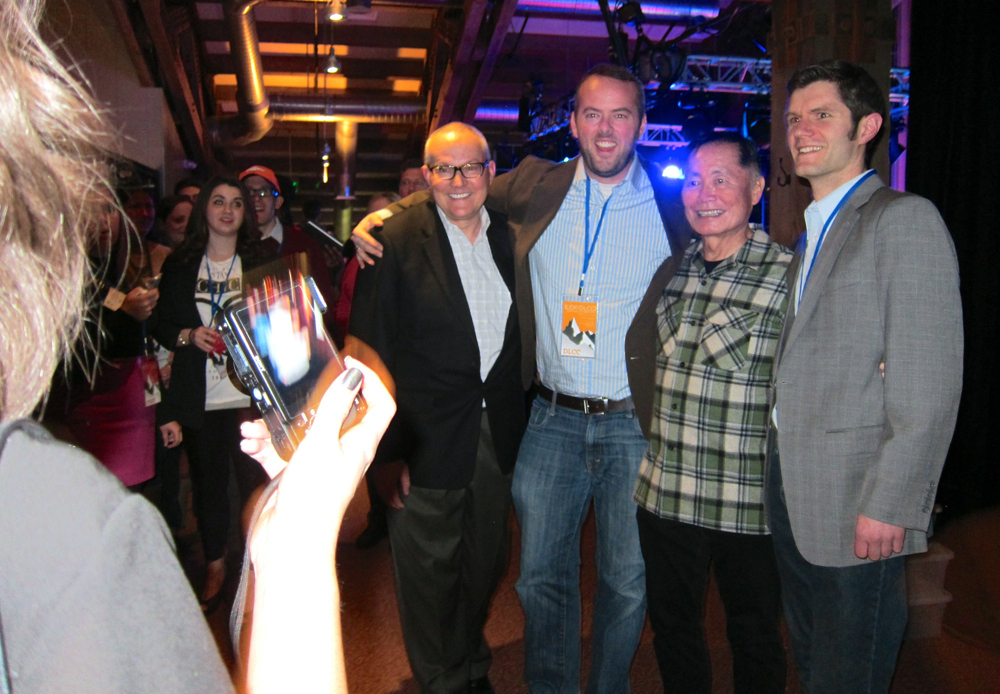 When it came time for George to speak at the event, he was at first swarmed yet again by fans and well-wishers, and he happily, if a little wearily, posed for photos.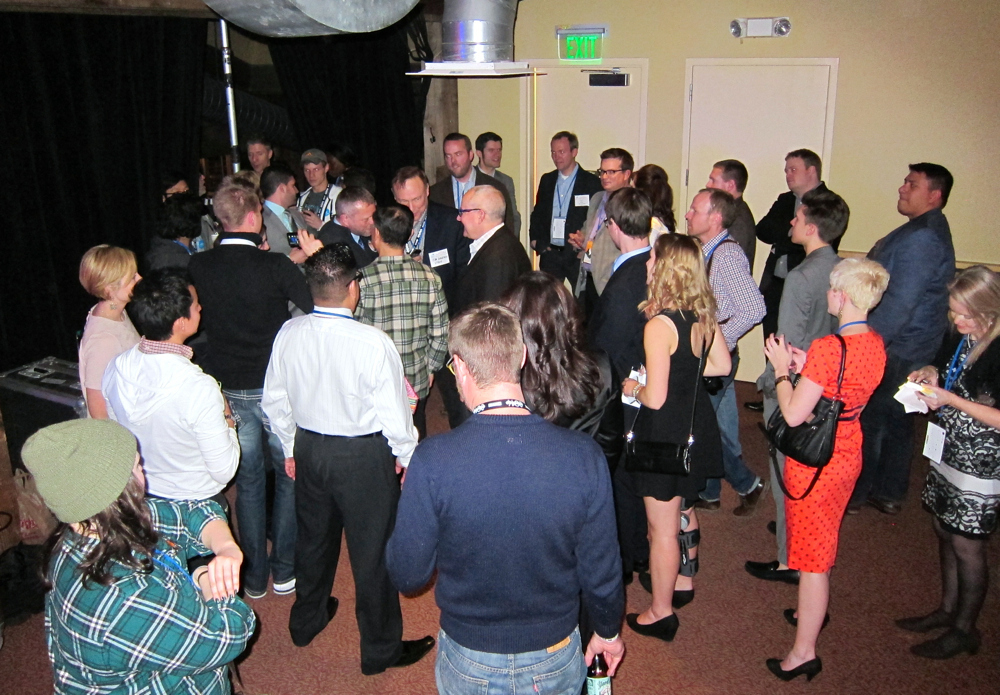 Ironically, as George took to the stage, he tripped and stumbled to the ground. "I've only been drinking tea!" he joked after perking right back up again.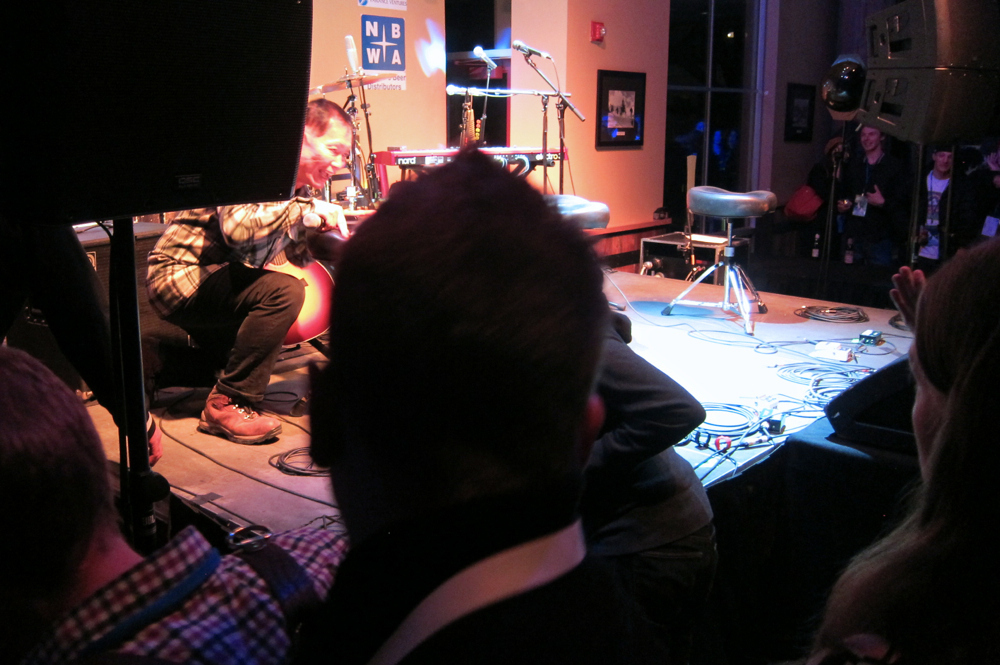 First, George introduced himself and Brad, who waved from the crowd.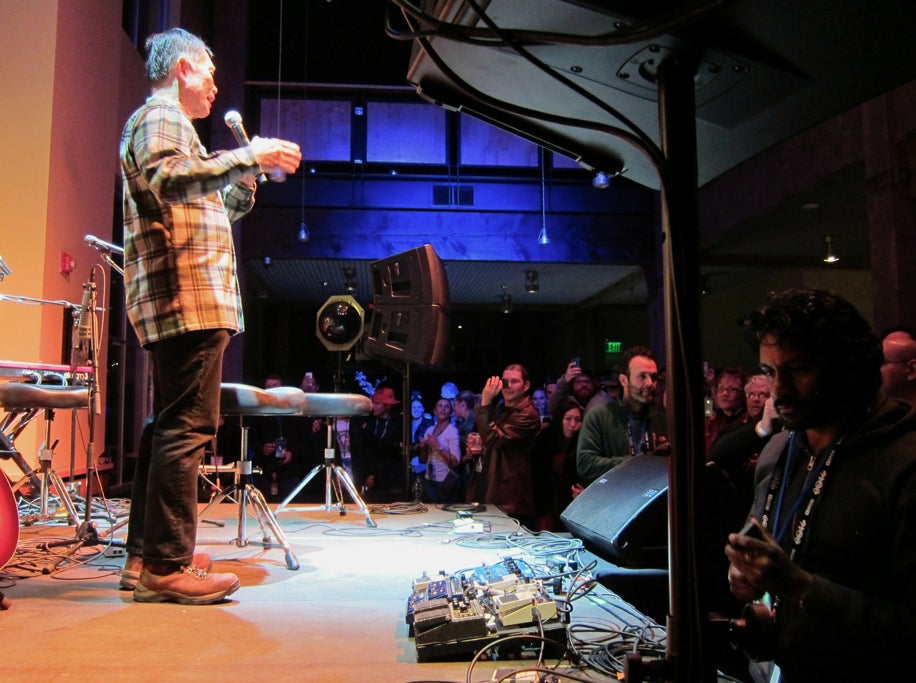 To a rapt crowd, George explained how happy he was at first to find out that To Be Takei would premiere at Sundance, so he'd get to come to Utah to celebrate the unexpected arrival of marriage equality in the state.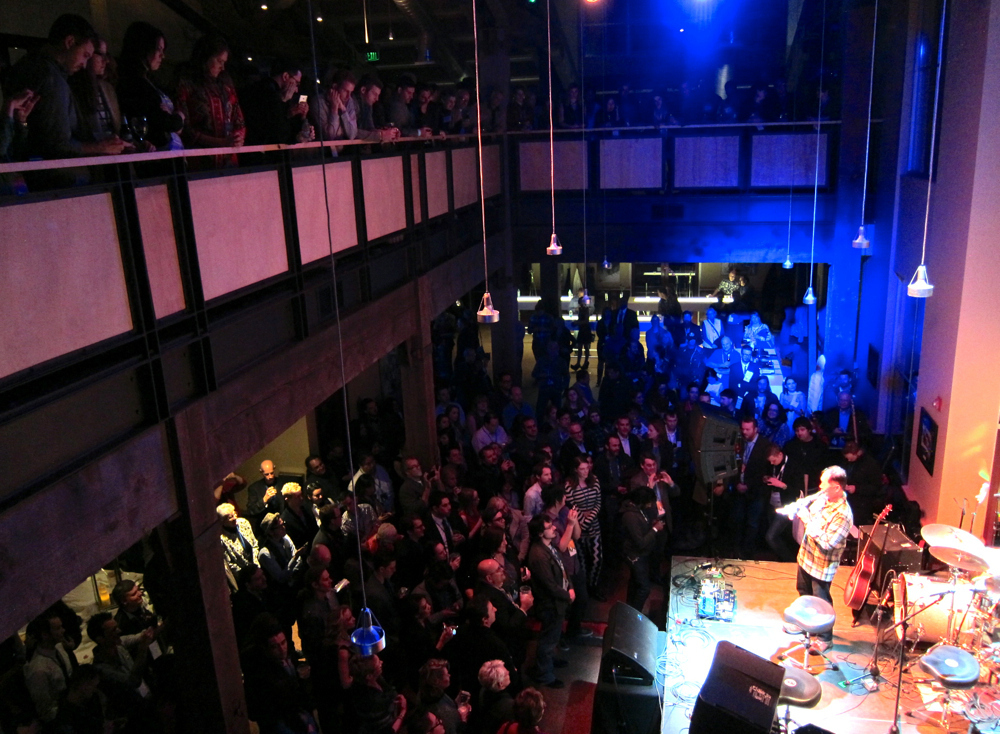 After George finished his speech, Los Angeles Mayor Eric Garcetti took to the stage, joking that half of his city was at Sundance that weekend, as George and Brad held hands and watched from the sidelines.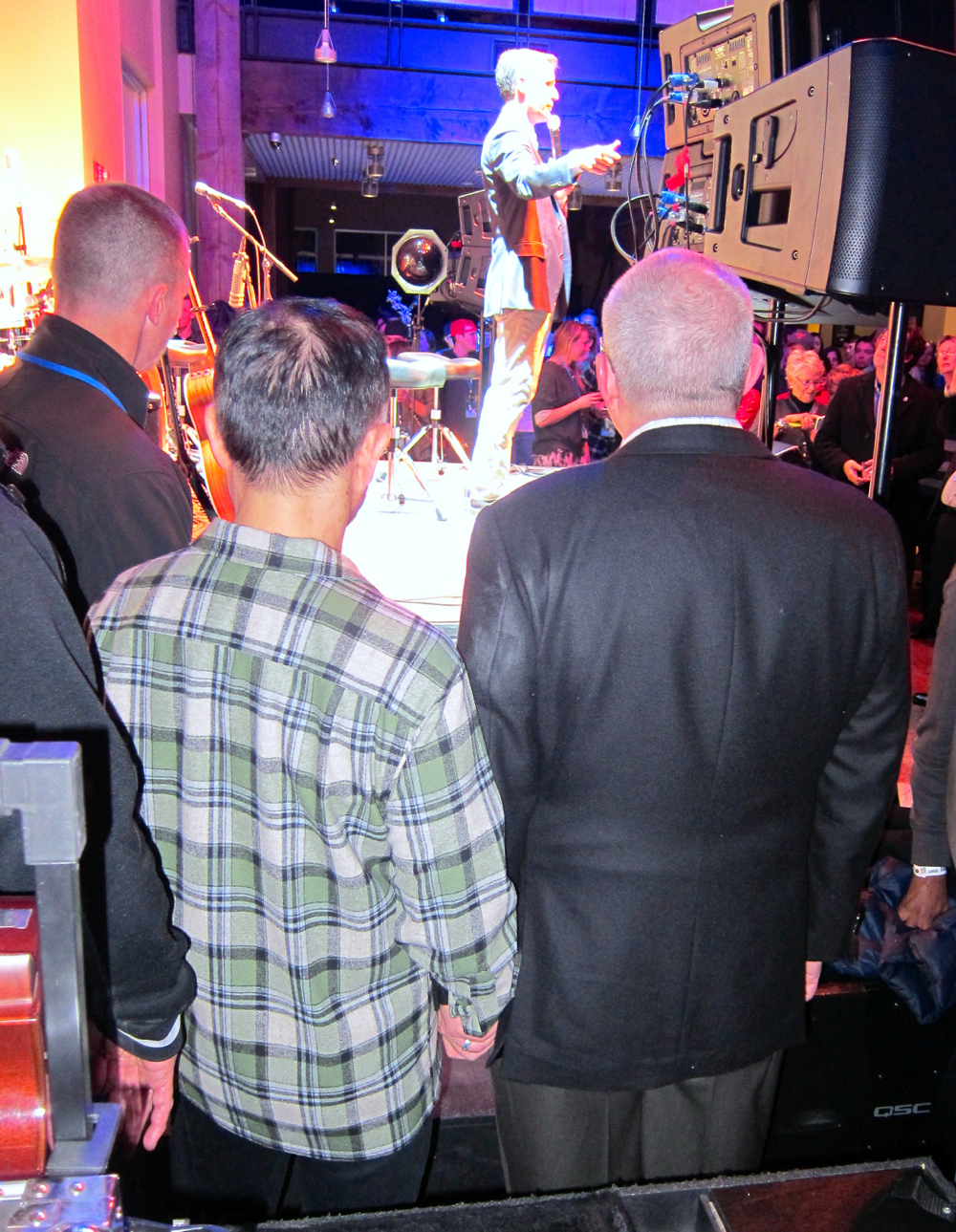 Before leaving the event, State Sen. Dabakis pulled George literally into the cloakroom to meet a few more VIPs.
"Are you a Democrat?" George asked a very young Star Trek fan. "Yes!" the boy said.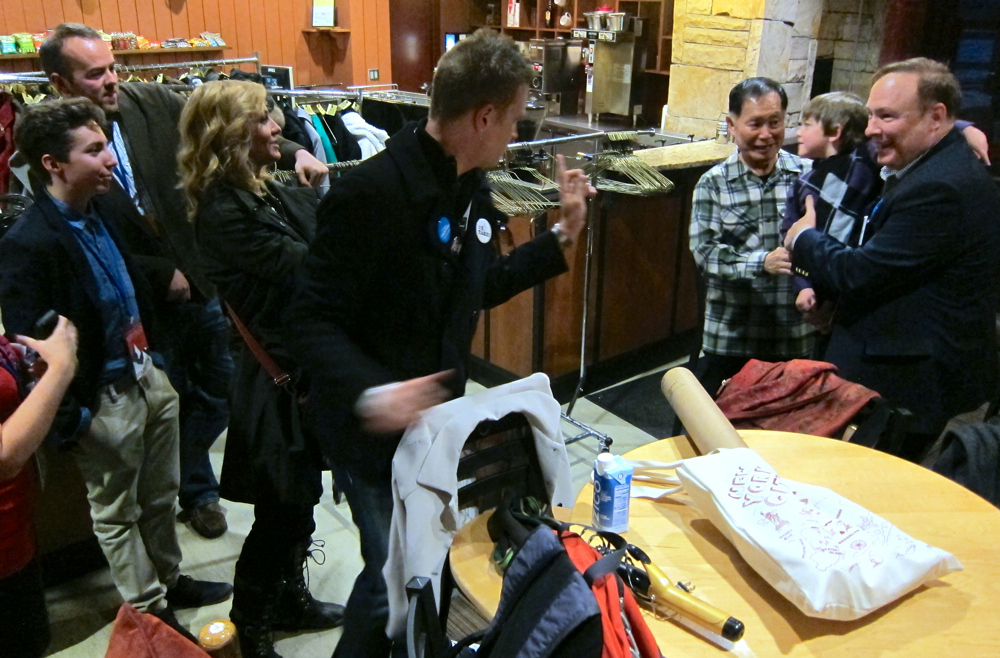 Believe it or not, that was not the end of the night. George and Brad had one more event, the Human Rights Campaign party, back on Main Street in Park City.
At first, George sat alone in the VIP section, waiting for the rest of the To Be Takei team to arrive.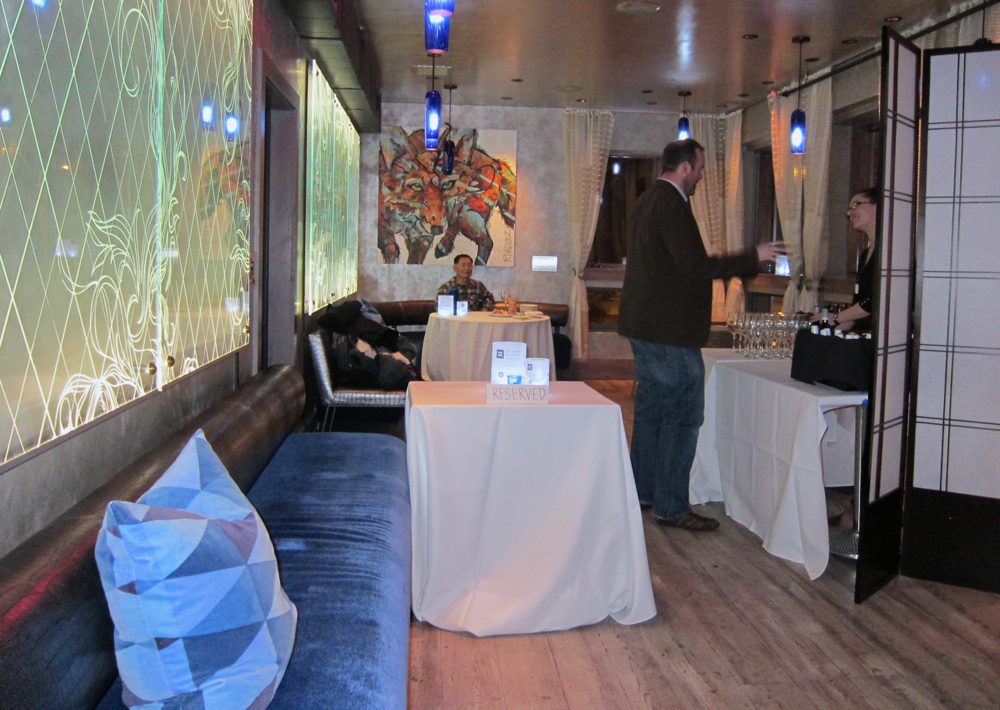 Once everyone did arrive, they were told only George and Brad could stay in the VIP section, so everyone moved back among the masses.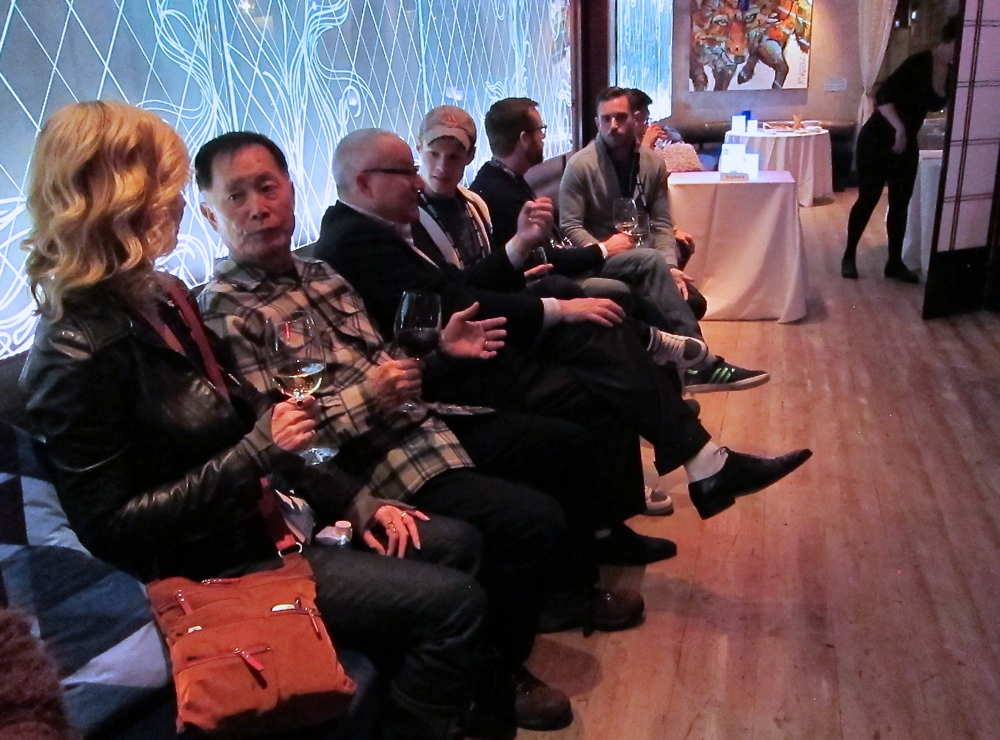 No one seemed to mind.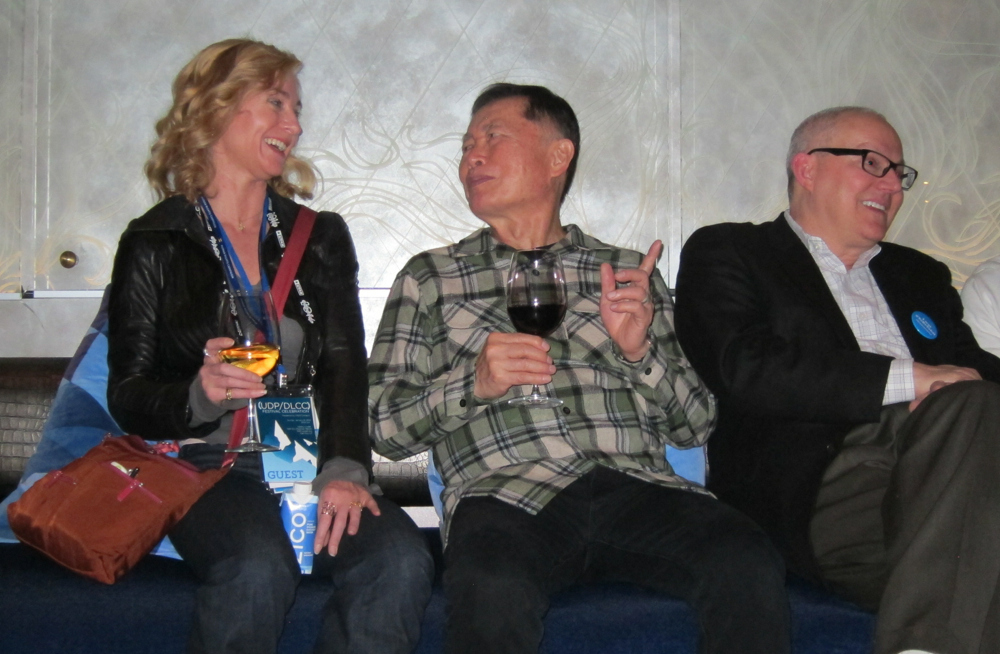 Finally — FINALLY! — at 10:40 p.m., George and Brad called it a night.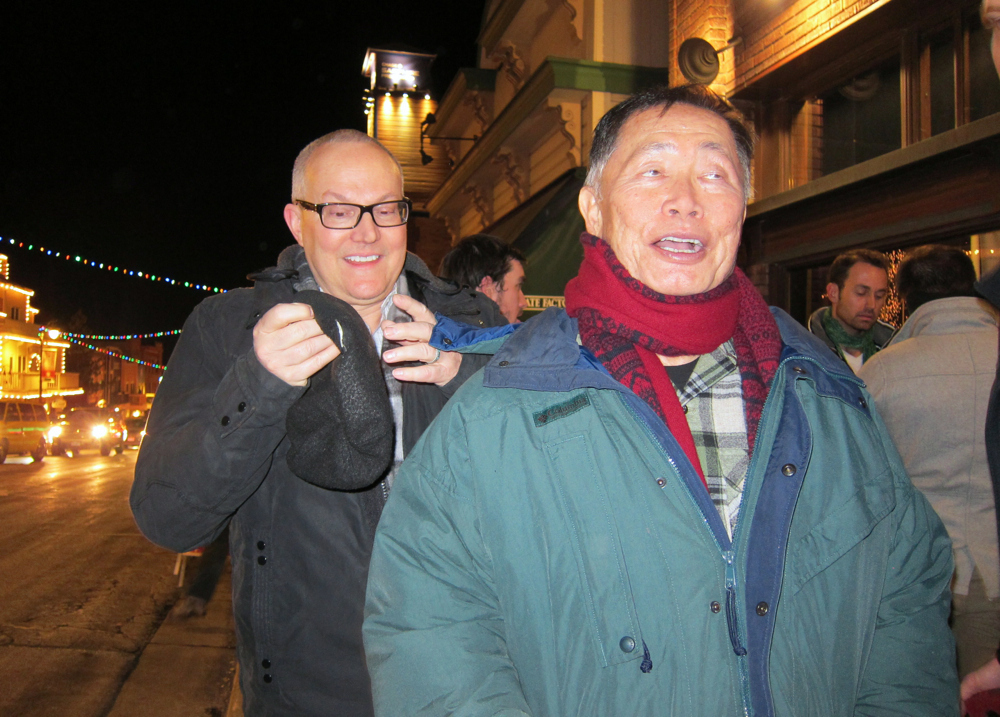 But not before a fan snapped one more photo, literally as George was stepping into the car.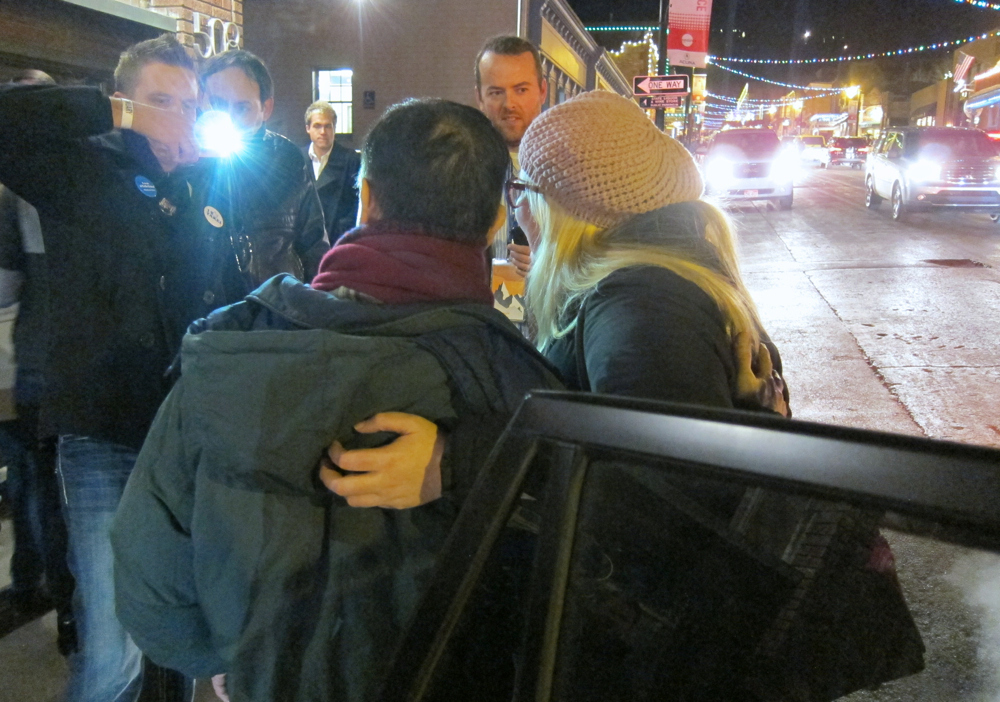 It was an exciting, exhausting, political, emotional day, and it was finally over.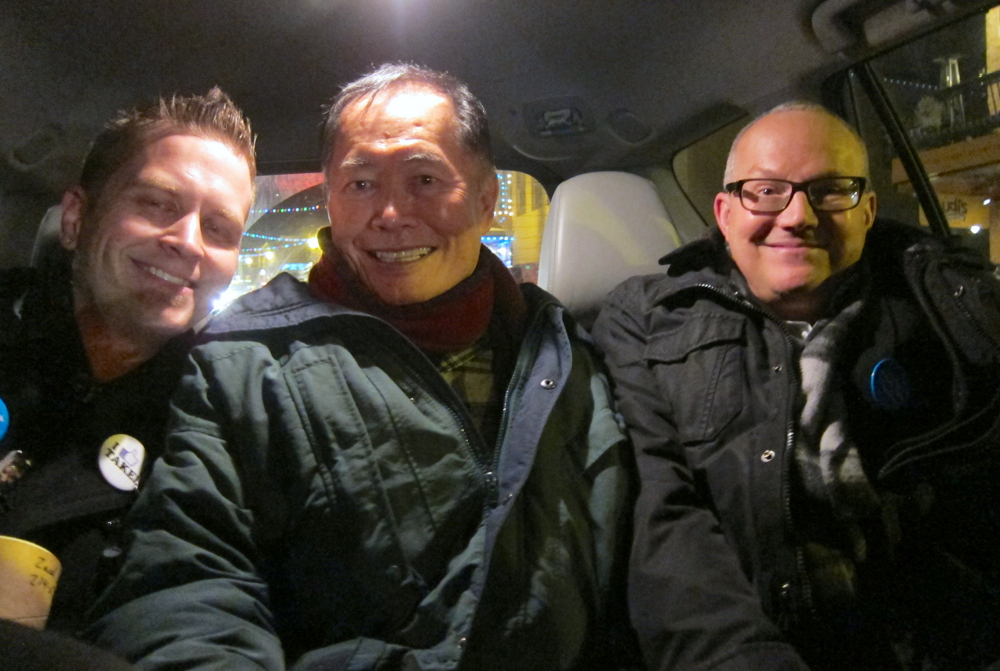 Earlier that night, after George's speech, I commented to Brad that his husband had more energy at 77 than I had at 34.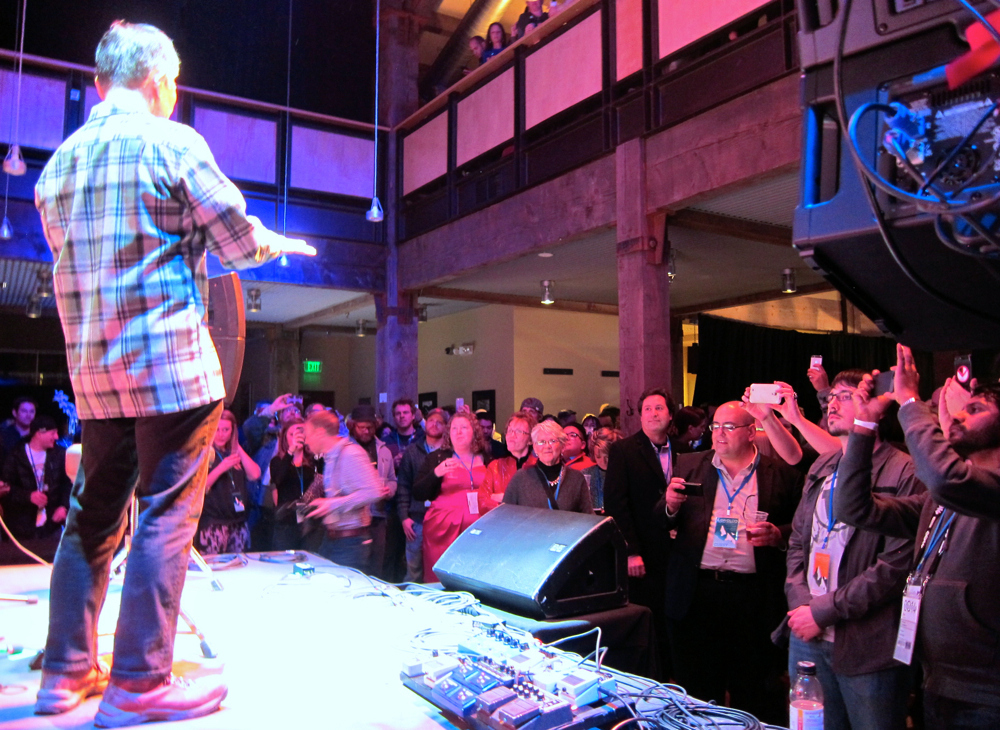 "It's not energy," Brad said, beaming. "It's passion and adrenaline. He's here for To Be Takei because he has a message he wants America to hear."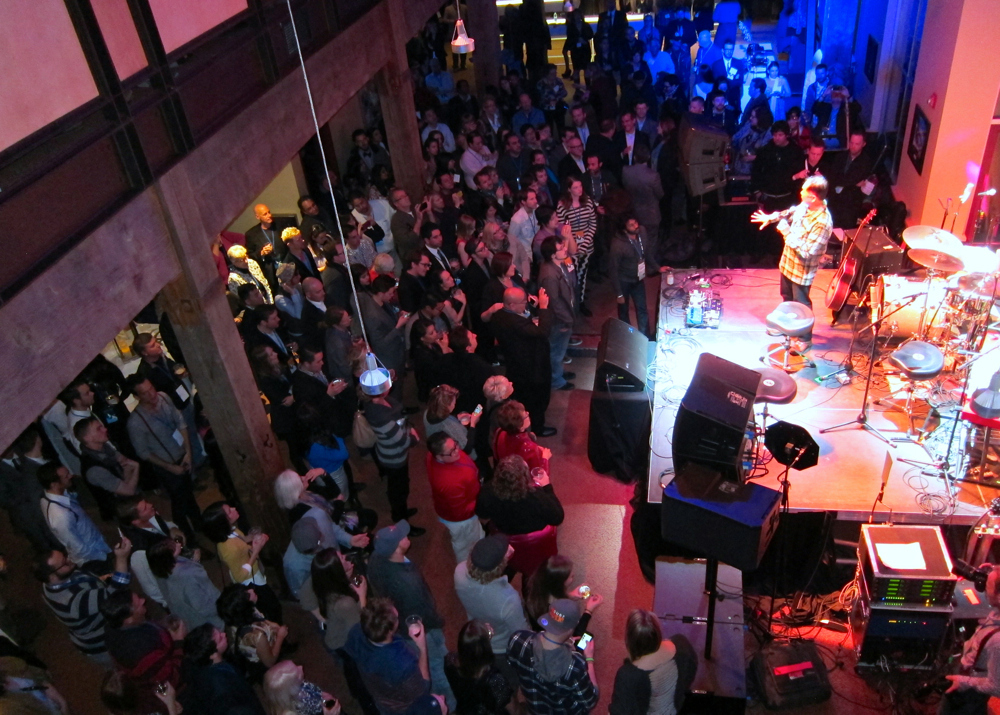 At the time of publication, To Be Takei is currently seeking theatrical distribution.
Oof: Obviously, Taste of Saigon — identified in an earlier version of this story as a Thai restaurant — is a Vietnamese restaurant.