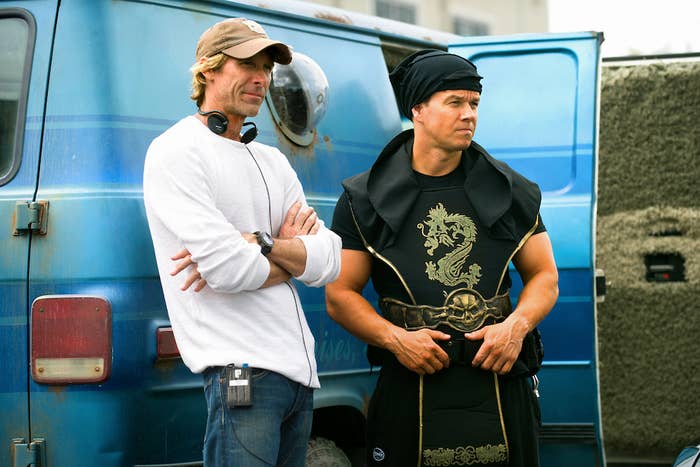 Michael Bay has had exactly one flop on his résumé: 2005's dark sci-fi thriller The Island, which opened in fourth place in 2005 and only managed to eke out a $35.8 million total gross in the U.S. The first three Transformers films catapulted Bay back to the top of the box-office mountain, but there was every chance that Bay's latest film, the exceedingly bleak black comedy Pain & Gain, would join The Island as the second box-office smudge on his record. It has no eye-popping visual effects, no stirring save-the-world heroics, and its grisly true crime story kept exhibitors at this month's movie industry conference CinemaCon from laughing all that much when the film was screened there. (The hard-R plot involves torture, heavy drug use, and dismemberment — a laff riot!) If there was ever an opportunity for the many, many, many, many, many, many Michael Bay detractors to smugly fold their arms and say, "See, the man is nothing without his CG robots," this was it.
But nope, Pain & Gain opened with an estimated $20 million this weekend. Granted, that's nowhere near the astronomic first weekends of Bay's mega-hits, but the final weekend before the summer movie season boots up in May is usually something of a snoozer. There's no getting around it: This was a solid debut. Face it, folks, Bay is one of the most reliable box office filmmakers in Hollywood, and he's going to keep making movies for the foreseeable future. And apparently, he wants to keep working with CG robots: Bay will start production on Transformers 4: End of the LaBeouf this summer with his Pain & Gain star Mark Wahlberg.
As it happens, a different box office perennial was tarnished this weekend: Movies with "Wedding" in the title. Despite the presence of a cavalcade of stars — Robert De Niro, Diane Keaton, Amanda Seyfried, Susan Sarandon, Robin Williams, Katherine Heigl, and Topher Grace — The Big Wedding was a bust with a $7.5 million opening for the weekend.
So to recap: Bay haters have been thwarted, but anti-Heigl-ites are free to rejoice.
Here are the estimated top 10 box-office figures for Friday to Sunday, courtesy of Box Office Mojo:
1. Pain & Gain* — $20 million
2. Oblivion — $17.4 million
3. 42 — $10.7 million
4. The Big Wedding* — $7.5 million
5. The Croods — $6.6 million
6. Scary Movie 5 — $3.6 million
7. GI Joe: Retaliation — $3.5 million
8. Olympus Has Fallen — $2.8 million
9. The Place Beyond the Pines — $2.7 million
10. Jurassic Park 3D — $2.3 million
*Opening weekend