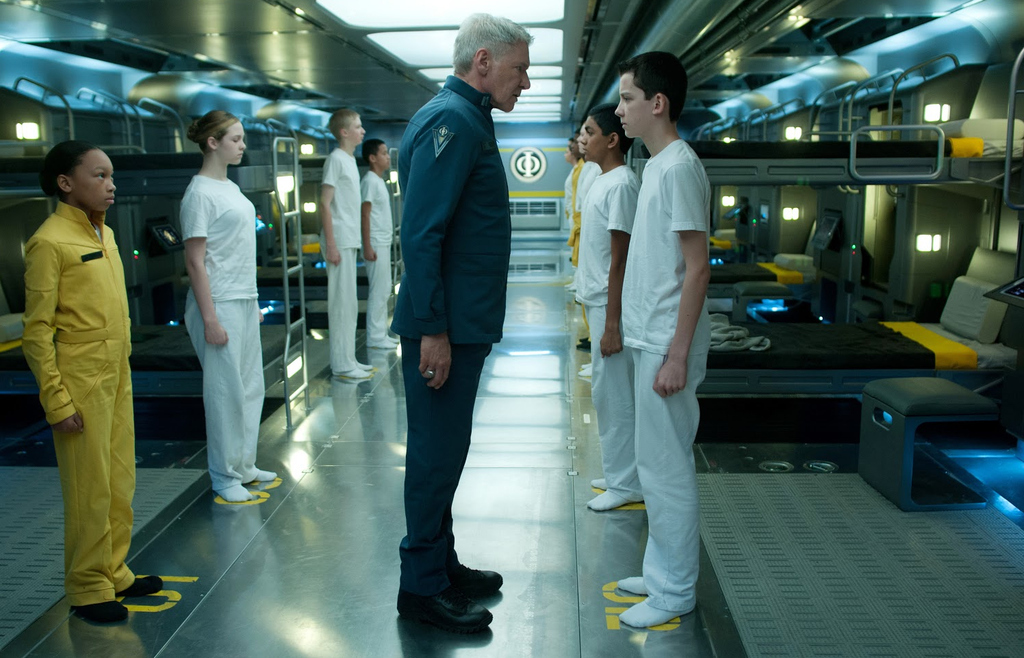 LAS VEGAS — Forget Katniss and Bella. The newest darling at Lionsgate is Ender Wiggin. The independent studio capped off the four-day film industry confab CinemaCon with a comprehensive look at its 2013 slate, but the brightest spotlight was reserved for the long anticipated adaptation of Orson Scott Card's beloved YA sci-fi novel Ender's Game.
Stars Asa Butterfield (Hugo) and Haliee Steinfeld (True Grit) introduced the premiere of the film's first trailer, which won't play in theaters until Star Trek Into Darkness opens next month. Unlike other major franchise launches, the trailer did not hold back on giving fans a great deal of what they want to see: The zero gravity Battle Room; several battles with Bugger ships; the Maori facial tattoos on Mazer Rackham (Ben Kingsley), etc.
If that made absolutely no sense to you, don't worry — the marketing strategy clearly hopes to draw in audiences unfamiliar with Card's novel. Ford's character, Colonel Hyrum Graff, sets up the parameters of the story with a great deal of voice-over exposition, explaining that the alien invaders (commonly called Buggers in the book) have so well adapted to human strategies that he is turning to training brilliant young minds to out-think and out-strategize the enemy.
After the trailer finished playing, Ford himself took to the stage, a surprise appearance that managed to rouse real enthusiasm from the crowd of weary movie exhibitors and executives. Ford praised the "great human story" tucked inside the grand sci-fi spectacle on display in the trailer, before sounding the common refrain heard all week at CinemaCon, thanking all the theater owners for their support by showing his films.
Both Ford and Butterfield were also in town for the CinemaCon Big Screen Achievement Awards (it's Hollywood — there are always awards to hand out). At press conference before the awards ceremony, Ford explained that he had not read Card's book before signing onto the film. "I really came to the project through the script," he said. "I thought it was something we have not seen. I thought the story was prescient about some of the things we're seeing in our lives right now. I thought it had an interesting moral question behind it. I thought it was would really be a good summer movie on top of that."
Butterfield, meanwhile, noted that the film stays largely faithful to the novel, save for aging the young characters up, "for obvious reasons." (At the start of Card's book, Ender is 6 years old.) "If [fans] read the stories for the morals behind it and the themes, that's all intact," he said. As for the appeal of playing Ender? "Leading the human race and fighting in zero gravity with laser guns, what else do you need?"
This story has been modified to include quotes from Ford and Butterfield given after the Lionsgate presentation.
Looks like there are no comments yet.
Be the first to comment!